How To Feng Shui Your Makeup Bag & Get Radiant
By Anjie Cho
mbg Contributor
Anjie Cho is an architect, feng shui educator and author of Holistic Spaces: 108 Ways to Create a Mindful and Peaceful Home. She is a New York State registered architect, a graduate in Architecture from the College of Environmental Design at the University of California at Berkeley, LEED Accredited Professional, and certified feng shui consultant from the BTB Feng Shui Masters Training Program.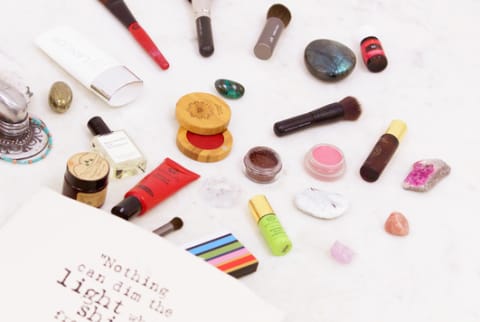 November 3, 2016
Whether your beauty bag contains a wide variety of high-end makeup products or just a few natural fragrances and daily necessities, it's important that it reflects how you feel about yourself and your beauty, both inside and out. Every day, you deserve to feel beautiful, and your beauty bag can hold the key!
Everything in your life, especially objects that are near and dear to you, like your beauty bag, can affect you energetically in many areas of your life. The beauty bag, or cosmetics bag, is something most of us carry in our purses and handbags, something we engage with almost every day. It may hold items other than cosmetics, but in general, it contains tools to help us beautify our appearance in the world. The contents can affect how we view and honor ourselves on the inside as well, so it is something to pay attention to.
Let's take a look at how your beauty bag measures up in feng shui terms and see what you can do to enhance the potential to look and feel your most beautiful. Give it a little feng shui love, and watch the transformation!
Your Makeup Bag
Let's start by taking a good look at your makeup bag. Is it clean, fresh, and new? Or is it shabby and torn? Your beauty bag can give you an internal weather report. Ideally we want a beautiful, clean, and well-cared-for beauty bag because it reflects upon your own degree of self-care and health. If your bag needs a little updating or refreshing, the simple act of giving attention to this object will create new positive energy in your life. Remember, it affects how beautiful you feel on the inside and outside.
Color
We're not quite done with the bag itself just yet. We can also apply feng shui principles to the color of your bag! My first suggestion is to listen to your intuition and see what color speaks to you or what you currently like. More often than not, this can help you glean some insight into your feelings and possible issues with regard to how beautiful you feel and how well you're taking care of yourself.
Greens are related to fresh energy and starting something new. The color is especially healing and soothing if we have stress, health, or skin issues. Similar to green, pale and dark blues are calming and relaxing whereas brighter blues (like teal) relate more to the high energy of green. Blues are also healing.
The fiery energy of red signals attention, passion, and sexiness. Maybe you need to tap into some latent sexy fire energy for inspiration and passionate beauty. And then there's pink. Go for pinks if you want a softer, more feminine energy. In feng shui, "peach blossom luck" is helpful in attracting a romantic partner. Both pinks and especially peach tones fall into this attractive color family.
Purple may be attractive and/or helpful if you need to work on your self-esteem. It's a color that's related to royalty and wealth.
Earthy colors, like browns, yellows, and oranges relate to self-care and nourishment. Maybe you need to take care of yourself a bit more. Similar to yellow, oranges fall into the earthy color tones. But sometimes oranges can get bright and straddle more into the fire-red family. So this color can tap into either the red or yellow uses.
Whites and grays encourage a more joyful and simple beauty routine. White is the color related to the metal element, which actually governs ideal beauty.
Black is probably one of the most common colors when it comes to a beauty bag, and for good feng shui reason! Black is a color of wisdom and can transmute negative energy into knowledge.
Keep It Healthy
I shifted to all nontoxic beauty products many years ago, and I think this is important to consider when it comes to the feng shui of your beauty bag and feeling beautiful. What we put on our skin literally gets absorbed directly into our bloodstream and affects us physically and often emotionally.
In addition, the products we purchase affect our environment as a whole. Beauty products affect our life force energy, chi, as well as the chi of the world we live in, so it's beneficial to opt for ethical, organic, and nontoxic choices. They say you are what you eat. You're also what you put on your skin.
Declutter
While we're talking actual beauty products, take a peek at the expiration dates of yours. Keeping expired beauty products in your bag can metaphorically mean you're not providing yourself with quality care and that your energy may be cluttered. It's also literally bad for your skin. Using products past their expiration dates can cause skin issues from rashes to swelling to infection and more. I recommended cleaning your bag regularly (get rid of those stray bobby pins and pockets of loose powder) and replace or fix it if it's fallen into disrepair with tears and stains.
It's also a good idea to declutter and remove those beauty products that are no longer working for you! I know, it's hard to part with that expensive lip color that you hope might work for you one day. But really, it's holding you back! There's no need to keep products that you aren't using and possibly dislike. Let's clear the way and create a space in your beauty bags for those products that you love and elevate you.
Selenite & Moonstone
I love using natural crystals in my practice, and they're a wonderful addition to your beauty bag. The unique vibrations crystals give off can help with anything from finding a healthy relationship to keeping yourself grounded and more. Consider where you need support in your life, and add a crystal to your beauty bag to help out.
Selenite is a great option to help absorb any energy blocks connected with how you manifest beauty. Moonstone is another favorite that can help to regulate feminine issues, both physical and emotional, and connect us with the moon's yin feminine energy. Depending on what size the stones are, opt for three or nine pieces. Three is the number of new beginnings, but nine is even more auspicious as it's a number of great transition in feng shui.
Bonus Tip: Lipstick colors
Finally, I love to choose my lip color based on how I want to express myself on a particular day. In feng shui, the mouth is related to how we communicate with the world. Sometimes we speak too much; sometimes we are not able to speak up for ourselves enough. Sometimes we need encouragement to speak our truth, and sometimes it's about quiet contemplation. Again, we can refer to feng shui colors to assist in this (see above).
If you want some recognition or to look and feel super sexy, go for a fiery red lip color. Muted, neutral, earthy colors like tans and browns can help reflect a desire to be more introverted and slow moving. Pinks are girly and relate to self-care, and peach lip color can attract a partner (just be sure not to keep wearing it once you've snagged one). A pearlescent, lighter, pale shade relates to the metal element and can help balance our voices to speak with truth and precision. Last, but definitely not least, purples and plums are related to wealth and royalty. These tones can make you feel regal and help support your self-esteem.
How To Feng Shui Your Beauty Cabinet
Anjie Cho
Anjie Cho is an architect, feng shui educator and author of Holistic Spaces: 108 Ways to Create a Mindful and Peaceful Home. Cho is a New York State registered architect, a graduate in Architecture from the College of Environmental Design at the University of California at Berkeley, LEED Accredited Professional, and certified feng shui consultant from the BTB Feng Shui Masters Training Program. Since 1999, she has been designing beautiful and nourishing spaces (inner and outer) with balance and harmony, informed by the ancient practice of feng shui. Her focus is to create nurturing and supportive environments, tailoring her practice to each individual's specific needs.
Cho is a sought-after expert in the fields of feng shui and interior architecture. She is the owner of Anjie Cho Architect, co-founder of the Mindful Design Feng Shui School, and founder of Holistic Spaces which hosts a blog, podcast and online store. She is also an assistant teacher of dharma arts and meditation in the Shambhala Buddhist lineage. Cho is a regular blog contributor to MindBodyGreen and has been featured in dozens of publications including: the New York Times, Domino Magazine and BuzzFeed.