Are You Buying The Wrong Sunscreen? Here's What To Look Out For This Year

mbg Sustainability + Health Director
By Emma Loewe
mbg Sustainability + Health Director
Emma Loewe is the Senior Sustainability Editor at mindbodygreen and the author of "Return to Nature: The New Science of How Natural Landscapes Restore Us."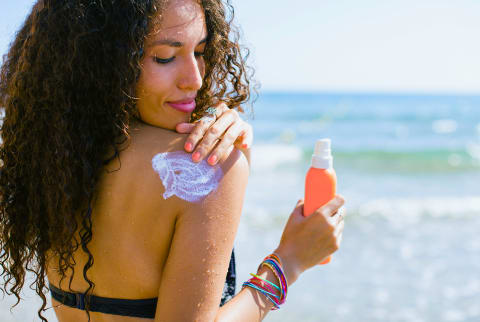 May 22, 2018
Every year to kick off the summer season, the Environmental Working Group gives its take on the state of the sunscreen industry. The watchdog group surveys hundreds of sunscreens on the market looking for the healthiest and most eco-friendly options.
This year's results are a mixed bag: While some brands are cleaning up their ingredients lists, others are still pumping theirs with chemical additives. "This year, we found that the majority of sunscreens still do not meet EWG's standards for safety and efficacy," EWG research analyst Carla Burns tells mindbodygreen. "About 67 percent of the products offer inferior sun protection or contain worrisome ingredients, particularly oxybenzone."
Advertisement
This ad is displayed using third party content and we do not control its accessibility features.
Sunscreens made with oxybenzone have been shown to damage coral reefs when they wash off of swimmers, and Hawaii voted to ban them earlier this year. The EWG also has concerns about the chemical's impact on the human body. Though more research still needs to be done, some studies have linked it to increased rates of endometriosis in women and disrupted sperm production in men.
"Despite its known toxicity to both humans and the environment, and the fact that it has been found in more than 96 percent of Americans, the ingredient remains in two-thirds of non-mineral sunscreens," warns Burns. This year, EWG is launching a campaign urging companies and consumers to go oxybenzone-free by 2020.
Other chemicals of concern include various forms of vitamin A including retinyl palmitate, retinol, retinyl acetate, retinyl linoleate, and retinoic acid, which can irritate the skin after prolonged exposure. The EWG also recommends steering clear of sunscreens with SPF values about 50, since they may not offer the protection they claim. Oh, and skip the spray sunscreens, too, since they tend to provide less-than-even coverage.
It's not all bad news: This year, there has been a rise in mineral-based sunscreens that earn high marks. "Sunscreens using zinc oxide and titanium dioxide tend to rate well in our analysis. They are stable in sunlight, offer a good balance between protection from the two types of ultraviolet radiation—UVA and UVB—and don't often contain potentially harmful additives," reads the latest report. This year, this category makes up 41 percent of the EWG's safe sunscreen list—more than double the percentage of last year.
Here are the sunscreens that earned the highest marks this year, across four categories:
Lather up, and we'll meet you at the beach! Here are a few more ways to protect yourself from the sun this year.
Advertisement
This ad is displayed using third party content and we do not control its accessibility features.