Is Your Cocoa Ethically Sourced? Here Are 5 Ethical Chocolate Brands To Know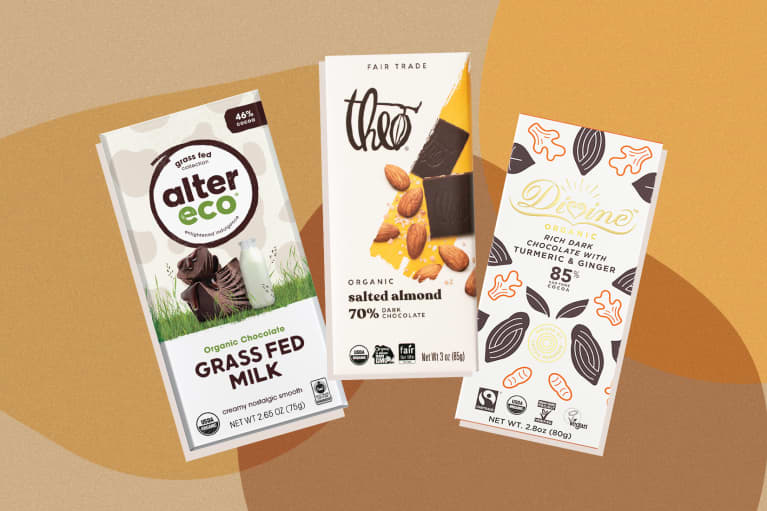 Our editors have independently chosen the products listed on this page. If you purchase something mentioned in this article, we may
earn a small commission
.
If chocolate is synonymous with joy, then ethically conscious chocolate is the epitome of pure bliss. As quoted by 20th-century Portuguese poet and literary luminary Fernando Pessoa, "there's no metaphysics on earth like chocolate," and we couldn't agree more! However, besides knowing about chocolate's multiple health-nourishing benefits and nutritional powers, are you aware of how it's grown?
According to Slave Free Chocolate, a leading grassroots organization aiming to eradicate child slavery in the cocoa industry, 2.3 million children work in the cocoa production fields of West Africa. Many of them are vulnerable and exposed to trafficking, sold into slavery, or kidnapped. This form of child exploitation, next to wide-reaching poverty, gender inequality, and continuous environmental harm (think soil erosion and deforestation) makes the unflagging issues linked to chocolate production something we can't ignore. Choosing ethical, eco-conscious chocolate brands is one simple step toward that goal.
What is ethical chocolate?
When you're in the chocolate aisle of your favorite health food store (or online market, perhaps), you might get confused by labels such as organic, Fair Trade, Rainforest Alliance, or Fair For Life, to name a few. While these certifications might vary in purpose and scope—environmental, social, and economic sustainability are at the core.
Ethical chocolate is grown and produced with laborers' fair treatment in mind while following safe, environmentally friendly practices. Choosing to consume ethical chocolate casts a vote of change in the cocoa industry and supports a system where all parties involved are treated fairly and respectfully.
Below are five rock-star chocolate companies paving the way for an equitable, sustainable cocoa future. It's by no means a comprehensive list but a helpful start in your ethical cocoa journey.
Taza Chocolate
A Mexican-inspired, stone-ground organic chocolate company, Taza Chocolate is a pioneer in ethical cacao sourcing. According to their website, "we maintain direct relationships with our cacao farmers and pay a premium above the Fair Trade price for their cacao. We partner only with cacao producers who respect the rights of workers and the environment." Making chocolate from bean to bar, the company's simple and minimally processed approach is a true example of why less is often more.
Cacao Crunch, Taza Chocolate ($5)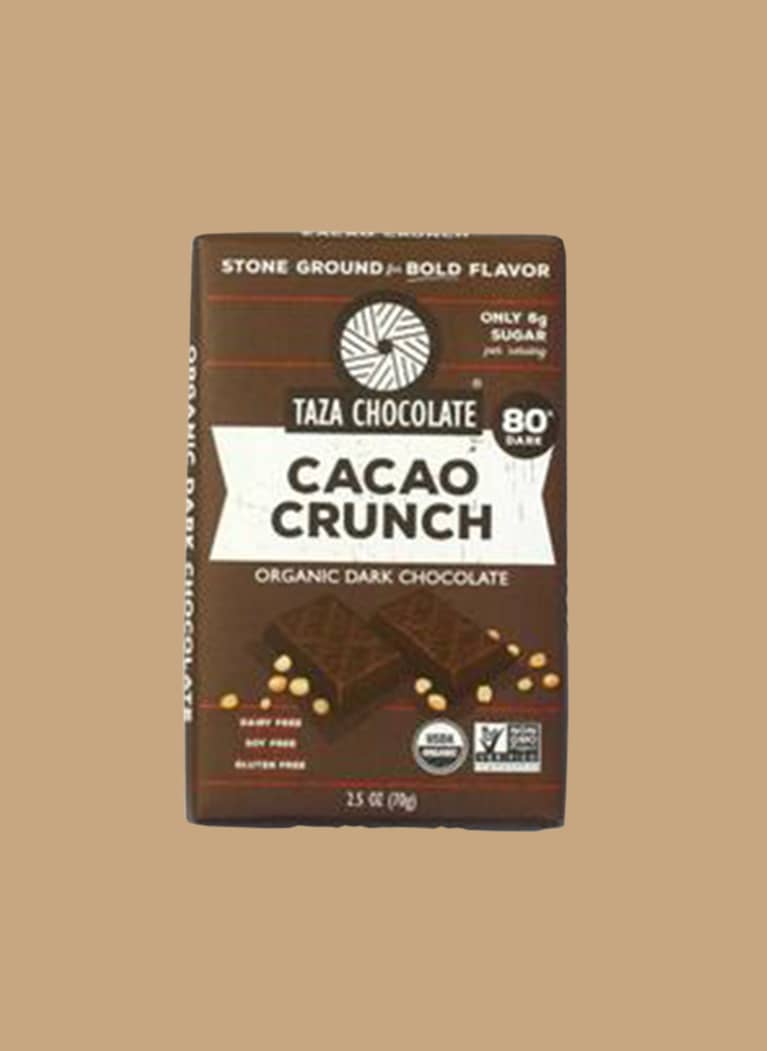 mbg creative / Taza Chocolate
Theo Chocolate
Founded in 2005, Theo Chocolate is dedicated to creating a positive impact through chocolate and making our world a better place. They use better-for-the-planet ingredients while sticking to their passion and commitment to social and environmental accountability. The first fair trade and organic certified cocoa enterprise in the U.S., Theo Chocolate has a stated mission is "to create a more beautiful, compassionate, and enduring world by responsibly making delicious and inspiring products for everyone."
Organic Salted Almond Dark Chocolate, Theo Chocolate ($3.99)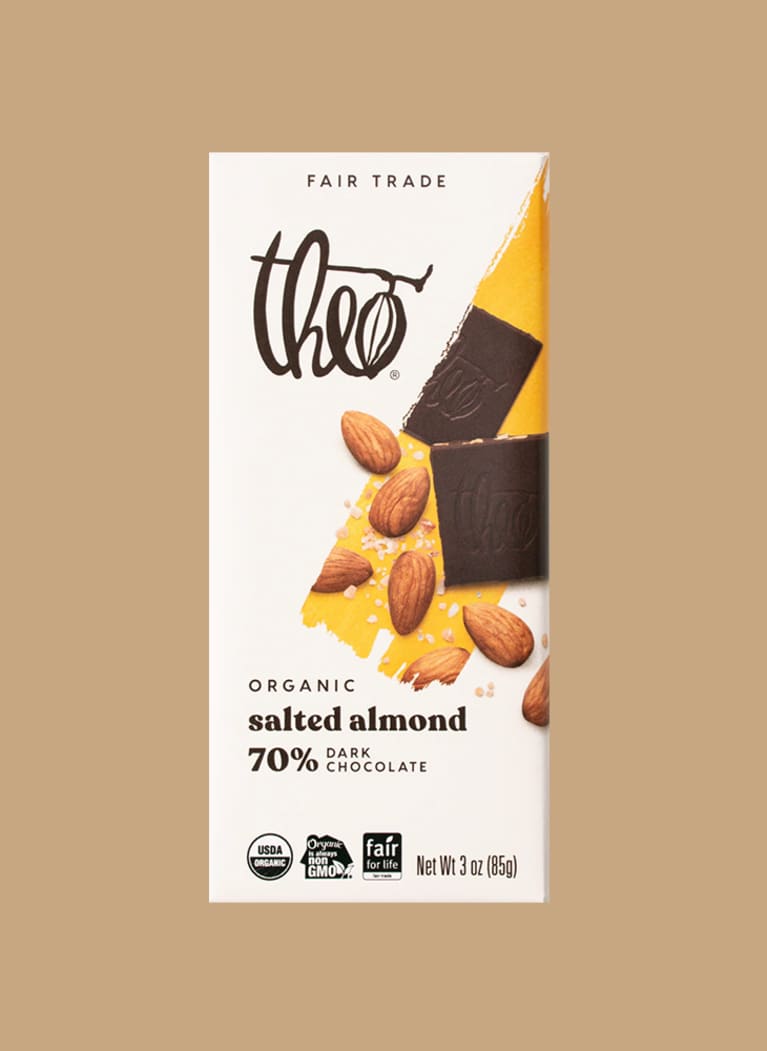 mbg creative / Theo Chocolate
Chocolate Cartel
The Chocolate Cartel has one unwavering goal: to produce the best-tasting chocolate around, using some of the best cacao on the planet. Their products are "made by people and not machines, and made in a kitchen, not a factory." Besides partnering with local businesses, this New Mexican chocolate brand runs multiple programs that support and give back to their community.
Red Chile Dark Chocolate, Chocolate Cartel ($4.99)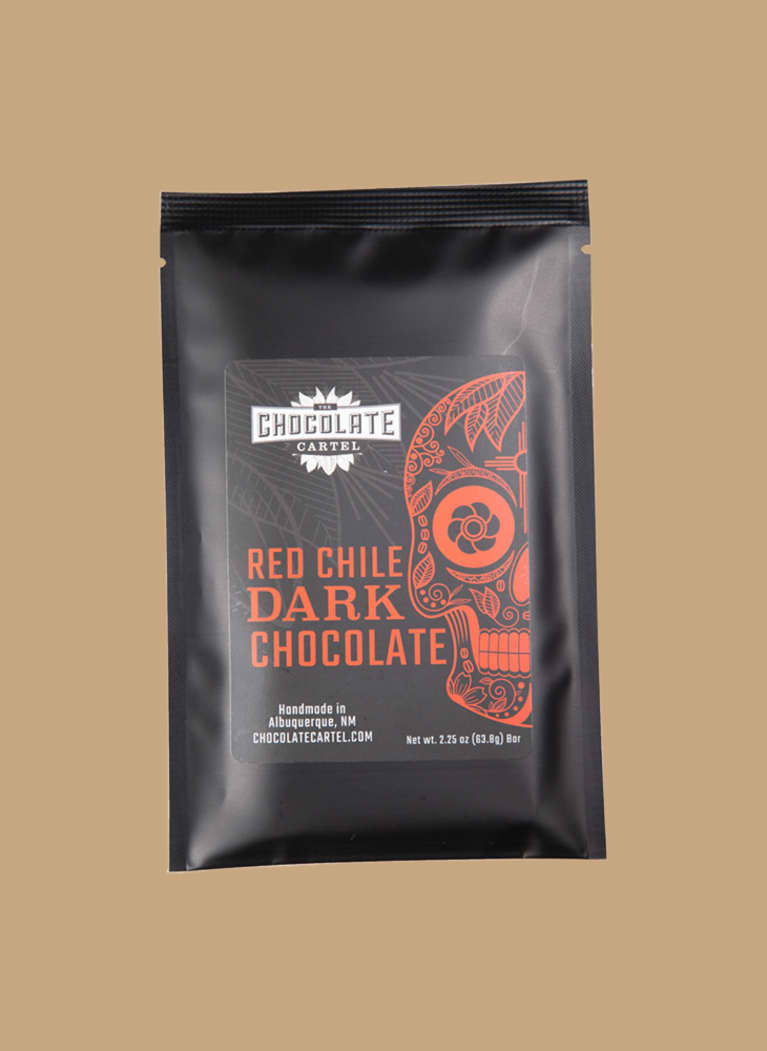 mbg creative / Chocolate Cartel
Alter Eco
At Alter Eco, they're about activism through food. The idea of pioneering "a full-circle approach to eating, farming, and doing business" is at the heart of their mission statement. Their various certifications include Non-GMO, organic, Fair Trade, and B-Corp—plus, they fill their decadent chocolate with better-for-you ingredients.
Grass-Fed Milk Chocolate, Alter Eco ($3.99)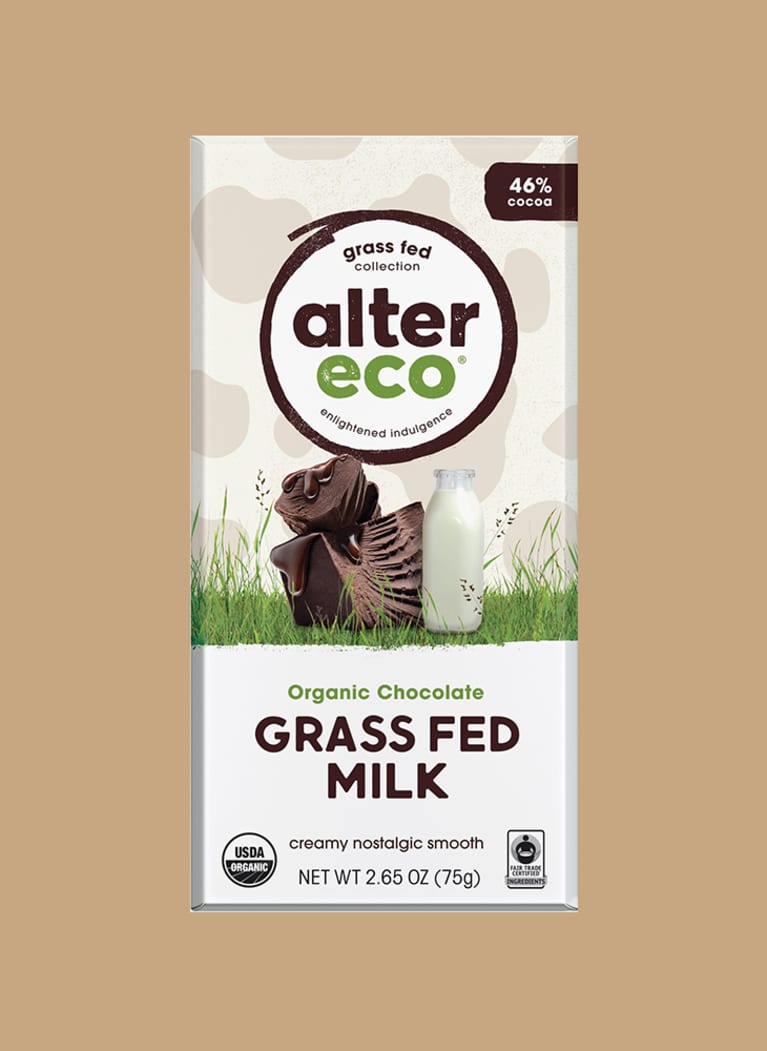 mbg creative / Alter Eco
Divine Chocolate
True to their motto "owned by cocoa farmers & made for chocolate lovers," this cocoa brand is 100% Fair Trade certified and was also selected as one of the best B-Corp companies in 2017. According to their site, it is Divine's "founding purpose to help farmers gain a share of the wealth they are helping to create." As part of that mission, they're also committed to promoting gender equality by empowering female farmers.
Rich Dark Chocolate With Ginger & Turmeric, Divine Chocolate ($4.59)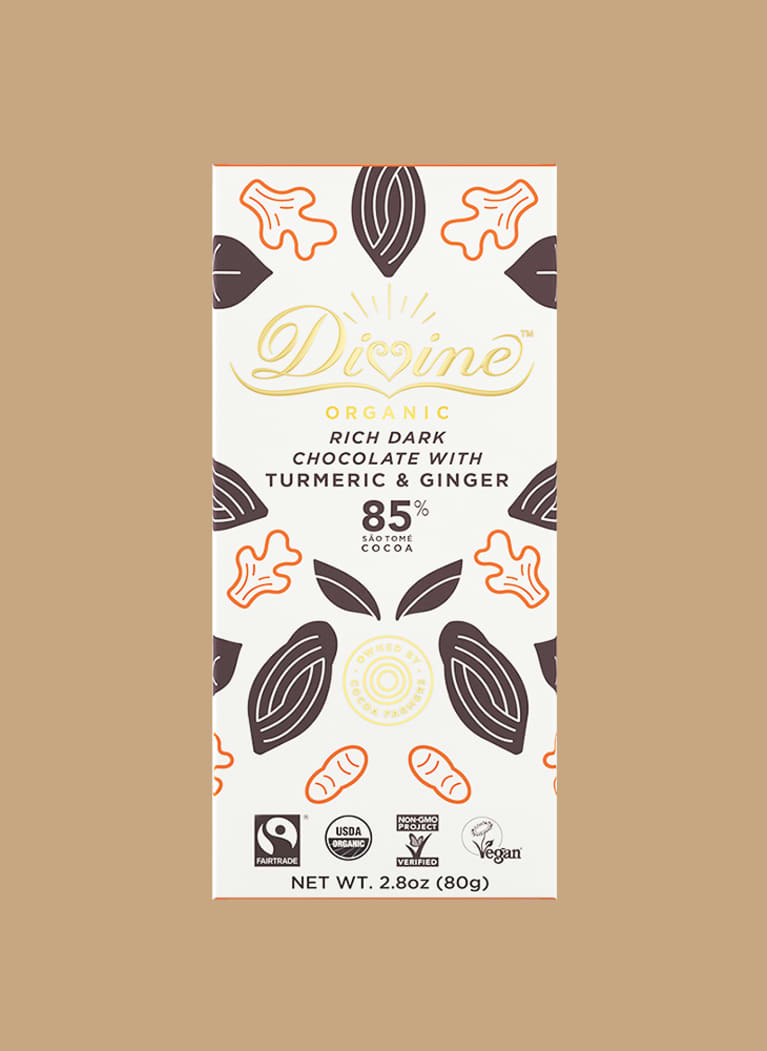 mbg creative / Divine Chocolate