How To Use Essential Oils For Seasonal Allergies
mbg Contributor
By Eric Zielinski, D.C.
mbg Contributor
Dr. Eric Zielinski is the author of The Essential Oils Diet and The Healing Power of Essential Oils. He received his Doctor of Chiropractic from Life University.
Medical review by
Heather Moday, M.D.
Allergist & Immunologist
Heather Moday, M.D. is the founder of the Moday Center for Functional and Integrative Medicine in Philadelphia, where she practices both traditional medicine and integrative medicine.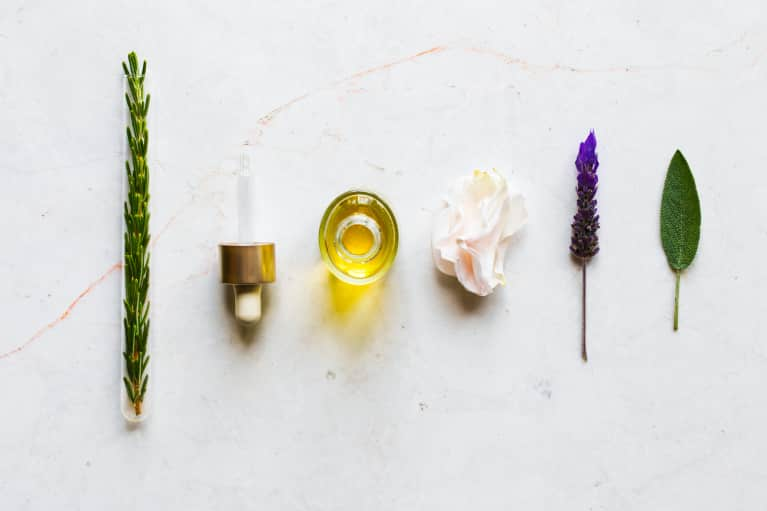 Last updated on September 30, 2019
When it comes down to it, seasonal allergies can be downright miserable. According to recent research, allergies are getting worse every year and scientists say it's due to climate change. The characteristic symptoms of allergic rhinitis (hay fever)—runny nose, itchy eyes, sneezing, sinus pain, and a general feeling of "yuck"—can be worse than the worst of colds, or even the flu! No wonder millions of people race to their local pharmacy and doctor's office every year looking for over-the-counter and prescription medications to find some relief.
What may shock you, however, is to learn that this doesn't have to be the case. In some cases, seasonal allergies are preventable and treatable with natural remedies. And, yes, essential oils can help!
Why do so many people suffer from allergies?
The American College of Allergy, Asthma & Immunology tells us that allergies make up the sixth leading cause of chronic disease in America, affecting more than 50 million Americans, and that hay fever is one of the main culprits. While it may feel completely natural for you to experience some minor allergic reactions to new environmental triggers such as dust, a new species of pollen, or pet dander, your body has the remarkable ability to adapt, and you should not have to suffer year after year.
Referred to as an adaptive immune response, this process is disrupted, however, when your immune system is burdened, and the scientific literature suggests that these factors are the main culprits:
Poor gut health: microfloral imbalance causing impaired immune function and leaky gut, a known cause of seasonal allergies.
High inflammatory diet: one of the primary causes of leaky gut and other gut disorders—processed grains, refined oils, sugar, and dairy are the top three to avoid.
Systemic Candida overgrowth: proven in the medical literature for more than 30 years to be a primary cause of allergic rhinitis, experts today are starting to dig up the archives to find new solutions.
Allergy treatment with medicine, explained.
Despite recent research supporting that taking supplements like prebiotics and probiotics, changing your diet, and using essential oils can all but reverse hay fever and manage your symptoms, your physician will most likely default to prescribing antihistamines, nasal sprays, and decongestants. Unlike the natural approaches just mentioned that have no side effects if used properly, it is virtually impossible to find a medical intervention for allergies that are completely safe.
Often used to help with sleep instead of for their chief purpose, antihistamines can cause dizziness, poor coordination, nausea, vomiting, and blurred vision.
Despite the Mayo Clinic debunking that myth that sprays can be addictive, they are still just a temporary fix that generally cause rebound congestion when used regularly.
Hypertension patients beware: Many decongestants contain pseudoephedrine, which not only constricts the blood vessels in your nose (to help clear up your airways), but it can increase blood pressure throughout your entire body to dangerous levels.
"Root cause resolution" is a must if you want to solve allergies holistically.
So instead of using potentially risky over-the-counter or prescription medications, you can use natural therapies like essential oils to help control your seasonal allergy symptoms. Or, better yet, you can use them to treat the root cause, so they don't come back every year!
Not to disappoint my fellow EO lovers out there, but let me break it to you: if you don't stop the root cause triggers that are causing your allergies in the first place, no amount of lemon, lavender, and peppermint will cure you. It is only by truly implementing a holistic lifestyle that you can properly heal your gut and stop the vicious allergy cycle. The primary action steps are to eat the right foods, take the right supplements, and get the right exercise. mbg Collective member and class instructor Vincent M. Pedre, M.D., lays out an easy-to-implement plan that you can check out by clicking here.
So if you commit to following a solid, gut-healing, anti-inflammatory lifestyle approach like Dr. Pedre's, it's possible that seasonal allergies will be a distant memory very soon.
How to use essential oils for allergies.
In the spirit of root-cause resolution and symptom relief, I have found essential oils to be second to none. They can:
As you may well know, the immune system is housed in your gut, and the likely place to start naturally treating allergies is to address leaky gut, which is also known as "intestinal permeability." Arguably one of the most pervasive health issues today, leaky gut syndrome is characterized by a damaged intestinal lining that permits undigested food particles and toxins to "leak" into the bloodstream.
Try this at home: Oregano oil has been show to repair some damage, and an easy-to-implement technique would be to add two to three drops into a time-release, enteric-coated capsule, fill with olive oil, and take twice daily for up to four weeks.
When using essential oil for inflammation, you will likely discover that certain blends work better than others.
In 2006, a study conducted at the Royal Adelaide Hospital in South Australia uncovered that a combination of caraway and peppermint is an exceptionally effective blend to soothe inflammation throughout the entire body.
Try this at home: Enjoy the anti-inflammatory synergy of caraway and peppermint by mixing two drops of each with one teaspoon of unrefined coconut oil and apply on the back of your neck and chest for instant relief!
Going well beyond the occasional yeast infection or jock itch, systemic (full-body) Candida albicans overgrowth has reached epidemic proportions in developed countries that have adopted the fast food lifestyle. Because broad-spectrum antifungals have failed to stop the Candida epidemic, researchers are investigating natural broad-spectrum alternatives, including tea tree and thyme essential oils.
A 2014 Polish study discovered that both oils have the unique ability to change the morphology and metabolism of yeast enzymes, thus suggesting that they may reduce the dangerous impact Candida albicans can have on the body. It also suggests that Candida cannot become resistant to these oils.
Try this at home: Fight systemic Candida by mixing two drops each of tea tree and thyme essential oils with one teaspoon of unrefined coconut oil and apply on your belly twice a day for one week. Monitor your symptoms to see if you've improved and continue by applying once per day for up to four weeks at a time.
One of the best (and proven) essential oil blends for seasonal allergies.
A landmark clinical trial out of Korea in 2016 uncovered a super anti-allergy blend that helped all of the 61 patients tested not only reduce general hay fever symptoms—nasal obstruction, sneezing, runny nose, and itchiness—but show marked improvement in quality-of-life measures like emotional health, sleep quality, and increased energy.
This was the blend used in the study:
Ravensara, proved to be an anti-inflammatory due to containing a rich amount of 1,8-cineole.
Frankincense, rich in a chemical, alpha-pinene, that has been known to reduce allergic symptoms.
Sandalwood, rich in santalol, frequently used to relax the mind and body, which implies that it can have a similar effect on hypersensitive organs related to allergies.
The researchers neglected to tell us the exact ratio of each essential oil and which species they used during their clinical trial, but knowing what I know about aromatherapy, I would suggest this as an easy-to-make diffuser recipe to get you on the road to easing seasonal symptoms today!
Essential oil blend to diffuse for seasonal allergies.
3 drops frankincense sacra essential oil
2 drops Australian sandalwood essential oil
1 drop ravensara essential oil
Fill the diffuser with water as directed.
Add the essential oils.
Turn on the diffuser first thing in the morning while you get ready for the day during allergy season.
Use when you feel allergy symptoms set in.