6 DIY Epsom Salt Baths Tailored To Help Ease Fatigue, Anxiety & More
mbg Beauty Contributor
By Jules Aron
mbg Beauty Contributor
Jules Aron is an author living in New York City. She holds a master's in publishing from New York University, and is a certified yoga, qigong, and traditional Chinese medicine practitioner, as well as a certified health and nutrition coach.
May 10, 2018
Just as enjoying a cup of herbal tea can soothe myriad ailments from inflammation to indigestion to sleep problems, so, too, can a daily bath ritual infused with botanicals and herbs provide a therapeutic sanctuary tailored to the needs of your body, mind, and spirit.
Medicinal plants, flowers, and oils have been used in baths for thousands of years for relaxation, invigoration, and replenishment.
As the beneficial properties of the botanicals are released into warm water, the body's largest organ, our skin, is able to absorb the benefits that can help calm the mind, soothe sore muscles, assist in detoxification, soften skin, and promote a more restful sleep. While they're not cure-alls (is anything, really?), they can certainly help assuage some common ailments many of us endure in our daily lives.
To use the bath blends, pour the bath salt mixture into warm bath water, or to make after-bath cleanup easier, tie the bath salts up in a reusable tea bag or a 12-by-12-inch square of muslin cloth and drop the bag in while the water is running.
Here's how to customize your herbal bath experience according to your needs:
A bath to soothe menstrual cramps:
2 cups sea salts or Epsom salts
1 cup apple cider vinegar
6 drops clary sage oil
4 drops chamomile essential oil
4 drops rose essential oil
½ cup dried rose and chamomile flowers (optional)
Do not underestimate the power of this bath blend, as every ingredient plays its part. Epsom salts, rich in magnesium sulfate, help reduce water retention and inflammation, both of which are often at the root of menstrual cramps1. The apple cider vinegar, rich in calcium and potassium, can also ease the cramping of muscles2 in and around the uterus. Clary sage and rose essential oils3 help alleviate the symptoms of PMS and menstrual cramps. Glycine, a compound found in chamomile, helps relieve muscle the spasms and contractions associated with period cramps.
A bath to fight off fatigue:
2 cups sea salts or Epsom salts
1 cup apple cider vinegar
5 drops grapefruit
5 drops lavender
½ cup dried lavender flowers and/or fresh or dried slices of grapefruit (optional)
This effective blend to combat fatigue uses ACV that draws excess uric acid out of the body and provides pain relief associated with headaches and physical and mental exhaustion. Its natural acidity has an alkalizing effect on the body, which helps restore pH balance. Aromatherapy has been shown to alter the perception of fatigue4. The grapefruit oil is an excellent mood balancer that also helps restore the body's immune system and aids in mental clarity. Calming lavender5 keeps the stress levels associated with fatigue at bay6.
A bath to relieve headaches:
2 cups sea salts or Epsom salts
1 cup apple cider vinegar
4 drops peppermint
8 drops lavender
½ cup dried lavender buds and/or fresh or dried slices of lemon dried lavender buds (optional)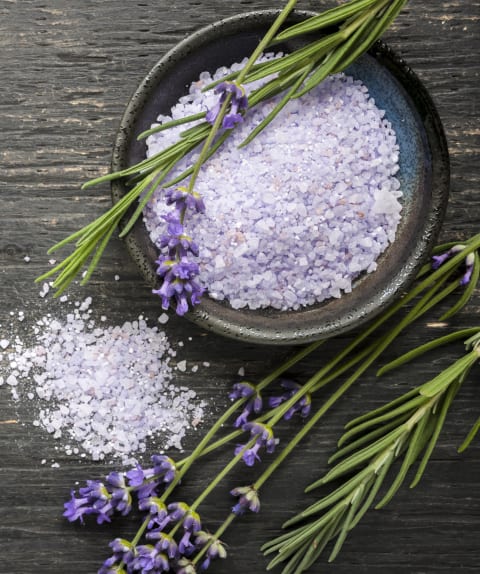 Magnesium-rich salts are helpful in reducing cortical-spreading depression—the visual and sensory changes that occur when experiencing a headache, especially a migraine7. They also block the pain-transmitting chemicals8 in the brain. The calming and numbing effects of both peppermint and lavender oils9 make them perfect tools for finding headache relief.
A bath to reduce anxiety:
2 cups sea salts or Epsom salts
1 cup baking soda
4 drops bergamot
4 drops peppermint
4 drops sandalwood
Fresh or dried slices of orange (optional)
This bath blend is formulated to reduce anxiety by using synergistic ingredients. Baking soda is a powerful detoxifying agent that has the added benefit of making the pH balance in city water more basic, which is closer to the ocean's healing natural pH of 8.110.
Bergamot oil has been shown to reduce corticosterone response11 to stress in the lab (on rodents) while sandalwood is excellent for quieting an overactive mind and clearing away destructive thoughts. Blended with peppermint, this bath can help calm the mind and push away the fear often associated with anxiety.
A bath to overcome grief:
2 cups sea salts or Epsom salts
1 cup baking soda
4 drops chamomile
4 drops sandalwood
4 drops lemon oil
½ cup dried chamomile flowers and/or fresh or dried slices of citrus fruit (optional)
And finally, a bath to elevate feelings of love:
2 cups sea salts or Epsom salts
1 cup baking soda
4 drops jasmine
4 drops sandalwood
4 drops rose absolute
½ cup of dried roses and jasmine buds (optional)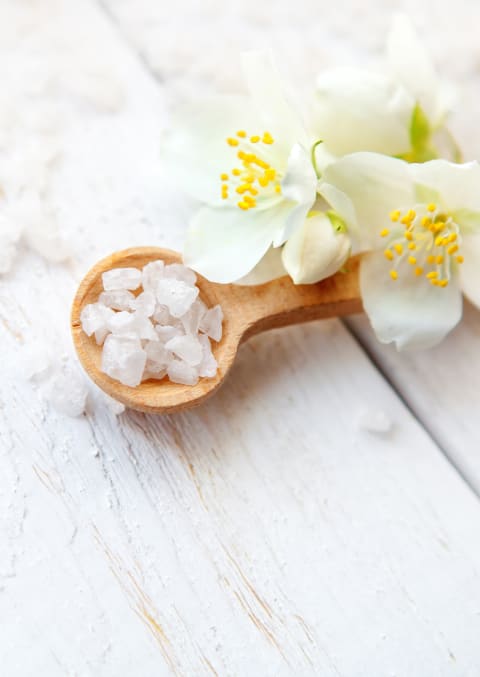 Photo: @Natalia_Grabovskaya
Jasmine has been shown to gently arouse the nervous system15. The flower oil can cause increased signs of physical arousal such as breathing rate, body temperature, blood oxygen saturation, and systolic and diastolic blood pressure. Rose oil is very effective at promoting a "hypnotic" effect16—if you're feeling the love, it's an excellent way to bring it to the next level. And finally, sandalwood oil is considered to be the most potent natural aphrodisiac in aromatherapy because of its masculine, musky scent. All together, this blend is a good choice for fostering self-acceptance and an inner and outer sense of connection.
Enhance your bathing experience with the following tips:
Set the mood by softening the lights and playing soft music of your choice.
Surround yourself with things of beauty that may help you relax such as fresh flowers, energizing crystals, incense, and soft candles.
While your bath fills with warm water, exfoliate by dry brushing to detoxify while stimulating your blood flow.
Slowly slip into the bath allowing your body to adjust to the temperature. Try to soak for at least 15 to 20 minutes.
Keep a glass of water and an aromatic mist close by. A few mists onto the face and shoulders makes for a lovely mid-bath refresher.
Relax and let go of your thoughts and cares. Be present and enjoy the moment.
Exiting the bath, take a moment to ground yourself. Feel both feet rooted firmly on the ground. Take a few deep breaths and splash cool water on your face. Rehydrate with a glass of water.
Nourish your skin with a body oil while it's still wet. Slather it on and take time to connect with your body and nurture your skin. Pay extra attention to the places that need it most.
Gift yourself a healing experience by drawing a warm, therapeutic bath tonight. It may just be the perfect medicine for whatever ails you.
If you want to make a spa day out of it, add this top-notch at-home spa facial to your list.
Jules Aron
mbg Beauty Contributor
Jules Aron is an author living in New York City. She's written four books: Zen and Tonic: Savory and Fresh Cocktails for the Enlightened Drinker, Vegan Cheese: Simple, Delicious, Plant-based Cheese Recipes, Fresh & Pure: Beauty Balms and Cleaners, and Nourish & Glow: Naturally Beautifying Foods & Elixirs. She holds a master's in publishing from New York University and is a health and nutrition coach certified by the Institute for Integrative Nutrition. Aron is also a certified yoga instructor and qigong and traditional Chinese medicine practitioner. She has been featured in the New York Post, BuzzFeed, and Well Good, has appeared on The Today Show, NBC, and ABC News, and is a regular contributor to Woman's World and Thrive magazines, among others.