Green Living Experts Name Their No. 1 Sustainable Bedroom Staple

mbg Sustainability + Health Director
By Emma Loewe
mbg Sustainability + Health Director
Emma Loewe is the Senior Sustainability Editor at mindbodygreen and the author of "Return to Nature: The New Science of How Natural Landscapes Restore Us."
When it comes to eco-friendly home design, less is more. It's all about investing in a few high-quality pieces that will last for years, and buying secondhand when you can. Here, six eco-friendly bloggers share their expertise on the wide world of sustainable shopping. Check out the new products, cherished vintage items, and genius hacks that have helped them craft bedrooms that are a bit easier on the planet.
Invest in an area rug made from recycled material.
An area rug can really bring the décor of a space together while simultaneously bumping the coziness level up a notch. I was recently searching for area rugs for my bedroom, and it was really important to me to find one that was made from recycled, organic, and non-animal materials. I ended up finding this one by Haiku Designs made from an organic cotton and bamboo rayon blend. I couldn't be happier with it!
Opt for eco-friendly air fresheners.
I opt for nontoxic cleaners and laundry detergent to keep my room fresh, and I try to keep plants around and regularly circulate the air each day (I love having the window open!). I also have an organic cotton air diffuser from cleaning essentials, which is a great zero-waste option for replacing chemical air fresheners.
Look for upcycled accessories.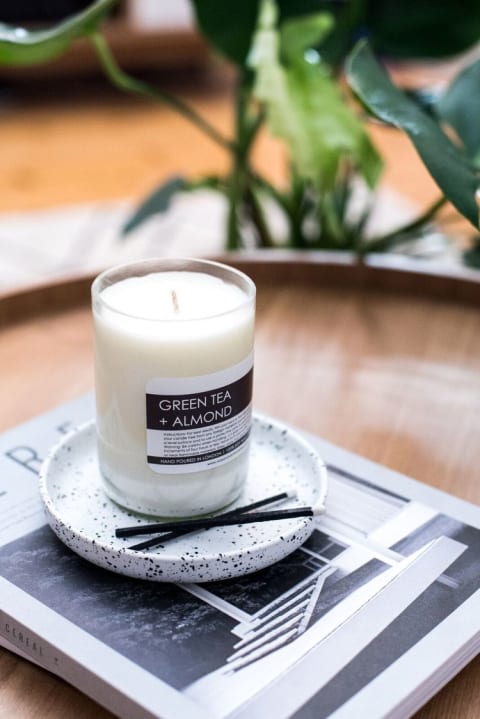 Since starting my journey toward living a more sustainable lifestyle, I've made a number of small green swaps in the bedroom—one of my favorites being a beautifully scented candle from Wax + Wick, a London-based company that contributes to the circular economy and minimizes waste by repurposing wine bottles as candle jars. Personally, I recommend the Grapefruit + Sage candle with its fresh and fruity fragrance!
I aim to buy things once and buy things right.
Keep it a toxin-free zone.
In my opinion, choosing organic bedding and mattresses from reliable brands such as Coyuchi and Avocado Green Mattress is one of the most important things you can do to promote a restful bedroom. Our sleep is also strongly influenced by the air quality! Avoid potential headaches by looking for no-VOC paint options and opting for slow-burning, nontoxic candles (I love the ones from Keap!).
Make your bedding and art do double duty.
My husband and I were given a set of 100 percent GOTS-certified, 200-thread count organic cotton sheets from Under the Canopy about a year ago, and they are still soft as ever, cool in the summer, and warm in the winter. I am a huge fan of this brand, and the quality of its bedding—totally beats the pilled cheap sheets we owned previously that were anything but sustainable and nothing close to comfortable! We also have a beautifully designed recycled cotton knit blanket by Happy Habitat, which really dresses up the room. We get good use out of it by taking it to the beach, picnics in the park, on road trips and camping for a little extra warmth. All those moments are captured in this blanket that we sleep under each night, and I love that.
All the wall art in our room is upcycled. We have a giant map of the world that we bought at a garage sale; an ethically made, upcycled sari wall-hanging from Ten Thousand Villages; a mirror I found on the street, and a tabletop we converted into a canvas and painted. On the floor we have two ancient carpets, one that my grandmother picked up from the former Yugoslavia, and another we found at a secondhand shop in Denmark. I'm a huge believer in filling your house with relics from the past. I also aim to buy things once and buy things right.
Shop for secondhand furniture, or make your own!
For me, crafting a sustainable bedroom means shopping for secondhand furniture and taking a minimalist design approach. I recently moved into a new apartment and decided to upcycle wooden pallets instead of buying a whole new bed and design a dresser using old wood and metal piping.
This European studio apartment is full of sustainable design inspo.