An Eco-Friendly Swap For Your Cleaners, Detergents & Other Home Goods You're Constantly Buying

mbg Sustainability + Health Director
By Emma Loewe
mbg Sustainability + Health Director
Emma Loewe is the Senior Sustainability Editor at mindbodygreen and the author of "Return to Nature: The New Science of How Natural Landscapes Restore Us."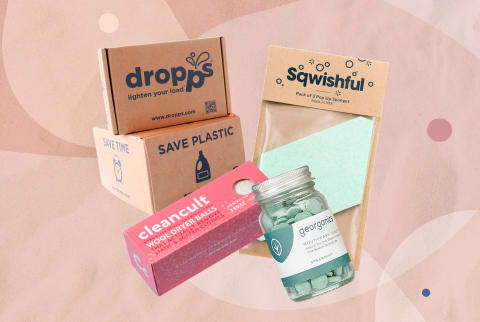 January 25, 2019
There are some home essentials we buy so often that we don't think twice about it: Out of mouthwash? Pick up another bottle from the drugstore. Running low on paper towels? Order some more. But this kind of lackadaisical buying only fuels the giant consumption problem we have on our hands. You don't need to look further than Marie Kondo's viral show to see that we have too much stuff, and it's stressing us out. Our disposable mindset means more work for our already overwhelmed landfills, too.
It's time to break the cycle, starting with these 10 joy-sparking home essentials. They're all a bit easier on the environment than their traditional counterparts—whether they come in recyclable packaging or use more natural ingredients—and they'll all last you a long, long time. Pay a little more upfront and save yourself (and the planet) some headache down the line.
Advertisement
This ad is displayed using third party content and we do not control its accessibility features.
1. Instead of bottled detergent, use Dropps.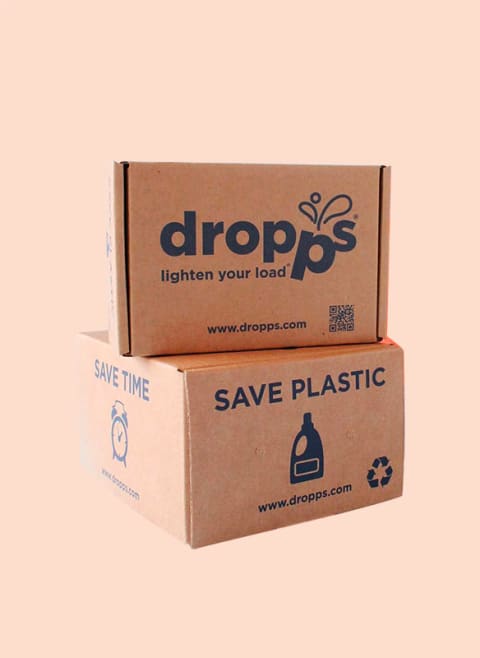 Dropps / https://www.dropps.com/pages/laundry-detergent-pods
2. Instead of sponges, use Sqwishful.
Armed with the tagline "Sqwishful Thinking," this new company aims to elevate a household necessity that's long been stuck in the past: the sponge. Sqwishful sponges are made of cellulose, a wood fiber, making them totally biodegradable (traditional ones tend to contain polyester or polyurethane). They also come in a compressed version and expand only when wet, so they're easier to ship and store under your sink. The Brooklyn-based company is currently working on making its packaging 100 percent compostable too.
Sqwishful Parallelogram Pop-Up Sponges ($6/pack of 3)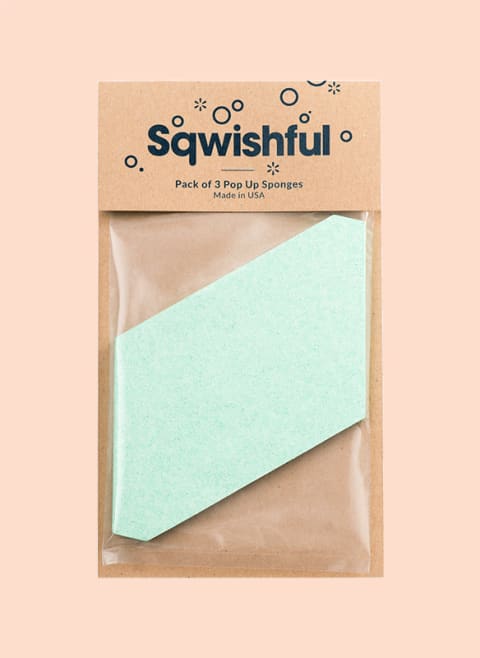 Sqwishful / https://sqwishful.com/sponges
3. Instead of paper towels, use Three Blue Birds.
Americans go through an estimated 3.7 million tons of paper towels a year2—and we don't even really need them! Grab a reusable towel to soak up your next spill, or look into alternatives like Three Blue Birds Swedish dishcloths. They feel more like a hybrid between a dish towel and a paper one, but they're machine washable and you can compost them at the end of their (very long) lives.
Three Blue Birds Swedish Dish Cloth ($6.95)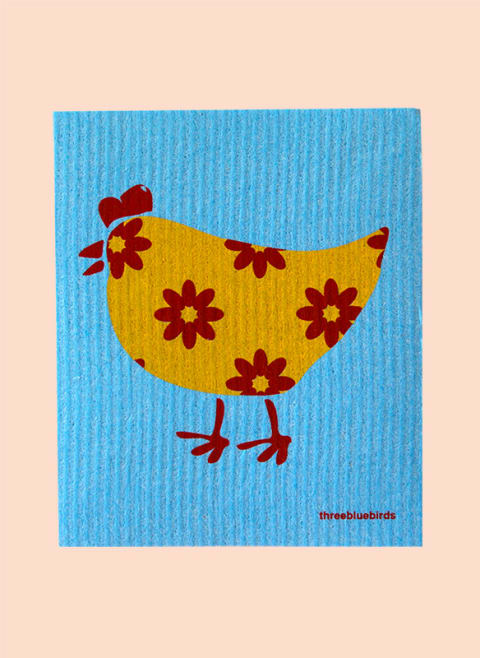 Three Blue Birds / https://threebluebirds.com/products/gerti-on-blue-swedish-dishcloth
Advertisement
This ad is displayed using third party content and we do not control its accessibility features.
4. Instead of paper filters, use CoffeeSock.
CoffeeSock makes your beloved morning ritual a little easier on the planet, replacing a pack of hundreds of paper filters with one reusable one, made from GOTS-certified organic cotton. This Austin-based brand has a solution for every taste and preference: a hot brew filter, cold brew filter, and even a portable filter you can fasten to the lid of a Mason jar or water bottle to brew on the go.
CoffeeSock Drip #2 Cone ($13)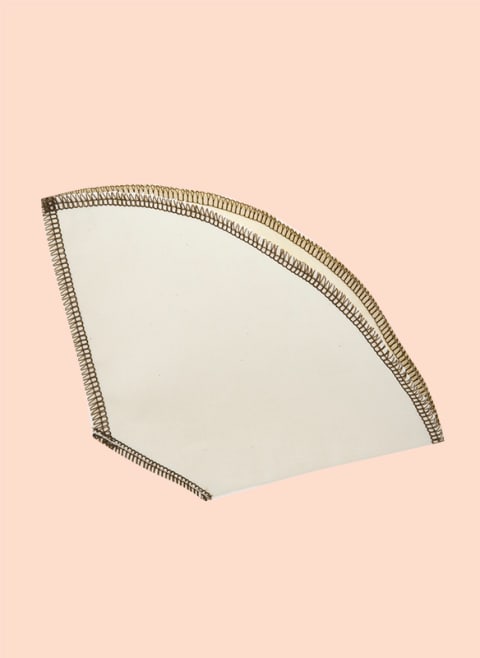 CoffeeSock
5. Instead of bottled mouthwash, use Georganics tablets.
Georganics mouthwash tablets offer up a whole new way to gargle. Each jar comes with 180 tablets made from baking soda and natural flavors such as spearmint. Drop one in water once a day and you have yourself half-a-year's supply of mouthwash in one tiny jar. The oral care brand is based in the United Kingdom, but they ship worldwide.
Georganics Mouthwash Tablets Spearmint ($11.63)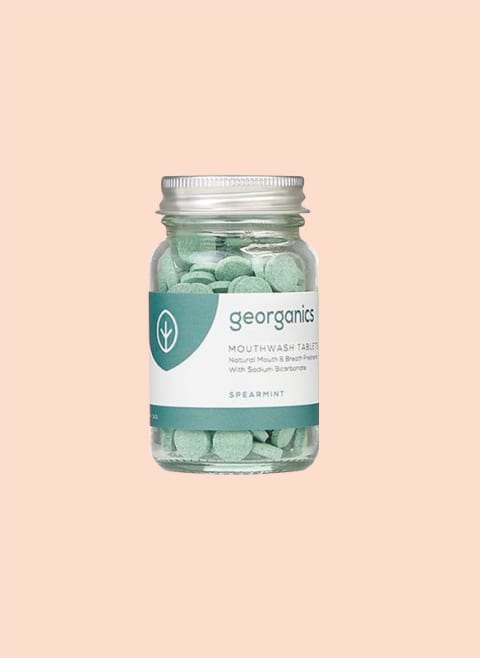 Georganics / https://georganics.co.uk/collections/mouthwash-tablets/products/mouthwash-tablets-spearmint
6. Instead of plastic bags, use Stasher bags.
Stasher bags have had quite a moment lately—and for good reason. These colorful, reusable silicone bags are easy to use and even easier to clean. They also come in a bunch of sizes. Use them to store anything you used to wrap in single-use plastic or foil and walk away feeling like an eco-hero in the kitchen.
Stasher Silicone Snack Bag, Amethyst ($9.99)
Stasher / https://www.stasherbag.com/collections/all-products/products/reusable-silicone-snack-bag-amethyst
Advertisement
This ad is displayed using third party content and we do not control its accessibility features.
7. Instead of dryer sheets, use cleancult balls.
Standard dryer sheets are made from a base of polyester covered in artificial fragrances, and they have been tied to skin irritation3 and environmental damage. Time to ditch them in favor of a much simpler alternative: A ball of 100 percent wool. cleancult's version stops cling, shortens wash times, and softens clothes for up to 1,000 dry cycles.
Clean Cult Wool Dryer Balls ($10.95)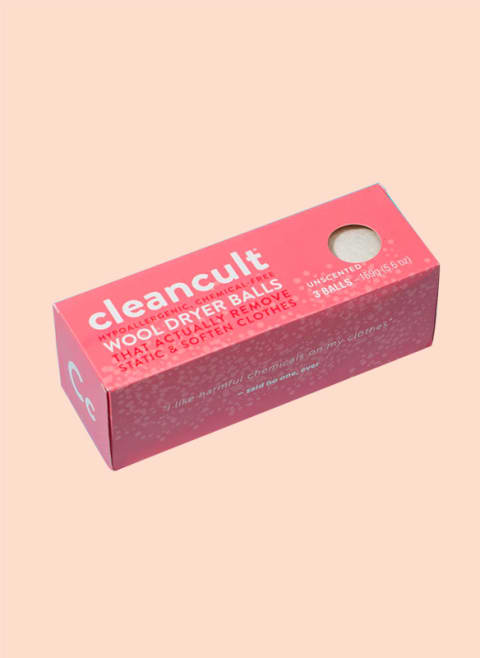 Clean Cult / https://www.cleancult.com/products/wool-dryer-balls/
8. Instead of disposable plates, use EcoSouLife plates.
Let's all vow to not refill that stash of emergency disposable plates sitting in our cabinet, shall we? Made of natural materials like rice husk, bamboo, and plantains, EcoSouLife plates are a more durable alternative. They're lightweight enough to feel disposable but can be washed in a dishwasher and used a few times over.
EcoSouLife Bio Large Dinner Plate ($11.49)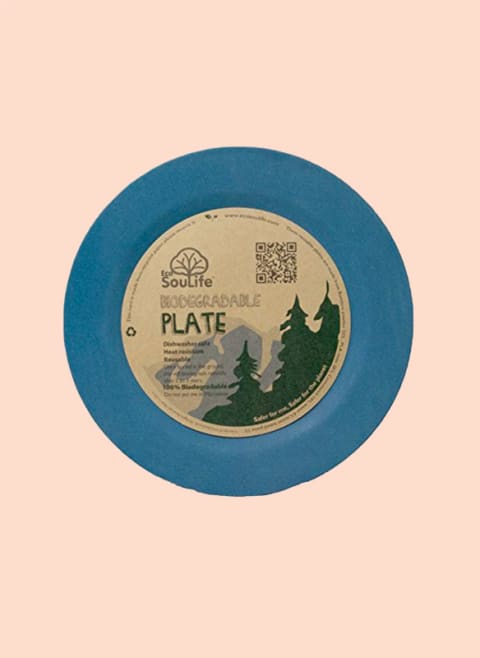 EcoSouLife / https://www.amazon.com/EcoSouLife-Biodegradable-Large-Dinner-Plate/dp/B00K1IGYR4
9. Instead of plastic foil, use Bee's Wrap.
Another addition to your eco-friendly kitchen arsenal, Bee's Wrap is great at wrapping sandwiches, loose produce, breads, and anything else you'd otherwise keep in plastic or aluminum foil. Made of beeswax, cotton, and jojoba oil, the reusable wrap softens in your hand and molds to whatever you're wrapping.
Bee's Wrap Sandwich Wrap ($11)
Bee's Wrap / https://www.beeswrap.com/collections/sandwich-wrap/products/sandwich-wrap
Advertisement
This ad is displayed using third party content and we do not control its accessibility features.
10. Instead of traditional all-purpose cleaner, use Branch Basics.
Branch Basics multipurpose formula comes in concentrate form, making it easier and less resource-intensive to ship out to customers. You can then choose how much water to add based on how difficult the cleaning job is. Even though it's natural—made from a blend of coco-glucoside, derived from coconut oil and corn and fruit sugars, baking soda, and chamomile flower extract—it's somehow effective enough to replace pretty much anything in your cleaning cabinet.
Branch Basics Concentrate ($49)
Branch Basics / https://branchbasics.com/shop/concentrate-32oz/
Advertisement
This ad is displayed using third party content and we do not control its accessibility features.