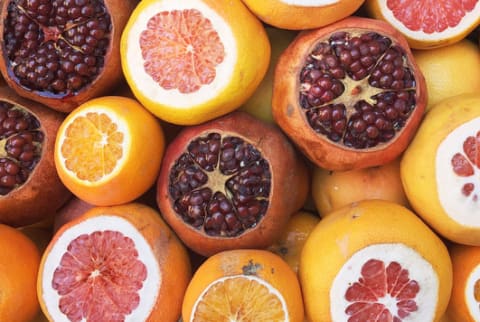 June 15, 2016
Our skin protects and reflects. As our largest organ, it paints a picture of our health outside and in. How we feed and protect our skin, like our whole body, is critical to our overall health.
What promotes healthy skin? A clean, nutrient-rich diet that's also anti-inflammatory. Anti-inflammatory foods include fruits and vegetables as well as healthy fats like those found in avocados and olive oil and nuts, and polyunsaturated omega-3s from walnuts, flaxseed, salmon, and sardines. An anti-inflammatory approach is also about balance: more whole, real foods and less pro-inflammatory, highly processed foods and ingredients like excess sugar, refined carbohydrate grains, and too much saturated fat from meats and other foods.
Above all, veggies and fruits play a starring role in a skin-friendly diet. I call them the gifts of Mother Nature. Like other plant foods, fruits and veggies contain many vitamins and minerals that support healthy skin—including vitamin A, vitamin C, and others, along with literally thousands of phytonutrients, many of which play a role in keeping skin healthy, elastic, and youthful.
Here are five key nutrients I recommend to get a brighter glow, beat blemishes, and keep your skin supple and smooth:
1. Carotenoids for a sun-kissed glow

Orange fruits and vegetables get their bright hue from phytonutrients called carotenoids, including alpha- and beta-carotene. When you eat these foods regularly, research finds, they can quite literally give dull complexions a boost, resulting in a brighter, sun-kissed glow without the UV-exposure.
There's also evidence that foods rich in carotenoids can help protect against sunburn by increasing the skin's defenses, providing a natural SPF. However, researchers caution that it's not as effective as sunscreen, so you should still be sure to use safe sun-exposure strategies.
Carrots
Pumpkin
Tomatoes
Mangos
Kale
Spinach
2. Vitamin C for collagen

Vitamin C plays a key role in collagen formation and has been shown to have positive effects for those with aging skin and hyperpigmentation.
Kiwifruit
Strawberries
Oranges
Grapefruit
Yellow bell peppers
Broccoli
3. Healthy fats for moisture and skin elasticity

Healthy oils are essential to the production of the skin's natural oil barrier and help maintain moisture and elasticity in the skin. In fact, every single cell in the body is made up with a fat-containing cellular layer that helps define and protect the cell. The cell lining actually reflects the type of fats we eat, and the very same fats that have been shown to be heart-healthy have been shown to be skin-healthy, too!
Mono- and polyunsaturated fats tend to be anti-inflammatory in nature and, like carotenoids and vitamin C, omega-3s have been shown to play a role in slowing aging of the skin. Plus, higher intakes of monounsaturated fats, like those found in avocados and olive oil, have been linked to increased skin elasticity. Omega-3s have also shown promise in helping defend against overexposure to UV rays.
Avocados
Olive oil
Salmon
Sardines
Walnuts
4. Protein for overall skin health

Protein helps in the formation of all tissues in the body including your skin, as well as in the creation of enzymes and hormones. And many proteins offer additional benefits to the skin. Eggs, for example, also contain lutein in their yolks, which is a carotenoid that's important for forming and preserving healthy skin.
Eggs
Fish
Poultry
Beans
Simple protein powders like egg, sprouted brown rice, and pea protein
5. Healthy drinks for hydration

Hydration is key! In fact, water is arguably the most important "nutrient" for all body functions and notably helps with all aspects of skin health, including moisture, elasticity, flexibility, and tone.
Plain or bubbly water, green tea, low-sodium vegetable juices and broths, soups, and low-fat or fat-free milk are strong players in a hydrating and skin-boosting diet. You can get upward of 20 percent of your water needs met through foods, too, by eating fruits and veggies.
A recent review also showed that green tea, among its other associated health benefits, was protective against UV exposure and helped reduce the risk of skin cancer growth.
At the same time, remember to steer clear of high-sugar beverages like sodas and sugar-sweetened juice "drinks" that can promote inflammation. Enjoying low-sugar, thirst-quenching beverages helps hydrate both your skin and body.
Water, flat or sparkling
Green tea
Low-sodium vegetable juices and broths

Wendy Bazilian, DrPH, M.A., R.D.
Wendy Bazilian, DrPH, M.A., R.D., is a writer, educator, food enthusiast and award-winning journalist. She's a registered dietitian, ACSM-certified Exercise Physiologist, and expert consultant to the spa industry. She's also consulted for NOW Foods. Wendy is co-owner of Bazilian's Health Clinic in San Diego. She's co-author of "Eat Clean, Stay Lean" (Rodale), author of "The SuperFoodsRx Diet" (Rodale) and contributor to numerous books including James Beard- and IACP-nominated "Golden Door Cooks at Home," and the original New York Times bestseller "SuperFoodsRx." A nutrition and wellness contributor on LIVE with Kelly, NBC's TODAY show, she's also appeared on Access Hollywood, Univision and for other national television and print media. Wendy's guiding philosophy is Eat well, Move daily, Be Healthy.®