5 Simple Chocolaty No-Bake Treats That Pack In Nutrients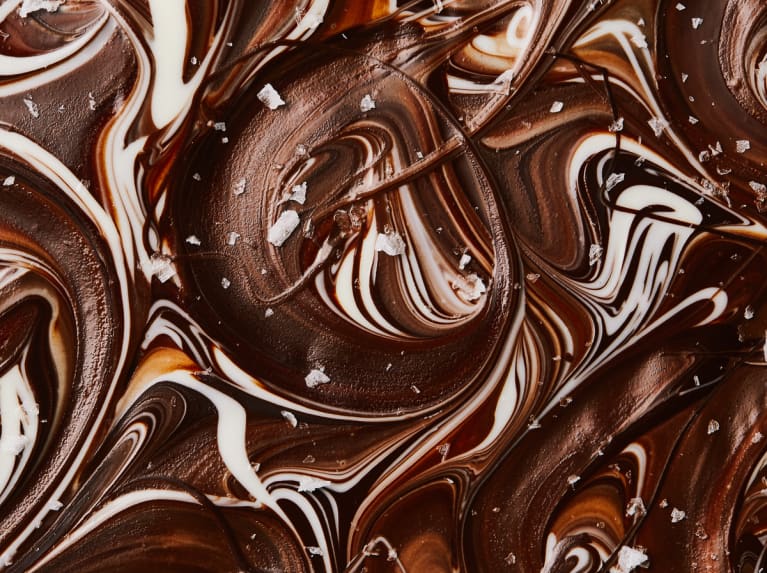 If you're asking us, the best things in life are bake-free—that is to say, we'll pick a no-bake dessert over a loaf of banana bread any day. But as we start to look toward a very different type of festive season in 2020, we're seeking little ways to make the moments special. A sweet treat is a great place to start.
And the only thing better than a good no-bake sweet is one that also packs in some sneaky nutrients. These simple treats definitely do just that, while also featuring plenty of chocolate. With less processed sugar and more superfood benefits, they're sure to become favorite recipes as we continue into this celebratory season, no matter what it looks like.
According to registered dietitian Frances Largeman-Roth, R.D., "Cocoa (cacao) beans and products made with them are rich in heart-protective flavanols, which have been shown to help lower blood pressure, reducing the risk of stroke and heart disease," she wrote for mindbodygreen "And chocolate may keep your memory sharp by boosting blood flow to the brain—definitely great reasons to get a daily dose of chocolate!"
Beyond chocolate, these recipes are packed with nut butters, seeds, and more—providing plenty of reasons to make them beyond just how tasty they are. Our advice? Bookmark this for inspiration whenever you need a little bit of chocolate.
The key to these rich truffles is the use of shaved 100% dark chocolate, giving chocolate purists exactly what they're looking for: that unadulterated chocolate flavor. Sweetened with a bit of natural fruit syrup and packing in nutrients thanks to the leafy greens and sea veggies in mindbodygreen's organic veggies+, the flavor of that pure chocolate is set off by the addition of fresh vanilla bean.
Vegan No-Bake Chocolate Almond Butter Bars
Fans of the classic Reese's, these vegan no-bake bars are for you. The almond butter layer requires only five ingredients, and then you'll just need a bit of chocolate for the topping. These are, in particular, for people who think your everyday nut-butter cup just doesn't have enough, well, nut butter—the ratio here is significantly more butter than chocolate. (Surprise, we're totally those kind of people.)
No-Bake Hazelnut Fudge Brownies
If you, like me, have a deep love for Nutella, you just can't shake, these no-bake brownies will satisfy that love while keeping to keto guidelines. They skip traditional sweeteners in favor of keto-friendly powdered sugar and sugar-free honey and include a mix of walnuts, hazelnuts, and macadamia nuts. Topped with luscious ganache, you'll want to cut them into small slices—they're wonderfully rich.
Seeded Chocolate-Tahini Bark
For a nut-free take on a nut-butter cup, this tahini bark is the perfect thing. The ingredients were carefully selected to keep the recipe gut-friendly: Chia seeds, flaxseeds, hemp seeds, and pumpkin seeds top and fill this crunchy salty-sweet dessert. Simply pour the layers onto a sheet tray and pop it into the freezer before breaking it into bite-size pieces for a tasty treat. (Honestly, I've already made this one a few times this year.)
If you're looking for something that looks a little more like the candy bars of your childhood, these vegan crunch bars will be the perfect project. Filled with a crunchy mix of puffed rice and chia seeds and cloaked in the vegan chocolate of your choice (if you ask us, the darker the better!), they look like a slightly grown-up take on the sort of sweets you had as a kid.
If you're OK with the idea of a little bit of baking, we've also got plenty of healthy cookie and brownie recipes—ones that you can make for any night of the week.