7 DIY Face Masks — Easy, Natural Recipes For Glowing Skin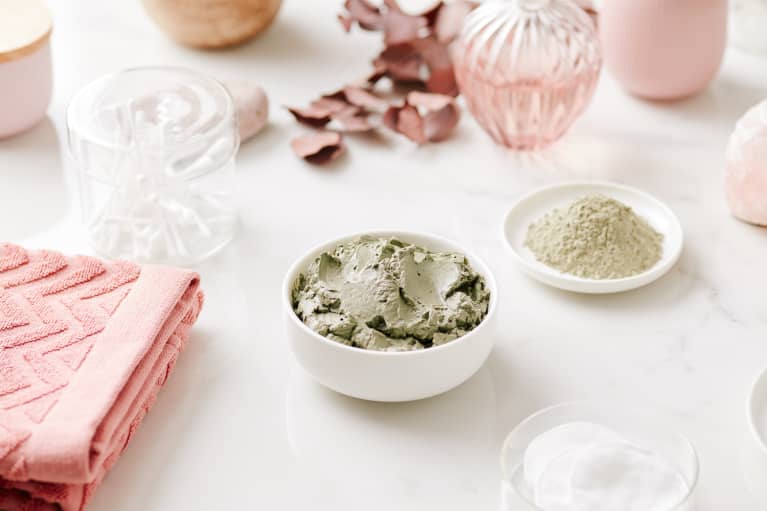 There's no easy way to get through the uncertain and unprecedented experience of COVID-19—full stop. But if you can find joy in small, comforting rituals or treats, we think it's worth trying. So for our beauty fans out there, why not try these DIY face masks you can source from your kitchen? Not only are they incredibly easy—all are five ingredients or less—they're deeply nurturing for your skin, too. Whipping them together may make you feel like a kid again, experimenting in the kitchen, getting dirty, and slathering food all over your face (the nostalgia alone is enough to pull you in.) While you're at it, maybe turn it into a full spa experience.
1.
Fruit enzyme brightening mask.
Enzyme masks are a gentle, natural way to slough off dead skin cells and brighten your complexion. If you are one to typically reach for the exfoliating treatments at the drugstore or Sephora, this one is for you. Enzymes are little molecules that work by simulating a biochemical response on the top layer of the skin, encouraging cell turnover and allowing younger, plumper cells to come to the top. Plus, they are found in many of our favorite super fruits, like berries, papaya, and cherries.
To make this fruit-forward treatment, blend together equal parts yogurt, blueberries, and raspberries, with the additional drop of lavender oil if you choose (see the full instructions here). Then simply slather it on your face. It's a one-time-use-only thing, as it doesn't contain preservatives, so feel free to use it all up. Oh, and if you're afraid this sounds messy, don't worry: Enzymes are actually activated by heat, so we recommend wearing it while you shower, anyway.
2.
Parsley mask for breakout control.
Anecdotally, people have sung the praises of parsley tea taming acne from the inside out. The theory is that the herb's high levels of vitamins A, C, and K all aid skin cells in managing inflammation, encouraging turnover, and controlling excess sebum production. Topically the vitamins do similar functions: They are used to calm inflammation (key during a breakout), as well as encourage cell turnover to clear out clogged pores. All of this points to its potential as an acne-fighter, though there are no studies to make this a conclusive connection, yet.
If you want to make this acne-soothing mask, first chop up some parsley (about a handful will do). Mix the parsley with a spoonful of apple cider vinegar and a spoonful of yogurt. Mix it thoroughly, apply to affected areas on the face or body, and wash off after 20 minutes. (Read the full instructions here.) The parsley gets some help from the apple cider vinegar's AHA properties, as well as the yogurt's probiotics, which help balance the skin's microbiome.
3.
Matcha powder soothing face mask.
If you find your skin is acting up or inflamed, this blend of matcha and colloidal oatmeal can serve as a moment of calm. Matcha, the trendy tea, is beloved for its antioxidant properties, while colloidal oat is one of the most often-recommended ingredient for soothing inflamed, red skin by holistic and traditional derms alike.
For this mask, whisk together 3 parts oatmeal to 1 part matcha. Add a few drops of water and mix until it becomes a paste. Apply it and let it set for about 10 minutes. (Read our full instructions here.) Bonus: If you add a few drops of oil to the mix, it will hydrate skin, too.
4.
Cucumber cooling mask.
This one is about as easy as you can get: Puree cucumber slices, apply to skin for a few minutes, and rinse. After rinsing off the mask, however, be sure to use an occlusive agent like a cream or oil to seal in the moisture, as the water on the skin can evaporate, leaving you drier than before. It will be instant relief for red skin, thanks to its high water content as well as antioxidants.
5.
Nurturing Manuka honey mask.
Another one-ingredient option: Manuka honey. Perhaps you've heard all about the healing benefits of the special honey: It's antibacterial, anti-inflammatory, and contains polyphenols to nurture your skin barrier. All you have to do is apply an even layer of the liquid and wash it off after 10 minutes. (Read up on the skin-healing benefits of Manuka honey, here.)
6.
Refreshing mint and aloe mask.
This is right out of a summer playbook: mint, aloe, rosewater, and a dash of honey. Aloe vera is famous for its skin-supporting properties, including helping fade dark spots, enhancing hydration, and soothing inflammation (specifically UV-induced inflammation). Rose water spray or toner acts as a balancer (rose water is shown to aid in oil control). And of course honey, too, is chock-full of nutrients for the skin (see above).
To make this cocktail-like mask, mash 2 to 4 mint leaves, and mix with 2 parts honey, 2 parts aloe gel, and a few sprays of rose water. You can leave this on for up to 20 minutes. (Read more, here.) It's pretty ahhh-inducing.
7.
Hydrating avocado-banana mask.
The oils in avocado contain tons of minerals, healthy fats, and so on—plus vitamin C and vitamin E. This mask also contains banana, which can help soften skin topically. It also contains aloe, yogurt, and olive oil—so you're getting tons of good-for-you nutrients.
This mask takes a few extra ingredients, but its moisturizing abilities are worth it if you can gather all the parts: In a blender combine 1 cup yogurt, a third of a banana, half an avocado, 2 spoonfuls of aloe vera, and 1 spoonful of olive oil. Blend until smooth. (Read more here.) You can also apply this to your hair and scalp, making this an allover hydrating experience.
Want to turn your passion for wellbeing into a fulfilling career? Become a Certified Health Coach! Learn more here.