Try This: DIY Brow Pomade & Gel For Fluffy, Full Brows At Home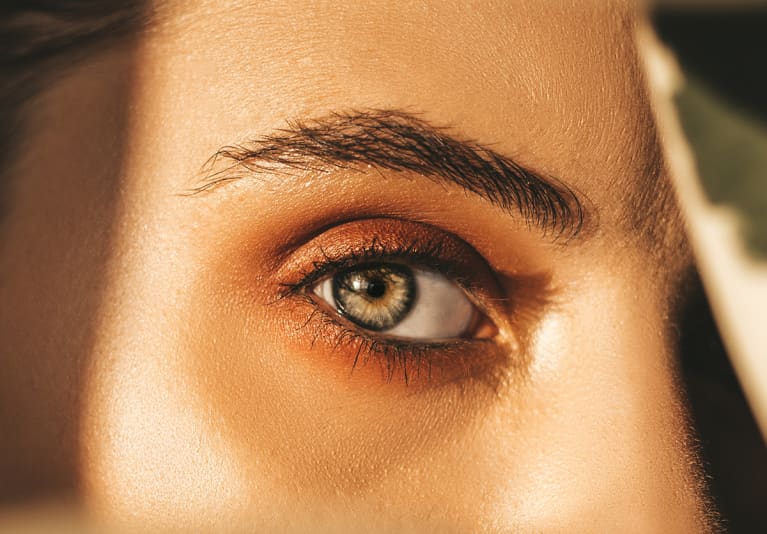 Our editors have independently chosen the products listed on this page. If you purchase something mentioned in this article, we may
earn a small commission
.
Finding your right brow product and routine is a special thing. And here's the best part: You don't have to try product after product to find your match. In fact, you can make an at-home version that's good for the hair and surrounding skin.
Here, a DIY pomade and gel that will give you fluffy, full brows.
For a perfectly polished arch, look no further than a pomade. Using a clear pomade is a great way to hold brows in place while also giving the illusion of a little extra volume. Looking to make more of an impact? Tint your pomade with iron oxides to bulk up your brows' natural beauty.
Makes 1 50-gram container
50-gram glass cosmetic container with lid
Double boiler*
Funnel
1 tsp. white beeswax pellets
2 tbsp. (30 ml) coconut oil
¼ tsp. vegetable glycerin
5 drops jojoba oil
5 drops vitamin E oil
¼ tsp. castor oil
Iron oxides (brown and/or black)
Melt the white beeswax pellets and coconut oil in a double boiler over medium heat. Remove from the heat.
Add the vegetable glycerin, jojoba oil, vitamin E oil, and castor oil to the melted beeswax. Stir until fully incorporated. If you want a clear brow pomade, skip to Step 4.
Add the iron oxides to the mixture to match your brow color. For lighter hair, add the tiniest pinch (tiny!) of brown iron oxide. For brunettes, add ⅛ tsp. of brown iron oxide. For raven-haired ladies, add ⅛ tsp. of brown iron oxide and a teeny tiny pinch of black iron oxide. Stir until fully incorporated.
Using the funnel, pour the mixture into the cosmetic container and carefully add the lid.
Place immediately in the freezer for 30 minutes to harden.
How to use: Dip angled brow brush into pomade and apply with upward and outward strokes.
Tip: For a different pomade look, try using a spoolie (a mascara wand/brow brush) to apply the pomade using upward and outward strokes.
Modification: Looking for a firmer hold? Skip adding the vegetable glycerin for a stickier formula.
*Don't have a double boiler? Use the glass jar instead. Put all the ingredients that would have been placed in the double boiler in a glass jar and place it into a pot, then add water to come halfway up the sides of the glass jar. Let this water get hot and melt the ingredients directly in the glass jar. If it's hard to stir the ingredients inside the jar, use a chopstick. Also, be sure that the mixture made in the double boiler is warm to the touch before adding it to the vessels, especially those made of plastic.
Brows frame your face, so give them the attention they deserve. The beauty of this brow gel is that it can be used with or without makeup. Brush brows into place for a polished and natural look. If you're feeling like getting dolled up, brush into place and allow the gel to set after applying a bold brow powder.
10-mL mascara tube with wand
Funnel
1 tbsp. (15 mL) aloe vera gel
10 drops castor oil
In a small dish, mix the aloe vera gel and castor oil until incorporated.
Use the funnel to transfer the mixture to the mascara tube.
Screw the wand lid on tightly.
How to use: Use the gel to brush brows upward and then outward to hold brow hairs in place. If you are using brow makeup in addition to this gel, apply gel and wait 3 minutes before applying brow powder.
Tip: This brow gel holds hair in place all day. It can also be used on baby hairs around your hairline to keep flyaways in place.