Close Banner
Advertisement
This ad is displayed using third party content and we do not control its accessibility features.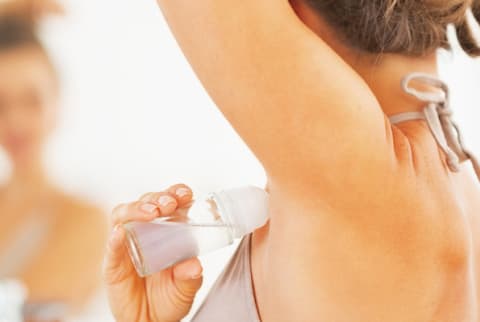 Photo by Shutterstock.com
For years, deodorant was something I applied every day without question because that's what society has told us to do since our underarms started perspiring and giving off odor. Then one day a few years ago I did indeed stop to think about what was in my deodorant, and I freaked out! I saw something that looked like this:
Active Ingredient: Aluminum Zirconium Tetrachlorohydrex 15.4%
Inactive Ingredients: Elaeis Guineensis (Palm) Kernel Oil; Stearyl Alcohol; Cyclomethicone; C12-15 Alkyl Benzoate; PPG-14 Butyl Ether; Hydrogenated Castor Oil; Hydrogenated Soybean Oil; PEG-8 Distearate; Fragrance; Hydrolyzed Corn Starch; Behenyl Alcohol
After several years of trying to find a good all-natural deodorant that didn't make me stink or break out in a rash, I finally decided to make my own. It turned out to be one of the easiest and most beneficial recipes that I've ever created. These days, I only wear my homemade deodorant.
All-Natural Coconut Deodorant
1/4 cup coconut oil, melted
1/8 cup cornstarch
1/8 cup arrowroot powder
Optional: Essential oils of choice (optional)
Optional: 1 Tbsp baking soda (some people are sensitive to this ingredient; please see below)
Combine coconut oil, baking soda, cornstarch, and arrowroot in a mixing bowl. When well combined, add in a drop or two of your favorite essential oil. (I use this deodorant without the essential oils and it works amazingly well!)
Lastly, pour into an empty deodorant container, or simply pour into a small Mason jar and refrigerate for 15 minutes. Remove from the refrigerator and use as needed.
If using a Mason jar, you'll have to chip out little pieces and rub them onto your armpit. The deodorant will melt and apply smoothly upon contact with skin. I've found that one batch of deodorant lasts me several months. Also, no need to store in the refrigerator unless your home is at a temperature at which coconut oil is liquid at room temperature.
Some people can have an adverse reaction to baking soda because of its pH level and this can lead to a slight rash, which is why I've noted this ingredient as optional, assuming you know it's OK for your body. If you'd like to include the baking soda for its odor-whisking properties, simply use 1 tbsp of baking soda. The deodorant works just fine without it!
Brandy Oswald
Brandy Oswald is the body positive activist, author, and entrepreneur behind Body Love Tribe, an international community of women dedicated to loving their bodies and having a damn good time in them. Brandy also works in business development at Star Essence, a flower and gemstone essence company bringing the healing power of flowers to men and women worldwide.
Connect with Brandy and Body Love Tribe at bodylovetribe.com or on Instagram and Twitter.