Start Your Morning With This Hydrating & Digestion-Supporting Green Drink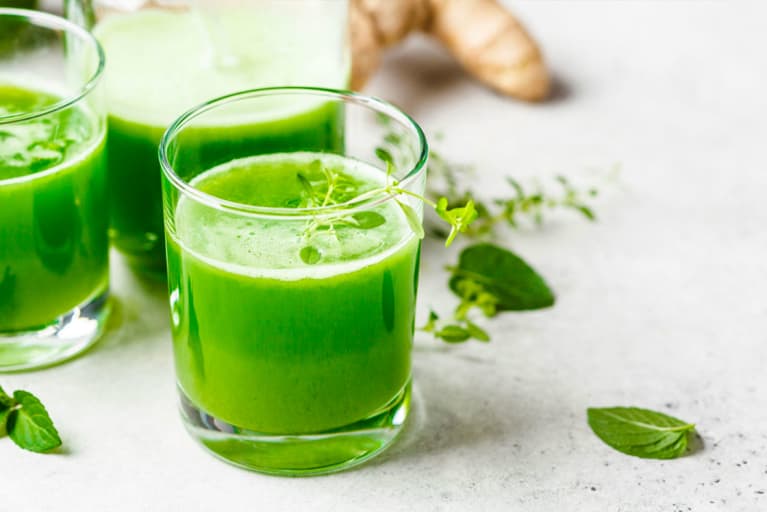 Our editors have independently chosen the products listed on this page. If you purchase something mentioned in this article, we may
earn a small commission
.
If one of your priority well-being goals is healthy digestion, you're certainly in good company here at mbg. While it's no secret that consuming a diet filled with fiber-rich fruits and vegetables is one of the best first steps for supporting regularity, let's face it, sometimes you need a little support beyond that.
If you find yourself struggling to work enough fiber into your morning, or you're simply looking for a little extra gut support, this healthy digestion smoothie straight from Danielle Brown (aka @healthygirlkitchen) on Instagram may be a great addition to your routine.
With a simple base of coconut water, this fiber-forward take on a green juice will not only fuel your body with important nutrients but also support hydration.
Plus, if you're looking to make this green beverage even more nutritious, add a scoop of mbg's organic veggies+ for some bonus ingredients that support regularity (including prebiotic fiber, digestive enzymes, and even probiotics).* This greens powder also includes an array of powerhouse organic fruits and veggies, including kelp, spirulina, kale, broccoli, carrots, beets, and a variety of berries—just to name a few highlights.
Even the healthiest digestive systems could use a little support now and again—so give this bevvy a try.
1 cup spinach
½ cup frozen or fresh pineapple
1 cup cucumber
1 thumb ginger
1 tbsp lemon juice
1½ cups coconut water or regular water
Optional: Add a tablespoon of organic veggies+ to the mix for added fiber and nutrients
Blend the spinach, cucumber, ginger, and pineapple with a splash of water if your blender needs it. Pour into a glass.
Add lemon and top with coconut water!
Drink in the morning on an empty stomach for best results, and enjoy!
Note: You could also add the coconut water and lemon juice to the blender if you want; either way works!