Desktop Humidifiers Are A Must For The Winter Workplace: 7 Great Options

mbg Sustainability + Health Director
By Emma Loewe
mbg Sustainability + Health Director
Emma Loewe is the Senior Sustainability Editor at mindbodygreen and the author of "Return to Nature: The New Science of How Natural Landscapes Restore Us."
December 22, 2020
If you live in a cold area, dry air just comes with the territory in winter. While the ideal indoor humidity range is 40 to 50%, this number can easily fall below 30% after the first of the season's chill.
Humidifiers can help bring levels up to their ideal range—saving you itchy skin, chapped lips, and thirsty hands in the process. The trick is placing them strategically, in areas where you spend most of your time. For those who work a desk job, a machine that can sit computer-side would be a smart move.
Why you might want a desktop humidifier.
Beyond more cosmetic benefits like moisturizing skin, hair, and lips, running desktop humidifiers during the workday can help prevent dehydration and nosebleeds. Aviad Elgez, N.D., a naturopath focused on environmental toxicology, previously told mbg that humidifiers can help protect against respiratory irritation and asthma symptoms as well. A handful1 of studies also found that maintaining humidity levels of at least 40% can reduce the spread of viruses indoors.
We humans aren't the only ones who appreciate the moisture: Certain houseplants—especially ones native to more tropical locales—also thrive at higher-humidity levels. So if you have a trailing fern or bright ficus that you work alongside, all the more reason to invest in a humidifier.
How to choose the right one for you.
There are a number of humidifiers that could work on a desk. To choose the right one for your setup, consider the following:
The size of your desk: How much space do you have? Those with less real estate will want to go with a smaller, more portable machine that can be stowed away as needed. Any humidifier you get will likely need to be placed on top of a tray or trivet so it doesn't leak water onto your desk, so keep that in mind when considering placement.
Your co-workers: Those who work from home or have their own personal office can feel free to experiment with humidifiers that double as essential oil diffusers. Those who have co-workers, on the other hand, may want to lay off the energizing scent blends out of courtesy for neighbors.
Your safety needs: If you work from home and have small children, a cool-mist humidifier will be a better option for your desk than a warm-mist one, which could be a safety hazard.
Your distraction level: If you need silence to get into the work zone, you're better off going with an ultrasonic humidifier over an evaporative one. They tend to be more expensive but are quieter to run.
Your budget: Basic humidifiers tend to be relatively affordable. Ones with fancy features like built-in LED lights and customizable temperature settings can be up to $100-plus.
7 best desktop humidifier options.
These options span various price points, designs, and sizes but all come highly recommended.
1. PureSpa XL 3-In-1 Aroma Diffuser, Humidifier & Mood Light
This compact humidifier-diffuser combo can stay running for a surprisingly long time, thanks to its 2-liter water tank. It runs super quiet and comes with built-in color lights in case you're looking to treat yourself to a little midday rainbow.
PureSpa XL 3-In-1 Aroma Diffuser, Humidifier & Mood Light ($39.99)
PureSpa
2. Vitruvi Stone Diffuser
This splurge option doubles as a pretty centerpiece for your desk. Manufactured by essential oil company Vitruvi, the humidifier-diffuser combo is made of chic matte ceramic and comes in four muted color options.
Vitruvi Stone Diffuser ($119)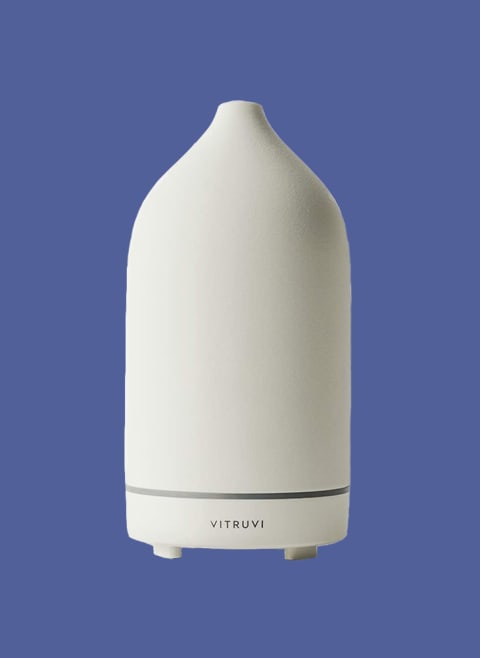 Vitruvi
3. TotalComfort 2-in-1 Warm & Cool Mist Ultrasonic Humidifier
This quiet ultrasonic option comes with a remote that easily toggles between cool-mist (if the kiddos are around) and warm-mist (if there's a chill in the air) settings. Its base layer is small enough to fit on a desk, and if you want more power, you can add the extension wand and transfer it to the floor.
TotalComfort 2-in-1 Humidifier ($69.99)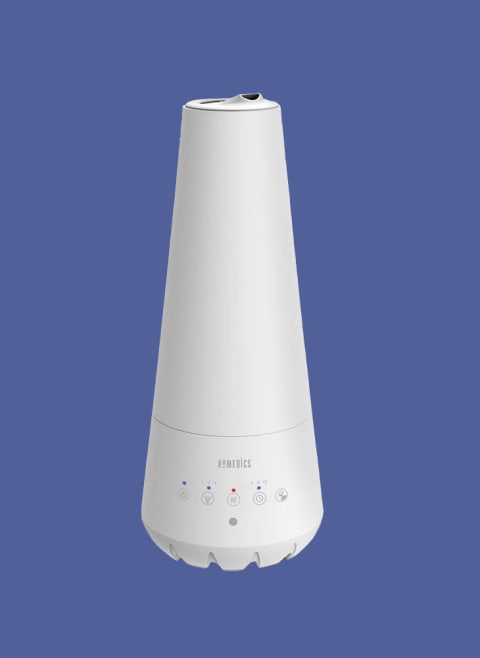 TotalComfort
4. Ortorex Humidifier Air Purifier
With a clean, simple design, this compact humidifier travels easily from desk to bedside and back. It can also be used as a diffuser.
Ortorex Humidifier Air Purifier ($39.95)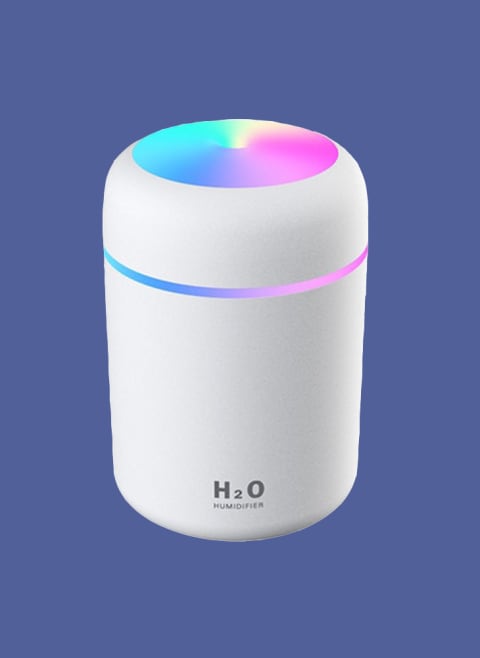 Ortorex
5. Wooden Goods Ultrasonic Moon Essential Oil Diffuser
This funky little machine is fit for a mystic. Shaped like the full moon, it comes in three colorways—soft yellow, soft white, and lunar white—and can be used as a diffuser as well as a humidifier.
Wooden Goods Ultrasonic Moon Essential Oil Diffuser ($40)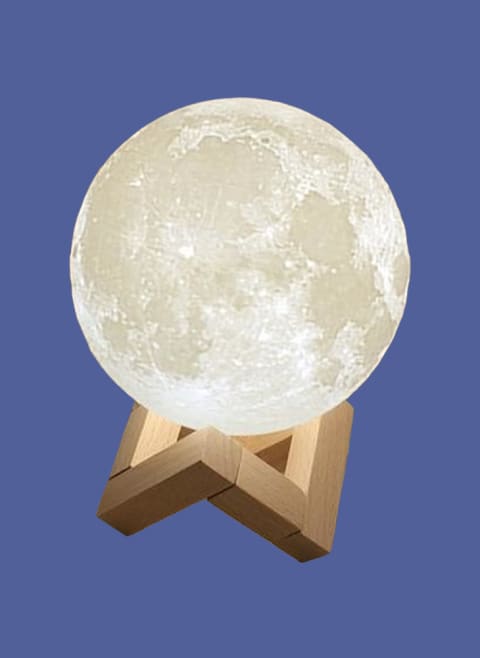 Wooden Goods
6. Sysbow Dual Spray Ultrasonic Air Humidifier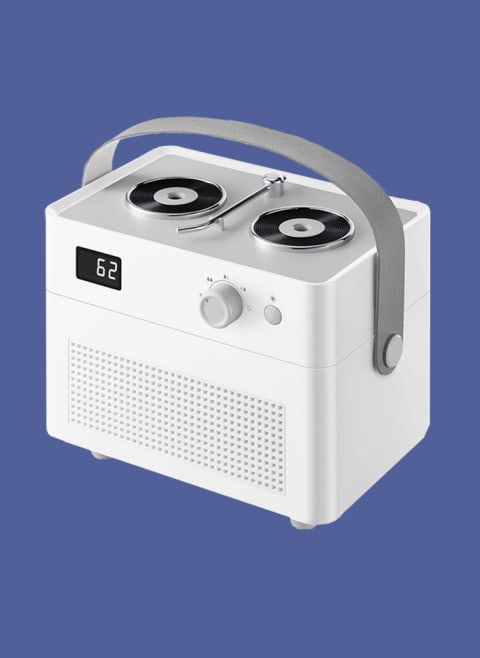 Sysbow
7. Honeywell Designer Series Cool Mist Humidifier
The most heavy-duty option on the list, this Honeywell model is designed to be super easy to fill and clean out. It's on the large side but would work on a long, sturdy desk or propped up on an office floor.
Honeywell Designer Series Cool Mist Humidifier ($69.95)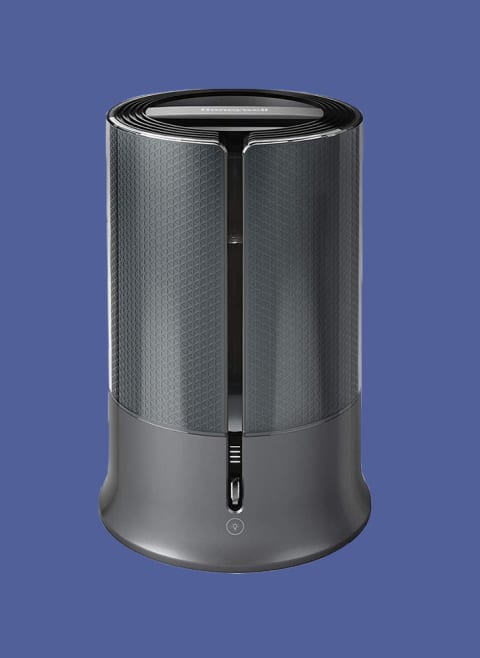 Honeywell
Dry air can be an uncomfortable distraction in winter months, but setting up a humidifier in your workspace provides an easy fix. And if you need a little extra moisture, here are 11 other ways to add humidity to your space.