If Your Home Doesn't Have These 5 Things, It's Time For A Redesign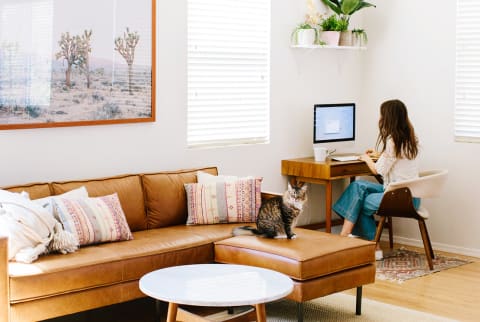 Photo by Daniel Kim Photography
April 13, 2018
"Sanctuary" is defined as a place of refuge or safety, a harbor and port in the storm. Sanctuaries both sustain us and live inside of us. Perhaps it's a simplistic view, but I see nature (who you are) and nurture (your environment) as two connected pieces of a whole. One feeds the other on and on in an infinite loop.
When approached from that perspective, your home environment doesn't merely surround you—it sustains you. And when designed consciously, it has the capacity to elevate your life.
How to design your outer world to reflect your inner world.
As an interior designer, I've seen firsthand how our spaces can impede our success if they don't align with who we really are. You have goals, dreams, and aspirations, and you're certainly savvy enough to accomplish them, but the wrong environment can make the journey more challenging (think wading through molasses while pushing a boulder uphill).
Think about it this way: If you want to win in business, you surround yourself with driven, dynamic, inspiring people. The same mindset applies to your home, and you should fill your space with things that motivate you.
The 5 principles of a sanctuary.
To design a space where you can live your best life, take inventory of these five key areas and make whatever adjustments you feel called to. Keep in mind that everyone's needs differ, so it's important to incorporate what works best for you.
1. Grounding.
Your home should make you feel safe, stable, peaceful, and whole. You can build anything from the right foundation, so take the time to make sure yours is strong.
The first way to ground your home is to make sure its energy is positive and rooted in the right intention. If you're spiritual you'll easily get into burning sage or palo santo to expel negative energy. If you're a newbie or want to avoid live flame altogether, try soaking some orange peels in water, adding a few drops of apple cider vinegar and a few drops of orange essential oil. Shake it all up in a spray bottle and spritz your space. The energy and scent in your home will lift in seconds!
From there, I'd recommend playing around with a personal meditation area. Set aside a peaceful area—even if it's a small corner or nook in a room—to be still and return to your breath. Take it up a notch with a pillow or meditation cushion, incense, a singing bowl, and any objects you feel connected to. To make it even more personal, write down a sacred word that you'd like to bring into your meditation and display proudly in the space.
2. Gratitude.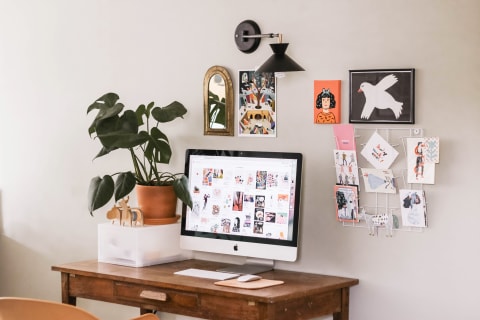 More than just a nice idea, the consistent practice of gratitude actually benefits our health. Here are some ways to decorate your space with physical reminders to say thank you to the universe:
Choose an area to honor your family history: A study out of Emory University found the knowledge of family history correlated with higher self-esteem and a better ability to manage stress.
Make a gallery wall: Hang images of yourself enjoying your favorite moments, places, and people for a visual reminder of what inspires you.
3. Energy.
People who feel good do good work. Consider these often overlooked ways to increase your comfort and boost your productivity and focus:
Turn up the heat: Research out of Cornell University found that raising the temperature from a brisk 68 degrees to a warmer 77 degrees decreased typing errors by a shocking 44 percent.
Light the way: Light that's too dim or too harsh can cause eye strain and trigger migraines. The solution? Bring on the natural light by opening blinds or investing in "daylight" bulbs that mimic natural light. It's also a good idea to avoid lights in your direct line of sight and opt for taller table lamps or standing lamps that light your desk from above.
Choose your colors wisely: Red, orange, and yellow are energizing, social, and stimulating colors. Use red in moderation, though, because it has been found to accelerate the heart rate in some cases. Green and blue are calming shades that are excellent for concentration.
4. Motivation.
One of my favorite quotes is from Mahatma Gandhi: "Your actions become your habits. Your habits become your values. Your values become your destiny." That's how effective the little things can be. Small changes really do make a big difference, so consider how daily actions like wading through a million outfits you never wear to find the right one or opening the front door to a mess of clutter every day really affect you. Be honest with yourself when you consider whether it's time to create a little more organization in your home.
Just like clutter can stifle your motivation, visual encouragement can help it bloom. From your coffee mug to your doormat to candles or wall art, nearly anything in your space can become a reminder of the good in your life. Stylish typography, quotes, affirming words, and motivational quotes can help you keep your eye on the prize. Similar to a mantra you might repeat to yourself, décor that visually reinforces the values you hold is a fabulous way to infuse your daily life with intention and ground you in your "why."
5. Joy.
If it's not fun, what's the point? At the heart of all our journeys is the desire to be happy. You always have the choice and the power to make damn near anything (dental visits notwithstanding) more fun. So what brings you joy at home?
Maybe it's aromatherapy: The divine smells of lavender, sage, and, peppermint can up your happiness factor when incorporated into your daily routine. Throw a few drops into your diffuser or drop them in your shower as the steam rises.
Or make art! Dopamine is the ultimate "feel good" transmitter that wards off depression and protects the brain from aging. Every time you engage in making art, a high dose of dopamine comes your way1. It doesn't matter whether you're "talented" or what the creative activity is. Art has the ability to take you out of yourself by pulling your attention away from rumination and self-focus and into a world of beauty and imagination. Line your walls with it, and watch it light up your inner world.
In case you haven't heard, making art is also a shortcut to a more mindful life. Check out why here.

Magalie René
Magalie René is a Bestselling Author, Business Strategist, and Founder of "Find Your Shine" events. She applies a EQ, spirituality, and brand messaging to help clients overcome fears and successfully design their life's work.
She has worked with companies like Heineken, HGTV, Kaiser Permanente, Fidelity Investments, and New York Life Insurance on marketing, public relations and brand ideation. Magalie also has firsthand knowledge of what it takes to career transition as she successfully facilitated her own in 2013 (launching her interior design company Consciously Design and writing bestselling book "Kid-Smart Spaces: Decorating a Classroom That Changes Lives").
Magalie and has been featured in Dr. Oz The Good Life Magazine, Good Housekeeping Magazine, and Design Sponge.
When she's not facilitating corporate brand ideations or speaking about Finding Your Shine, Career Boldness, and the pursuit of meaningful work you can find her on a walk in her Los Angeles neighborhood of West Hollywood with her dog Prince.