5 Extremely Soothing Decluttering Tips I Just Picked Up From Marie Kondo

mbg Sustainability + Health Director
By Emma Loewe
mbg Sustainability + Health Director
Emma Loewe is the Senior Sustainability Editor at mindbodygreen and the author of "Return to Nature: The New Science of How Natural Landscapes Restore Us."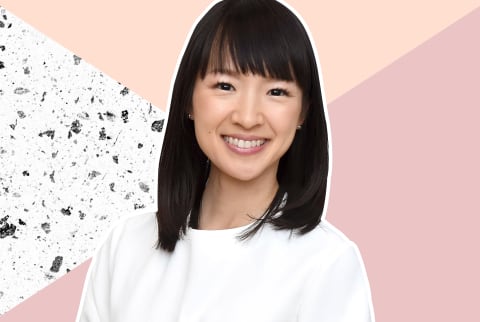 Image by mbg Creative x Gary Gershoff / Getty
November 11, 2020
We carefully vet all products and services featured on mindbodygreen using our
commerce guidelines.
Our selections are never influenced by the commissions earned from our links.
Back in 2014, when Marie Kondo published the book that would make her the decluttering celebrity of our time, there was a lot more collective joy to be sparked. These days, amid a global pandemic and lockdown orders around the world, happiness at home can be harder to come by. All the more reason to tune in to Kondo's, Fundamentals of Tidying.
In this 10-episode series on her signature method, Kondo reminds viewers how to declutter and organize clothes, books, papers, miscellaneous items, and more. It caters to an audience who is new to the KonMari way of doing things, but people who have read her books and watched her shows will pick up on some fresh ideas, too.
I found the series to be a comforting, borderline nostalgic reminder of the satisfaction that comes with a good home tidying. During a time when so much feels out of control, there's power in remembering the things we do have agency over, even if it's just a cutlery drawer and bedside table.
Here are a few of Kondo's tips that I'm excited to put into practice in my home:
1.
Imagine a new way of being at home.
Before you break out a single trash bag, Kondo recommends cultivating a vision for what you want your finished home to look and feel like. "How do you want to live? How do you imagine spending time in your tidied space?" she asks, sitting in a living room fresh out of Architectural Digest. "You should be able to picture it."
After spending so much time in my apartment for the last few months, I've basically forgotten that it could look any different from how it does now, so I appreciated this nudge to get creative and imagine how I'd be living in my ideal environment.
2.
Reconnect with your books.
Though I did a pretty thorough spring cleaning at the beginning of the pandemic, my bookshelf is one area I haven't touched much in the last few months. Kondo's invitation to take all my books off the shelf, tap them to "wake them up" after a long hibernation, and decide which ones to keep from there, felt weirdly thrilling. I believe her when she says, "By tidying books, you rediscover your interest and values" and am eager to find some new inspiration in old pages.
3.
Put your papers into three key categories.
It's like Kondo knows that I've been putting off organizing paperwork (or basically touching any reminders of adulthood) since March. Her instructions for this task were clear, concise, and easy to follow: Imagine someone is taking all your papers to the trash and you need to quickly decide which ones to save. Organize what's left into three categories: papers that need immediate attention, important files that you need to keep, and joy-sparking papers like old letters or cards.
This advice made my growing file bin look a whole lot less intimidating, and tackling it was painless and oh-so-satisfying.
4.
Say thanks to random items.
My favorite scene from the class had to be Kondo complimenting her screwdriver, politely thanking it for its help repairing her shelf. ("You can try this one when nobody is looking," she says, giggling.) Excessive or not, I appreciated the reminder that I shouldn't take anything for granted, especially right now—especially the bulky toolbox gathering dust in my closet.
5.
Designate a power spot.
Call it a meditation corner, a Zen den, whatever floats your boat, but Kondo recommends setting aside a spot at home—be it a room or a single shelf—that's all yours. "Creating a power spot—and spending time in it—is one of my favorite ways to live joyfully," she says. If you need me, I'll be looking at all my favorite trinkets, lined up on a windowsill, until life is back to normal.