What The CDC Recommends For Stress & Anxiety During The COVID-19 Outbreak
mbg Spirituality & Relationships Writer
By Sarah Regan
mbg Spirituality & Relationships Writer
Sarah Regan is a Spirituality & Relationships Writer, and a registered yoga instructor. She received her bachelor's in broadcasting and mass communication from SUNY Oswego, and lives in Buffalo, New York.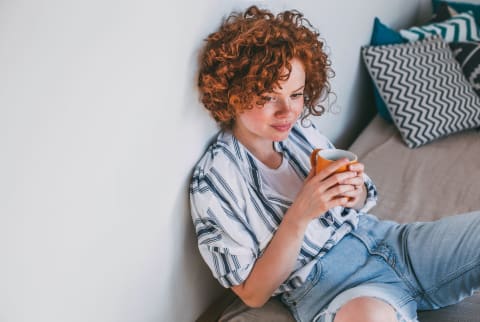 Image by Studio Firma / Stocksy
March 18, 2020
As people everywhere deal with the impact of the coronavirus worldwide, we're all feeling the stress. And as we hunker down in our homes, the CDC has specific recommendations for dealing with the fear and anxiety that come with a disease outbreak.
Stress will look a little different for everyone, but no one is immune—from at-risk populations to children to health care professionals. Here are the CDC's keys for managing stress and anxiety to help make you and your community healthier and stronger.
Advertisement
This ad is displayed using third party content and we do not control its accessibility features.
Self-care is essential.
First and foremost, we can't take care of others if we haven't taken care of ourselves. To best serve our communities, prioritizing self-care with your newfound free time is essential. The CDC recommends taking breaks from watching or reading the news, including social media in some cases. (And that goes for kids, too' but more on that later.)
Nurture your body by practicing breathwork, stretching, or meditating. This is also a great opportunity to try that at-home workout you've been curious about. Try to stick to your routine to some extent; getting dressed, eating a balanced diet, and getting plenty of zzz's. And on top of that, they recommend doing other things you enjoy and connecting with others.
Using self-care practices to sustain your immunity is a good place to start, and if you are or someone you know is a medical professional on the "front lines," the CDC has additional tips for stay healthy.
How stress manifests during an outbreak.
Everyone will respond to the coronavirus differently depending on how affected your community is, what resources you have access to, and more. But generally speaking, the CDC says some people who may have stronger reactions to the outbreak include older and at-risk populations, kids and teens, people dealing with mental health issues or substance abuse, and those responding to COVID-19 directly (doctors and other health care providers).
Checking in with our friends and family during this time will help us all feel a little more secure. The CDC says to look for changes in behavior like difficulty sleeping or concentrating, worsening health problems, dietary changes, and increased use of alcohol, tobacco, or other substances. By staying connected and offering helpful and credible information, we can help put each other's fears at ease.
Advertisement
This ad is displayed using third party content and we do not control its accessibility features.
For parents with kids and teens.
And for parents navigating the virus outbreak with kids or teens, this time can be especially trying. Kids are out of school, likely to get restless, and may be under a lot of stress. But according to the CDC, parents can best help by serving as a role model.
Things like sticking to routines and maintaining healthy habits are equally important for kids. Try these 10-minute workouts you can do with your kids to get moving! (It will help them burn off some energy and relieve a little stress, too.) And of course, reassuring your child and answering their questions in a confident and calm way can help them feel more secure.
Signs of stress in children will vary, but the CDC says to look out for excessive crying in younger children or regressing to behaviors they've outgrown, like wetting the bed. In teens, it may look like excessive sadness, unhealthy eating or sleeping habits, and "acting out."
Yes, it's hard not to feel discouraged right now—but this is an opportunity for us all to take care of ourselves and our communities. These tips can help us all rest a little easier, and until this blows over, we're happily taking recs.
Advertisement
This ad is displayed using third party content and we do not control its accessibility features.
Reset Your Gut
Sign up for our FREE doctor-approved gut health guide featuring shopping lists, recipes, and tips