Crochet Braids: A Natural Hair Protective Style & Pro-Approved Tips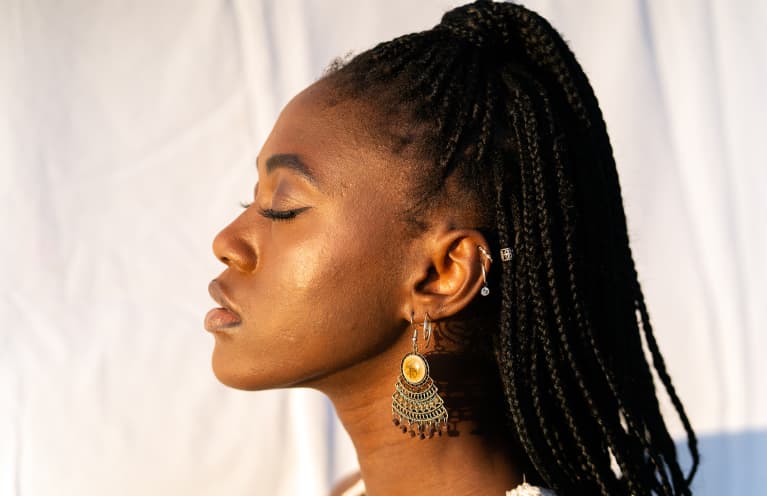 If you're well-versed in the natural hair community, you know that protective styles are a staple. Whether you're protecting your coils from frigid winter weather or simply want a break from a week or so of styling routines, a good protective style can do the trick.
Designed to give your hair a chance to rest, when done properly protective styles are considered beneficial. This is because they're low manipulation (you're not messing with your hair every day) and also work to protect your hair from daily stressors (heat-related breakage, cold temps that sap moisture, and lazy hair care behavior that can sabotage your healthy hair progress).
It's no secret that there's no shortage of protective style options when you're ready to give your hair a break. But one popular choice that's a fun twist (literally and figuratively) is crochet braids. If you're not familiar, these are a great styling option that offers plenty of versatility and are so easy you can even DIY them if you're working on a budget. Or, if you prefer to pamper yourself, you can easily find stylists who can install this look in no time.
So, if this is your first time hearing the phrase "crochet braids," get ready for this friendly deep dive into a popular natural hair protective style.
As we mentioned in the intro, crochet braids are one of many forms of styles that can be achieved on natural hair. Often referred to as a protective style because of the benefits it offers for naturals, you don't explicitly have to have natural hair to rock it. Crochet braids can be installed on virtually any hair type, including relaxed Type 3 and 4 hair.
Crochet braids aren't always immediately obvious to spot because they can look exactly like traditional box braids. The difference comes with the installation technique. While box braids involve creating individual sections in your hair and braiding them with loose hair extensions (so all of your actual hair is braided into individual braids), crochet braids take a varying approach.
Instead, your hair is braided down into flat plaits or cornrows. Then, with the use of a crochet or latch hook, loose extension hair (either synthetic or human hair depending on your styling goals) is fed around a section of your cornrow and looped. Then the extension is braided just like you would with a box braid. The process is repeated until you finish your whole head or whichever portion of your hair you wish to crochet.
Benefits of crochet braids.
You already know that crochet braids fall into the protective style category. So, an obvious benefit is that it gives your hair a much-needed break from daily styling and environmental stressors. But the pros don't end there. Other positives include:
Faster installation: On average crochet braids can be completed in significantly less time—usually anywhere from 90 minutes to three hours depending on the size and length of the braids. And that includes DIY and first-timer installs.
Less tension on your natural hair: Because your hair is fully braided down first, you're putting less overall tension on your strands than traditional box braids which require small sections of your hair to support the tension of a heavy braid.
Easier to maintain: Whether you want to quickly refresh your style or access your scalp to keep it clean, the natural parting of crochet braids and minimal contact with your natural hair make this much easier to achieve.
Faster takedown: Anyone who's ever removed a head full of box braids knows that the take-down process can be torture—especially if you're doing it alone. But since you only need to remove the loop, you can cut your takedown time dramatically by cutting the extension close to the loop. Of course, that's assuming you don't want to reuse the hair.
Incredibly versatile: As far as protective styles go, crochet braids can be very diverse. While you can opt for a style that looks more like traditional box braids, this style can also be applied so that it looks like invisible braids and more like you have a head full of loose hair. Likewise, other options like crochet locs, crochet passion twists, and more can be achieved because they all rely on the same basic installation method.
We can't stress enough that the only limit to crochet braids is your imagination. But if you need a little inspo to get those creative juices flowing, here are a few great options that will always be a must: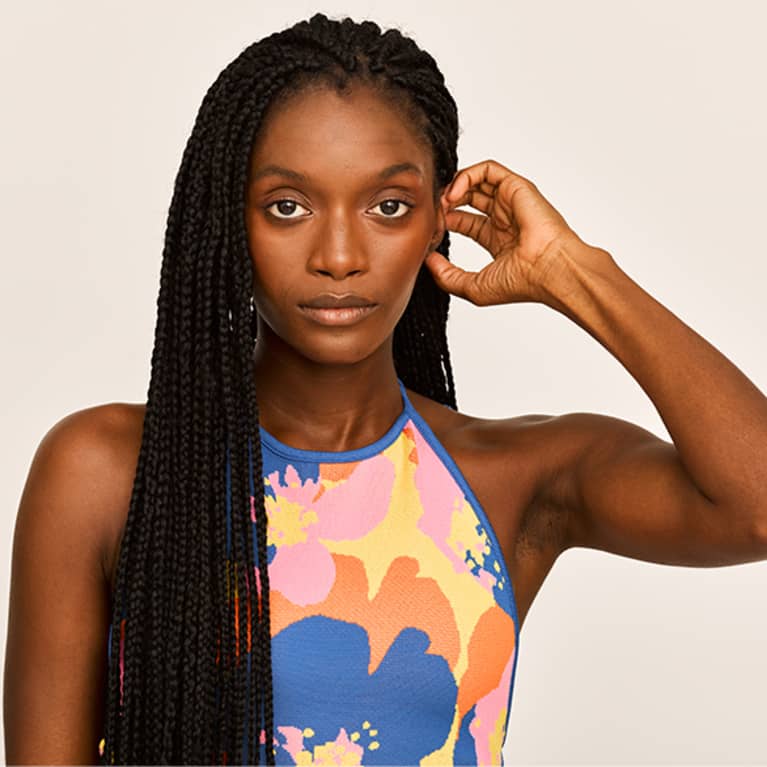 If you're just getting started, why not start with a tried-and-true staple—the classic box braid. As we mentioned, because of the installation process, getting crochet box braids is significantly easier than the traditional method. Decide whether you want micro, regular, medium, large, or jumbo braids. But you can play with color and length to fit your mood. Currently, long and ultra-long box braids are definitely having an extended moment, but you can also opt for short box braids if you prefer.
Tip
For a speedier install, upgrade your extensions to pre-braided versions that are designed with a loop. This is ideal for first-timers or anyone who's not here for extended installs.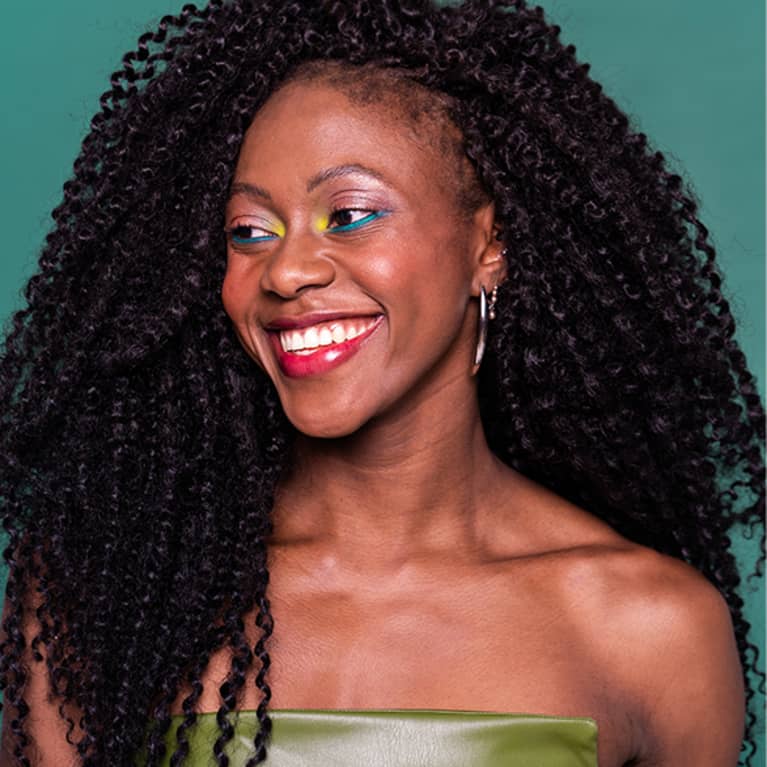 One of the nice things about crochet braids is that you don't have to be as concerned with braiding the extensions to a specific point as you would with traditional box braids since you're not constrained by the length of your natural hair. With loose crochet braids, you're installing the hair the same way by looping bits of extension through and around, except this time, you won't braid the entire length of the extension. Once you've finished installing the hair, trim any scraggly ends to create a lush, more natural effect.
Tip
If you intend to routinely style your crochet hair using hot tools, opt for human hair for more flexibility.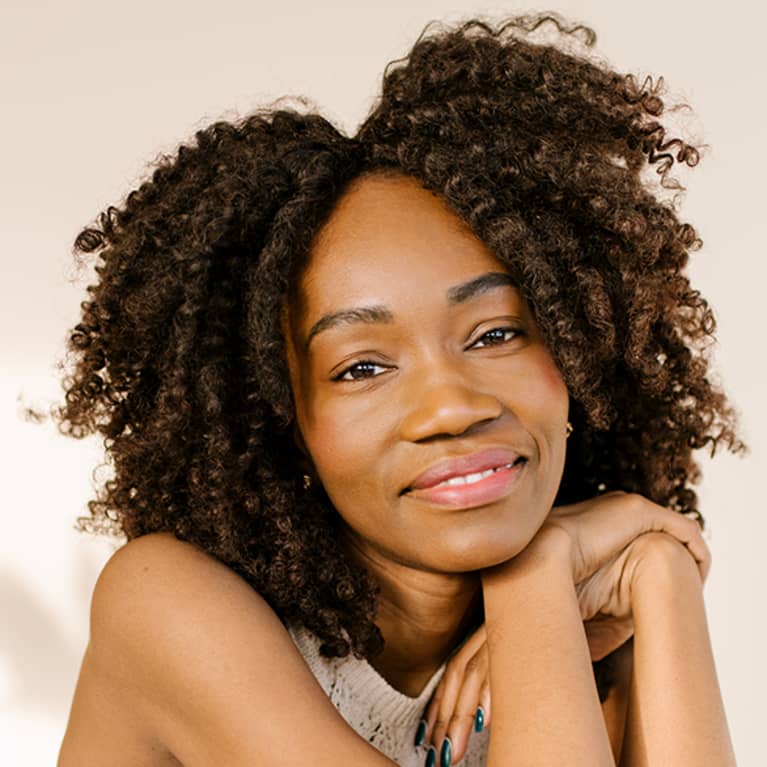 Similar to the loose crochet look, a crochet curl set gives you a more structured effect by doing a bit more styling after you finish installing the hair. To create the image that it's your hair, keep the braided portion to an inch or less in length so it's less visible. You can use straight, wavy, or curly extensions to create this style. But for a more stylized effect, set the hair on curling rods to create a fluffy style, and once removed, cut the hair to shape it.
4.
The fulani loose crochet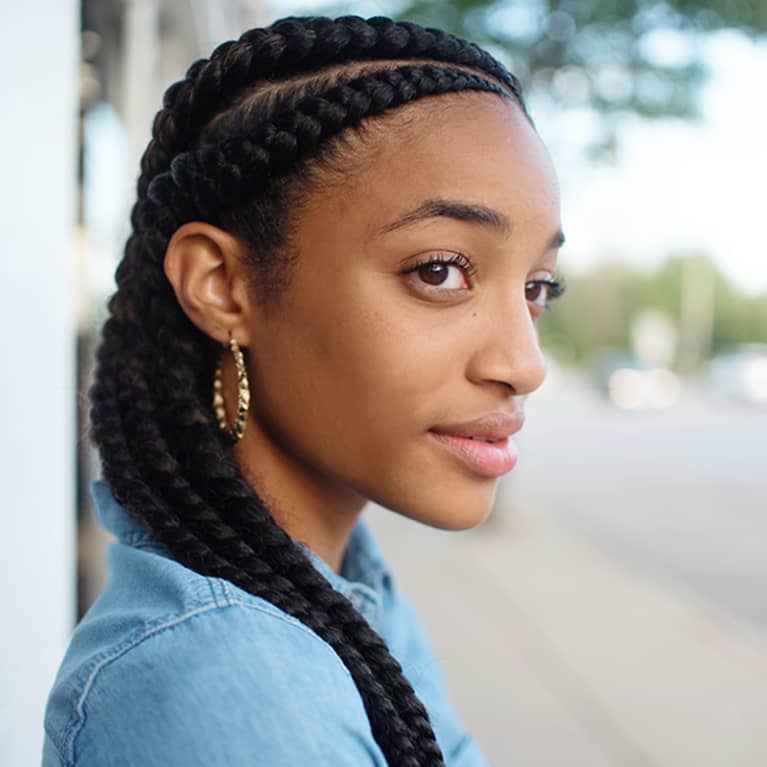 The Fulani loose crochet is a fun twist that combines two protective styles in one look: Fulani braids and crochet braids. If you're not familiar with Fulani braids, they're a traditional African feed-in braiding technique that looks like a stylized cornrow plait. To achieve this hybrid style, you'll begin by sectioning your hair to determine where you want to place your Fulani braids and where you want to crochet. After creating the Fulani braids, crochet over the remaining cornrows. Depending on the extension hair you use and the final effect you want, you'll either fully braid the crochet hair, or if using curly extensions, leave it loose for a gorgeous finished look.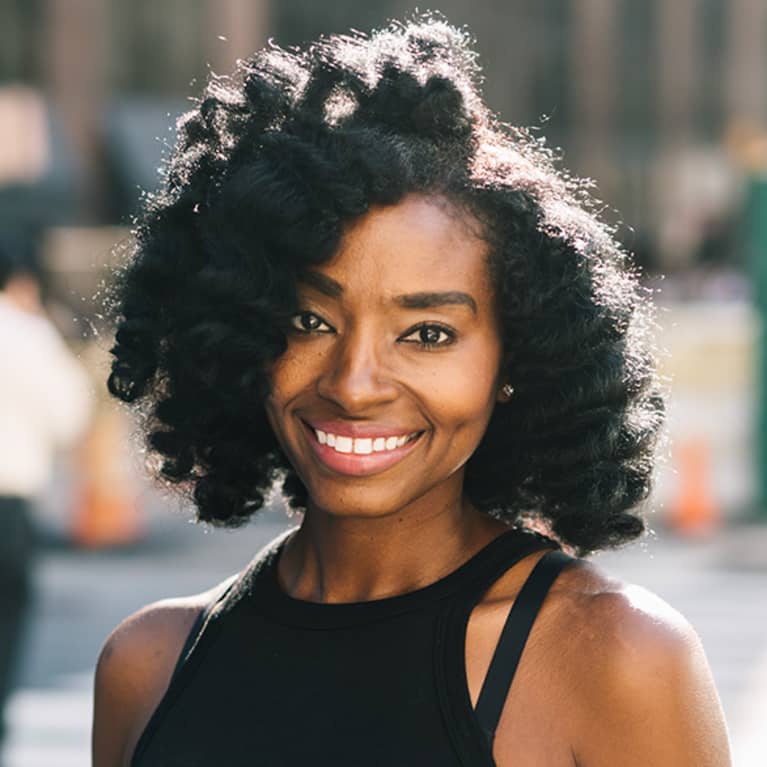 One of the nice things about crochet styles is that they can be undetectable depending on the extension texture you use—even when creating short styles. And this is especially true of cropped styles. When paired with curly textures, these styles can naturally camouflage the braid. Better still, depending on where you decide to place the part, you can create more dramatic swept bangs for a look that will have all eyes on you.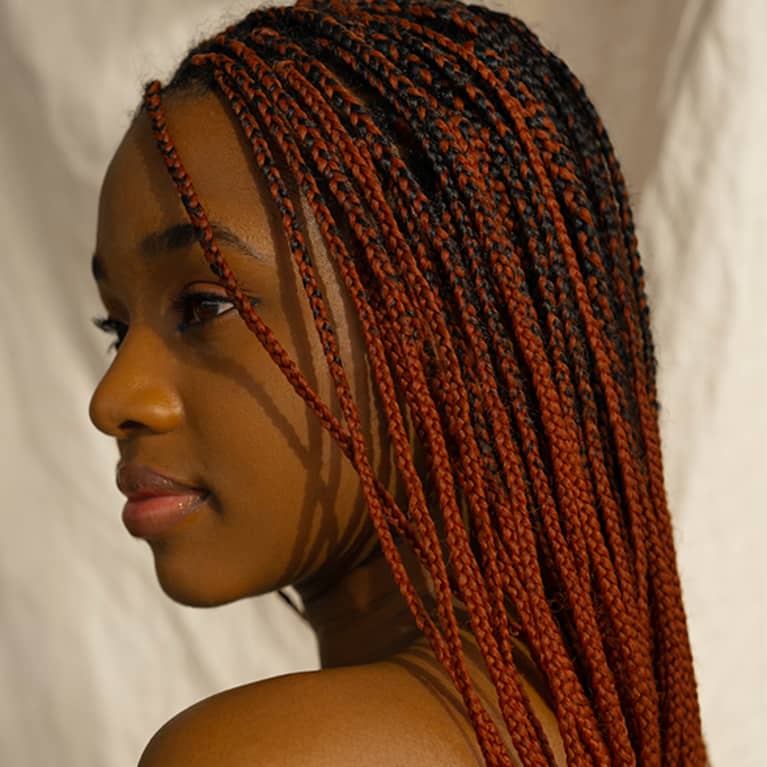 The nice thing about styles like crochet braids is that this can be an opportunity to play with color. Since it's not your hair, you're not subjecting your tresses to the risk of breakage associated with bleaching and dyeing your hair. Whether you've always wanted to be a redhead or you want to plunge head-first (pun intended) into fantasy colors, the only limitation is your comfort level.
7.
The braidless crochet bun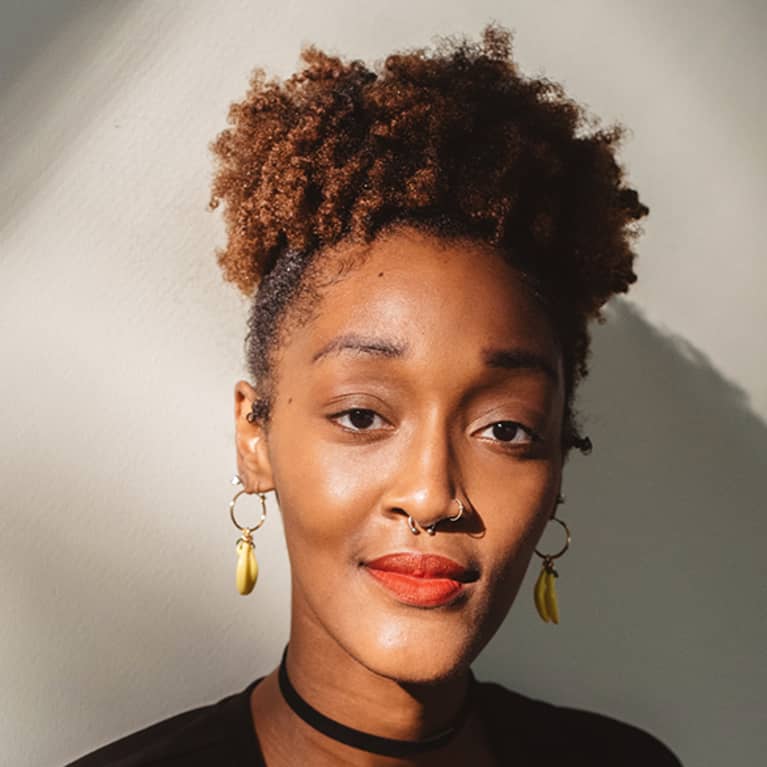 If you prefer a low-key quick look, a crochet bun is a fun one to try. But this can be completed on loose or braided hair. Decide whether you want a low bun on the back or nape versus a high bun on the crown. Depending on your style preferences, you can use a styling gel to slick and pull your natural hair back into a high or low pony. To create this look quickly, use looped crochet hair for an easier installation. However, you can also use regular loose braiding hair. Instead of looping extensions through cornrows, you'll be looping them through sections of your loose hair. Using bobby pins, wrap and secure the hair, creating the bun.
Tip
This installation is known as the braidless crochet method—making it something you can even pull off as a last-minute DIY style at home.
Crochet braids are a great way to add versatility to your hair care routine while also giving your natural tresses a break. Compared to traditional braiding techniques, it's a shortcut that can make switching up your style significantly easier to achieve. And because of the relatively easier process, the learning curve for DIY styling is much lower.
As with any other protective style, be sure to continue caring for your hair beneath the crochets, and avoid hanging on to a style for too long. Unlike traditional box braid installations, crochet styles usually shouldn't be worn for more than a month maximum. But if you're ready for a switch-up, the possibilities are endless with crochet braids. And if you need tips on keeping your hair hydrated, here's mbg's full guide to hair moisture.