CoverGirl's New Foundation Campaign Celebrates A Model With Vitiligo

Contributing Wellness & Beauty Editor
By Lindsay Kellner
Contributing Wellness & Beauty Editor
Lindsay is a freelance writer and certified yoga instructor based in Brooklyn, NY. She holds a journalism and psychology degree from New York University. Kellner is the co-author of "The Spirit Almanac: A Modern Guide to Ancient Self Care," with mbg Sustainability Editor Emma Loewe.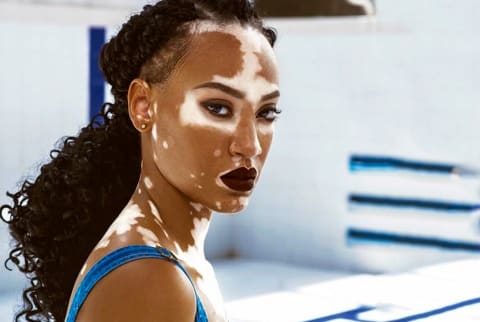 February 22, 2018
CoverGirl's latest ad for its TruBlend foundation features striking model Amy Deanna, the first CoverGirl with vitiligo—a skin condition that causes a loss of melanin resulting in visible light and dark patches.
In the ad, Deanna chooses a couple of different shades of foundation to match her two primary skin tones. The tagline, "Why try to blend in when you can choose how to stand out?" is inspiring in the context of a moment with Deanna, who is shown letting her dual tones shine through rather than blending them into a uniform shade.
This empowering ad is part of CoverGirl's larger initiative to diversify the types of models they're using. Last year, the brand dropped its "Easy, breezy, beautiful," tagline in favor of one that reflects the zeitgeist, "I am what I make up." Recent CoverGirl spokespeople have included James Charles, the first male CoverGirl, and Nura Afia, a Denver-based Muslim beauty blogger and the first CoverGirl to wear a hijab. With a big beauty brand like CoverGirl moving the needle in a skin-positive direction, we can't wait to see who's next.