This "6-Point" Concealer Trick Can Lift & Sculpt Your Face In Seconds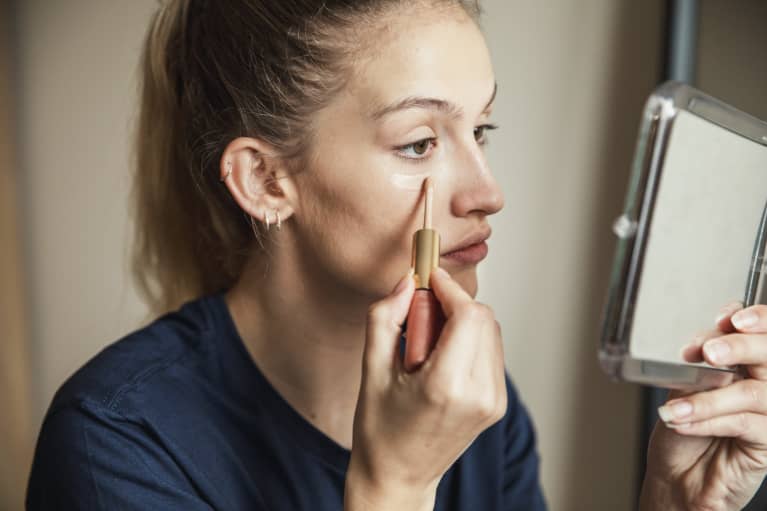 Our editors have independently chosen the products listed on this page. If you purchase something mentioned in this article, we may
earn a small commission
.
Another day, another concealer trick that makes us drop everything and head straight to the mirror. We know concealer is truly a workhorse makeup product: It can cover up spots, banish dark circles, smooth out fine lines, add a subtle highlight—the list goes on and on. And yet, when beauty influencer Ava Lee—founder of the popular blog, TikTok, and YouTube channel Glow With Ava—used nothing but a lowly concealer to carve her entire face, our jaws were on the floor. Almighty concealer, you continue to blow us away.
She calls it the "six-point concealer trick," and, no lie, it defies gravity. Here, we explain how to replicate her easy, lifted look.
The 6-point concealer trick for a sculpted face. 
Perhaps you've seen a condensed version of this trick for a lifted, larger eye area—by applying your concealer only in the outer and inner corners (rather than the quintessential triangle or half-moon shape), you'll create a brighter, more natural-looking end result.
Lee takes this same method and applies it to the other points of her face: on her inner and outer eye corners, the sides of her nasolabial folds, the corners of her mouth, and along her cheekbones. As for the best product for the job, you can theoretically use any one you fancy, although a doe-foot applicator might make for more precise strokes; we particularly love this Kosas number.
Grab your concealer of choice, and let's break down each step:
First, she sweeps the concealer on the inner corner of her eye with a downward slant toward the apple of her cheek.
Next, she applies on the outer corner slanted upward toward the corner of her brow.
Then she takes her concealer from the end of her nostril and slants it downward toward the corner of her mouth.
From there, she sweeps from the corner of her mouth upward, toward her cheekbone.
She then applies along the hollow of her cheek in an upward slant. (Think the bottom, not the top, of the cheekbone.)
Finally, she dabs a bit of concealer right under her eyes. Just a smudge will do—no need to use broad strokes and cover the entire surface area.
The end result should look almost like you're outlining the perimeter of your cheekbones—think of a boxy shape with an upward tilt. After blending it out with a beauty sponge, she notes, "This side looks so much more lifted." We would agree—the difference is striking (seriously, check out the clip to see for yourself).
If there's one holy grail product to have in your makeup bag, TikTok videos are proving time and again that a go-to concealer is a worthwhile find. In this case, let's add "face sculpting" to its endless list of uses. By concealing certain shadows, you can literally lift your face a few inches, and it takes just seconds.
Want to turn your passion for wellbeing into a fulfilling career? Become a Certified Health Coach! Learn more here.