Close Banner
Advertisement
This ad is displayed using third party content and we do not control its accessibility features.
Jennifer Aniston's Colorist's Best Summer Hair Tips: How To Keep It Safe From Sun & Salt
mbg Beauty Director
By Alexandra Engler
mbg Beauty Director
Alexandra Engler is the beauty director at mindbodygreen and host of the beauty podcast Clean Beauty School. Previously, she's held beauty roles at Harper's Bazaar, Marie Claire, SELF, and Cosmopolitan; her byline has appeared in Esquire, Sports Illustrated, and Allure.com.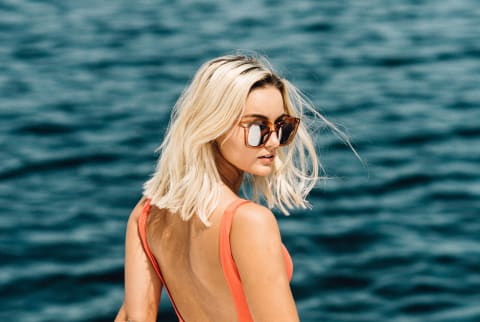 Image by AJ Ragasa / Stocksy
We carefully vet all products and services featured on mindbodygreen using our
commerce guidelines.
Our selections are never influenced by the commissions earned from our links.
Color-treated hair requires extra attention. And while I'm a firm believer that summertime should come with a more pared-back, laissez-faire approach to beauty—think air-dried, effortless texture, minimal makeup, and, of course, safe sunscreen—that's just not the case for colored hair.
In fact, summer is chock-full of aggressors that can wreak havoc on your color, according to Justin Anderson, celebrity colorist, co-founder, and creative director of dpHue, a natural-leaning hair care brand that skips sulfates, parabens, phthalates, gluten, and in many of their products, silicones too. Anderson grew up on the beach, and actually became interested in hair color by watching how the sun and water affected color, for the better and worse: "Sun and chlorine dull the vibrancy, as well as strip the color out. Chlorine, too, can change the pigment of the color, especially for blondes," he says. "And, finally, your hair can become dehydrated from salt water."
If you see this happening to your freshly painted strands, here's how to keep the vibrancy going—all summer long.
Limit shampooing.
Women tend to wash their hair more regularly in the summer. It makes sense: It's hot outside so you're sweating more than normal, you might be a beach or pool regular, you've perhaps increased your workouts—or even just having more activities and events that you need a proper wash and styling session. If this is you, all those washes are fading your tone. "The biggest culprit to dull hair is over-shampooing," says Anderson.
There are a few things you can do. To start, if it's just a light sweat, dry shampoos have come a long way in the scalp department—meaning, they won't clog your hair follicle or cause excessive buildup—so you can spritz on one of our natural, scalp-safe suggestions (find them here). And when you do need to shampoo, opt for a sulfate-free option that won't strip your strands: Dry hair means dull hair. All-natural and organic Innersense Color Awakening Hairbath is made with a blend of coconut, avocado, and pumpkin seed oils—and rooibos tea, so it's filled with antioxidants.
Or, says Anderson: Go for a hair rinse instead. Rinses, like their Apple Cider Vinegar Rinse, should be used in place of shampoo and conditioners a few times a week. Unlike traditional washes, rinses clean and soothe the scalp and help lift off impurities—all while keeping the hair's natural oils in place and the cuticle sealed, so you're not losing moisture or color while washing. (As an aside, I use this regularly and it is one of my favorite products—not just because I don't like to shampoo regularly, but because of how smooth my hair is after application.)
Add a physical barrier + UV protection.
"Apply an oil onto the hair before jumping into the ocean or pool so that your hair doesn't absorb the salt water or chlorine," says Anderson.
Since most oil molecules are too large to absorb into the hair, they will sit on and coat the shaft. In some cases—like, for example, when you are styling—this means it will be too heavy. But in this instance, it's exactly what you want: Essentially the oil acts as a physical barrier to the water, so your strands won't take in the drying chlorine and ocean salt.
I learned this tip about a year ago and now always slather on a mask or oil before getting in the water. (I either use a silky argan oil, or if I'm feeling extra fancy, I'll use a clean conditioning hair mask, like Virtue The Treatment Mask.) The best part? When you go wash or rinse your hair later, your strands are so soft.
But you don't just need protection from water: UV damage on hair is real. Not only do we know that hair ages from free-radical damage, but it's also incredibly drying for the hair and scalp: dpHue's Apple Cider Vinegar Leave-In Hair Therapy shields hair from the UV rays and contains antioxidant-rich oils. But it's also great post-beach or pool, as it can act as a detangler and contains soothing aloe vera for the scalp.
Do not increase appointments.
Many women like to amp up their highlights this time of year for that sun-kissed look (I do too). But always be mindful that anytime you are lightening your hair color, you are disrupting the strand. "Overcoloring will damage hair, whether during summer or any time of year," says Anderson.
Lightening your hair works by blasting open the cuticle and removing pigments in the strand; as this happens, you are stripping the strand of its nutrients. And this process makes it harder for the cuticle to lie down after, so you're going to wind up with more coarse, dry texture—even if you've never had coarse texture before.
Instead, be upfront about your lightening goals with your colorist, who can create a regimen that is less damaging overall—and won't keep you running back for more and more appointments. For example, after highlighting hair, Anderson will often apply a gloss similar to the client's own color at the roots. He'll then comb down on the strand ever-so-slightly before washing it out. This blends the highlight with the rest of the hair, so it grows out naturally—with no harsh line.
Shop These Products:
Alexandra Engler
mbg Beauty Director
Alexandra Engler is the beauty director at mindbodygreen and host of the beauty podcast Clean Beauty School. Previously, she's held beauty roles at Harper's Bazaar, Marie Claire, SELF, and Cosmopolitan; her byline has appeared in Esquire, Sports Illustrated, and Allure.com. In her current role, she covers all the latest trends in the clean and natural beauty space, as well as lifestyle topics, such as travel. She received her journalism degree from Marquette University, graduating first in the department. She lives in Brooklyn, New York.