A Collagen Smoothie This Editor Swears Gives Her Glowing Skin & Thick Hair*

mbg Sustainability + Health Director
By Emma Loewe
mbg Sustainability + Health Director
Emma Loewe is the Senior Sustainability Editor at mindbodygreen and the author of "Return to Nature: The New Science of How Natural Landscapes Restore Us."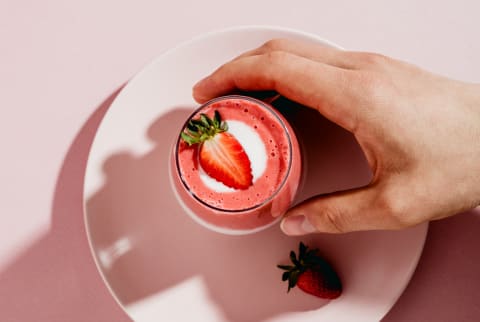 Image by TATJANA ZLATKOVIC / Stocksy
July 2, 2021
I was all for supplements in theory—I am a wellness editor, after all—but in practice, I'd never found one that I felt motivated to take every day. That is until I tried mindbodygreen's beauty & gut collagen+, a comprehensive multi-ingredient collagen powder that has changed my tepid feelings toward supplementing.*
Recently I wrote about how the collagen powder helped provide my joints with more comfort (I'm a runner) and enhance my natural energy levels.* (Read it all here.) But what makes my daily habit so easy is that I have yet to find anything that it doesn't work in—thanks to the taste (it is super mild) and the texture (thick and rich but not chalky).
Perhaps my favorite way I found to enjoy it is in my morning smoothie. It's a decadent, rich, and delicious way to start the day or enjoy as a midday snack. Since I've started making this part of my go-to morning routine, I've noticed some exciting surprise benefits—not just the ones I mentioned above.*
Easy Hair & Skin-Supporting Smoothie for the A.M.
With mbg's beauty & gut collagen+, I know I'm getting plenty of beauty benefits—I didn't necessarily start taking it for those reasons, but it's not a bad bonus.* Now my skin looks and feels more hydrated, and my locks appear shinier and more nourished, even though I haven't changed any other part of my hair care routine.*
I also appreciate that the smoothie's high antioxidant count—from the berries, spinach, and the collagen powder.* What's great is that this supplement comes loaded with vitamin C, E, biotin, turmeric, and sulforaphane—all potent antioxidants that work together to neutralize free radical damage.* I spend so much time running outside, so it's important to me that I get plenty of these as they help protect skin from sun damage and UV rays.*
The rest of the ingredients add rich texture, sweet-yet-smooth flavor, and enough oomph to keep me going all morning. Plus, it's so easy. Simply toss the below in a blender, and power-up till it's smooth.
1 handful frozen berries
2 handfuls spinach
1 cup unflavored oat milk
1 tsp. vanilla extract
1 tsp. cinnamon
1 date
If you are pregnant, breastfeeding, or taking medications, consult with your doctor before starting a supplement routine. It is always optimal to consult with a health care provider when considering what supplements are right for you.