It's Time To Clean Your Oven & Microwave—Here's How To Do It Naturally

mbg Sustainability + Health Director
By Emma Loewe
mbg Sustainability + Health Director
Emma Loewe is the Senior Sustainability Editor at mindbodygreen and the author of "Return to Nature: The New Science of How Natural Landscapes Restore Us."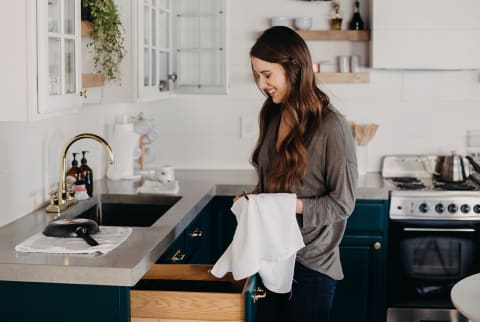 Image by Leah Flores / Stocksy
Last updated on October 27, 2020
It's common knowledge that holiday hosting duties last long after the last piece of (keto-friendly pumpkin) pie is served. The cleanup is when the real work begins.
Sorry to add one more thing to your list this year, but in addition to scrubbing your pots, pans, and plates, you might want to tackle your microwave and oven—two appliances that take a beating during the holiday, and, says green cleaning expert Becky Rapinchuk, often don't get enough attention. We snagged Rapinchuk's smart, step-by-step guide to cleaning them with common pantry staples. Scrub them down now, and then don't think about them until the next decade.
Advertisement
This ad is displayed using third party content and we do not control its accessibility features.
How to clean your microwave with water and lemon.
Remove the glass tray of your microwave and put it on the top rack of your dishwasher if you have one, or wash it by hand using hot soapy water. Place it back in your microwave once it's clean.
For the rest of the machine, fill a microwave-safe bowl or Pyrex measuring cup with water. If you have any lemon sitting around, throw a few wedges in for some extra freshness. Place in the center of your microwave.
Run your microwave on high for 3-5 minutes, or until you see steam start to form on the inside.
Once time is up, allow the steam to sit inside the microwave for about 15 minutes. This will help loosen up any caked-on grime and give the bowl time to cool down too.
Open your microwave. Carefully dampen a microfiber cloth with your water mixture and use it to wipe down the inside of the machine.
How to clean your oven with baking soda.
First, mix up your cleaning solution: Combine half a cup of water with baking soda until a paste starts to form. From there, add a tablespoon of vegetable-based Castile soap.
Remove the racks from an empty, cold oven and set aside.
Apply a thin layer of the paste to the perimeter of your oven, anywhere you see built-up grime. DO NOT apply over vents, as the solution could seep inside the machine and cause a mess.
Let the paste sit for a few minutes. While you're waiting, clean the racks. You can do this in your bathtub—or even your kitchen sink if it's big enough. Dip a sponge into your baking soda solution, fold it in half, and then run it along the grooves in the rack. Scrub the paste off with a damp microfiber cloth.
Scrub the interior of your oven with a damp microfiber cloth. Wipe the entire oven down and make sure it's completely clear of any of that baking soda residue. (It's not going to hurt anything, but it might smell weird the next time you turn on the oven.)
Alternatively, if your oven has a self-cleaning function, you can use that. But open up your windows when you do, and make sure you're home for the entire time the machine is running.
Advertisement
This ad is displayed using third party content and we do not control its accessibility features.