New Report Says Childhood Trauma Can Damage Our Health As Adults. Here's What We Can Do About It
mbg Health Contributor
By Gretchen Lidicker, M.S.
mbg Health Contributor
Gretchen Lidicker earned her master's degree in physiology with a focus on alternative medicine from Georgetown University. She is the author of "CBD Oil Everyday Secrets" and "Magnesium Everyday Secrets."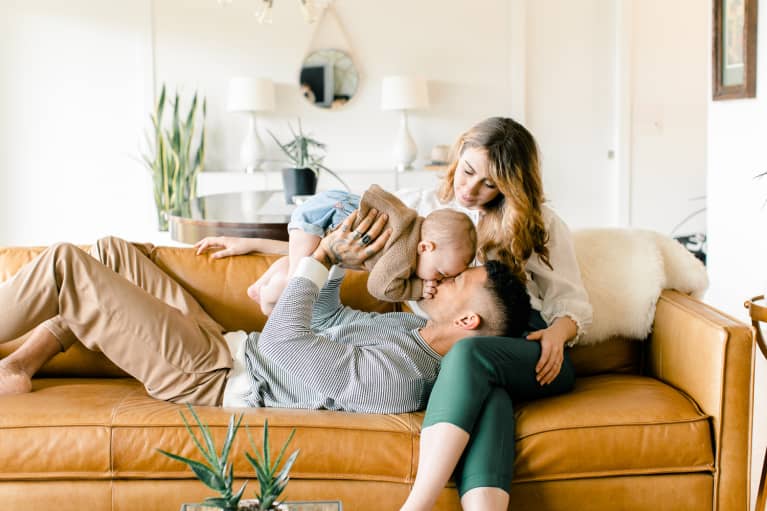 November 6, 2019 — 23:22 PM
We all know that childhood traumas, such as abuse, neglect, or having parents with substance abuse issues can cause long-standing emotional trauma. But according to a new report from the Centers for Disease Control and Prevention, the consequences of childhood emotional trauma are not just mental; they're physical, too.
The report showed that Americans who have adverse childhood experiences (also referred to as ACEs) have a much higher risk for any of the leading causes of death, which include heart disease, cancer, unintentional injuries, chronic lower respiratory disease, stroke, Alzheimer's, dementia, influenza, kidney disease, and suicide.
The overall take-home message? That childhood traumas can have serious health repercussions that reach far into adulthood—and that's a public health issue worthy of much more time and attention.
Why childhood trauma is a rising public health concern.
According to the report, which collected data from 25 different states between 2015 and 2017, about 60% of Americans experience at least one ACE during childhood, and almost 16% of adults reported four or more types of adverse childhood experiences. Moreover, the data showed that those ACEs were not just associated with poor health outcomes but also socioeconomic challenges and health risk behaviors such as carrying a weapon, smoking tobacco and drinking alcohol, overeating, and a lack of physical activity.
The CDC highlights the importance of working to prevent these ACEs, which would not only improve quality of life for children but potentially prevent a wide range of chronic health conditions for them as adults. As Anne Schuchat, M.D., the CDC's principal deputy director, said on Tuesday: "Preventing ACEs can help children and adults thrive and has the potential to substantially lower the risk for conditions like asthma, cancer, depressive disorder, and diabetes," she said.
So how, exactly, do you prevent childhood trauma? According to another CDC report on the topic, it comes down to " programs, practices, and policies." But in day-to-day life, it all starts with promoting social norms that protect against violence, connecting kids to caring adults and activities, and intervening quickly when there's a problem in order to lessen long-term harms.
What we can do to heal from childhood trauma and prevent negative health outcomes.
All that said, it's impossible to prevent all trauma. So what do we do if our child experiences a trauma—or if we experienced an ACE as a child and can see that it's affecting our health today? According to John Ferrera, Ph.D., a neuropsychologist and the founder of Integrative Neuropsychological Services in New York City, the best way to approach the situation is to focus on promoting resiliency. As he explains it, this will "teach people skills they can use to confront and overcome stressful events."
We can't guarantee a life absent of trauma, but we can foster resilience, which will help us overcome stress and trauma with long-standing consequences like the ones described in the CDC report. "For example, if a group of soldiers is exposed to a traumatic event, some will develop PTSD, but not all of them," says Ferrera. The difference between developing long-term side effects or not is resiliency. "Let's create programs that foster the development of resiliency in children and their parents so they have the tools they need to manage the stress and overcome traumatic experiences," he continues.
To start, try adopting these 10 habits of highly emotionally resilient people and share them with your kids.