Close Banner
Advertisement
This ad is displayed using third party content and we do not control its accessibility features.
This Could Be The Future Of Inflammatory Bowel Disease Treatment
mbg Health Contributor
By Gretchen Lidicker, M.S.
mbg Health Contributor
Gretchen Lidicker earned her master's degree in physiology with a focus on alternative medicine from Georgetown University. She is the author of "CBD Oil Everyday Secrets" and "Magnesium Everyday Secrets."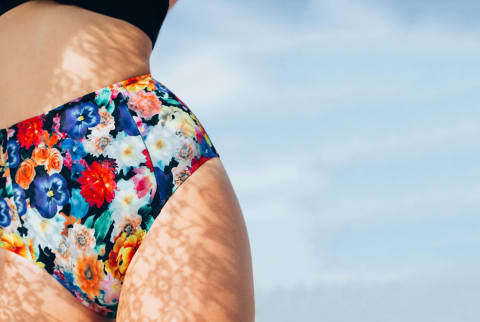 You probably know at least one person with an inflammatory bowel disease—an umbrella term for autoimmune diseases of the digestive tract, including both Crohn's disease and ulcerative colitis—which affects as many as 1.6 million Americans. These diseases are characterized by periods of remission and then flare-ups that can cause debilitating symptoms like persistent diarrhea, abdominal pain and cramping, rectal bleeding, and fatigue. Many people with these conditions have turned to cannabis as a complementary or alternative therapy1 with great success, and now, a new study shows exactly why and how it works.
Interestingly, this discovery was accidental, made by researchers who were studying the characteristics of healthy intestines. Scientists from the University of Massachusetts and University of Bath were investigating a specific pathway in the epithelial cells of the gut lining when they uncovered a second pathway, which involves endocannabinoids (your body's natural version of the cannabinoids, like CBD and THC, that are found in plants). The endocannabinoids in this pathway worked to prevent neutrophils (white blood cells that lead the immune system response) from getting through the epithelial cells. The study, published in the Journal of Clinical Investigation, showed that when this pathway was missing, patients were more likely to develop ulcerative colitis.
Previous research has shown that high-CBD cannabis treatments can help decrease inflammation and symptoms of IBD flare-ups and might represent a new avenue of treatment in the future but didn't explain the mechanism behind it. This study helps us understand why people have been using it to prevent flare-ups and treat symptoms—something that is greatly needed since current treatments for IBD are side-effect-heavy and not as effective as doctors and patients would like them to be.
Even more exciting, Vanderbilt University gastroenterologist Richard Peek told Popular Science that this newly discovered benefit of cannabinoid therapy might apply to other areas of the body as well, since epithelial cells are found on many of our organs. It could change the way we think about autoimmune disease as a whole, which affects as many as 50 million Americans.
And do you want to turn your passion for wellbeing into a fulfilling career? Become a Certified Health Coach! Learn more here.