Can Your Household Pets Get COVID-19? Veterinarians Weigh In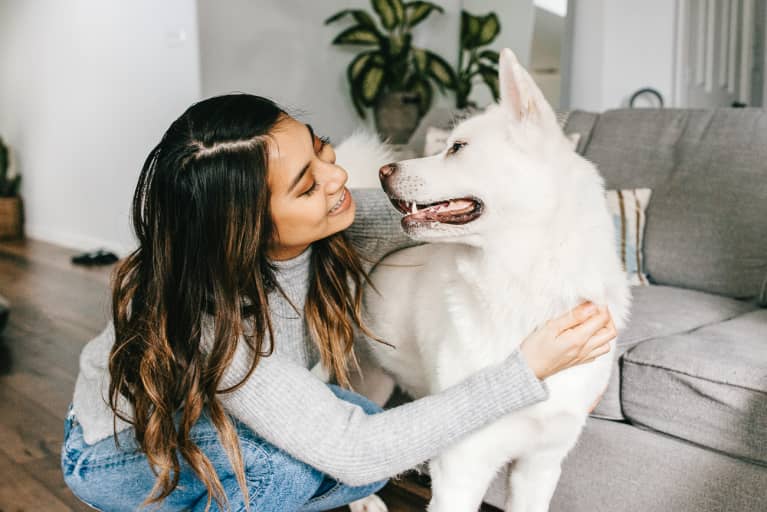 Our editors have independently chosen the products listed on this page. If you purchase something mentioned in this article, we may
earn a small commission
.
On Sunday afternoon, the U.S. Department of Agriculture (USDA) announced a 4-year-old female tiger in New York tested positive for SARS-CoV-2, the virus that causes COVID-19 in humans. The Malayan tiger was supposedly infected by an asymptomatic employee at the Bronx Zoo and has become the first known animal in the U.S. to test positive. The news left many people wondering: Can household pets contract the coronavirus, can they pass it to humans, and how can we protect them?
We reached out to veterinarians Wayne Kopit, DVM, and Jon Levine, DVM, who shared what they know about animal risk levels and gave us tips for keeping our pets healthy right now.
Can household pets contract COVID-19?
So far, there have not been any infected household pets in the U.S. However, the American Veterinary Medical Association (AVMA) reported two dogs and one cat in Hong Kong, along with one cat in Belgium, have been infected with SARS-CoV-2. All infected pets were living with people who had the coronavirus.
So yes, humans can pass the coronavirus to household pets, but typically animals are not symptomatic. The only exception was the Bronx Zoo tiger, who showed symptoms of respiratory illness, according to the USDA.
How can we protect our pets from COVID-19?
If you're sick with COVID-19, whether suspected or confirmed, the Centers for Disease Control and Prevention (CDC) recommends asking someone you live with to care for your pet.
"If you're in a solo household, or everyone is symptomatic, they recommend you all wear masks," Levine said. "This is the same thing you'd do with people in order to decrease the risk of transmission."
Other practices include good hand hygiene, like washing before and after interaction with pets, and yes—social distancing.
"If anyone is sick, they should distance themselves from their pet," Kopit said. Which includes petting, snuggling, being kissed or licked, and sharing food.
Can household pets give humans COVID-19?
"Whether humans can contract the coronavirus from a pet is totally unknown right now," Kopit said. The science surrounding this disease is changing daily, and answers are not certain.
Right now, practicing caution is the safest thing to do.
What precautions can we take to keep our pets healthy?
As long as you're staying at least 6 feet away from others, spending time in nature is not only safe but highly recommended. In fact, Levine said, "If you can comply with social distancing guidelines, you should continue walking dogs and playing fetch to decrease both human and pet anxiety."
If you're worried they may have picked something up while outside, simply wash their paws when you get home. And of course, wash your hands as well.
"If you want to be extra cautious after going on walks, you can use a chlorhexidine wipe," Kopit said, "or wash their paws in chlorhexidine shampoo."
Chlorhexidine is an antibacterial and antifungal disinfectant, typically used as the last step in surgical prep. The shampoos and wipes containing this solution can be found at most pet stores or veterinary offices.
"Whether or not it's an effective disinfectant, no one knows," Kopit said, "but it's just a precaution you can take for now. If not, at least it's a detergent and a soap that will clean the paws."
If you want to be extra diligent, you can put booties on your pet before going out. When you return home, wash them with a load of laundry. (If you don't have a washing machine, here's the most effective way to clean your clothes at home.)
We all love our pets and want to take good care of them. Right now, they don't pose a known risk for humans, nor do humans pose a large risk for them.
However, because of the uncertainty of COVID-19, it's important to be safe. If you have questions about your pet's health, call your veterinarian, and if you have questions about your own, call your physician.