Can Inflammation In The Gut Lead To Mental Illness?
mbg Health Contributor
By Gretchen Lidicker, M.S.
mbg Health Contributor
Gretchen Lidicker earned her master's degree in physiology with a focus on alternative medicine from Georgetown University. She is the author of "CBD Oil Everyday Secrets" and "Magnesium Everyday Secrets."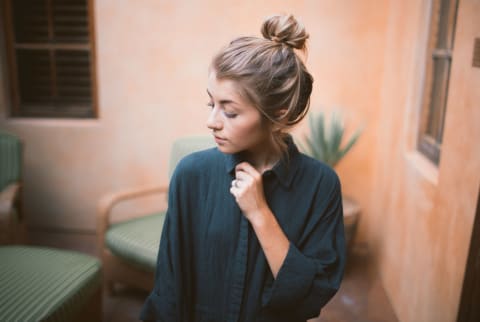 Image by Natalie Allen / Stocksy
January 10, 2019
You might already know a thing or two about the gut-brain connection and how the health of your microbiome—the community of microbes living in your digestive tract—affects aspects of your health like your immune system, your mood, and your energy levels. If you haven't read up on how the gut influences our health in myriad ways, it's about time you did! It seems like every week there's new research on the topic. Case in point: A new study showed that women with inflammatory bowel disease (IBD) are at greater risk of developing mental illness after giving birth.
The research, published in the journal Gut, showed that more than one-fifth of pregnant women with IBD developed a mental health disorder after they gave birth. IBD is an umbrella term that's used to describe dysfunctions of the gut like ulcerative colitis and Crohn's disease that cause ulceration, inflammation, and bleeding of the GI tract. The women were at increased risk for two of the main categories of mental health disorders, which include mood disorders like anxiety and depression and substance use disorders, such as opioid dependency. They did not show an increased risk of psychotic disorders, like schizophrenia.
Advertisement
This ad is displayed using third party content and we do not control its accessibility features.
So what does this tell us? For one, that we need to pay more attention to the mental health of women with IBD, especially during and after pregnancy. According to Dr. Simone Vigod, lead author of the study and scientist at the Women's College Hospital Research Institute, "Women with IBD face increased health challenges during pregnancy and after giving birth, and it's not just physical challenges. We need to look at both the physical and mental health needs of women and ensure they are getting the best treatment and support." According to the authors of the study, both doctors and patients should be aware of this link so they can take preventive measures.
This study had very specific criteria, so you might be wondering how this applies to you if you don't have IBD. Well, it's just one more piece of evidence telling us to take care of our guts in order to protect other seemingly unrelated aspects of our health (because as it turns out, they're not that unrelated at all). So while you may not be living in Canada, pregnant, or suffering from IBD, we should all pay attention to new research that solidifies the connection between our gut health and mental health.
Advertisement
This ad is displayed using third party content and we do not control its accessibility features.