Close Banner
Advertisement
This ad is displayed using third party content and we do not control its accessibility features.
Can A Music Festival Be 100 Percent Sustainable? 7 Creative Ways Festivals Are Getting Close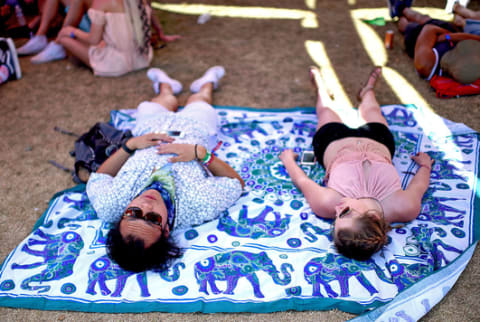 If you've ever regarded a muddy field studded with crushed water bottles and cringed; regretfully bought a slice of pizza at a food stand because that was the best thing available; or had a moment of clarity in the middle of the closing act, surrounded by a crowd of thousands, and wondered, how much energy is that huge stage using?; then you've experienced "Eco Festival Guilt."
It's that feeling of hypocrisy that dogs conscious consumers when they participate in festival season. You can try your best to be sustainable, but once you've entered the festival ground ("No re-entry! All exits are final!") you're often confined to the options given to you.
Compound those subpar options by 80,000, and you've got a pop-up environmental crisis, albeit with an excellent soundtrack. According to a report by Creative Carbon Scotland, festivals produce the equivalent of over 6 pounds of waste per person per day — way more than you put in your own trash can at home or at work! Plus, they use 6 liters of diesel — for powering all those remotely located stages and other amenities — per person per day.
In total, U.K. festivals produce 21,800 U.S. tons of carbon emissions per year, and that doesn't even include attendees and artists' travel to the festival, which could be an additional four times that, according to Powerful Thinking, an organization that works with festivals to lower their environmental footprint. In total, U.K. festivals produce 26,000 U.S. tons of waste every year, and recycling rates are typically below 32 percent. It doesn't have to be this way. Festivals large and small all over the world are experimenting with ways to cut down on waste, support local and organic agriculture, and lower their carbon footprint.
Getting There
The biggest carbon hog doesn't even happen on festival grounds. Transportation to and from the festival comprises up to a whopping 80 percent of the total emissions for the event. So, organizers try to make it easy and rewarding to go the low-emission route. In addition to shuttles, Coachella has a program called Carpoolchella, which enters people who ride in cars with four or more people into a giveaway where they can win backstage passes, meals, merchandise, and even VIP tickets for life.
Pickathon, a festival outside of Portland, Oregon, has a free bike parking lot, along with a dedicated shuttle. An estimated 500 bikes were parked there in 2012, and organizers estimate 25 percent of attendees use one of those two options (which is a lot, considering that many people bring their own camping gear). At Lightning in a Bottle, a California festival that has sustainability as one of its core tenets, attendees can purchase carbon credits to offset their trip to the festival. Dedicated buses travel from Los Angeles, San Diego, and San Francisco; attendees who drive in solo must pay $30.
What you can do: Take a shuttle, carpool with at least three other friends, and offset your own carbon emissions through a site like Climate Care.
Eat It Up
When it comes to eating sustainably at a festival, all the same real-life principles apply: Organic, local, and vegetable-focused meals are the least environmentally damaging. And festival goers are starting to demand it! According to A Greener Festival, 72 percent think festival organizers should ban the sale of overfished seafood that has been caught using damaging methods. And 83 percent would choose free-range eggs if given the choice, and 80 percent would prefer to eat meat that was raised humanely.
Many festivals now have at least one or two organic, healthful options, but some go above and beyond. Sunrise Celebration, considered the leading sustainable festival in the U.K., asks that 85 percent of the ingredients from vendors be organic. Even the alcohol is 80 percent organic and, wherever possible, locally produced. Green Man Festival in Wales sources its beer and cider solely from Welsh breweries, and its wine comes from Europe. The U.K. daddy of festivals, Glastonbury, gives priority to vendors who source fair trade, local, organic, and British ingredients, plus all tea, coffee, and sugar on-site is fair trade. This year, Shambala in England is removing meat completely from the menu, hoping to show attendees it's possible to live (and party) without meat. And every year they reward the greenest vendor with a free space at next year's festival. On this side of the pond, Gratitude Migration in New Jersey invites most plant-based vendors to sell their meals, with only one meat vendor, who provides — along with tasty barbecue — educational materials about how to choose responsible meat.
What you can do: Look up the vendors before you arrive, make a plan, and seek out plant-based, organic, locally sourced options when you get there.
Picky About Plastic
As important as the food is what it's served on and inside. Since plastic — which is produced from oil — can last for hundreds or thousands of years before degrading, festivals are trying to get it off festival grounds. Bonnaroo, Croissant Neuf (the mini festival inside Glastonbury), Bestival, Latitude, and Gratitude Migration are just some of the festivals requiring vendors to use compostable disposable serveware.
What you can do: Ask the festival organizers via social media if they require compostable serveware — it's an easy fix!
Putting the "Reuse" in Reduce, Reuse, Recycle
Even better than compostable products? Reusable products since they don't create waste and, if used enough, require less energy to produce than buying and trashing a plate and cup every time you need to eat or drink. And we're ready. More than half of festival goers think that reusable crockery and cutlery should be used instead of disposables. It's becoming de rigueur for festivals to provide free water refill stations by all the big stages. But Bonnaroo in Texas also offers special beer cups with a carrying strap that get you $1 off refills. Pickathon in Oregon has eliminated single-use serveware with a two-prong system. Kleen Kanteen provides free reusable cups, and the festival provides stations with soap and water to wash them. On top of that, at the beginning, attendees buy a $10 token, which they give to vendors when they buy food. When they finish eating and bring back the bamboo serveware, they get their $10 token back.
What you can do: Pack your own reusable water bottle, cup, and utensils that you can use and reuse.
Waste Not, Want Not
This is the most visible and grating form of environmental destruction associated with festivals. Less visible is the fact that waste accounts for about 35 percent of a festival's on-site carbon footprint. But anywhere from 80 to 90 percent of festival attendees say they would separate their waste if facilities were provided. Some festivals trade on that urge by designating themselves a Leave No Trace (Burning Man) or Leave a Positive Trace (Gratitude Migration) event, asking that attendees not litter and also pick up other litter they come across during the festival. This requires a strong culture, a lot of education, and a healthy dose of peer pressure from festival veterans on newbies to do their part.
Other festivals assemble teams of volunteers to help them hit high targets of diversion. Nelsonville Music Festival in Ohio has consistently hit diversion rates above 94 percent over the past few years, saving 6,500 pounds of waste from going to the landfill last year. Clean Vibes, a company that helps music festivals manage waste, helps large festivals like Governor's Ball and Bonnaroo divert waste at rates up to 88 percent. Glastonbury Festival composts between 150 to 200 U.K. tonnes of food waste each festival — the majority of it is biodegradable packaging. Bestival goes further, providing 100 composting toilets on festival grounds.
At some festivals, money – in the form of bottles and can – can be found underfoot. Festivals like Shambala, Coachella, Reading, Leeds, and Bestival are gamifying the waste game by charging deposits for cups and bottles. Collect enough discarded empties and bring them back, and you could get some merch or a fresh beer.
Tents are a particular problem for camping festivals. Attendees buy cheap ones and discard them when they break or get muddy. Leeds Festival and Bestival both invite charities to salvage usable camping gear after the festival is over.
What you can do: Seek out and use recycling and composting facilities, plus go above and beyond to pick up litter that you see.
Clean Energy
U.K. festivals, which are held in farm fields far away from the grid, burn 1.3 million gallons of diesel each year powering the stages and vendors. There are workarounds, for the creative. Lollapalooza uses biodiesel to power the stages and encourages attendees to buy a $3 carbon offset with their ticket. Taking a more educational route, Coachella has featured a 45-foot-tall wind-powered clock tower, cellphone charging bikes and seesaws, a solar-powered DJ booth, and more through their partnership with Global Inheritance.
At Pickathon, five or six solar PV panels provide energy to small stages and to a portable phone-recharging station; the big stages are run on biodiesel generators. Shambala has put special effort into tracking and cutting its emissions: It's powered by 100 percent renewable energy, waste vegetable oil, wind, and solar. And it cut its emissions from 73 U.K. tonnes in 2009 to 37.5 in 2015. Lightning in a bottle uses solar power as well for portions of the festival.
What you can do: Bring your own solar power phone charger and urge your festival organizer to consider alternative energy.
Taking It Home
Not content to focus on a few days on the grounds, festival organizers from Lighting in a Bottle and Gratitude Migration are providing a full schedule of workshops and talks on sustainability issues so attendees go home greener than when they came. Bonnaroo has Planet Roo, an area where nonprofits hold classes and workshops around sustainability and conscious living.
What you can do: Look up the festival schedule and carve out some time for a workshop or talk on sustainability. Even better: Drag your friends along!
Related reads: Earth Day with Summer Rayne Oakes (Video)

Alden Wicker
Alden Wicker is the founder and editor of EcoCult, a lifestyle blog about all things sustainable in New York City and beyond, including fashion, beauty, food, design, and events. She is a regular contributor to Refinery29, and has been published in xoJane, Well Good, Huffington Post Green, Narratively, LearnVest, Conscious Magazine, Societé Perrier, and Greatist. She is a co-founder of the Ethical Writers Coalition as well as the electronic music blog Under the Sound, and lives with her fiancé and two rescue kitties in Brooklyn. Find her on Instagram, Facebook, and Twitter.