Shop Black-Owned & Founded Wellness Brands: 75+ Companies To Support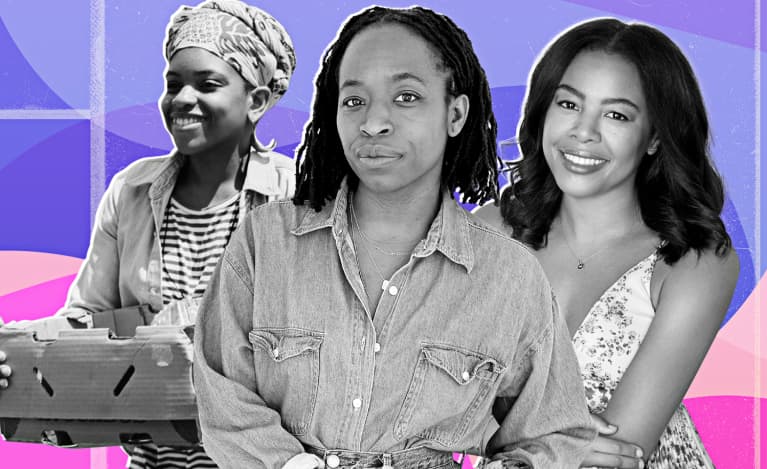 Last updated on February 5, 2021
It's Black History Month, and we'd like to highlight a portion of our favorite Black-owned brands in well-being. The wellness space can feel overwhelmingly white at times. This, of course, is not for lack of Black-owned and -founded brands or experts but as a function of what sort of voices typically get raised. This past year, hopefully, we've made strides so it looks more inclusive. One way we can do that is by diversifying the sort of companies and brands we promote and purchase from.
"Supporting Black businesses is important because that's the way communities grow and sustain. Black-owned businesses are more likely to hire other black people. It all starts the trend of building and supporting the community," Kristian Henderson, DrPH, professor of public health at George Washington University, a natural lifestyle enthusiast, and the founder of BLK+GRN, tells mbg in a Q&A. "Being a conscientious consumer, in general, is really important. Every time I spend money, I'm deciding what I invest in. So if I say I believe in black women entrepreneurs, if I say I believe in not supporting child labor, if I say I believe in making sure that things are ethically sourced, then the question is: Would the way I spend my money also reflect those same belief systems? I also see that investment beyond the product I'm purchasing. Not only do you get the product, but you're investing in someone else's dreams."
This list is non-exhaustive, of course, but if you are looking for a new online yoga class, hair serum, or candle, start here and buy Black.
Here, a small portion of the more robust and comprehensive roundup of yoga studios, trainers, and influencers to follow. Check out that story if you want more inspo.
Here, an assortment of companies and organizations to check out. We also have additional guides if you want to look more specifically into spiritual leaders or food experts.
Begin Meditating. A virtual meditation resource founded by mbg contributor Light Watkins made for beginners. You can also check out his mbg class, here.
Golde. Making powders for smoothies, lattes, or face masks, this brand is one fun way to get your superfoods.
LOOM. Founded by mbg contributor and doula Erica Chidi, this wellness hub offers classes and various services.
Ruby Love. A great option for reusable period underwear, they make underwear, swimsuits, and workout wear for teens and women.
Ethel's Club. An online membership organization for people of color, they host events, online streaming classes, and a huge network of those in the creative and wellness space. And don't forget to read our Q&A with founder Naj Austin.
Boié Road. Find soft, gentle textiles for your home from this Brooklyn-based designer.
Dive In Well. A community founded to diversify the wellness space. Originally a roving dinner, this has now grown into an organization with many resources for those looking to get into the wellness business or looking for ways to be a wellness ally.
The Honey Pot. A female care brand that uses only clean, plant-based ingredients and herbs.
Alexandra Windbush. Gorgeous soy-based candles, these will bring comfort to your home right now.
Yowie. Where to go if you need stunning home good items, décor, ceramics, and more.
BLK + GRN. An online marketplace that features products from only black artists and creators, founded by Henderson.
Pillow Talk Sessions. Founded by chef Sofia Roe, this platform hosts sessions to talk about food and feelings. (Read our Q&A with Roe here as well as listen to her episode of the mbgpodcast.)
b condoms. The only black-owned condom company.
Cai Candle Co. Hand-board and crafted soy candles.
Tracey's Faceys. Non-medical face masks with an insert, based in L.A.
ElonWick Candle Co. Soy- and essential oil-based candles.
Go Deep. A protein powder to get you going.
lemlem. Breezy clothing, lounge wear, and home items from activist and former model Liya Kebede.
The Black Doula. An organization that provides full spectrum education and resources to all individuals and organizations ready to take the next step in creating a world of inclusion, justice and equity to birthing people all over the world.
The Candid Tea. Offering a variety of tea types and accessories.
Brooklyn Tea. New York-based loose leaf teas.
Yinibini Baby. Organic cotton baby clothing.
Eco Cotton Threads. A home textile company based in Washington, D.C. that offers Ethiopian cotton products.
Peacesake Candles & Co. Hand-poured all-natural soy candles free of phthalates and a lead-free cotton wick.
Pipcorn. A mbg staff favorite snack, this is better-for-you popcorn.
Liberté. This brand sells well-crafted lingerie.
Dr. Sebi's Cell Food. Teas, tonics, and supplements rooted in African herbs and medicine.
Lion X Wellness. A CBD company founded by Nico Marley, grandson of Bob Marley.
1AND1 Life. A modern digital wellness and lifestyle platform.
BDE gummies. The world's first wildcrafted sea moss gummy, powered by beets and vitamins D & E.
Here, black-founded nonprofits that you can support if you are looking for organizations that have more of a health and wellness angle.
I'll be updating this list regularly, so please email me at alexandra@mindbodygreen.com with your suggestions.