Bethany C. Meyers Shares Her Best Tips On Feeling Confident (Even When You're Not)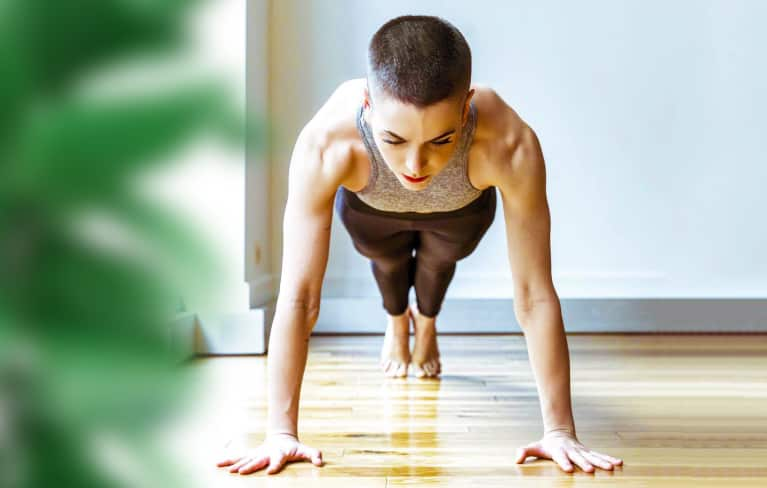 It's nerve-wracking to shave your head, but Bethany C. Meyers—one of New York's smartest and most in-demand fitness teachers—wasn't nervous. She'd done it once before. The only difference this time was that she was bravely posting a video of herself shaving her head to Instagram. "My hair does not own who I am," she said, while talking about the impetus for a fresh shave.
Meyers, who said she's known in her friend and family circles to change her hair, said that hair changes always seem to correspond with a big, impending change. "This year, it's going to the jungle, a spiritual place for me, before launching be.come," she said. be.come is Meyers' new fitness program—she's been teaching the class live at Studio B in New York's Bandier boutique but wants to make it more accessible. The workouts are delivered in a password-protected video, 25 minutes long, and are live for a week only. The idea is to do the workout at least five times each week. (Sign-ups are still open, if you want to check it out.)
After her haircut, she started getting unexpected messages from people who had alopecia, who'd gone through chemo or otherwise lost their hair. Seeing Meyers chop her locks on Instagram helped them do the same and feel good about flaunting it. This brought Meyers to tears. For her, shaving her head was freeing, empowering, and exploratory. "Shaving my head is, in a way, taking on a nonbinary or more masculine role. It's really powerful in that sense. Sometimes I want to live in the male body. There's something about not having hair that gives me a bit of power," she said.
Another great thing the second time around? Everyone following her knows it's not just a "Britney moment" but an intentional choice. Here's what Meyers said about feeling confident and beautiful, even when you're not quite there mentally:
1. Remember the relationship between beauty and confidence.
Meyers recalled a quote that stuck with her to the effect of "Am I confident because I think I'm beautiful, or am I beautiful because I think I'm confident?" In her own definition, true beauty starts from within.
2. Know that beauty is limitless.
Meyers grew up in a small town that was nothing like New York City, a place where she now feels like she can truly be herself. She remembered thoughts like: I'm not tall enough; my legs are too thick; I don't have big boobs. She even struggled with eating disorders. But at a certain point she realized that some people, the special ones, are really attracted to the qualities that you deem as flaws—for her it was small boobs and crooked teeth, for example. "The things that seem ugly to us can be beautiful to someone else. The idea of beauty truly is limitless," Meyers said.
3. Step outside of your comfort zone.
Meyers always wanted to have armpit hair, so in going on a trip, she started growing out her armpit hair just so I can see it. She described it as "an exciting stepping out of my comfort zone" and offers this note to others: "Find a time and place that feels safe to explore what it is."
Love this, want more? Check out Meyers and her boyfriend Nico Tortorella on how they cope with jealousy in their open relationship.