The 11 Best Sunscreens For Acne-Prone Skin + What To Look For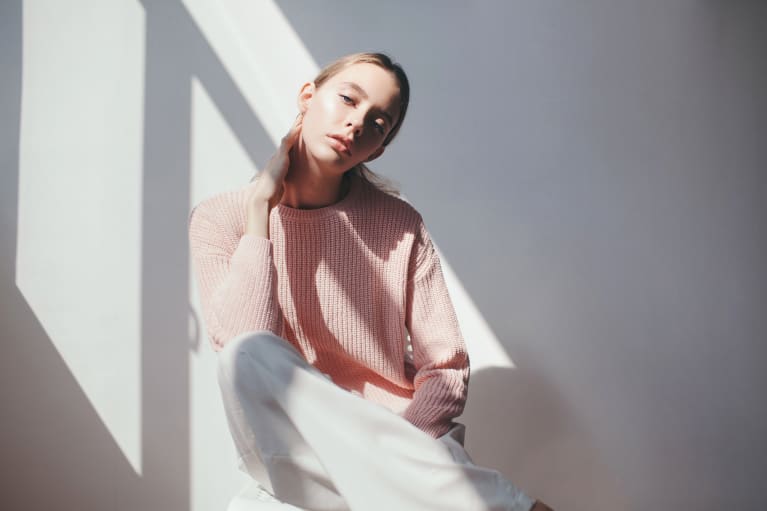 Our editors have independently chosen the products listed on this page. If you purchase something mentioned in this article, we may
earn a small commission
.
If you have acne-prone skin, I can wager you are precious with what you put on your face. Not only do you want to use ingredients and products to help ease your breakouts, but it's imperative you don't use products that will further trigger inflammation and clog pores. It's a delicate balance, and one many struggle with. But of course, dealing with acne isn't the only thing you should be mindful of: While breakouts may be top of mind, you also need to help your skin long term by protecting it from UV damage.
This naturally brings us to the concern at hand: So many people complain that SPF causes them to break out and look more oily and causes irritation. And while some formulas likely still have these issues, so many of the new facial sunscreens are light-as-air, silky smooth, and noncomedogenic. Not to mention, several incorporate anti-inflammatory ingredients, which can help with breakouts too. Here, our favorites:
Tatcha Silken Pore Perfecting Sunscreen
This is ideal for those with acne and anti-aging concerns, thanks to the botanical blend that helps lift skin and tighten pores. There's the Japanese wild rose extract that has potent antioxidant properties, as well as a signature complex of green tea extract, rice, and algae to restore skin health. The mattifying texture will blur enlarged pores and keep your skin soft all day long.
Silken Pore Perfecting Sunscreen, Tatcha ($65)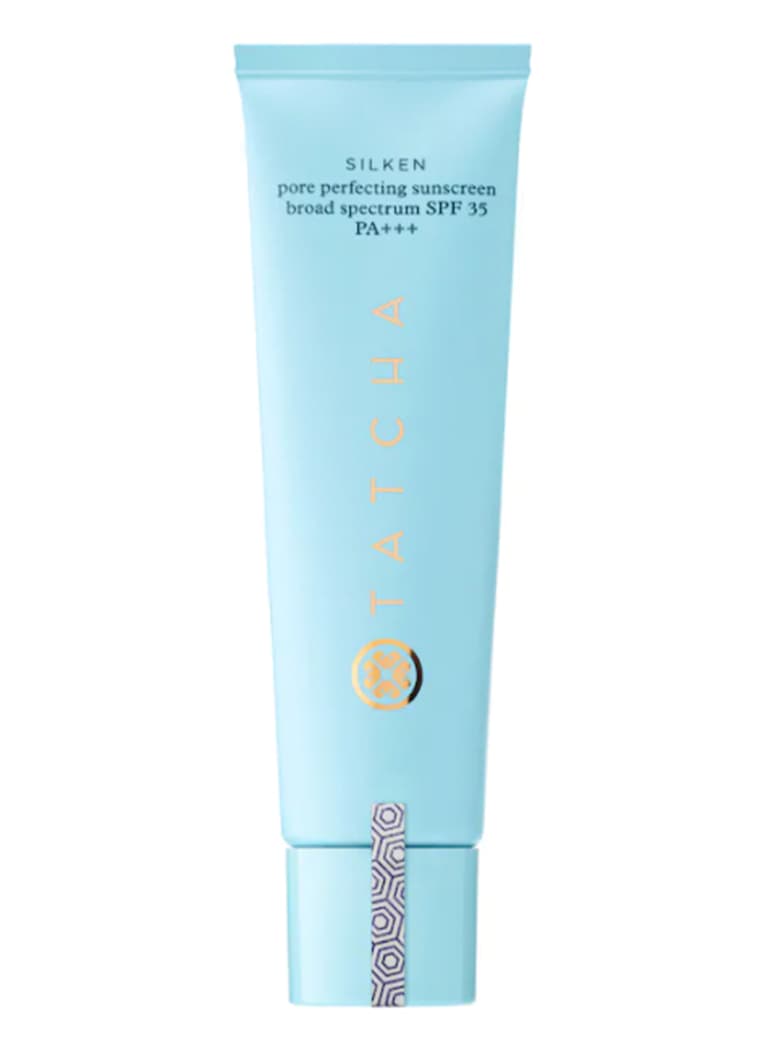 Tatcha
ColoreScience Sunforgettable Total Protection
Mineral powders work in three ways: First, they offer physical protection from UV rays. Second, they are tinted and thus can work as a foundation as well (since many with acne-prone skin opt to wear cover-up anyway, why not do both in one product?). Finally, they make for easy reapplication throughout the day, as all you need to do is brush it on.
Sunforgettable Total Protection, ColoreScience ($69)
ColoreScience
Coola Full Spectrum 360 Mineral Sun Silk
While we're not of the camp that those with acne shouldn't use oil (oils are great for all skin types!), we are sympathetic to the fact that some people simply don't like them. Well, this organic, oil-free formula provides broad-spectrum UVA/UVB protection—as well as niacinamide, which acts as a brightening and anti-inflammatory ingredient.
Full Spectrum 360 Mineral Sun Silk, Coola ($42)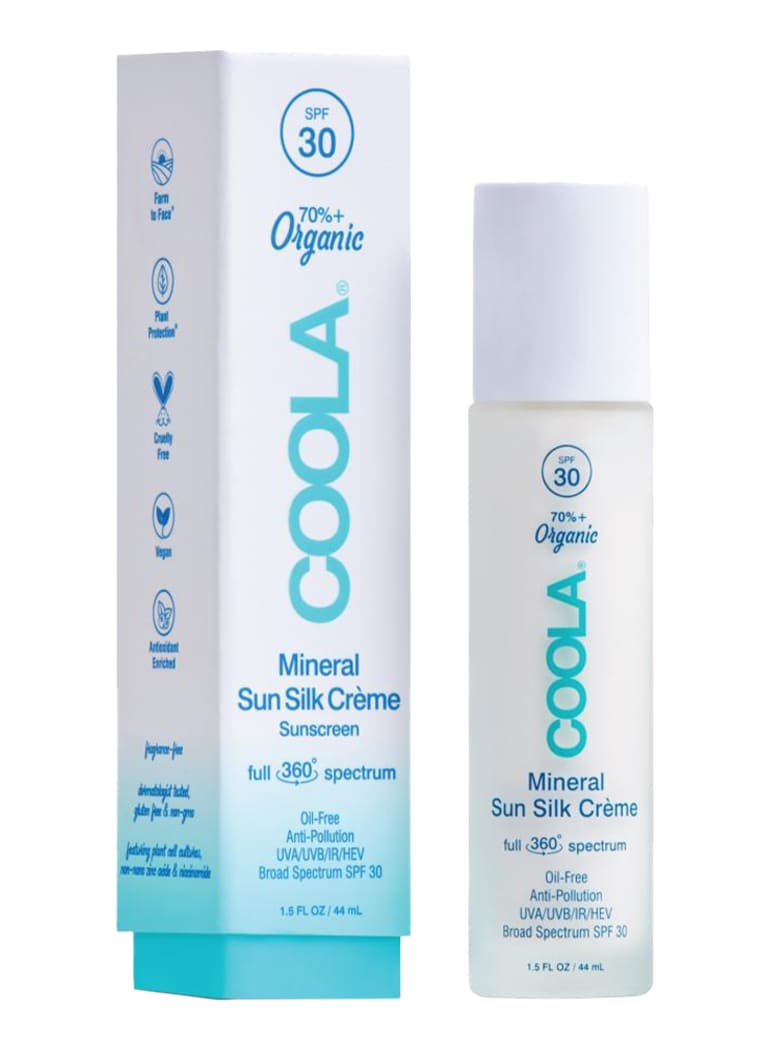 Coola
UnSun Cosmetics Mineral Tinted Face SunScreen
While we love zinc oxide as a sun protectant, one notorious downside is its heavy white cast. Formulas have gone a long way toward alleviating this, but it still tends to be a problem for those with medium to dark skin tones. That's why this option has become so popular—not only is it a sensorially delightful formula, but it blends in more effortlessly.
Mineral Tinted Face SunScreen, UnSun Cosmetics ($29)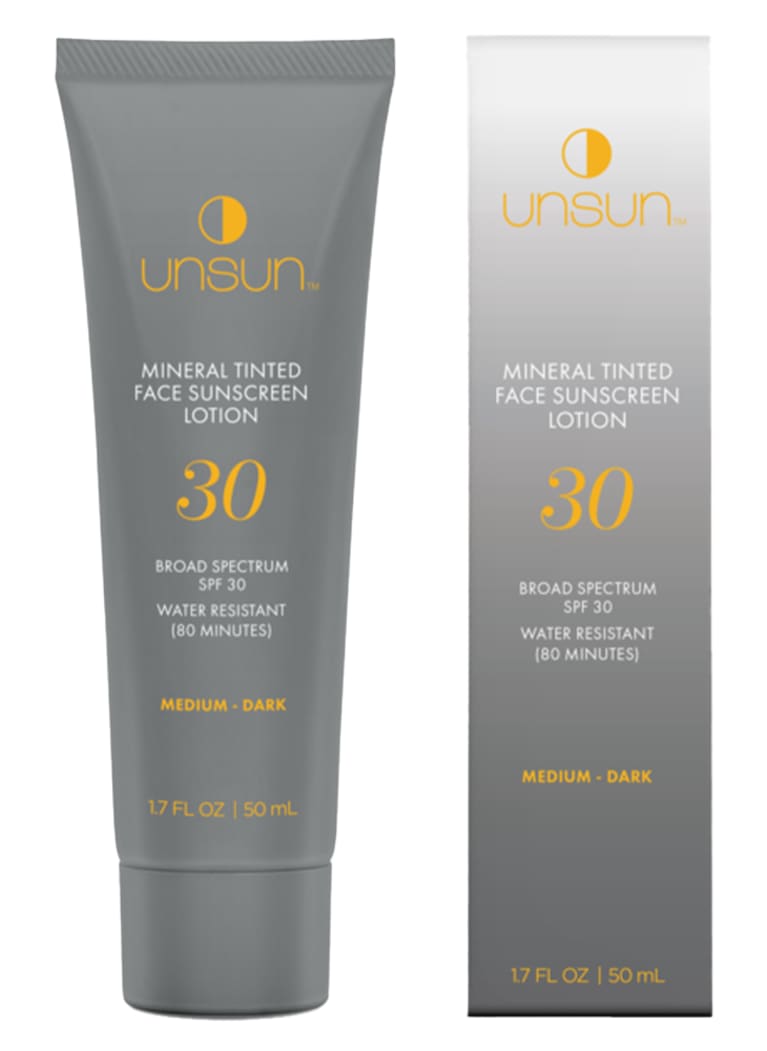 UnSun
Biossance Squalane Zinc Sheer Mineral Sunscreen
This brand's signature squalane makes this formula as hydrating as it is effective. Our skin naturally produces the oil, and replenishing it with a plant-derived option can help restore the skin's natural barrier. (Those with acne often have a compromised barrier.) Plus, it contains water lily, which can cool and calm skin—ideal for those with inflamed acne.
Squalane Zinc Sheer Mineral Sunscreen, Biossance ($42)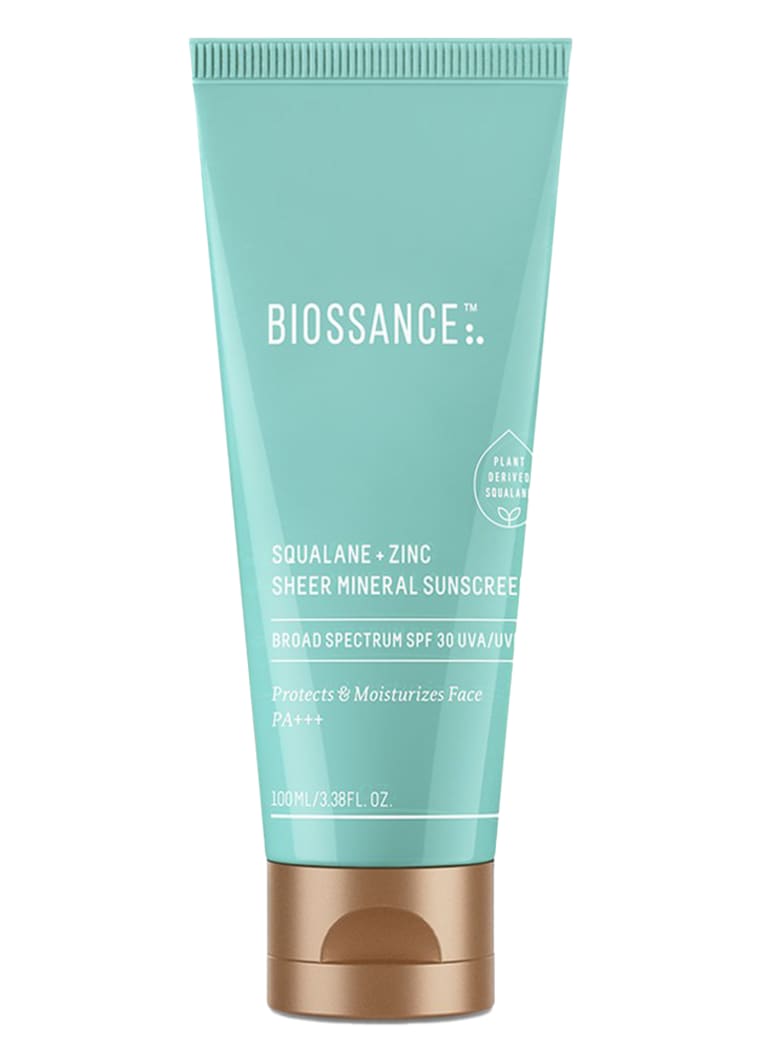 Biossance
Suntegrity 5-in-1 Tinted Moisturizing Face Sunscreen
We love this product for the cocktail of botanicals that not only make the fluid go on with ease but can help restore inflamed, reactive, and breakout-prone skin. There's jojoba oil (a go-to oil for those with acne as it's fast-absorbing and lightweight), green tea (for soothing), pomegranate (for antioxidants and antibacterial properties), and hyaluronic acid (for moisture that won't clog your pores).
5-in-1 Tinted Moisturizing Face Sunscreen, Suntegrity ($45)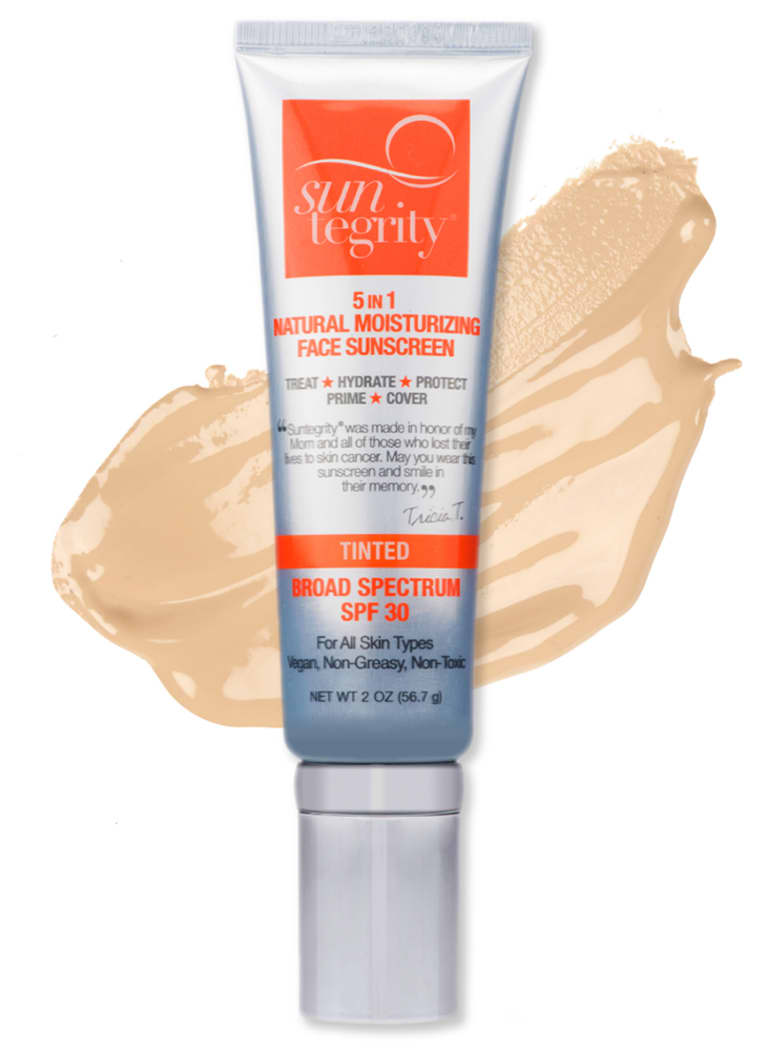 Suntegrity
Ren Clean Skincare Mattifying Face Sunscreen
A silicone-free option that absorbs oil, reduces shine, and blurs pores and breakouts—all thanks to the rice starch. This additionally contains yellow passion-fruit seed extract that aids in neutralizing free radical damage that comes from UV and pollution exposure.
Mattifying Face Sunscreen, Ren Clean Skincare ($38)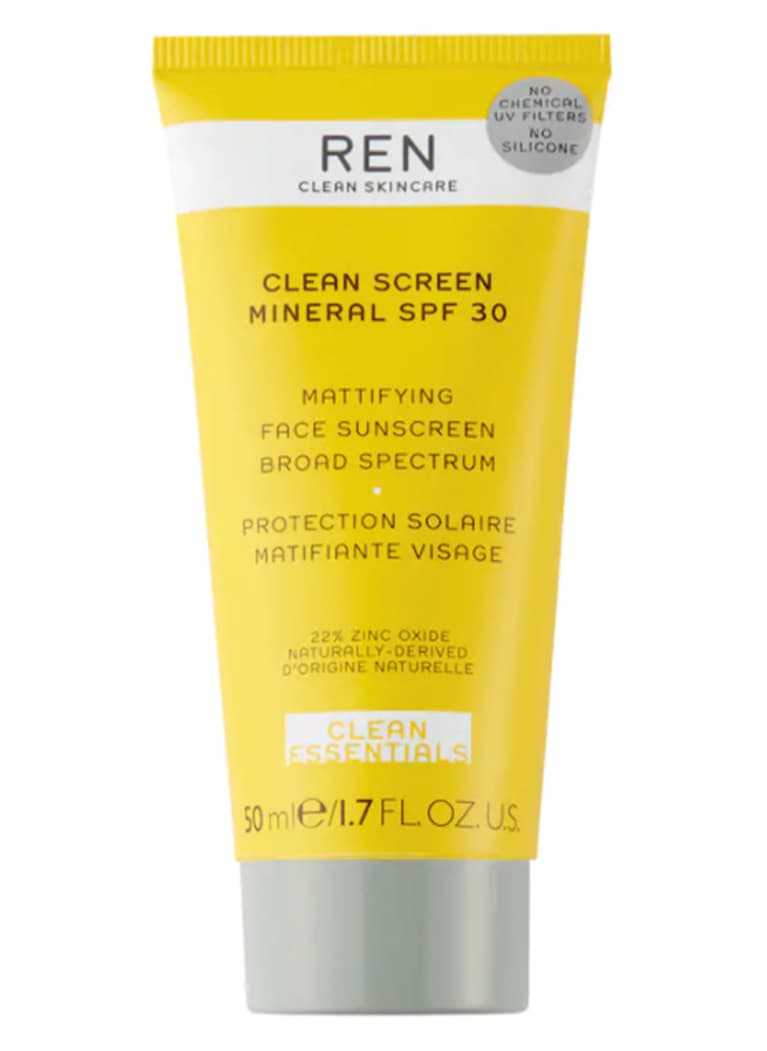 Ren Skin Care
Kinship Self Reflect Sunscreen
We love this playful mineral option, which is great for acne-prone teens and young adults just starting to get into skin care. Not only does it protect skin from UV damage, but it has biome-friendly ingredients that can help balance your skin microbiome.
Self Reflect Sunscreen, Kinship ($25)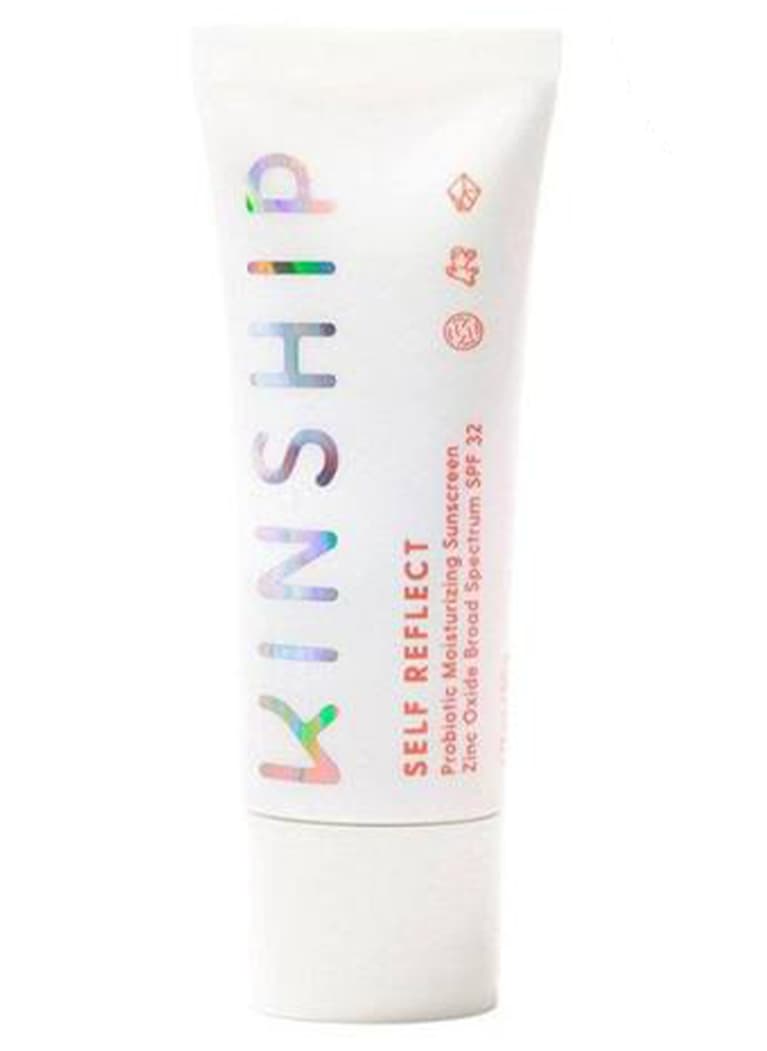 Kinship
Grown Alchemist Natural Hydrating Sunscreen
A personal favorite brand, there are few formulas from them that I don't fall for. This sunscreen is no exception; it combines several herbs and plants we love for skin health. There's rosehip, which can tend to hyperpigmentation (a common side effect of breakouts); parsley, which is rich in vitamin C; and several hydrating oils.
Natural Hydrating Sunscreen, Grown Alchemist ($39)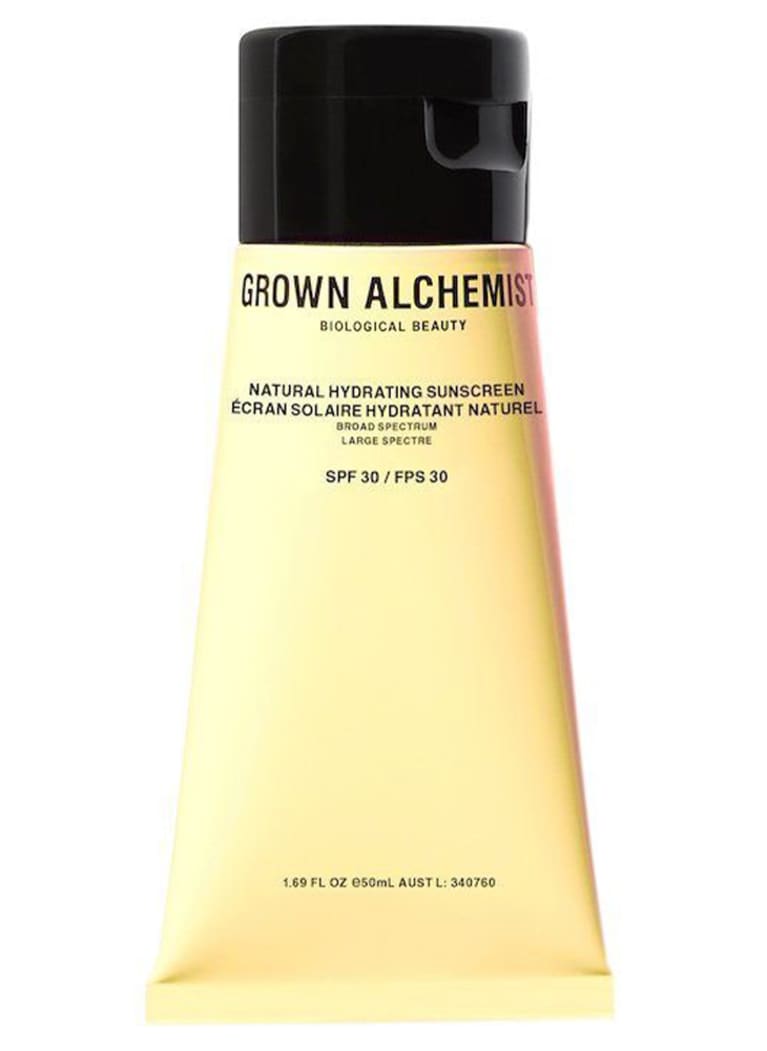 Grown Alchemist
Kypris Heliotropic SPF Primer
We adore the idea of combining an SPF, moisturizer, and primer. (Talk about a do-it-all.) This helps plump and prep the skin while protecting it with sustainably sourced zinc oxide. Then it's layered with sweet iris stem cells to smooth out uneven texture—and sunflower extracts full of fatty acids and beta-carotene.
Heliotropic SPF Primer, Kypris ($75)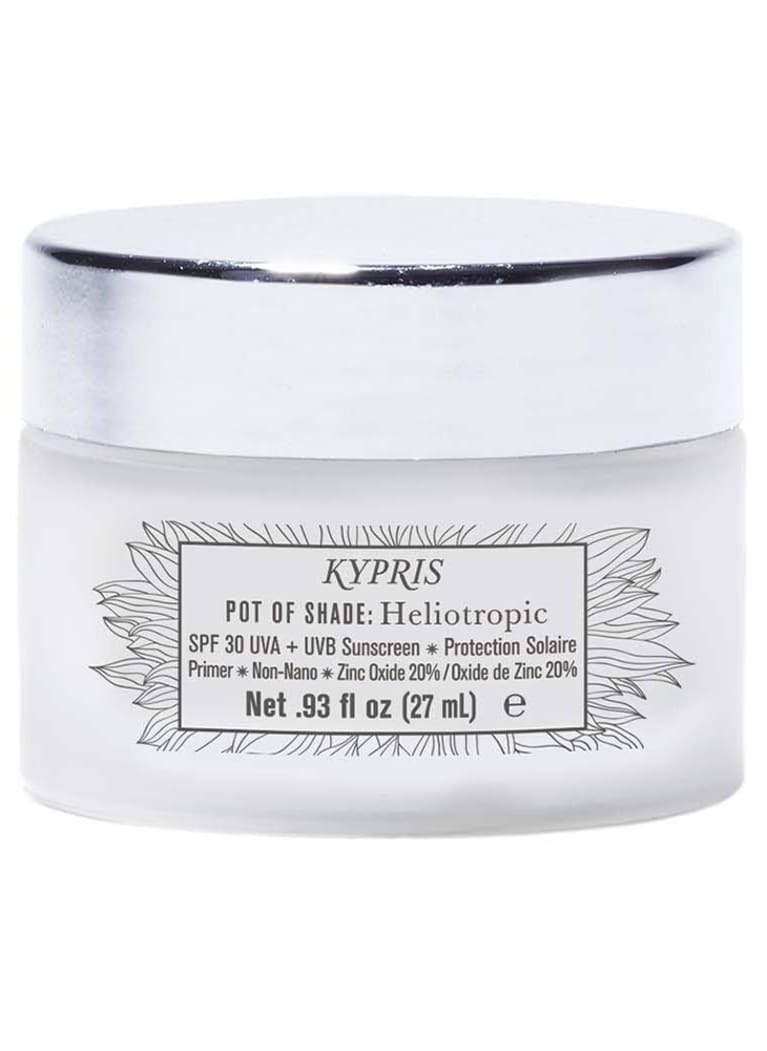 Kypris
EleVen Unrivaled Sun Serum
This new brand founded by Venus Williams has a host of potent, unique, clean products. This sunscreen contains prickly pear that delivers all-day hydration while helping to calm skin. We also love it for the demi-matte finish, which is great for those with oily skin who want to bring down the shine—but just not all the way.
Unrivaled Sun Serum, EleVen ($50)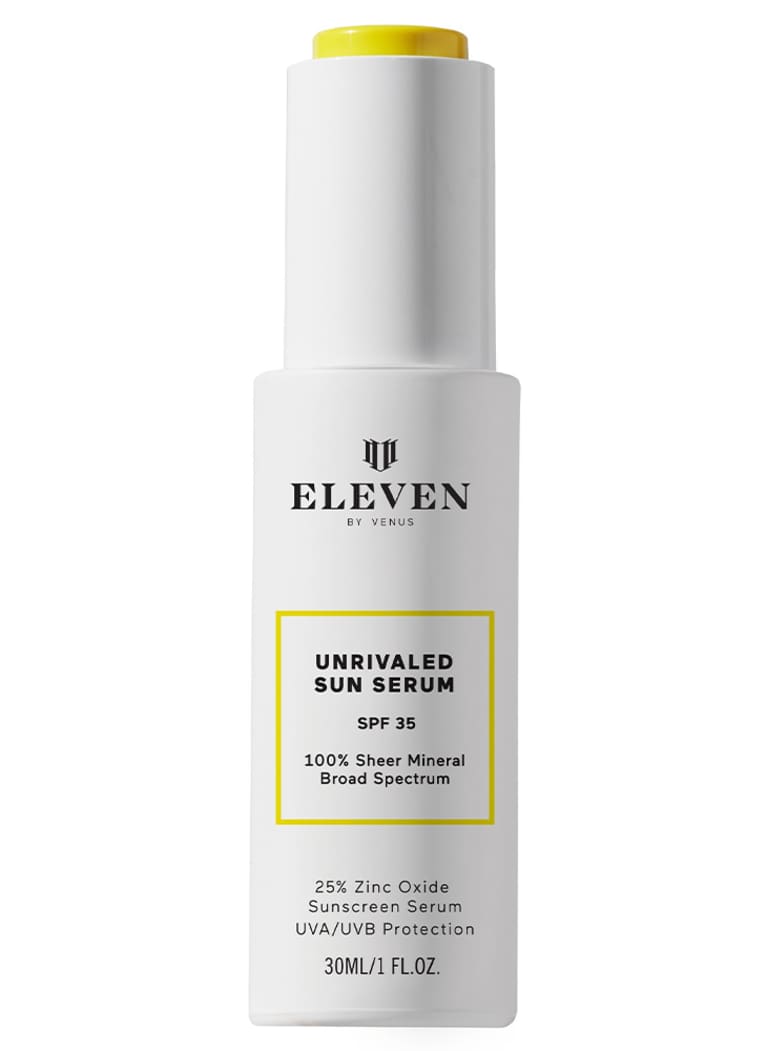 mindbodygreen
What to look for in sunscreen:
Want to know how we got to the above list? Here's a peek at what we look for in sunscreens—especially those formulated for acne-prone skin:
Mineral activities. Here at mindbodygreen, we believe that mineral sunscreens are the better option for skin and the planet. The two mineral options available in the U.S. and approved by the FDA for sun protection are titanium dioxide and zinc oxide. Be sure you find a formula that has the latter ingredient, as it protects against both UVA and UVB rays; titanium dioxide only shields against UVB.
Anti-inflammatory actives. Since acne is an inflammatory condition by nature, it's important to find formulas that help ease and calm the skin. Look for soothing botanicals and antioxidants.
Lightweight hydrators. Some SPFs do run a touch thick (which is great for people with dry skin), but for those whose pores clog easily, find silky formulas. A few good hydrators to keep an eye out for include squalane, hyaluronic acid, jojoba oil, and glycerin.
Don't be afraid of sunscreen if you have acne-prone skin: While past goopy formulas may have clogged pores and increased shine, the new batch of clean, physical SPFs are a delight to wear.
Want to turn your passion for wellbeing into a fulfilling career? Become a Certified Health Coach! Learn more here.