The 14 Best Stay-At-Home Vacay Tips For The Long Weekend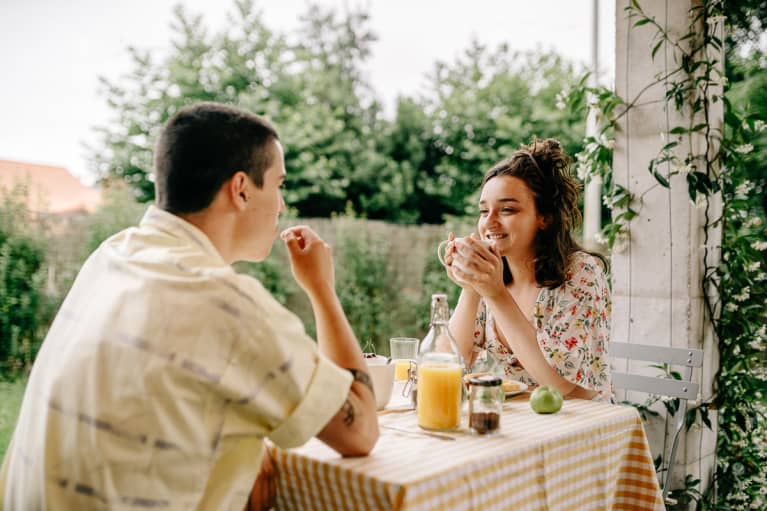 Our editors have independently chosen the products listed on this page. If you purchase something mentioned in this article, we may
earn a small commission
.
Memorial Day used to be the perfect excuse for a getaway: The first signs of summer weather plus an extra day of weekend time simply calls for an escape. And no matter where you are located or your situation, the idea of an escape probably sounds pretty intriguing right now. Since we can't exactly do that, we've rounded up the best stay-at-home tips, activities, DIY projects, and advice we've learned so far to take you into the long weekend:
1.
A Memorial Day classic: Have a picnic.
"Use your backyard, your balcony, your fire escape, your roof—get creative! You can even set out your picnic blanket right in the middle of the living room floor and just open up all the windows in your house to really get the breeze going," writes mbg's sex and relationships editor Kelly Gonsalves in her guide to date nights during quarantine. "Make all your go-to picnic favorites (the cheese, the sandwiches, the fruit salads, and the like), put on a summery outfit, and have a lazy spring afternoon together."
3.
Visit the National Parks—virtually.
For the creative-minded and writerly among us, create your own writers' retreat. You don't need to come out of the weekend with a short story collection—simply starting a journaling habit will do. "Journaling is a great exercise for reflection and fostering gratitude," writes mbg contributor Tanya Carroll Richardson. "Looking for silver linings in difficult times doesn't minimize the suffering but rather makes it more bearable. These 26 prompts can help inspire that, and you certainly don't need to work with all of them at once."
"In the throes of this pandemic, the notion of a spa day has a bit of a different meaning. Whether it's to help quell some COVID-induced anxiety or to quite literally dip your toes into fun products you finally have the time to get your hands on—this quarantine is, at the very least, an excuse to lather up," writes editorial assistant Jamie Schneider. "But even if you don't have a handy collection of clay masks to slather on, we've got you covered. Here, 11 of our favorite DIY beauty treatments so your self-care day becomes as easy as walking into the kitchen. Cue the spa music."
6.
Bar hop in your own home.
One way to emulate a vacation vibe is to create a "night on the town." Recreate your favorite haunts in various rooms or areas of your home, complete with venue-inspired snacks and signature cocktails or mocktails. Then travel your home tasting and trying various bites and sips. Or try all-new ones: Google the hot spots of a city you want to visit, look up their cocktail menu, and try to recreate a drink from it. (Another hack: Don't be afraid to DM bars on Instagram for recipes and tips—they may not give away all their secrets, but they can point you in the right direction if you're stumped on how to make a specific drink.) Then, when we're allowed to travel again, see if your homemade version matched up.
"Recreate a favorite meal from a special vacation," Carley Schweet, author of Holistic Self-Care Guided Journal tells us. "Bonus points if you have old pictures to look at from your time away." Our advice: Pull up those old photos and let them jog your memory: Was it a pasta dish in Italy? A taco truck masterpiece in L.A.? Do a little Googling and see if you can find a near-match recipe (if the place is famous enough, you just might be able to find the real deal). Then try your best at making it in your kitchen. Of course, you may not have every single, unique ingredient, but you just might be able to come close.
9.
Improve your meditation practice.
Given the rise of telecommuting, Zoom hangouts, and just generally more time on your phone, use the weekend to at least try to disconnect. "This one seems obvious, but it's worth stating: Try going without your phone for an extended period of your time away. Maybe start by shooting for 24 hours and see what happens," writes Cyrena Lee in her guide to a minimalist vacation. "If the idea of it freaks you out—even more reason to try! [I find that it's] amazing how quickly my brain and body shifted from instinctively reaching to constantly check if I had some sort of notification to just being in the moment."
11.
Create a vision board.
"Vision boarding is an excellent way to get clear on your goals and motivated to bring them to life. Not to mention, it's a fun and relaxing activity," writes Regan in our guide to making a vision board. "A vision board is essentially a physical manifestation of your goals. Vision boarding involves collecting images or objects that speak to the future you want to create and arranging them on a board for a tangible and aesthetically pleasing reminder of where you're heading."
"For whatever reason, the quarantine has turned a lot of people into bread bakers. The latest bread trend, following banana bread and sourdough, seems to be focaccia gardens. Cropping up all over social media, these creations involve artfully placing vibrant vegetables and aromatic herbs atop a carb canvas. The end result is an edible garden that tastes as wonderful as it looks," writes Moore. "While the project may seem like something for pros, you can easily do it at home."
13.
Start a new habit or hobby.
Starting a new project or craft can feel daunting." Bringing something into your life that's new—even if it's something you are excited about—can feel like change, and change is scary," says Kelsey J. Patel, a certified reiki master. But just remember how good it feels to complete a task or master a new skill. Use that as your motivation to start. And if you need help kicking off, Patel recommends actually writing down how you know you will feel after completing the task (or trying it for the first time). "Acknowledging all those good feelings will help you motivate yourself to try it," she says.
14.
Get ready for your next real escape.
This Memorial Day weekend may be a mandatory staycation, but you can always start the planning process for when you can actually travel safely again. "Planning for the future gives you something to look forward to, makes you feel more in control, and can make you feel closer as a couple because you're spending time thinking about a shared future together," writes Gonsalves. "Plan your next vacation that you want to take once this pandemic eases. Pick out a dreamy location and scout out hotels, Airbnbs, and activities you'll want to do there together."