8 Powder Sunscreens That Make Reapplying A Breeze + How To Use Them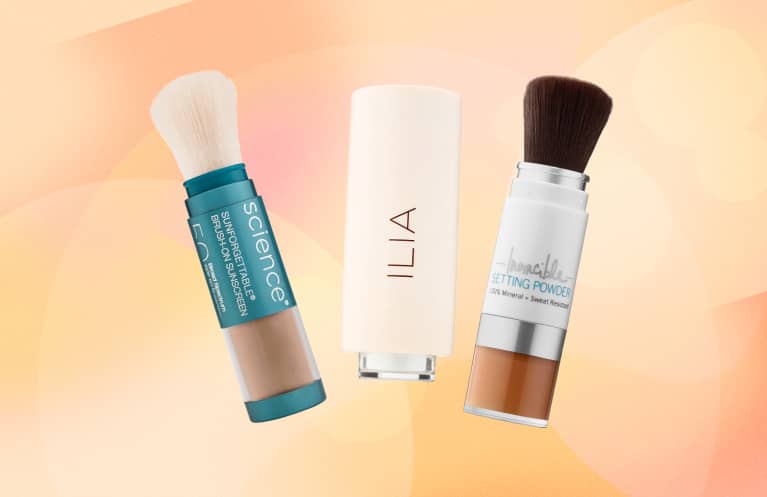 Our editors have independently chosen the products listed on this page. If you purchase something mentioned in this article, we may
earn a small commission
.
While your first dollop of sunscreen may go on a bare face, the truth is you need to slather on a new layer every two hours, which may pose a problem if you wear makeup: Piling a liquid lotion on top of an immaculate contour can leave quite the gooey mess.
Annoying, yes, but reapplying sunscreen is nonnegotiable, even if you opt for a full face. So what can you do if you don't feel like retouching your makeup with each application? Enter: powder sunscreens. These makeup-sunscreen hybrids take the dreaded groan out of reapplying—plus, they simultaneously set your products and keep them from sweating down your face midday. So you can have your highlight, and practice safe sun, too.
How to use powder sunscreen.
Simple: Just as you would a regular setting powder. Sweep the fine formula all over your face, neck, and décolletage (most options come equipped with a handy brush, but any big fluffy brush will do). Be sure not to leave any gaps: While it might feel intuitive to mattify oily areas, you want to cover the whole surface area to avoid burns and sun damage.
Powder sunscreen is also a great option for your scalp, so feel free to apply it on any exposed areas up top (i.e., where you center your part or where your hair is most thin). If you're heading to the beach or pool, you can definitely toss the powder in your tote; just make sure your skin is completely dry before brushing it on—water and powder makes for a messy application.
And again: Don't forget to reapply. You might not think to reapply your regular makeup every two hours, but remember: This is a makeup-sunscreen hybrid, and if you're going to use it as primary sun care, proper usage is crucial.
Below, our favorite powder sunscreens to brush on. Sweep, set, and shield your skin.
Brush On Block Translucent Mineral Powder Sunscreen
This sensitive-skin-approved powder is a favorite of board-certified dermatologist Hadley King, M.D. Why? "It's all mineral—zinc oxide and titanium dioxide—and contains antioxidants to protect from UVA and UVB sun damage, as well as blue light and infrared A rays," she says. "It's portable, convenient, and won't leave residue on your clothes."
Translucent Mineral Powder Sunscreen, Brush On Block ($32)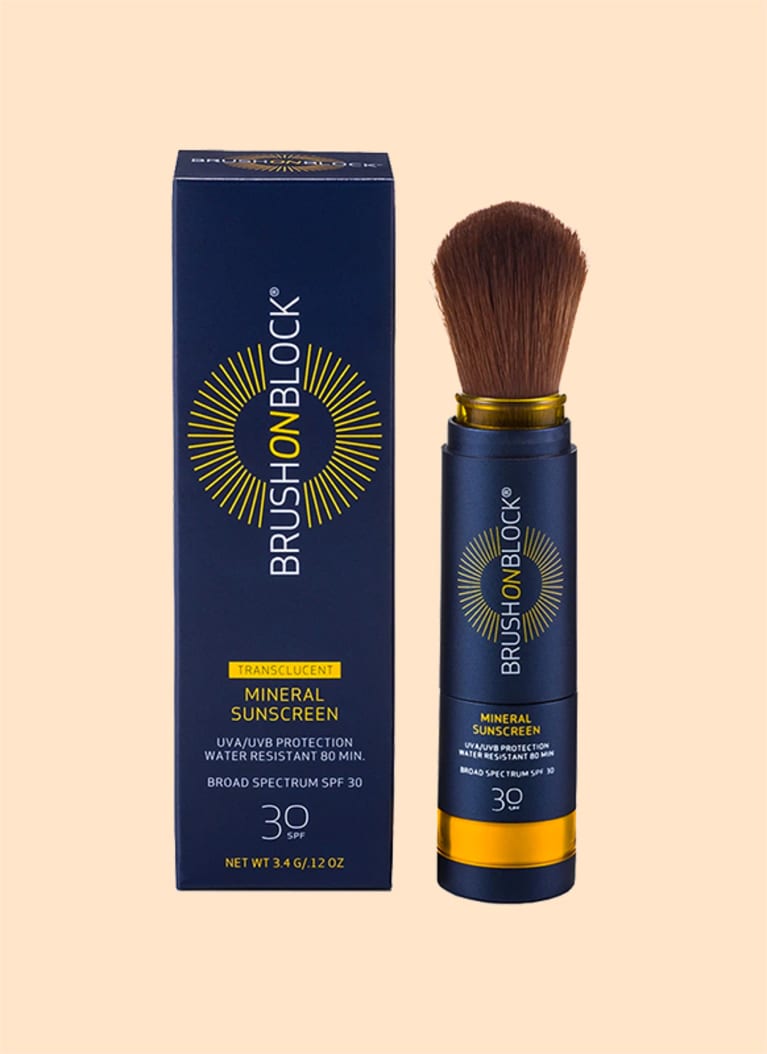 mindbodygreen
Tarte SEA Set & Protect Mineral Sunscreen Powder Broad Spectrum SPF 30
Tarte's vegan formula is just what you need for a sweltering summer day. It's translucent and oil-eliminating, yet it's formulated with jojoba esters to keep it nourishing for the skin—no chalky finish, here. Plus, the natural vanilla extract offers a subtle sweetness that's hard to ignore.
SEA Set & Protect Mineral Sunscreen Powder Broad Spectrum SPF 30, Tarte ($28)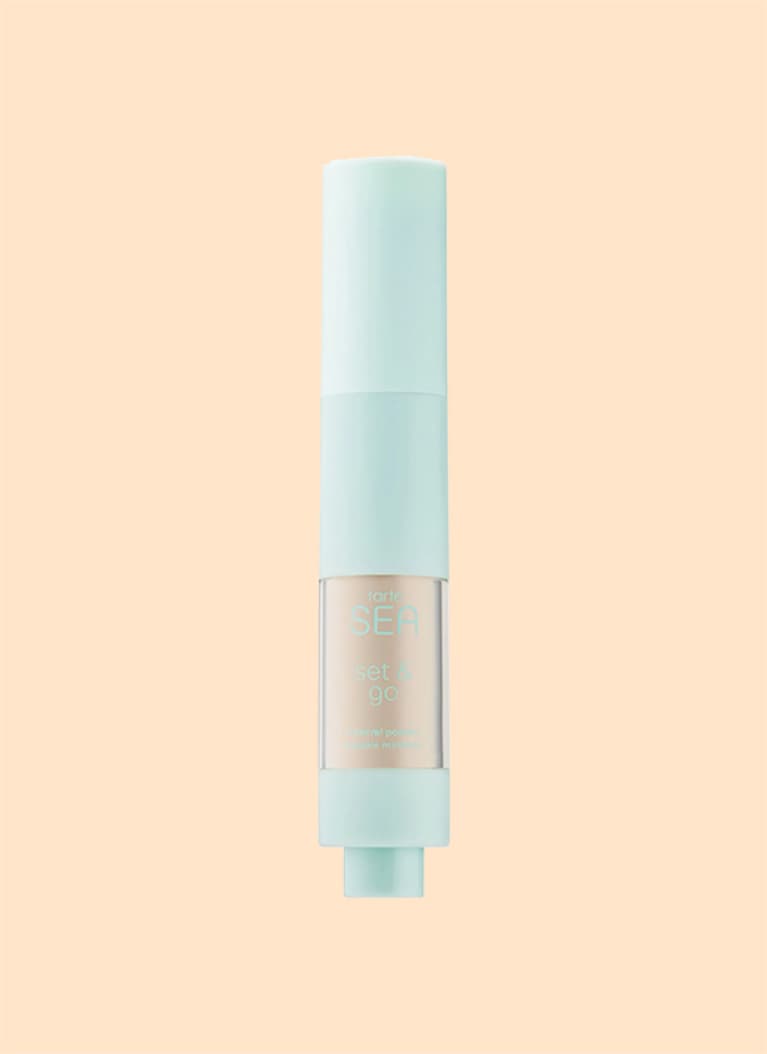 mindbodygreen
Supergoop! Invincible Setting Powder SPF 45
This Supergoop! option is mattifying, yet moisturizing—a magical combo for powders, no? Thanks to ceramides and olive glycerides, the formula locks in moisture and keeps your skin silky smooth, so you can create a dreamy, dewy makeup look without appearing too oily and sweaty.
Invincible Setting Powder SPF 45, Supergoop! ($30)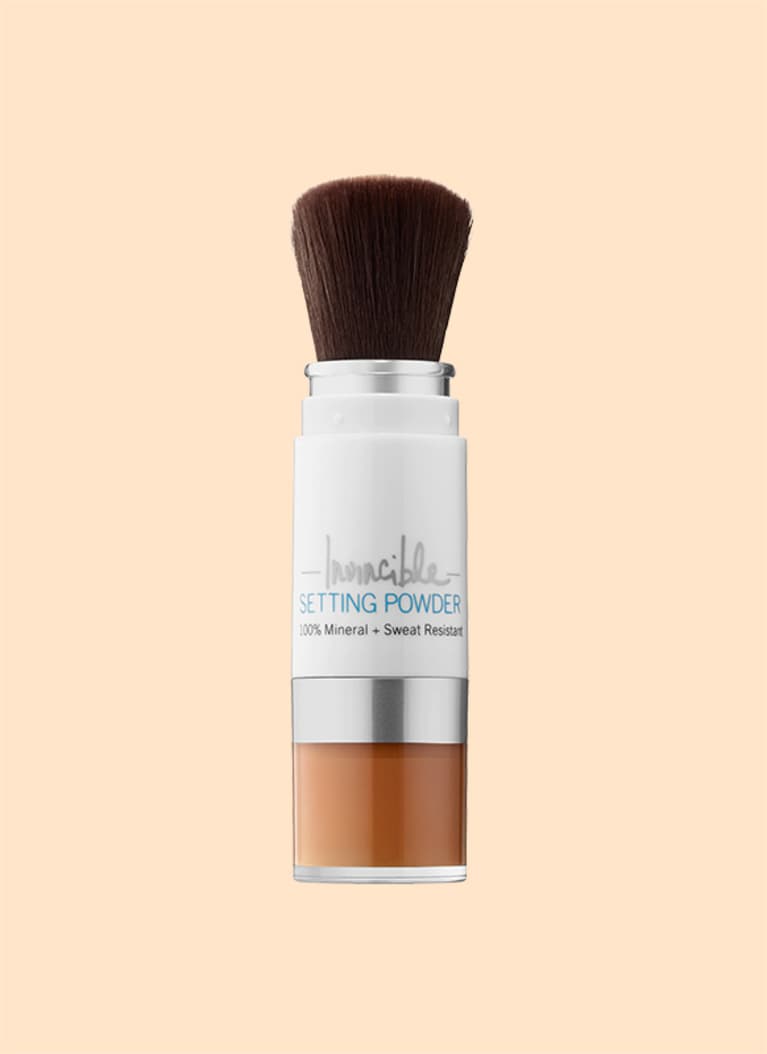 mindbodygreen
ILIA Beauty Flow-Thru Radiant Translucent Powder SPF 20
Lo and behold: A translucent powder that strikes perfect balance between cutting down shine and offering a luminous glow. It's extremely fine-milled (five times, to be specific), lending an airy application that feels like silk when you brush it on. It's a makeup staple, that just so happens to have SPF 20.
Flow-Thru Radiant Translucent Powder SPF 20, ILIA Beauty ($34)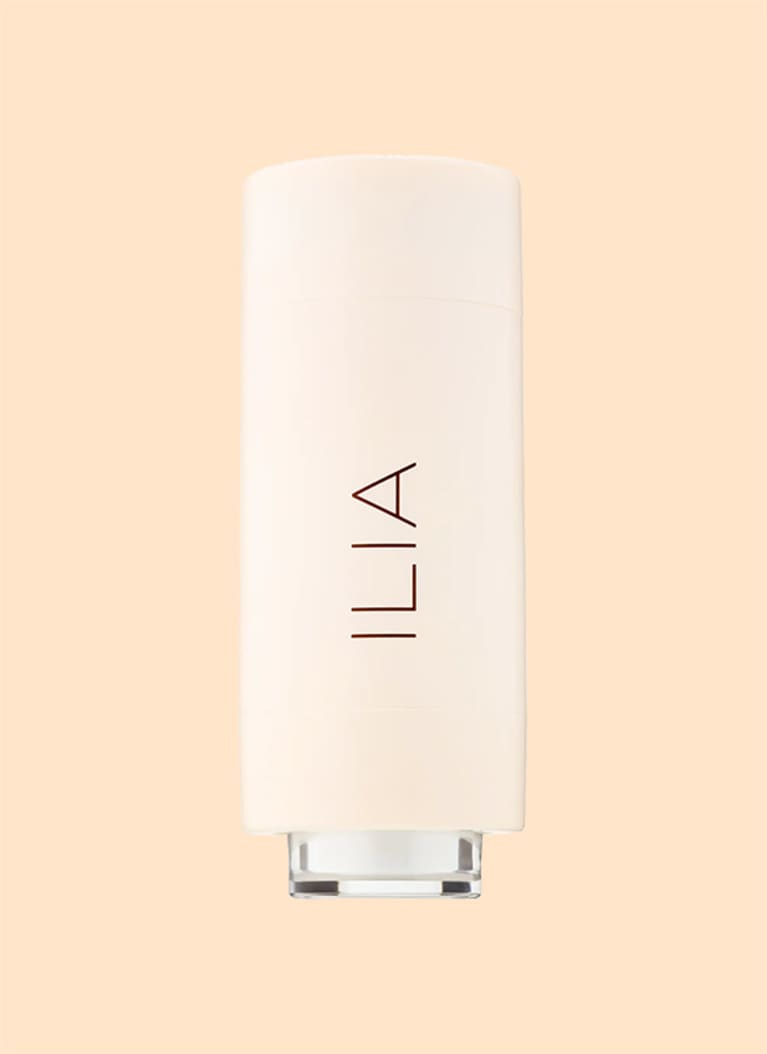 mindbodygreen
Colorescience Sunforgettable Total Protection Brush-On Shield SPF 50
This option has some pretty impressive skin care benefits (aside from the sun protection, of course): It includes tannins and sunflower sprouts to protect against photoaging and hyaluronic acid powder to enhance hydration. Need we say more?
Sunforgettable Total Protection Brush-On Shield SPF 50, Colorescience ($65)
mindbodygreen
SLMD Skincare UV Bounce SPF 30
Formulated by Sandra Lee, M.D., FAAD, FAACS (aka Dr. Pimple Popper), needless to say this powder was created with acne-prone skin in mind. Plus, it's gentle enough for sensitive skin, and it's incredibly lightweight and silky—as advertised, it'll make your skin appear bouncy and cushioned.
UV Bounce SPF 30, SLMD Skincare ($40)
mindbodygreen
jane iredale Powder-Me SPF Dry Sunscreen
This powder includes a sponge applicator for a super-even blend; simply pat and glide the formula on your face and neck for optimal coverage and sun protection. Pro tip: You can even mix this powder with your moisturizer to create your own liquid sunscreen.
Powder-Me SPF Dry Sunscreen, jane iredale ($47)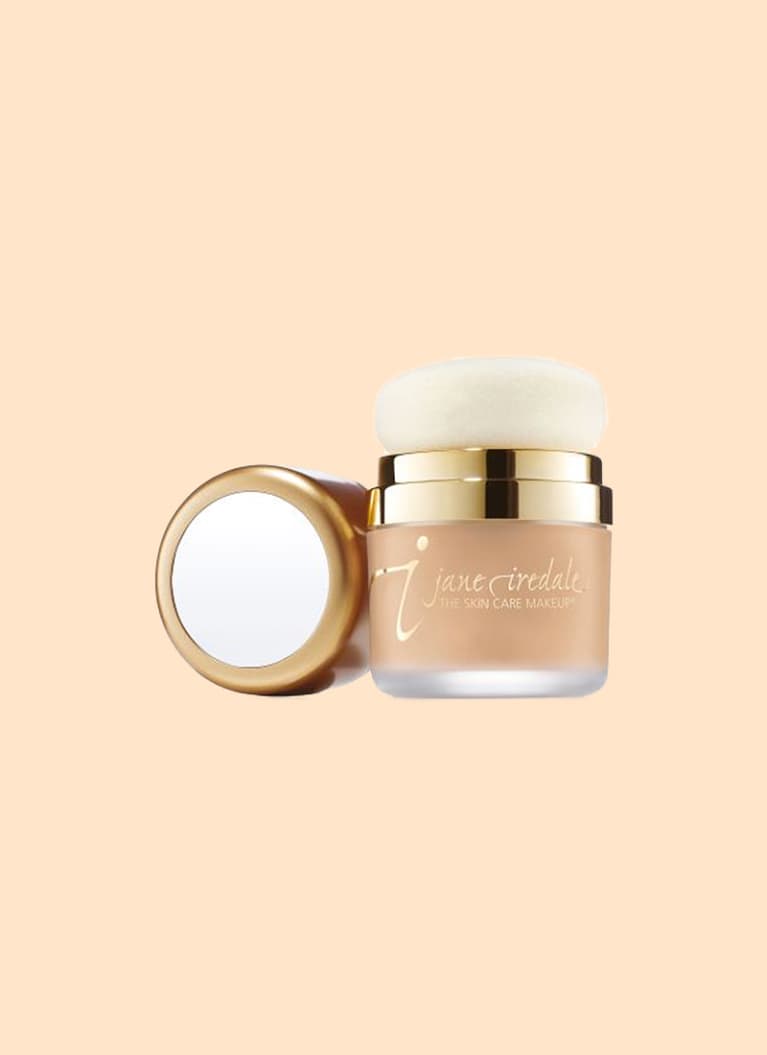 mindbodygreen
bareMinerals Mineral Veil Setting Powder Broad Spectrum SPF 25
An ultra-sheer formula with just the right amount of coverage, this bareMinerals number eliminates oil and shine without looking too caky. Just a single sweep can mask blemishes and shine. The result? A practically airbrushed finish that certainly doesn't skimp on sun protection.
Mineral Veil Setting Powder Broad Spectrum SPF 25, bareMinerals ($25)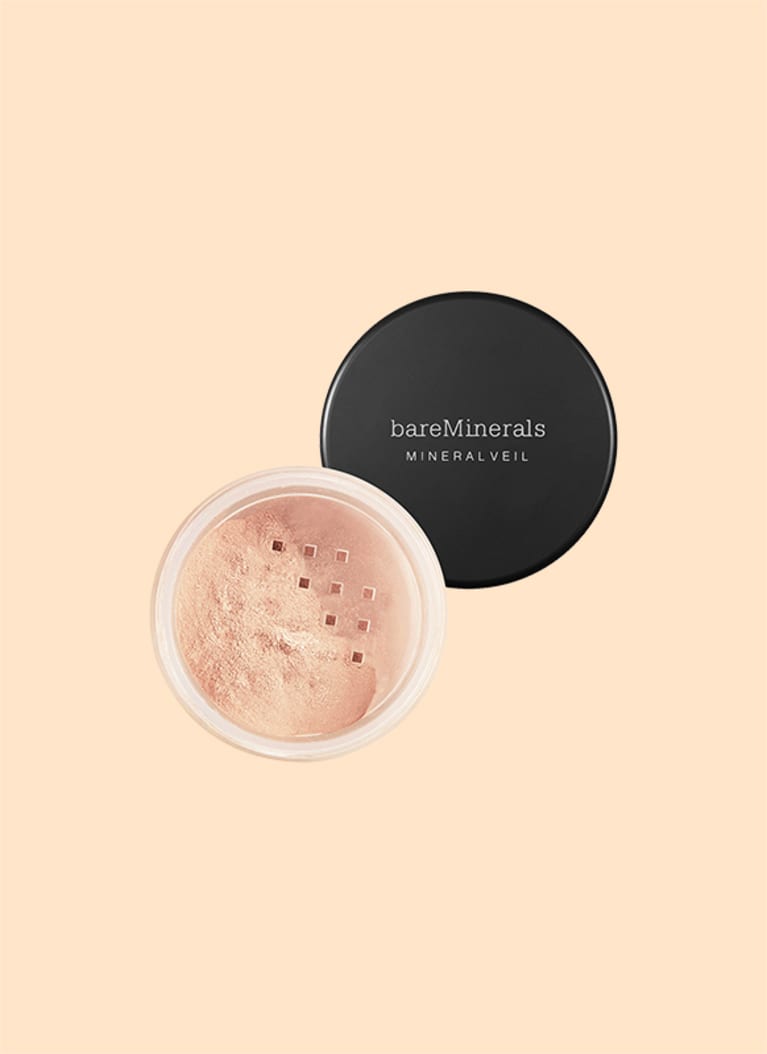 mindbodygreen