The 7 Best Plant-Based Meal Delivery Services To Sneak In More Whole Foods
Author:
Expert reviewer:
Updated on September 20, 2022
mbg Deputy Commerce Editor
By Braelyn Wood
mbg Deputy Commerce Editor
Braelyn Wood is the Deputy Commerce Editor at mindbodygreen. She has a B.S. in journalism from Northwestern University, along with a certificate in marketing.

Expert review by
Molly Knudsen, M.S., RDN
Registered Dietitian Nutritionist
Molly Knudsen, M.S., RDN is a Registered Dietician Nutritionist with a bachelor's degree in nutrition from Texas Christian University and a master's in nutrition interventions, communication, and behavior change from Tufts University. She lives in Newport Beach, California, and enjoys connecting people to the food they eat and how it influences health and wellbeing.
Last updated on September 20, 2022
Our editors have independently chosen the products listed on this page. If you purchase something mentioned in this article, we may
earn a small commission
.
When someone mentions plant-based eating, your mind likely wanders to lush salads and smoothie bowls chock-full of superfoods. But a well-rounded plant-based diet goes far beyond these basics—and the easiest way to expand your understanding of the diet is with the help of the best plant-based meal delivery services.
These curated offerings deliver fruit-and-veggie-packed meals directly to your front door, benefiting both new plant-based eaters and longtime herbivores alike. You'll save time on food prep and use less brain power mapping out an equally nutritious and satisfying meal. Plus, there are a wide variety of services available to suit different lifestyles, including fully frozen foods, fresh-prepped fare, and meal kits with all the ingredients to channel your inner Ina Garten.
What is a plant-based diet?
Unlike vegetarianism or veganism, a plant-based diet has a less defined meaning. Dietitian Sharon Palmer, MSFS, RDN, clarifies that although it's often used interchangeably with vegan, plant-based actually refers to a diet focused "primarily on plant foods."
The push to eat more fruits and veggies has been around for most since childhood, but this plant-powered way of eating gained traction in the last couple of years for its slew of benefits. Along with reducing your environmental footprint, a plant-based diet can aid in weight management, support cardiovascular health, help improve glucose levels, and promote healthy digestion.
To craft your perfect plant-based meal, Palmer suggests sticking to the general plate breakdown of 25% protein, 25% whole grains, and 50% fruits and veggies with healthy fats or plant milk alternatives on the side. Most importantly, she suggests looking for whole plant foods like whole grains, fruits, veggies, nuts, and plant proteins such as tofu, tempeh, or pulses.
How we picked:
We considered how much of the menu actually catered to plant-based eating versus the overall number of menu items. Our final picks offered at least five options each week.
We believe in the power of taking charge of your health by customizing your diet to your individual needs. Filters for allergens and dietary preferences were essential to our ranking.
Meal boxes get a bad rep for waste, but we searched for the companies trying to change that notion. We vetted each brand's commitment to staying green as part of our requirements.
Every food budget is different, so we provided a range of options that suit different budgets with the goal of keeping servings affordable.
mbg's pick of the best plant-based meal delivery services:
Best for home chefs: Hungryroot
Hungryroot
VIEW ON Hungryroot
Pros:
Easy to adapt to taste buds
Cons:
Excess packaging
Repetitive flavors
Dietary considerations:
Gluten-free

,
Nut-free

,
Pescetarian

,
Vegetarian

,
Dairy-free

,
Vegan

,
Egg-free

,
Soy-free

,
Shellfish-free
Max Meals per week:
Varies
A robust catalog of recipes gives Hungryroot users the ability to use their delivered ingredients in a variety of ways—whether it's transforming lemon-herb tofu into a curry tofu wrap or fajita bowl. By putting the control back into the hands of the home chef, the brand empowers people to expand their palate and consider new ways to use their ingredients to reduce food waste.
You'll have the choice to shop a la carte ingredients or curated recipes for your weekly delivery, which starts at $65 per box. Both options allow users to filter by dietary preferences like gluten-free, soy-free, dairy-free, nut-free, egg-free, and shellfish-free.
Sustainability & Quality: While not every item is organic, Hungryroot aims to prioritize as many non-GMO products as it can. Shipping materials are also curbside recyclable sans the ice pack—a newly launched pouch uses a nontoxic gel that can be poured down the sink or used to feed your plants (!!!). Unfortunately, the brand does source groceries from a variety of companies, which makes further recycling instructions difficult to track down.
Best budget-friendly: Mosaic
Mosaic
VIEW ON Mosaic Foods
Pros:
More affordable
Variety of options
Cons:
Paper cups may not be recyclable near you
Dietary considerations:
Nut-free

,
Dairy-free

,
Plant-based

,
Egg-free

,
Soy-free
Mosaic's family portions start at just $5 per serving, making it one of the most affordable options on the list. Crafted by chefs, the plant-based menu contains veggie bowls, soups, oat bowls, and family-sized bakes crafted without added sugars or artificial ingredients. Delivered to your door weekly, every item contains at least four veggies, maximizing the biodiversity of your meals.
While low-carb eaters may struggle to find enough options, it's possible to filter out high-protein recipes and allergens like dairy, eggs, nuts, and wheat. The hardest part will be deciding what to try first: roasted garlic cauliflower soup, butternut squash risotto, or beet bourguignon.
Sustainability & Quality: Mosaic sticks to frozen meals because they create less manufacturing waste and help buyers reduce their risk of food waste. This commitment to sustainability continues with the packaging with a curbside recyclable box, lining papers, boxes, and trays (though you'll need to give these a rinse). You'll likely need to make a trip to your local grocery store or recycling center to recycle the plastic film on the trays.
What our testers say:
"My gut reaction to frozen food has always been negative, but I can officially say that Mosaic has changed my point of view by offering whole foods, delicious frozen foods that tasted like I could've made them (and I mean that as a compliment). As a vegetarian who prides herself on impressing even the meat eaters in her life with delicious food, I feel confident that even carnivores would be impressed by these recipes—and the price."
Best for groups: Green Chef
Green Chef
VIEW ON Green Chef
Pros
Certified organic
6-serving portions
Dietary considerations:
Gluten-free

,
Paleo

,
Keto

,
Mediterranean

,
Vegetarian

,
Vegan

,
Low-calorie
Green Chef's menu also accounts for omnivores, so it only offers nine plant-based recipes every week—but the brand makes up for the more limited selection by offering up to six servings per recipe. This allows for large families to take advantage of the meal delivery service without anyone fighting for leftovers, a likely occurrence thanks to delicious options like black bean flautas and caramelized onion and apple melts.
Every hand-packed box is filled with pre-measured portions of all the ingredients you'll need for a nutritious meal, and each recipe takes less than 30 minutes.
Sustainability & Quality: Green Chef is the very first USDA-certified organic meal delivery kit—but the ethos on quality doesn't end there. It also offsets 100% of its carbon emissions and focuses on completely recyclable packaging. Plus, the brand even partners with sustainability organizations to ensure they stay as green as possible.
Best variety: Purple Carrot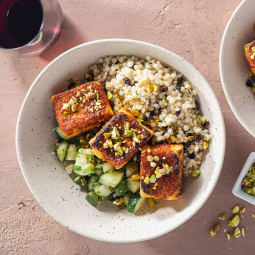 Purple Carrot
VIEW ON Purple Carrot
Pros:
Budget-friendly
adaptable to dietary needs
Dietary considerations:
Gluten-free

,
High-protein

,
Soy-free

,
Low-calorie
Type:
Meal kit

,
Fresh èntree
The options never end with Purple Carrot's selection of plant-powered meals. The meal delivery service offers up to 24 menu items every week spanning breakfast, lunch, and dinner. A majority of the menu is available as meal kits with a limited (and pricier!) selection of premade items available.
Past selections like crispy harissa tofu, scallion mushroom dumplings, and lemon-braised chickpeas showcase the depth of options available—and that's just the tip of the iceberg. You can also add on pantry items like vegan pesto, cheese, and sausage for extra excitement. Plus, the assortment can be filtered for dietary needs, such as low-calorie or high-protein meals, as well as allergy information for soy, gluten, and nuts.
Sustainability & Quality: While the brand prioritizes organic produce, it doesn't guarantee a completely GMO-free meal. However, shelf-stable ingredients are most likely organic, according to the brand. Plus, the company supports the Farmlink Project and offers an in-depth guide on how to recycle the leftover packaging from your order.
Best for weight loss: Daily Harvest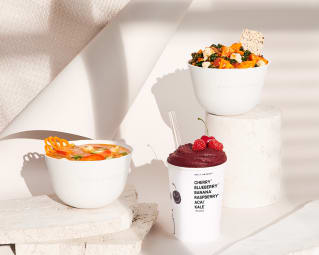 Daily Harvest
VIEW ON Daily Harvest
Cons:
Cups not curbside recyclable
Dietary considerations:
Nut-free

,
Dairy-free

,
High-protein

,
Plant-based

,
Egg-free

,
Soy-free

,
Allergen-free
Be sure to clear out your freezer before placing an order from Daily Harvest's fully plant-based menu—it's impossible to walk away from the brand's robust lineup of smoothies, bowls, bakes, and flatbreads without wanting to try it all. Luckily, crafting your menu is super simple with options to filter for your taste buds or eight dietary needs, like keto, paleo, or low sugar. Regardless of your choices, you can rest assured knowing that there won't be any gluten, dairy, refined sugar, or GMOs in your next delivery. Plus, an abundance of low-calorie options makes this a choice for those seeking a meal delivery for weight loss.
Whether you opt for a spinach and shiitake grit bowl or an açai and cherry smoothie, your vegan goodies will arrive completely frozen and need minimal prep work. Think a few minutes in the blender or half an hour in the oven. Not to mention, there's even a line of dairy-free frozen desserts crafted with whole foods and natural sweeteners.
Sustainability & Quality: The brand has a long-term goal to be 100% compostable, recyclable, and virgin-plastic-free—and we're pretty impressed by its sustainability steps so far. The cups are the only paper that's not curbside recyclable, and a few plastics require extra attention. Plus, the brand supports farmers in making the swap to organic farming with more biodiversity.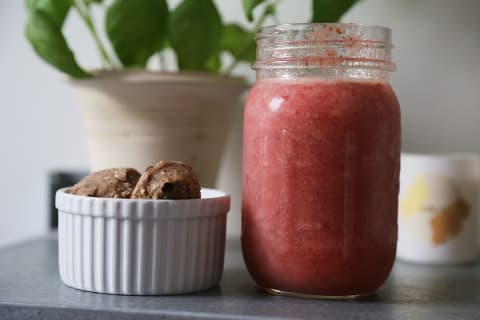 What our testers say:
"Daily Harvest makes it possible to eat nutritious meals even when you're in a time crunch. While the service isn't ideal for those on a tight budget or anyone following a low-carb/high-protein diet, it's a great option for anyone who wants to increase their fruit and vegetable intake without spending a ton of time in the kitchen."
Best premade: Sprinly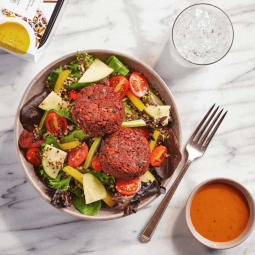 Sprinly
VIEW ON Sprinly
Pros:
Reheat only
No preservatives
Dietary considerations:
Gluten-free

,
Nut-free

,
Plant-based

,
Soy-free

,
Refined sugar-free
Need a fully prepared meal but don't have any more freezer space to spare? Opt for Sprinly's plant-based meal delivery service, which delivers fresh plant-based entrées right to your door. Each week features a new rotation of six menu items, like the smoky bunless beet burger or pesto zucchini noodles, which all take less than three minutes to reheat.
Nationwide deliveries arrive every Tuesday with options to skip or pause your subscription online at any time. Despite more streamlined offerings, the menu typically includes multiple nut-, soy-, and gluten-free options each week.
Sustainability & Quality: The only packaging you can't recycle from your delivery is the ice pack, but Sprinly suggests thoughtful ways to give it a second life. The quality continues with nutritious high-quality recipes that prioritize organic ingredients and no preservatives or artificial sweeteners.
Best for plant-based beginners: Sunbasket
Sunbasket
VIEW ON Sunbasket
Pros:
Ready-to-eat meals available
Suits many diets
Cons:
Long prep time
Smaller menu
Dietary considerations:
Gluten-free

,
Low-carb

,
Paleo

,
Mediterranean

,
Pescetarian

,
Vegetarian

,
Dairy-free
Sunbasket offers both vegan and vegetarian options, but it's not a purely plant-based menu. This allows for some wiggle room for newer herbivores while still exposing them to veggie-focused recipes, like sesame tempeh and North Indian aloo gobi with potatoes and cauliflower. There's also a handful of fresh, ready-to-eat options available, like microwave-ready sweet pea and broccoli risotto.
Plus, the menu can be filtered for a range of other dietary needs such as paleo, gluten-free, carb-conscious, or lean & clean.
Sustainability & Quality: Regardless of your selection, you can expect 99% USDA organic ingredients with notifications any time the brand subs in nonorganic ingredients. When your box arrives, most components are curbside recyclable except the plastic bags, which will require a special visit to your local recycling center.
The takeaway.
A plant-based meal delivery service makes it easier than ever to incorporate more whole plant foods into your diet—and there are plenty of worthy options for every budget, palate, and schedule. Whether you need a prepared meal or prefer a kit to maximize your culinary skills with new plant-based recipes, our lineup has the perfect pick for you vetted for sustainability, quality, variety, and adaptability.
Braelyn Wood
mbg Deputy Commerce Editor
Braelyn Wood is the Deputy Commerce Editor at mindbodygreen. She has a B.S. in journalism from Northwestern University, along with a certificate in marketing. After interning at Bustle Digital Group and Cosmopolitan, her love of products (and a good deal) led her to the commerce space, and she joined Meredith Corporation as its first health and wellness-focused shopping writer. During this time, her byline appeared in Health, Shape, InStyle, People, and Travel Leisure, as she covered topics like workout gear, home goods, and coronavirus essentials to help shoppers lead healthier lives. In her current role, she helps readers find the best deals, uncover the latest launches, and understand which items are worth the splurge (or not) from her home in Brooklyn, New York.