2018 Brought A New Wave Of Sexual Health Products — And We're So Here For It

Contributing Wellness & Beauty Editor
By Lindsay Kellner
Contributing Wellness & Beauty Editor
Lindsay is a freelance writer and certified yoga instructor based in Brooklyn, NY. She holds a journalism and psychology degree from New York University. Kellner is the co-author of "The Spirit Almanac: A Modern Guide to Ancient Self Care," with mbg Sustainability Editor Emma Loewe.
Image by Megan Doty / mbg Creative
December 20, 2018
2018 was the year that the sexual health industry got a nontoxic makeover and the passionate folks powering game-changing green beauty brands made it happen. As a direct effect of this shift, sexual health products like lube, pubic hair grooming oils, and cleansers are now more widely available through the brands' websites and beauty e-commerce websites versus the sex shop and Amazon (which were our only options not too long ago). While this isn't exactly an instance of democratization of a product category—prices haven't exactly decreased—a new kind of shopping experience makes purchasing sex-related stuff a little less intimidating.
The beauty industry has been expanding beyond measure in the last couple of years. Booming ingestibles and supplements are now almost always categorized under the beauty umbrella, naturals are no longer "going" mainstream—with a speculated $13.2 billion market by the end of this year, they are mainstream—and now beauty is taking over sexual health too. The trendy new wave of sexual health products sport updated, design-forward packaging and ingredient labels we can get behind.
Advertisement
This ad is displayed using third party content and we do not control its accessibility features.
Fur Oil
Fur Oil was early to the scene. Founded in 2015, the Fur Oil was first in the now four-product line targeting the drudgery, and let's be frank—pain—of pubic hair maintenance. The fur oil conditions hair, prevents the growth of ingrowns, and was formulated in a way that won't leave oil stains on your even your nicest silk undies. Grapeseed and jojoba oils form a foundation for a medley of functional essential oils, including lemongrass and clary sage, that are antibacterial, antimicrobial, and soothing to irritated skin.
Fur Oil, Fur, $44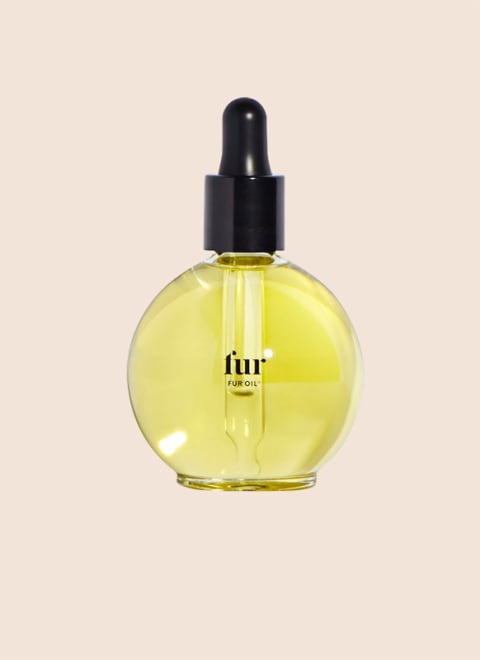 mbg creative x Fur / Fur
The Perfect V Beauty Sheets
While I personally subscribe to the belief that the vagina is a self-cleaning machine, these Beauty Sheets by The Perfect V are handy if you need to "freshen up" before or after a sexual encounter or a workout or during travel. The dermatologist- and OB/GYN-approved ingredient list is pH-balanced in tune with the environment down there so as not to disrupt, dry out, or irritate the delicate skin down there.
Beauty Sheets, The Perfect V, $24
Nécessaire The Sex Gel
Another gender-neutral, nontoxic skin care line has landed: Nécessaire. Co-founded by former Estée Lauder Companies executive Randi Christiansen and Into The Gloss co-founder, Nick Axelrod, Nécessaire is a the brainchild of a product expert and storytelling maven—destined for success from the start. So it's not terribly surprising that Nécessaire is exploding with popularity across media, getting buzz on editorial platforms and making a plash on social. Here's the thing—the ingredients check out: There are only 10, and they use sustainably sourced, clean versions of thickening agents and preservatives (which are important in a lube), leaving out the bad stuff. It's also FDA-approved.
The Sex Gel, Nécessaire, $15
Advertisement
This ad is displayed using third party content and we do not control its accessibility features.
Lola Sexual Wellness Kit
If you ever doubted whether the unsexy aspects of sex—like condoms, lube, and cleanup—would be thoughtful, beautiful endeavors, you can put that to bed (pun intended). Lola has designed natural latex condoms that are M.D.-approved, pH-balanced lube, and nontoxic cleanup wipes that all fit in a portable pouch, so there's no excuse not to have it nearby.
Sexual Wellness Kit, Lola, $34
Province Apothecary Sex Oil
This five-ingredient sex oil is made with coconut oil, sunflower seed oil, rosemary extract, evening primrose oil, and vitamin E. This is a special body oil you can use everywhere, but the name might be a little misleading. It's wonderful, clean, and nontoxic and can be used for whatever kind of physical-touch body love you want to make to yourself or another. But it's not a swap for lube—it's meant for external use only, and because it's oil-based, don't use it with latex products or plastic toys, as the oil can weaken the latex, making it less effective.
Sex Oil, Province Apothecary, $15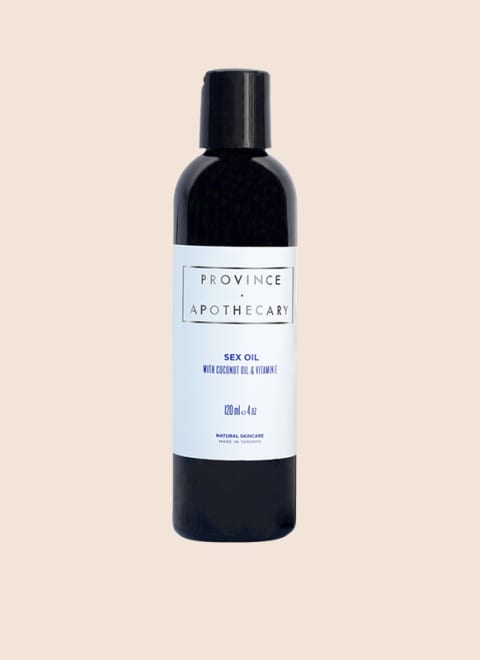 mbg creative x Province Apothecary / Province Apothecary
Apothecanna Sexy Time Personal Intimacy Oil
If you're looking for a little something to boost foreplay or get you into the mood, Apothecanna's mix of anti-inflammatory, intoxicating oils might do the trick. As with Province Apothecary's Sex Oil, use this as a massage oil or gently on your erogenous zones. The jasmine acts as an aphrodisiac when coupled with coconut and argan oils. When using any oil-based sex products, avoid latex, and avoid using it internally.
Sexy Time Personal Intimacy Oil, Apothecanna, $52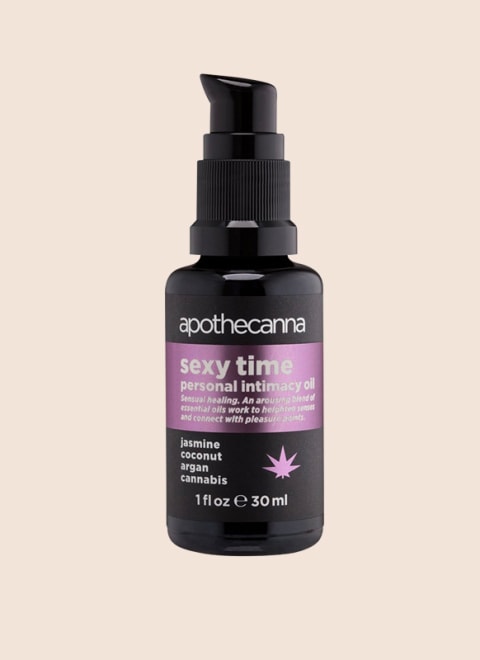 mbg creative x Apothecanna / Apothecanna
Advertisement
This ad is displayed using third party content and we do not control its accessibility features.
Sustain Natural Organic Lubricant
This water-based personal lubricant is free of petrochemicals, silicone, parabens, and glycerin, pH-balanced specifically for vaginas, and is organic-compliant. Sustain's mission is to make products that are safer for vaginas and for the environment. Armed with eight certifications including B-Corp, Made Safe, USDA Organic, and Leaping Bunny, the company, founded by Meika Hollender, the daughter of Seventh Generation's Jeffrey Hollender, has answered the call to make new and improved women's sexual health products.
Organic Lubricant, Sustain Natural, $13
Advertisement
This ad is displayed using third party content and we do not control its accessibility features.