Clear Scalp, Shiny Hair, Can't Lose—These Are The Best Natural, At-Home Treatments

Contributing Wellness & Beauty Editor
By Lindsay Kellner
Contributing Wellness & Beauty Editor
Lindsay is a freelance writer and certified yoga instructor based in Brooklyn, NY. She holds a journalism and psychology degree from New York University. Kellner is the co-author of "The Spirit Almanac: A Modern Guide to Ancient Self Care," with mbg Sustainability Editor Emma Loewe.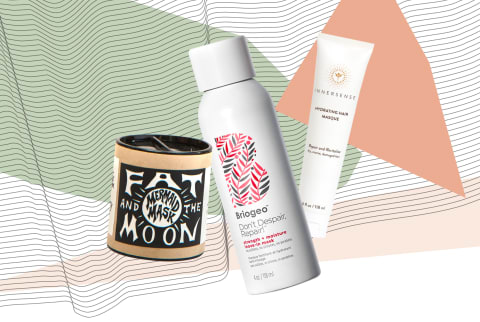 Image by Megan Doty / mbg Creative
January 10, 2019
Dry hair and dry scalp seem to be year-round issues for many, and winter simply makes it worse. The No. 1 factor contributing to hair dryness is how we wash and style our hair and the products we use regularly. Many of the ones on the market contain harsh detergents that are drying to the scalp, like sodium laureth sulfates, that sensitize skin and dry out the hair over time.
Employing a weekly, biweekly, or even monthly treatment for your hair and/or scalp can counter all that drying and breathe new life into sad scalps and strands. Do them when you're face masking, before hitting the shower on a weekend, or overnight (just be sure to use a pillowcase you don't care about). Many good hair days await on the other side!
Advertisement
This ad is displayed using third party content and we do not control its accessibility features.
Hairstory New Wash
There's no detergent in this non-shampoo hair wash. It's made of cleansing agents like aloe, essential oils, and minerals to clean the hair without stripping it of its own natural oils. The idea is that, after a few days or weeks of use, your hair reclaims the life it lost from over-washing and over-drying. New Wash has a cult-following including Queer Eye's Jonathan Van Ness, which is the utmost endorsement.
New Wash, Hairstory, $40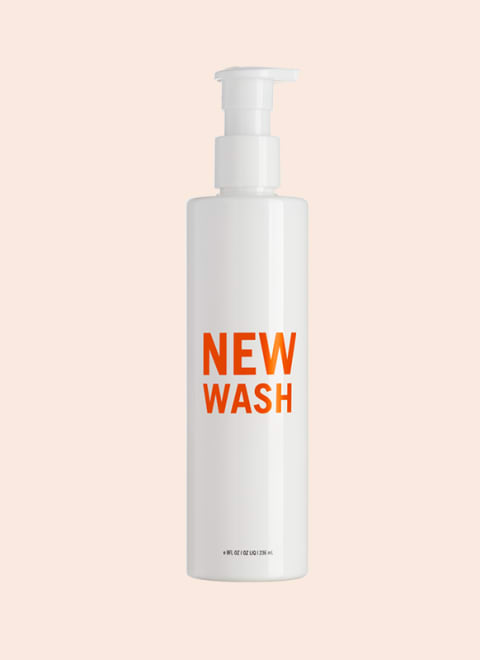 mbg x Hairstory / Hairstory
Briogeo Don't Despair, Repair!™ strength + moisture leave-in mask
This light, spray-and-mist, sulate-, silicone-, and paraben-free mask reads more like a leave-in conditioner than a heavy treatment. It's perfect for air-drying unruly waves, or my personal favorite use, spraying it on second- or third-day hair to give it a little shine and bounce. Unlike a texture spray, which will often leave hair feeling sticky or hardened, this gives it a wonderful bounce and makes your ends look happy and healthy.
Strength + Moisture Leave-In Mask, Briogeo, $28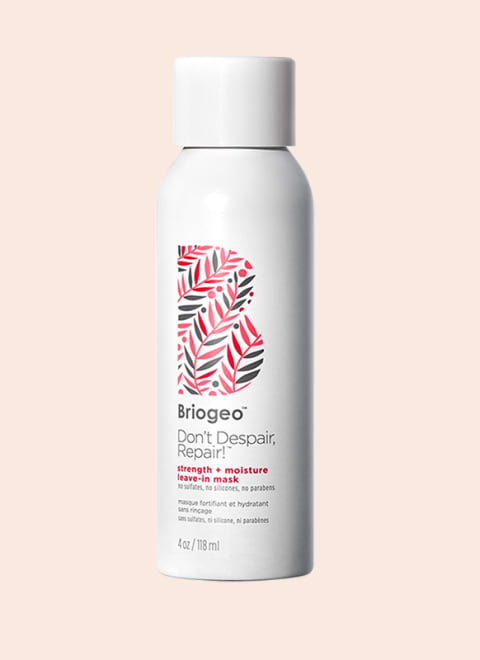 mbg creative x Briogeo / Briogeo
Fat & The Moon Mermaid Mask
With only five ingredients—Irish moss, dried honey, rhassoul clay, aloe vera powder, and lavender essential oil—this mask is green enough to satisfy the natural beauty purist and is super effective. Irish moss and honey nourish the hair while clay and aloe vera cleanse it. Lavender essential oil adds a microbial, cleansing element and, of course, a lovely scent. Feel free to use it on your face, too.
Mermaid Mask, Fat & The Moon, $20
mbg Creative x Fat and The Moon / contributer
Advertisement
This ad is displayed using third party content and we do not control its accessibility features.
Christophe Robin Cleansing Volumizing Paste with Pure Rhassoul Clay and Rose Extracts
The brand that's making a name for itself with hair paste has done it again. The sea salt scrub revolutionized the beauty world a few years ago when it came out. The volumizing paste with rhassoul clay is gentler than the sea salt scrub, absorbing impurities and oils from the scalp, which gives stubborn, flat hair a lift and also helps keep flakes at bay. Use this at the root of the hair and follow with a moisturizing conditioner like the Innersense mask below to keep hair hydrated (especially if it's colored), as the clay is powerful.
Cleansing Volumizing Paste, Christophe Robin, $53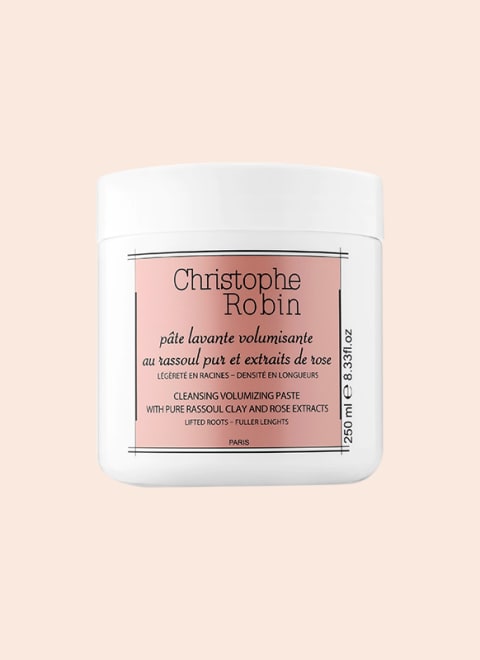 mbg creative x Christophe Robin / Christophe Robin
Innersense Beauty Hydrating Hair Masque
Made especially for dry, thick, coarse, and damaged hair, Innersense's (an mbg beauty award-winning brand) hydrating mask is good medicine. The perfect mix of shea butter, flaxseed, coconut, jojoba, and tamanu oils deeply nourishes strands without weighing them down. It's one of those masks to turn to when your hair feels like straw, has been overstyled, overbleached, or simply requires some good TLC.
Hydrating Hair Masque, Innersense Beauty, $30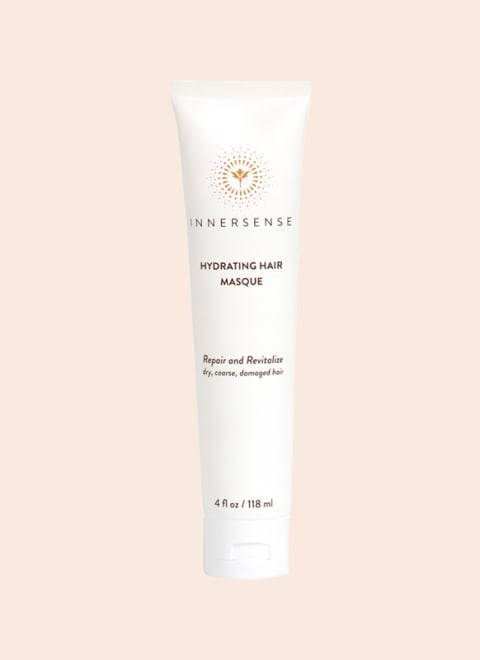 mbg creative x Innersense / Innersense
Honest Beauty Truly Restored Recovery Masque
For all hair types experiencing dryness, look no further than Honest's recovery mask. Made without sulfates, silicones, parabens, mineral oils, synthetic fragrances, and a handful of questionable ingredients, Honest combines 18 vegetable-derived amino acids that help to strengthen and smooth the hair while botanicals including sweet almond oil, coconut oil, and aloe replenish moisture.
Truly Restored Recovery Masque, Honest Beauty, $30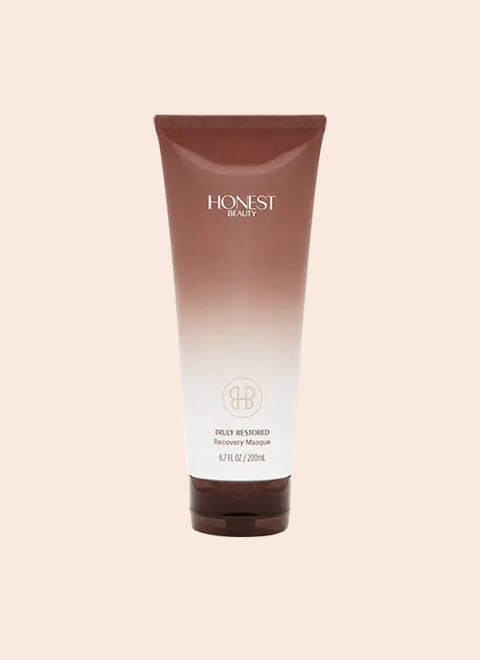 mbg creative x Honest Beauty / Honest Beauty
Advertisement
This ad is displayed using third party content and we do not control its accessibility features.
Dr. Hauschka Strengthening Hair Treatment
This hair treatment utilizes a combination of neem oil and rosemary oil, both of which are well-known for their hair rejuvenation benefits. Use it liberally as a treatment or a few drops as a curl-enhancing concentrate. Finally—a neem product without the strange, medicinal smell. While this product contains only nine ingredients, be sure to look at the ingredients and consult your doctor before using if you're allergic to peanuts or wheat.
Strengthening Hair Treatment, Dr. Hauschka, $40
mbg creative x Dr. Haushka / Dr. Haushka
Advertisement
This ad is displayed using third party content and we do not control its accessibility features.