Found: The Best Natural Eye Makeup On A $25-And-Under Budget

Contributing Wellness & Beauty Editor
By Lindsay Kellner
Contributing Wellness & Beauty Editor
Lindsay is a freelance writer and certified yoga instructor based in Brooklyn, NY. She holds a journalism and psychology degree from New York University. Kellner is the co-author of "The Spirit Almanac: A Modern Guide to Ancient Self Care," with mbg Sustainability Editor Emma Loewe.
March 25, 2019
Eyes are the facial feature that, when it comes to makeup, people spend the most time, energy, and effort enhancing. At least five basic separate product categories exist to adorn the eye area (and more if you wanted to get granular): brow fillers, mascara, eye shadow, eyeliner, under-eye concealer, and eye cream. If it's true that the eyes are the windows to the soul, it's important that your eyes match your own personal vision of yourself, whether that's completely eschewing makeup altogether or a dramatic smoky eye. And of course, here at mindbodygreen, we're here to support you in making nontoxic, cruelty-free, better-for-you skin care and makeup decisions. Below are the best products for eyes in the natural and cruelty-free world:
Advertisement
This ad is displayed using third party content and we do not control its accessibility features.
Brow tool: MAKE Brow Pen
If you're sick of using products that turn your brows to a warmer shade than your face can handle, welcome to the club. It's a strange yet common phenomenon for eyebrow tints, pencils, and gels to "pull warm." MAKE's brow pen pigments are neutral to ashy—the undertones most people need for brow filling—so they look super-natural on the skin. Plus, the tool itself is fun to use. It's a felt-tip pen, and the product dispenses like a watercolor, so it's buildable. No sharpening and lots of room for error make it one of the most efficient brow tools we've tried.
Brow Pen, MAKE, $20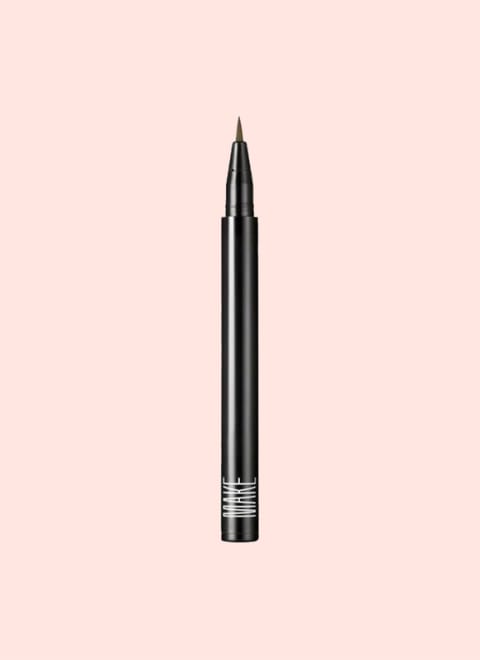 mbg creative x Make
Liquid liner: W3LL People Expressionist Liquid Eyeliner Black
We thought we'd never see the day: a clean liquid liner that actually works? Yep. While this shade isn't exactly jet black (it dries like more of a matte charcoal-graphite mix) W3LL People's expressionist liner offers the same precision of any conventional liquid liner that won't smudge or dissolve while you're wearing it. Did we mention it's available at Target stores nationwide?
Expressionist Liquid Eyeliner Black, W3LL People, $19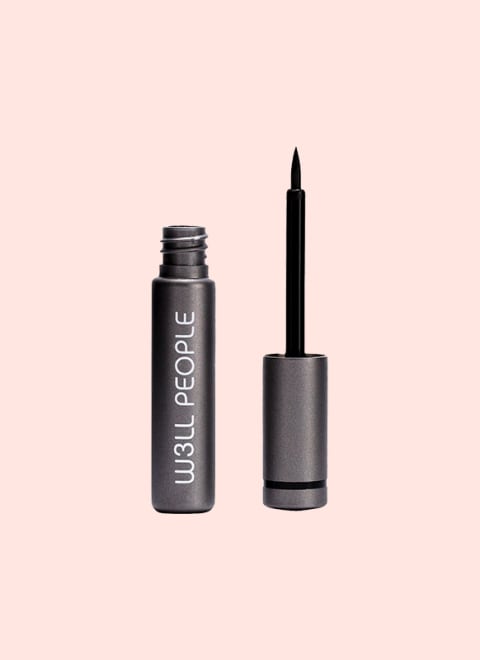 Liquid liner W3LL People Expressionist Liquid Eyeliner Black
mbg creative X W3LL People
Pencil liner: Burt's Bees Nourishing Eyeliner Pencil
For those who prefer a smudgeable or smoky-eye look, meet Burt's Bees' liner. It is highly pigmented, not too waxy, and glides onto the eye easily—no tugging. The pencil itself is made of responsibly sourced cedarwood, and the pigment includes a base of nourishing jojoba, mango, and meadowfoam seed oils and does not contain any synthetic fragrances, parabens, or petrolatum.
Nourishing Eyeliner Pencil, Burt's Bees, $10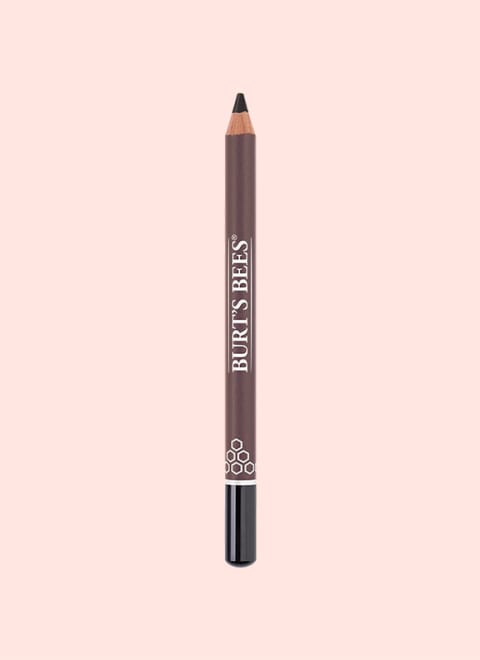 mbg creative X Burt's Bees
Advertisement
This ad is displayed using third party content and we do not control its accessibility features.
Mascara: Honest Beauty Extreme Length Mascara + Primer
It's tough to find a natural mascara that really works. Sometimes they're too clumpy, sometimes the brush isn't quite right, and other times the formula simply doesn't stay on your lashes. Honest Beauty has created a clean product that achieves all three. Yes, priming is an "extra step," but if you're applying two or three coats of mascara anyway, think of it as your first. The result is voluminous, defined lashes that look low-key glam.
Extreme Length Mascara + Primer, Honest Beauty, $15
mbg creative X Honest Beauty
Eye cream: Living Libations Seeing Eye Crème
Made with 100 percent natural, plant-based ingredients that are healing for the skin, this eye cream is an under-the-radar gem because it's organic, it's affordable, and it works. A host of plant oils like jojoba, borage, shea, tamanu, and avocado oils are whipped to form the foundation, and a special combination of plant essences add to its healing potential. Blue tansy essence gives the cream its stunning color, aloe vera infuses moisture, and milky oat straw calms irritated skin.
Seeing Eye Crème, Living Libations, $20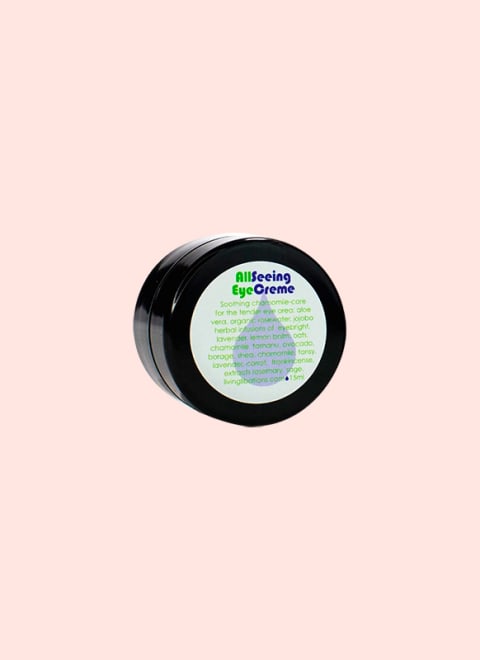 mbg creative X Living Libations
Concealer: Hynt Duet Perfecting Concealer
A little of this whipped concealer goes a long way. Don't be fooled—even though it looks a lot like RMS Beauty's Un-Cover-Up because of the similar glass pot packaging, the two products are actually quite different. This concealer is malleable and offers full coverage with just a tiny dab. Made with nourishing vitamin E, aloe vera, and avocado oil, the product provides as much nourishment as it does coverage.
Duet Perfecting Concealer, Hynt, $24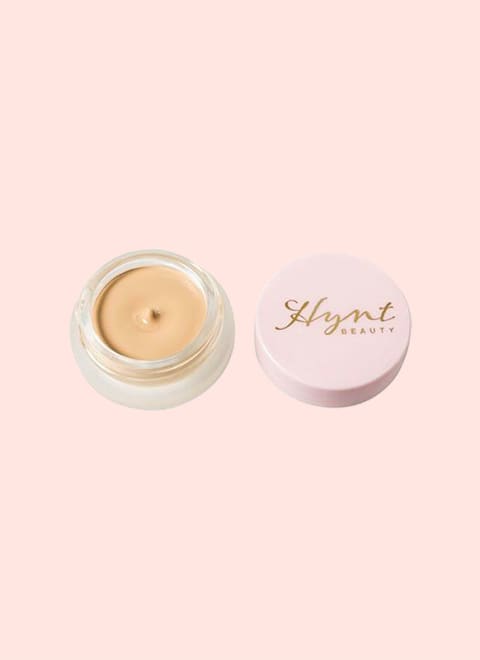 mbg creative X Hynt Duet
Advertisement
This ad is displayed using third party content and we do not control its accessibility features.
Palette: E.l.f. Clay Eye Shadow Palette
E.l.f. is an abbreviation for eyes, lips, and face. If you didn't know, now you know. It's a major step for retailers like CVS, Walmart, and other drugstores to stock product lines that are cruelty-free, super-affordable, and don't include parabens. The colors are made to blend together for a perfect smoky eye, and the palette itself comes with a map to guide you in which color goes where. Pro tip: This doesn't include a brush, so you'll want to use your own!
Clay Eye Shadow Palette, E.l.f., $6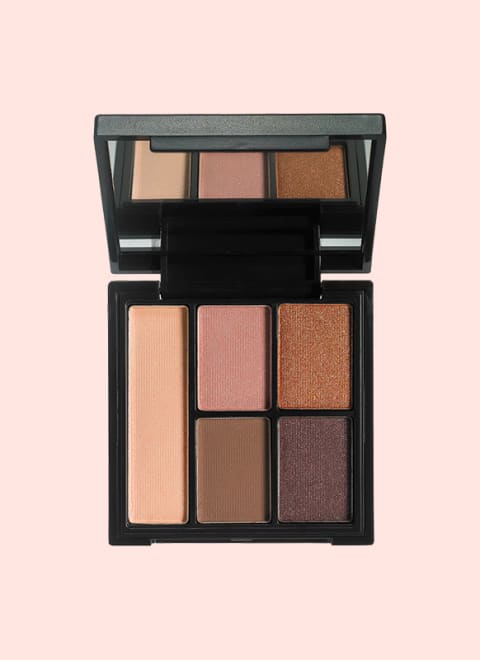 mbg creative X E.l.f.
Eye shadow: NOTO Botanicals Glow Stick Color Wash
Also known as summer in a stick, this portable, golden-hued tube is full of nothing but goodness: Olive, coconut, jojoba seed, and rosehip form a solid foundation while rosemary extract and tiny flecks of mica twist and twirl to nourish and highlight the skin. While it's primarily an eye shadow, this can be used anywhere on the face, collarbones, and even in the hair for some extra shimmer.
Glow Stick Color Wash, NOTO Botanicals, $18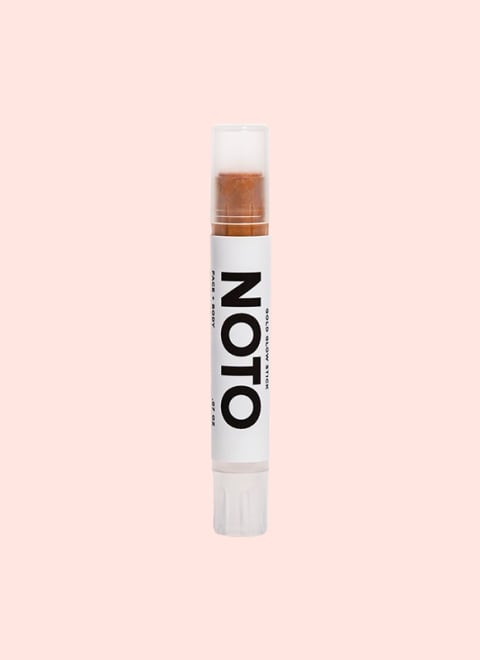 mbg creative X NOTO Botanicals
Advertisement
This ad is displayed using third party content and we do not control its accessibility features.