The 16 Best Natural Exfoliators For Face & Body Of 2023
mbg Beauty Director
By Alexandra Engler
mbg Beauty Director
Alexandra Engler is the beauty director at mindbodygreen and host of the beauty podcast Clean Beauty School. Previously, she's held beauty roles at Harper's Bazaar, Marie Claire, SELF, and Cosmopolitan; her byline has appeared in Esquire, Sports Illustrated, and Allure.com.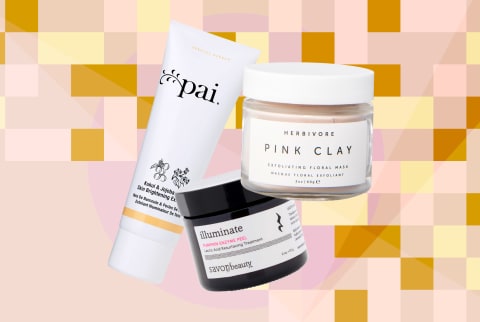 February 2, 2022
We carefully vet all products and services featured on mindbodygreen using our
commerce guidelines.
Our selections are never influenced by the commissions earned from our links.
In its most basic definition, exfoliation is the process of removing dead skin cells from the outer layer of your skin, which can help immediately even out rough texture, boost circulation, and brighten your complexion.
This is especially beneficial as we get older since skin cell turnover rate slows dramatically1, and exfoliation can help speed up that process.
But remember: As with anything good, you can absolutely overdo it. And exfoliating too frequently, with too harsh products for your specific skin type can result in redness, sensitivity, and inflammation.
So the key with exfoliation is this: balance. And of course, everyone's exfoliation regimen will look different. Here's what to know before diving in, and our favorites.
Physical versus chemical exfoliators: What's the difference?
Physical exfoliating products contain small particles to lift and remove dead skin cells. In the natural space, these are things such as rice powder, walnut shell powder, or jojoba beads.
Many people prefer this type of exfoliant over the others as you can control how strong the exfoliation is with the pressure at which you apply it.
Chemical exfoliants, on the other hand, use naturally exfoliating acids such as hydroxy acids (AHAs, BHAs, or PHAs) or enzymes to gently dissolve dead skin cells.
Mild chemical exfoliants can be surprisingly gentle and good for dry and sensitive skin types (specifically AHAs, which are water-loving acids), so if you have easily irritated skin, you might look for a light, low-concentration chemical exfoliator.
Best facial exfoliators
Blue Mercury M61 Powerglow Peel Pads
These peel pads have amassed a cult following. They've become a go-to for those with acne, fine lines, age-related dark spots, broken capillaries—and even those with rosacea who are looking for a gentle option that calms while evening out texture. The high praise is due to the treatment's innovative blend of AHAs, BHAs, vitamin K, and anti-inflammatories like lavender and chamomile. Keep a stack handy, and swipe away whenever your skin is feeling less than ideal. Plus, there's more than enough tonic packed in the towelettes, so you can swipe down your neck and chest.
M61 Powerglow Peel Pads, Blue Mercury ($66)
mindbodygreen / mindbodygreen
beautycounter Counter+ Overnight Resurfacing Peel
In what has become a fan favorite around the mbg offices, this overnight chemical exfoliating treatment will have you waking up to refreshed, glowing skin. It's made with a blend of potent hydroxy acids, including glycolic, lactic, malic, and salicylic—and then buffered with hyaluronic and glycerin. Plus, there's a dash of ascorbic acid (a more stable derivative of vitamin C) for good measure. Use it once a week up to every other evening as tolerated.
Counter+ Overnight Resurfacing Peel, beautycounter ($72)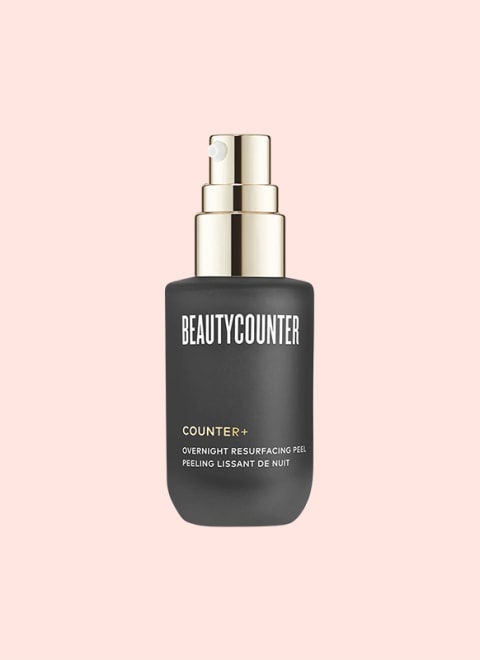 mindbodygreen
Savor Beauty Pumpkin Enzyme Peel
Enzymes are the unsung heroes of the exfoliator world. Enzymes are little molecules that work by simulating a biochemical response on the top layer of the skin, encouraging cell turnover and allowing younger, plumper cells to come to the top. Plus, they often come from naturally derived sources—like in this mask's case, pumpkins. This also contains 5% lactic acid, a smart AHA that is good for all skin types including sensitive or dry. Wear one once or twice a week—and do so in the shower so the heat further activates the enzymes.
Pumpkin Enzyme Peel, Savor Beauty ($80)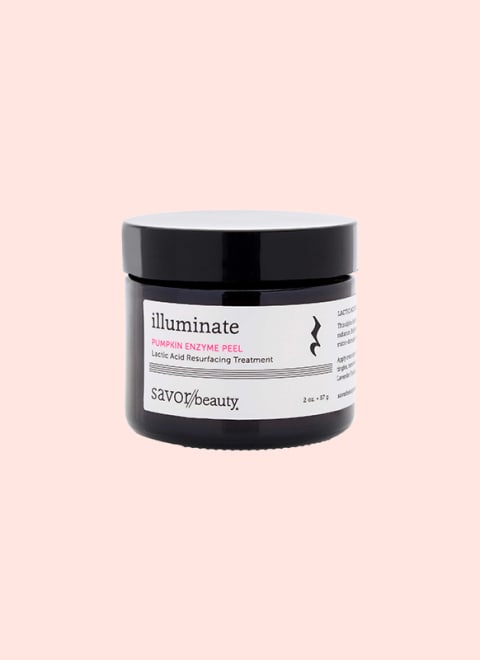 mindbodygreen
Juice Beauty Green Apple Peel Full-Strength Exfoliating Mask
Now this is a capital-T Treatment. First up: It's loaded with our favorite antioxidants, including vitamins A, C, and E. Vitamin C, for example, helps stimulate collagen production as well as stabilizes the collagen you already have; vitamin A encourages cell renewal. But the real exfoliating power comes from the high concentration of naturally derived lactic, salicylic, and glycolic acids. Skip this one if you have sensitive skin or inflammatory skin conditions, such as rosacea or eczema. For the rest of you, use it once a week as tolerated—it's a heavy-duty spa treatment in a jar.
Green Apple Peel Full-Strength Exfoliating Mask, Juice Beauty ($49)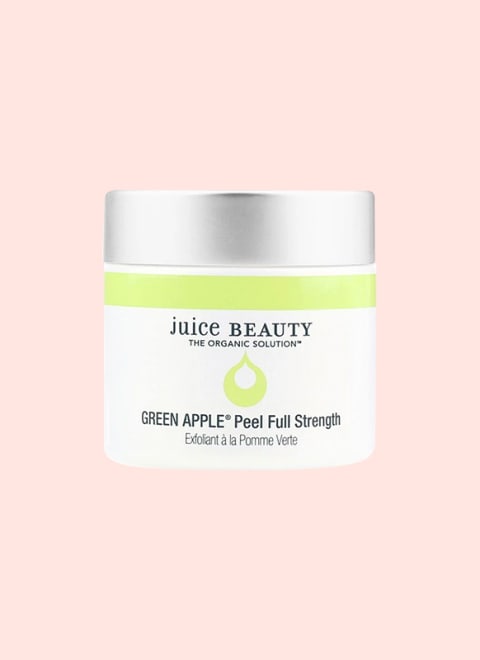 mindbodygreen
Tatcha The Rice Polish Foaming Enzyme Polish
If you're one for physical exfoliators, rice powder is one of the most gentle and sensorially appealing options out there. This option comes in four strengths—classic, gentle, deep, and calming—and is blended with other appealing actives, like papaya enzymes, algae, green tea, and pearl extract. But back to the rice powder: When mixed with water, it whips up to the most delightful foam-cream hybrid for a soft face wash. It's so mild you could use this nightly or just as the occasional deep clean when you feel it's needed.
The Rice Polish Foaming Enzyme Polish, Tatcha ($65)
mindbodygreen
Trula So Polished Exfoliating Sugar Scrub
This is a truly innovative face scrub, thanks to the addition of probiotics. The brand uses skin-friendly probiotic strains in all their products, but adding it to a facial exfoliator is so smart for a few reasons. Exfoliating, when done too much or incorrectly, can be hard on your delicate skin barrier. One of the best ways to heal a weak barrier is to strengthen the microbiome. This does just that by infusing lactococcus ferment lysate right into the product. As for the exfoliants, it contains sugar (a physical exfoliant that naturally dissolves in water so it's more gentle) as well as fruit enzymes.
So Polished Exfoliating Sugar Scrub, Trula ($32)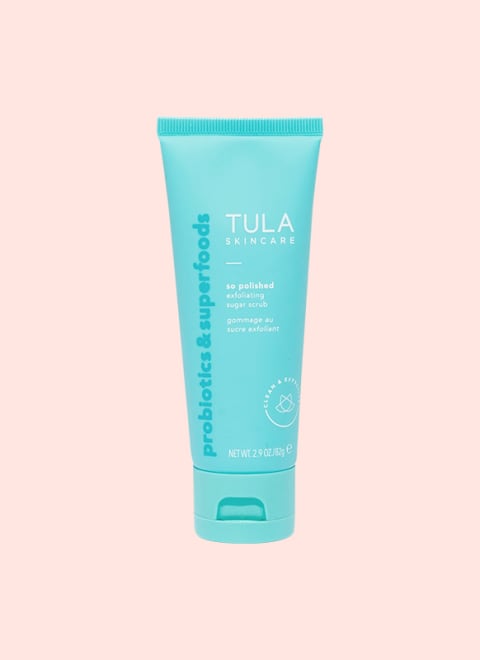 mindbodygreen
Pai Kukui & Jojoba Bead Skin-Brightening Exfoliator
Jojoba beads are the perfect option for those who adore physical exfoliants. These small, natural "microbeads" (not to be confused with the plastic variety), stimulate the top layer of the skin and buff away uneven texture and tone. What makes jojoba beads so superb? They are so smooth and gentle. The brand says even those with eczema can tolerate it.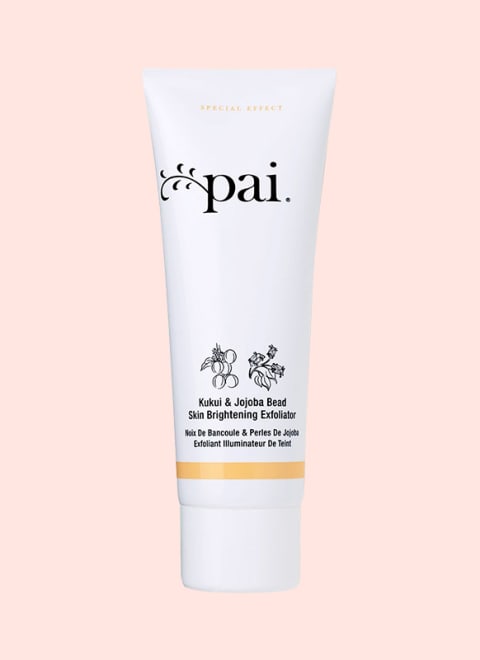 mindbodygreen
May Lindstrom The Clean Dirt Brightening Exfoliating Treatment
With one teaspoon, you'll be hooked. The adored ritual works like this: Take about one spoonful of the powder in your palms, let the spray of the shower sprinkle in, massage it in your palms into a light mousse, and apply it with the pads of your fingers. Let it sit for a few minutes before rinsing it off in the shower. The powder is made of clays, vitamin C, and spices like clove and sea salt.
The Clean Dirt Brightening Exfoliating Treatment, May Lindstrom ($70)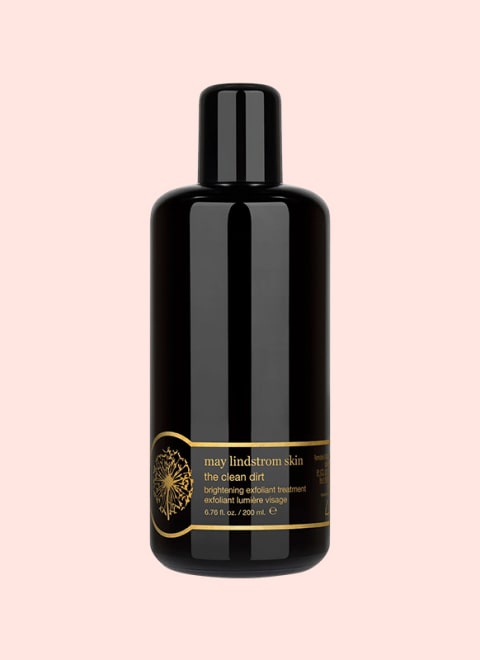 mindbodygreen
Naturopathica Sweet Cherry Brightening Enzyme Peel
Try not to eat this mask—it smells that good. The cherry puree is loaded with antioxidants and enzymes (the active exfoliant), but what makes it unique is the antioxidant resveratrol. Resveratrol is a compound that aids in barrier repair and healthy aging. You see this unique active in many potent creams and serums because of its healing powers: It can help reverse oxidative stress and sun damage.
Sweet Cherry Brightening Enzyme Peel, Naturopathica ($62)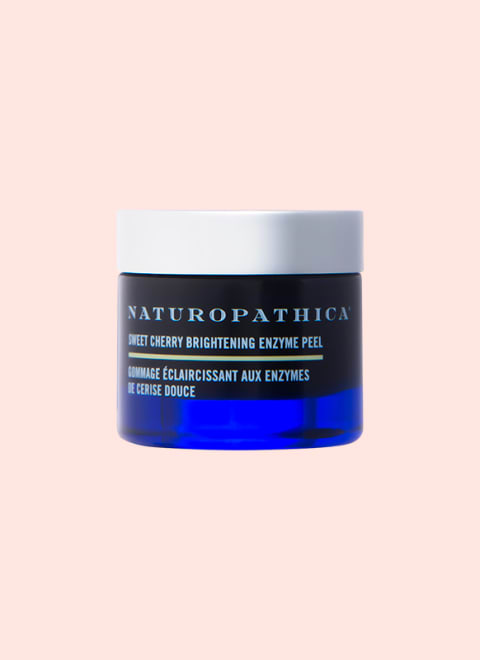 mindbodygreen
Indie Lee Radiance Renewal Peel
Another fan favorite, these handy pads impart a thin layer of good-for-skin ingredients while lifting off dead skin cells with the natural AHA blend. Other than the hydroxy acids, it also has vitamin C, mango-derived beta-carotene, vitamin A, and glycerin (for hydration).
Radiance Renewal Peel, Indie Lee ($70)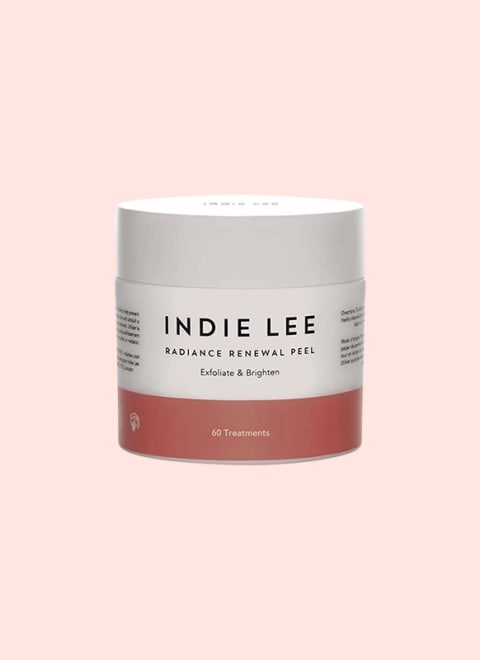 mindbodygreen
Drunk Elephant T.L.C. Framboos Glycolic Night Serum
Try this exfoliating serum for one night, and you'll see why Drunk Elephant has gained such a stellar reputation for its product formulations. But word to the wise: This is strong. The blend of glycolic, lactic, citric, and tartaric acids do a number on clogged pores and dull skin. If your skin is congested, this will be your best bet.
T.L.C. Framboos Glycolic Night Serum, Drunk Elephant ($90)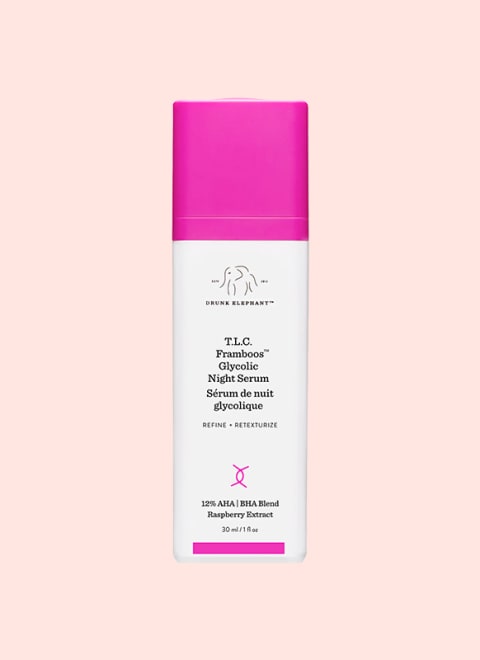 mindbodygreen
Best body exfoliators and scrubs
True Botanicals Resurfacing Body Mask
Featuring lactic acid and anti-inflammatory green tea and sandalwood oil, this full-body exfoliating mask works wonders smoothing skin from head to toe when applied before bed. Green tea also has potent antioxidant properties to help counteract free radical damage and stop the enzymes that attack collagen.
Resurfacing Body Mask, True Botanicals ($48)
Astura Scrub The Day Away Cooling Cucumber
This scrub features finely ground salt hailing all the way from the Dead Sea—and, as a result, it's packed with over 20 healing minerals like magnesium. Combined with soothing aloe vera, cooling cucumber and peppermint oil, and nourishing jojoba and sweet almond oils, it's equal parts nourishing and relaxing.
Scrub The Day Away in Cooling Cucumber, Astura ($24.99)
Herbivore Coco Rose Coconut Oil Body Polish
Sugar, a gentle abrasive, buffs bumpy arms and legs while coconut oil offers intense hydration for ultrasmooth, supple skin. Additional ingredients like Moroccan rose oil and rose clay help reduce inflammation and soften skin. Bonus: After using this scrub, you'll smell good enough to eat.
Coco Rose Coconut Oil Body Polish, Herbivore ($38)
Shea Moisture Bamboo Charcoal Body Scrub
This popular drugstore pick is one of the best full-body exfoliators for acne-prone skin, thanks to detoxifying charcoal, which helps draw out excess oil and dirt, and antimicrobial tea tree oil. Small beadlike jojoba esters offer gentle natural exfoliation while jojoba oil and shea butter keep skin hydrated.
Bamboo Charcoal Body Scrub, Shea Moisture ($11.99)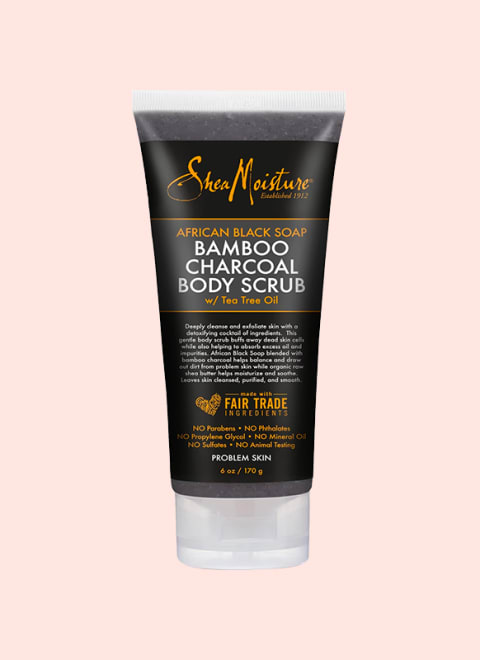 The Seaweed Bath Co. Exfoliating Detox Scrub
The exfoliating action of this scrub comes courtesy of finely ground walnut shell, while antioxidant-rich coffee and green tea extract, and vitamin- and mineral-rich bladderwrack seaweed from Maine deliver potent protection from free radical damage and inflammation.
Exfoliating Detox Scrub, The Seaweed Bath Co. ($14.99)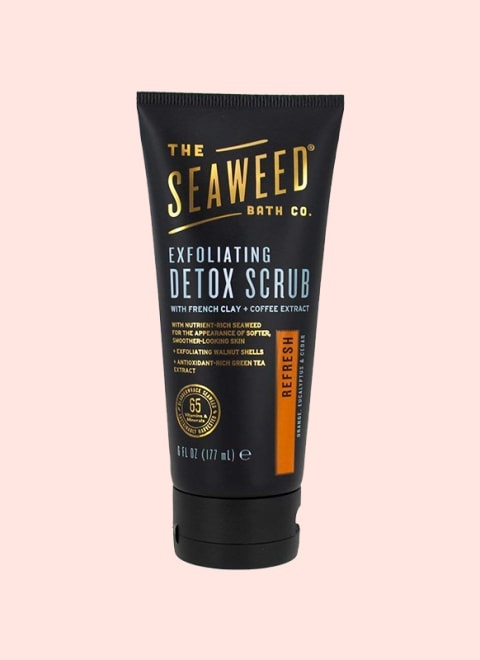 And do you want to turn your passion for wellbeing into a fulfilling career? Become a Certified Health Coach! Learn more here.
Alexandra Engler
mbg Beauty Director
Alexandra Engler is the beauty director at mindbodygreen and host of the beauty podcast Clean Beauty School. Previously, she's held beauty roles at Harper's Bazaar, Marie Claire, SELF, and Cosmopolitan; her byline has appeared in Esquire, Sports Illustrated, and Allure.com. In her current role, she covers all the latest trends in the clean and natural beauty space, as well as lifestyle topics, such as travel. She received her journalism degree from Marquette University, graduating first in the department. She lives in Brooklyn, New York.