Close Banner
Advertisement
This ad is displayed using third party content and we do not control its accessibility features.
The 12 Best Natural & Clean Dry Shampoos + Hair Care Tips & A DIY Recipe
mbg Beauty Director
By Alexandra Engler
mbg Beauty Director
Alexandra Engler is the beauty director at mindbodygreen and host of the beauty podcast Clean Beauty School. Previously, she's held beauty roles at Harper's Bazaar, Marie Claire, SELF, and Cosmopolitan; her byline has appeared in Esquire, Sports Illustrated, and Allure.com.
January 25, 2022
We carefully vet all products and services featured on mindbodygreen using our
commerce guidelines.
Our selections are never influenced by the commissions earned from our links.
You're in a pinch and desperately need a hair refresh. Perhaps you're fresh out of a workout and don't have time for a full rinse and style. Or you need to tend to your scalp between styling appointments for braids. Or maybe you've just decided to skip wash day, and need to pull your look together in the meantime. What are you going to reach for? Dry shampoo seems to be the obvious bet.
Natural dry shampoos for every hair type, need, and color have certainly stepped up their game recently.
Not only can you find several quality clean options—but those options contain better-for-your-scalp ingredients.
See, dry shampoo's biggest problem is that it can cause serious irritation and inflammation to the skin, especially when used incorrectly (more on that later), but these options won't be as damaging.
So if dry shampoo is a nonnegotiable item for your hair care arsenal, start here. We've rounded up the best natural options, bar none.
Overview:
Best for added volume & texture
The primary actives in this are tapioca starch, clay, and organic star anise. The organic food-grade tapioca starch helps absorb oil and sweat—while giving hairstyling some texture and grit (as the name suggests, this can double as a volumizing product). The star anise offers a warming fragrance and antimicrobial properties for scalp health.
Voluminous Dry Shampoo, Rahua ($32)
Rahua
Best for fine & limp hair
How chic is this? The primary oil-absorber is rose petal powder, a super lightweight option that keeps hair soft and your style lifted. (Read: Reach for this if your hair is thin or gets flat easily.) There's also sunflower extract to add nutrients to the strand and star anise for the potent antimicrobial properties.
Pure Dry Shampoo, Playa ($24)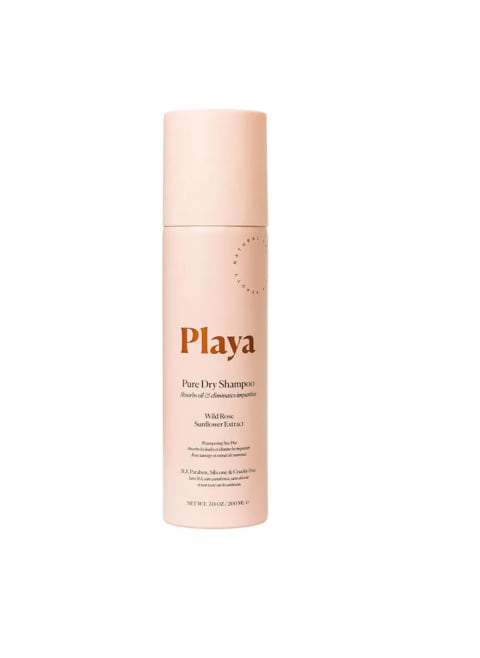 Playa
Best for curly & kinky hair
Sprays work wonders for curly hair, as the water can help refresh the curl pattern—while cleansing the scalp. This spray blends together micellar water and apple cider vinegar, both natural ingredients that have an impressive ability to absorb oil and nix impurities. Micellar water contains both oil and water, which means the oil is able to dissolve oil while the water helps with dirt. The ACV can help manage sebum production and helps balance the skin's natural pH. And because this isn't a powder-based formula, you don't have to worry about clogged pores.
Root Refresh Micellar Rinse, Sunday2Sunday ($31)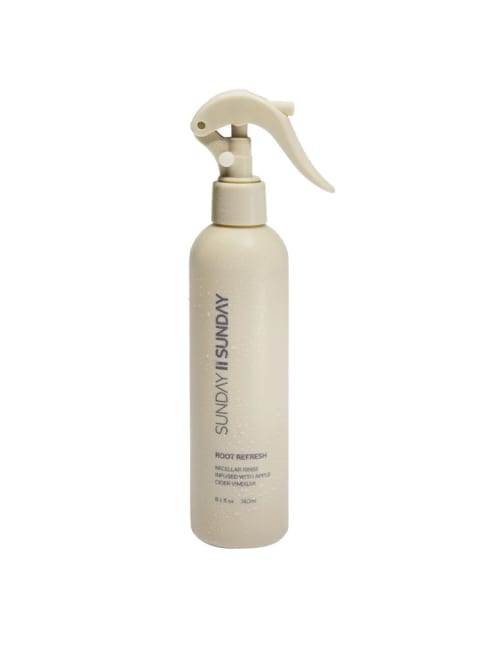 Sunday2Sunday
Best for straight & wavy hair
Refreshing waters actually make for impressive second-day products. (Dry shampoos don't just need to be powders and thickening sprays!) This uses rose water, which is hydrating, anti-inflammatory, and astringent to help balance the excess sebum.
Instant Volumizing Mist With Rose Water, Christophe Robin ($39)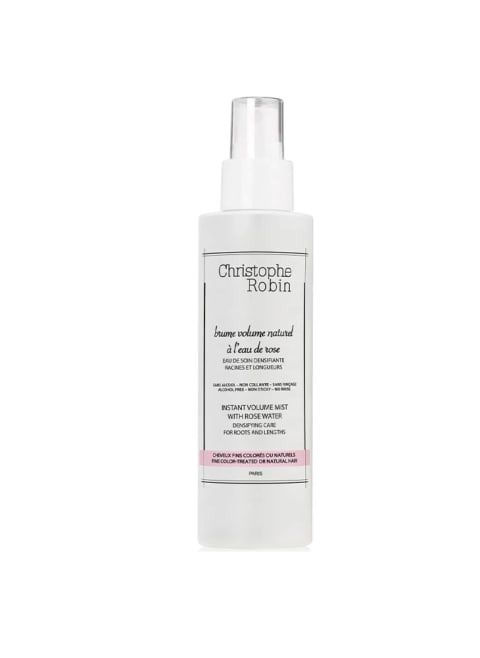 Christophe Robin
Best for damaged hair & scalp
We love this option, which goes hard on the hair-healthy ingredients. There's binchotan charcoal to draw impurities from the scalp and hair. A blend of clay, tapioca, and rice starches acts as oil absorbers. Then there's witch hazel, which is a beloved scalp ingredient that can even help regulate sebum production, and biotin, a B vitamin that helps strengthen the hair follicle.
Hair Scalp Revival Charcoal Biotin Dry Shampoo, Briogeo ($24)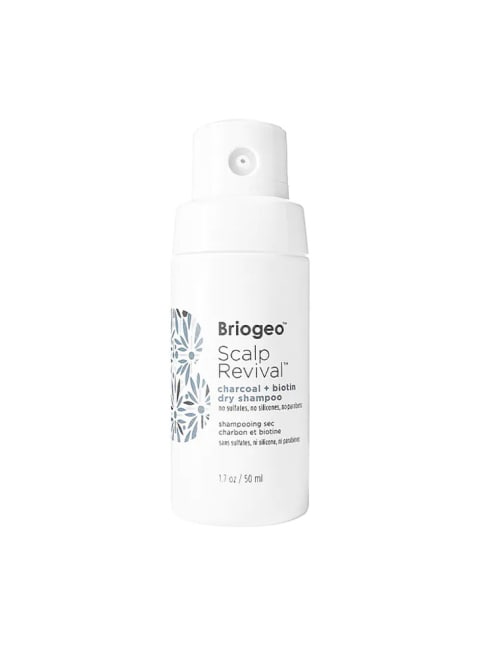 Briogeo
Best for protective styling
We've seen sprays, powders, aerosols, and mousses. Now here's a gel. Gels are particularly handy dry shampoos for those wearing protective styling as there's more precision. Apply this directly to the scalp—the bamboo, peppermint, witch hazel, and avocado will get to work refreshing and nurturing the skin. Give your scalp a massage, and then wipe off any excess product.
Refresh & So Clean Bamboo, Avocado & Peppermint Dry Gel Shampoo, Taliah Waajid ($10.77)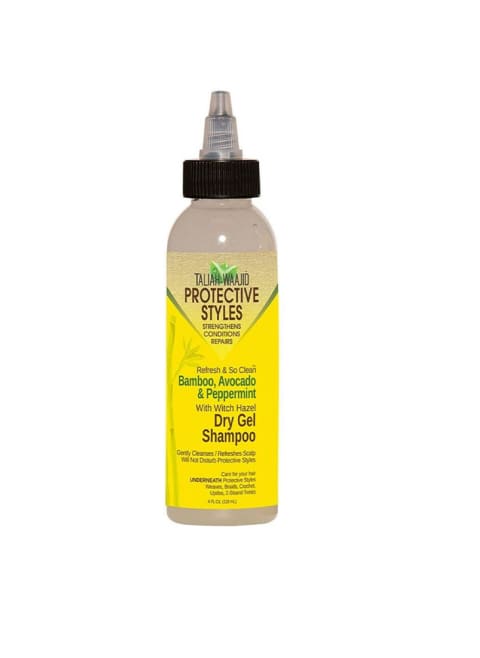 Taliah Waajid
Best for scalp health
This brand is known for paying tremendously close attention to your scalp—so really it's no wonder that their dry shampoo would be this good. The rice powder helps absorb oil, no matter your hair color, while the fulvic acid delivers 65 minerals into the follicle to restore the scalp microbiome.
Plant-Based Dry Shampoo, Act + Acre ($22)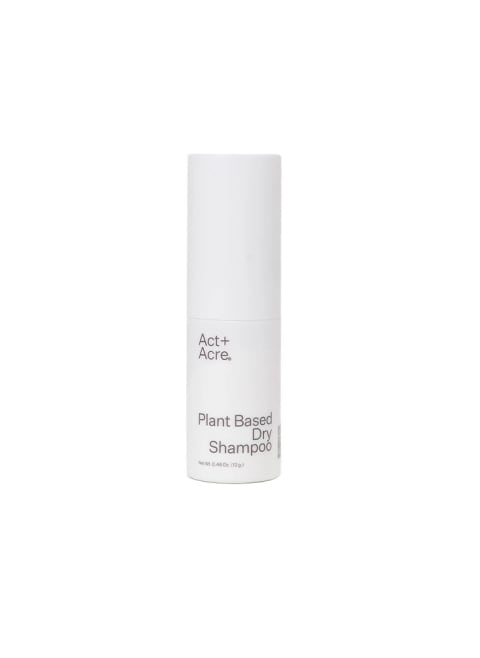 Act + Acre
Best for sensitive scalps
Not only does this contain innovative plant proteins and clays—arrowroot and kaolin are two favorites that don't irritate the skin—but it also contains biome-friendly ingredients. The prebiotic chlorella vulgaris extract, which can help balance your microflora (the scalp is an often overlooked part of your microbiome) soothes skin and inflammation.
Dry Shampoo, Odele Beauty ($11.99)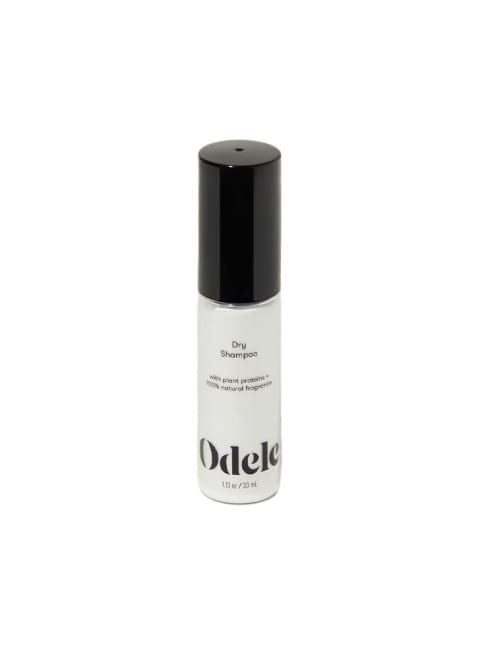 Odele
Best eco-friendly
While the oil-absorbing properties come from tapioca starch, it's also infused with coconut water to help hydrate strands and soothe the skin. Plus, it's perfumed with a refreshing mimosa flower, to mask any odor. We also love the packaging, which uses nitrogen, as a more eco-friendly, non-greenhouse-gas propellant.
Coconut Water Dry Shampoo, Love, Beauty & Planet ($6.99)
Love, Beauty & Planet
Best texture
For an innovative texture, look no further than this mousse-to-powder number. Many complain that sprays are difficult to apply with precision to roots—whereas you can use your fingers to work this foam in just where you need it. But, of course, we love it for its ingredients, too: There's tapioca starch for the powder, witch hazel for sebum control, and honey for hydration and shine.
Refresh Dry Shampoo, InnerSence Beauty ($24)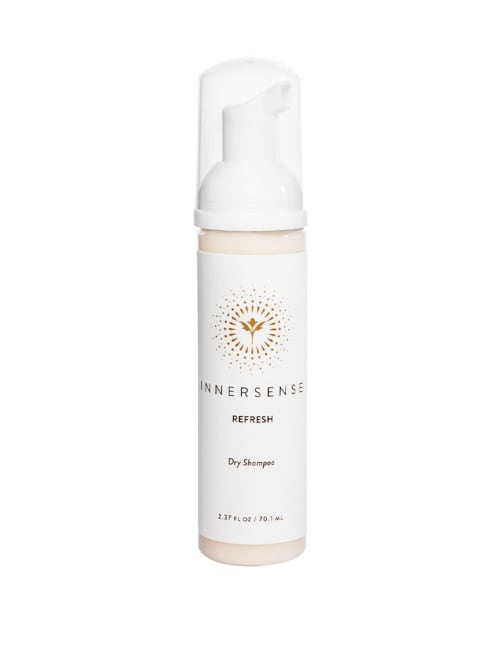 InnerSence
Best powder
One of the pioneers in natural and sustainable hair care, Aveda continually astounds with their formulas. This option blends several oil-absorbing ingredients like cornstarch, tapioca, and oat kernel flour. (The last of which is very soothing for an inflamed scalp.) We also love that the brand is powered by sustainable energy and uses 100% PCR plastic.
Shampower Dry Shampoo, Aveda ($32)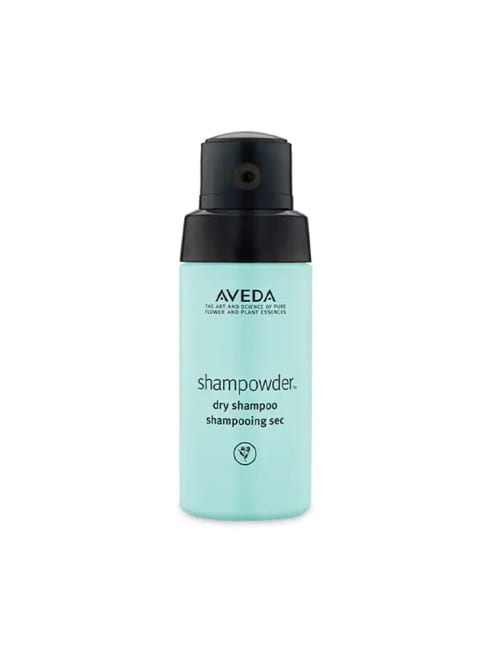 Aveda
Best value
We love this light-as-air rice and charcoal blend thanks to the bright citrus scent (courtesy of essential oils). The charcoal helps lift off and absorb impurities and dirty—so it's not just saving you from excess oil.
Charcoal Purifying Dry Shampoo, Hask ($8)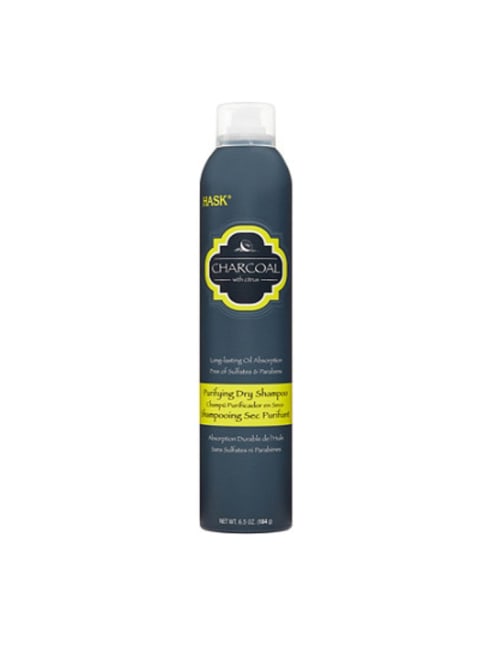 Hask
Best hair care tips for using dry shampoo.
I'm going to be totally honest with you: I'm actually quite wary about dry shampoo. While I actually think most natural and clean formulas are positively delightful (and often contain ingredients that are good for your scalp!), most people run into use issues.
Thus, if you choose to use dry shampoo, it is very important that you be mindful of how you're using it so the product doesn't end up doing your scalp and hair harm. What good is an extended blowout if your scalp is inflamed, no?
Here, must-follow tips from stylists:
1.
Dry shampoos are never a substitute for actual shampoos.
Just like the skin on our face and body, our scalp also needs to be cleaned of dead skin cells, oils, and product buildup on a regular basis. Because dry shampoo only absorbs oil on the surface of the scalp, it should not be considered a substitute for actual washing.
"You need to remember that dry shampoo does not truly cleanse the hair, it is only absorbing the excess oils from the hair and scalp," explains Vickie Vidov, a hairstylist in New York City. "If not properly cleansed and removed from the scalp, a film residue will eventually build up, resulting in clogged pores."
How can you avoid this? Stick to the two-day rule: Never let dry shampoo sit on your scalp without washing it out for longer than two days.
2.
Overuse can lead to thinning—stop use when you experience inflammation.
"When we have too much buildup, be it from dry shampoo or natural oils built up over a few days, the follicle opening (where each strand of hair grows out of) will become clogged and suffocated," says expert trichologist and hairstylist Shab Reslan. Not only will this lead to general irritation, including redness, itchiness, and maybe even some pain, but "exposing your follicle to this environment frequently can affect your hair growth and possibly damage your actual follicle, leading to hair thinning over time."
Always check in and evaluate your scalp. If you see flakes, redness, irritation, or feel it hurt, take that as a clue you need to stop your dry shampoo habit for a while—otherwise, you may experience hair loss.
3.
Dry shampoo can be hard to get out—use a scrub or clarifying shampoo.
"The problem with dry shampoo isn't [only] with the oil-absorbing power that it has; the issue lies with the fact that dry shampoo becomes difficult to sufficiently wash out of your hair," Reslan says. If you start to see or feel buildup in your hair, grab a scalp scrub or natural clarifying shampoo.
DIY dry shampoo.
I know we just sang the praises of several options (and they are deserving of them!); however, you can also make a DIY option. For more info, check out the full recipe (with bonus tips and benefits):
Grab ½ cup starch (like arrowroot, rice powder, or corn powder), 2 tablespoon bentonite or kaolin clay, and 1 tablespoon baking soda (feel free to skip this if you are sensitive to baking soda and just add more clay). If you have dark hair, add ¼ cup cacao powder for color.
In a bowl, mix everything together until evenly distributed.
For a fragranced option, add 15 to 30 drops of your essential oils.
Transfer to a bottle with a shaker top (like an old baby powder bottle or even salt shaker.)
Store in a cool, dry area.
The takeaway.
In a pinch, dry shampoos certainly come in handy. And when they're of the natural variety, they can be great for your strands. However, it's very important you don't overdo it—so stick to our advice on keeping your dry shampoo habit in check.
Watch Next
Enjoy some of our favorite clips from classes
Watch Next
Enjoy some of our favorite clips from classes
What Is Meditation?
Mindfulness/Spirituality | Light Watkins
Box Breathing
Mindfulness/Spirituality | Gwen Dittmar
What Breathwork Can Address
Mindfulness/Spirituality | Gwen Dittmar
The 8 Limbs of Yoga - What is Asana?
Two Standing Postures to Open Up Tight Hips
How Plants Can Optimize Athletic Performance
What to Eat Before a Workout
How Ayurveda Helps Us Navigate Modern Life
Messages About Love & Relationships
Love & Relationships | Esther Perel
Love Languages
Love & Relationships | Esther Perel
Related Videos (10)
What Is Meditation?
Box Breathing
What Breathwork Can Address
The 8 Limbs of Yoga - What is Asana?
Two Standing Postures to Open Up Tight Hips
How Plants Can Optimize Athletic Performance
What to Eat Before a Workout
How Ayurveda Helps Us Navigate Modern Life
Messages About Love & Relationships
Love Languages
Advertisement
This ad is displayed using third party content and we do not control its accessibility features.
More On This Topic
more Lifestyle
Advertisement
This ad is displayed using third party content and we do not control its accessibility features.
Advertisement
This ad is displayed using third party content and we do not control its accessibility features.