Close Banner
Advertisement
This ad is displayed using third party content and we do not control its accessibility features.
These 18 Cleaning Products Are Safe & Sustainable — And They Actually Work

mbg Sustainability + Health Director
By Emma Loewe
mbg Sustainability + Health Director
Emma Loewe is the Senior Sustainability Editor at mindbodygreen and the author of "Return to Nature: The New Science of How Natural Landscapes Restore Us."
We carefully vet all products and services featured on mindbodygreen using our
commerce guidelines.
Our selections are never influenced by the commissions earned from our links.
mindbodygreen has been covering—and celebrating—the rise of safer cleaning products for over a decade.
Here's a time-tested and expert-backed summary of the ingredients to avoid, the products to snag, and the DIY options to mix up if you're ready to hop on the greener-cleaner train.
What to avoid in cleaning products:
While a term like natural might look appealing on a label, it doesn't actually say much about a cleaning product's quality.
"The term can be misleading, as 'natural' products often contain plenty of hazardous chemicals and undisclosed ingredients," Samara Geller, a senior research and database analyst for the environmental watchdog group Environmental Working Group (EWG), tells mindbodygreen.
The same goes for descriptors like eco-friendly, plant-based, green, chemical-free—you get the picture.
The only term on a label that really carries weight is organic, as long as it's backed up by the USDA seal.
When choosing a cleaning product, the more important thing to look for is the ingredient list. Molecular toxicologist Rhea Mehta, Ph.D., recommends going with products that don't contain 1,4-dioxanes, ethylene oxides, ammonium chlorides, and fragrances, as they have all been associated with health conditions such as skin irritation1 and respiratory issues2. Geller adds sodium hypochlorite (aka bleach), hydrochloric acid, boric acid, borates, and VOCs to "avoid" list.
In summary, experts recommend using caution around the following ingredients and byproducts:
1,4-dioxanes
Ammonium chlorides
Borates
Boric acid
Ethylene oxides
Fragrances
Hydrochloric acid
Sodium hypochlorite (bleach)
VOCs
What to look for in cleaning products:
The troubling thing is that in the U.S., companies aren't required to disclose these ingredients and byproducts on labels.
And while not an official labeling scheme, EWG's Healthy Cleaning Guide lets you poke around to see how a product's ingredients rate on safety on a scale from A to F. It can be helpful to reference when you're on the hunt for a new cleaner but don't recognize some of its ingredients.
Cleaners that are made using more natural ingredients are usually (but not always!) more eco-friendly too, since they tend to break down more easily in the environment. This is especially important to consider with products that are destined to end up in the water system, like laundry detergents.
With these criteria in mind, here's a list of the best healthy cleaning products of the year. They all show a commitment to transparency, ingredient safety, and environmental sustainability—and work just as well as harsher cleaners with a whole lot less headache.
Best all-purpose:
Dr. Bronner's Sal Suds Biodegradable Cleaner
Like all Dr. Bronner's products, this home cleaner is multifunctional: You can sub it in for your laundry detergent, dish soap, and floor cleaner in a pinch. It's also USDA Certified Organic.
Dr. Bronner's Sal Suds Biodegradable Cleaner ($9.99)
Dr. Bronner's
ECOS All-Purpose Cleaner
ECOS is a veteran in the cleaning space and has shown commitment to putting out safe products for the last 50 years. Their all-purpose cleaners are Safer Choice certified and made using only a handful of ingredients.
ECOS All Purpose Cleaner Parsley, 6-Pack ($29.33)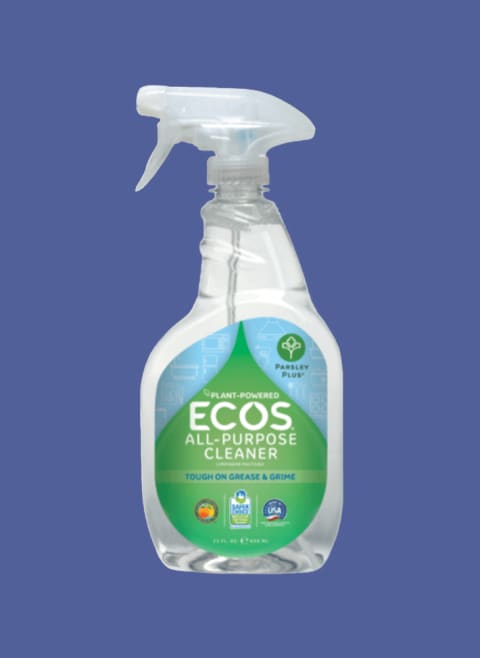 ECOS
Meliora All-Purpose Home Cleaner
Meliora is a smaller company with a commitment to transparency. They have lobbied in support of cleaning product Right-To-Know Acts, like the one in California, and their own blends are clean as can be. Their scent-free all-purpose cleaner contains only four ingredients—all of which received an "A" rating in EWG's database.
Meliora All-Purpose Home Cleaner ($14.49)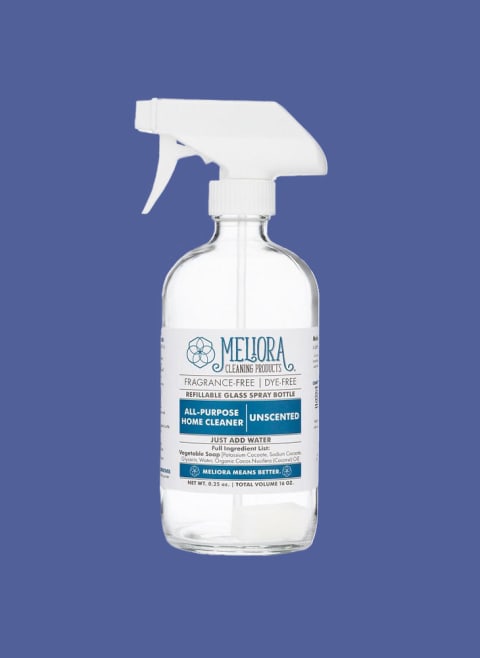 Meliora
method Pink Grapefruit All-Purpose Surface Cleaner
For such a massive company, method shows an impressive commitment to transparency, sustainability, and ingredient safety. All of their soaps contain "naturally derived" ingredients, meaning they originally came from a plant-based source, and none contain bleaches, phosphates, or parabens. On the sustainability front, they are working to cut carbon emissions out of their LEED-Platinum certified factory in Chicago.
method Pink Grapefruit All-Purpose Surface Cleaner ($13.95)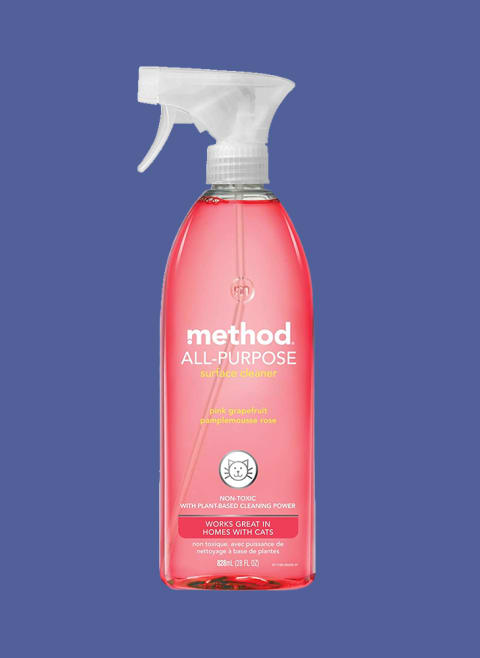 method
Better Life All-Purpose Cleaner
Better Life describes the origin and purpose of every ingredient that goes into their product on their website. The all-purpose blend comes in Clary Sage & Citrus and unscented varieties for those who have sensitivities. The company also has a pretty extensive no-no list, which includes sodium lauryl sulfates, parabens, and synthetic fragrances.
Better Life All-Purpose Cleaner, 2-pack ($12.99)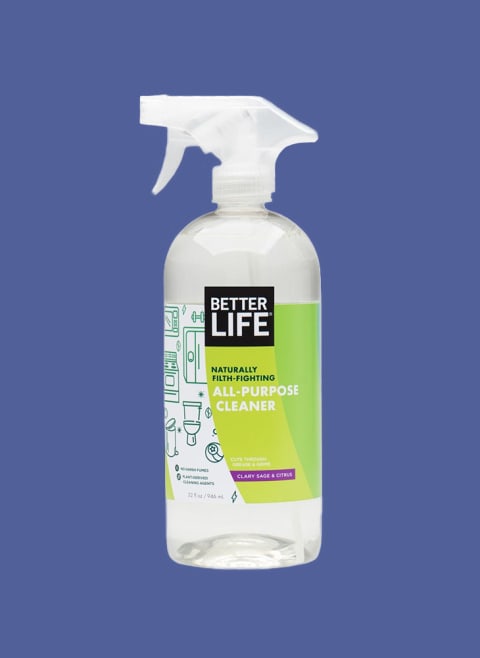 Better Life
Best concentrates:
Branch Basics Concentrate
Concentrated cleaners (which you can add water to at home) are lighter to ship and require less packaging, making them an environmentally friendly option. And the concentrated all-purpose cleaner from Branch Basics is a workhorse. It can be used on wood, glass, and bathroom surfaces and even serve as the base of a laundry detergent. And since it's formulated by three moms looking to create a cleaner home environment for their kids, you know the ingredients are top-notch. It's unscented and especially great for anyone prone to allergies or irritation.
Branch Basics The Concentrate ($49)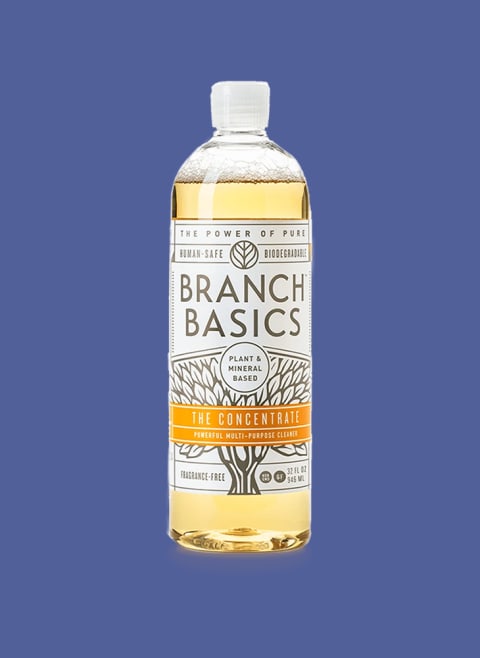 Branch Basics
Grove Collaborative All-Purpose Cleaner Concentrate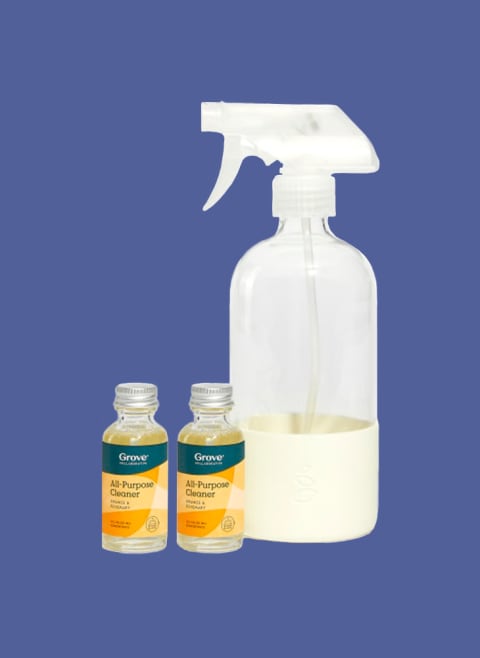 Grove Collaborative
Best cleaning kits:
Blueland Clean Essentials
Another brand that gets high marks for packaging, Blueland sells lightweight cleaning tablets that dissolve in water. All of their products are free of nasties like triclosan, parabens, phosphates, ammonia, bleach, phthalates, and VOCs. The Clean Essentials kit lets you try out their core products—multisurface, glass and mirror, bathroom, and hand soap—and has received thousands of five-star reviews.
Blueland The Clean Essentials ($39)
Blueland
Cleancult Complete Home Bundle
Cleancult's home bundle is a one-stop shop: It comes with dish soap and dishwasher tablets, hand soap, laundry detergent, bar soaps, and all-purpose concentrates that start with a base of antifungal coconut and layer on plant-derived, smell-good additions from there. Their packaging is also something to smile about: Instead of a spray bottle with a tough-to-recycle nozzle, these cleaners come in colorful (and recyclable!) milk cartons.
Cleancult Complete Home Bundle ($89.99)
Cleancult
Best eco-friendly pick:
Veles All-Purpose Cleaner
Veles, a new all-purpose cleaner that launched earlier this year, is made almost entirely out of food waste: 97% of its functional ingredients are reverse-engineered from food waste collected in the tri-state area, and the other 3% is fragrance. Beyond being a conversation starter, it's safe to say the stuff works, too, considering it's sold out in most places.
Veles All-Purpose Cleaner ($20)
veles
Best for the bathroom:
Seventh Generation Bathroom Cleaning Powder
Bathroom cleaning has long been synonymous with bleach, but this new launch from longtime sustainability leader Seventh Generation proves that you can get the same sparkle with far safer, gentler products. Sold on Grove Collaborative, it's also a part of the marketplace's ongoing push to go package-free.
Seventh Generation Zero Plastic Bathroom Cleaner Powder ($10.49)
Seventh Generation
Best smelling cleaners:
Saint Olio Aromatic Cleaner
Saint Olio's all-purpose sprays smell and look more like expensive perfumes than cleaning products. Made from a base of Castile soap and aloe, they get their addicting quality from their combinations of fragrant and functional scents like geranium, rose, sweet orange, and neroli.
Saint Olio Aromatic Cleaner ($20)
Saint Olio
Good Vibes All Purpose Cleaner
Good Vibes All Purpose Cleaner is made from recognizable ingredients like soap, white vinegar, and essential oils. The real kicker is its scent combinations: Addicting blends like Frankincense & Myrrh make this one a total pleasure to use.
Good Vibes All Purpose Cleaner ($10)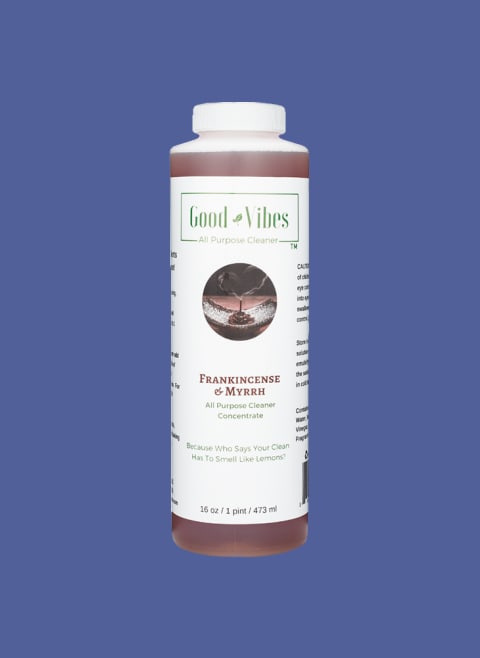 Good Vibes
Best budget-friendly pick:
Common Good All Purpose Cleaner
Common Good has long prioritized ingredient safety, and the company's simple all-purpose formula comes at an affordable price. Common Good is also a pioneer in the sustainability space and has long offered refills for its products. You can order them by mail or stop by a refill station in select grocers and health food stores across the country.
Common Good All Purpose Cleaner ($7.50)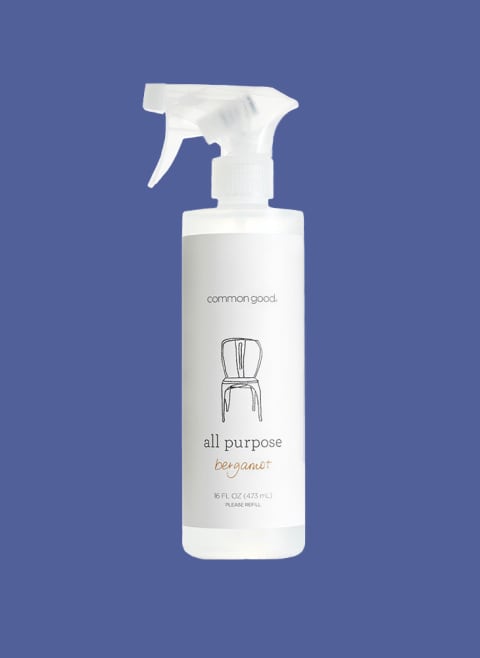 Common Good
Best cleaning wipes:
Babyganics All Purpose Surface Wipes
Babyganics is gentle enough to use near—you guessed it!—a baby. The fragrance-free wipes receive an A rating from the EWG and are formulated without ammonia, bleach, phthalates, or sulfates.
Babyganics All Purpose Surface Wipes, 2-pack ($15.98)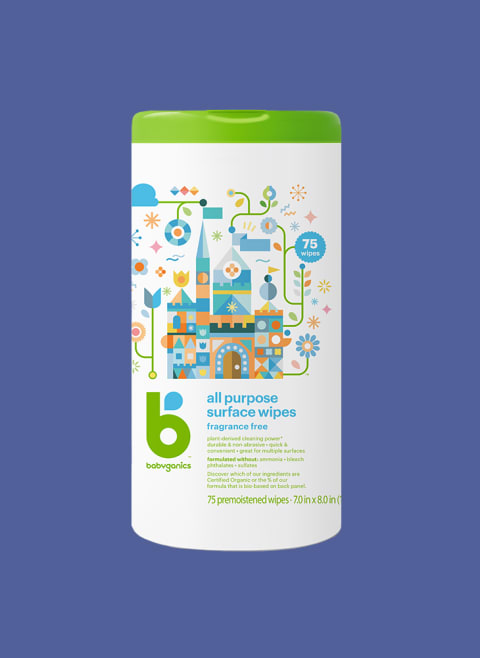 Babyganics
Best DIY for windows and glass:
This recipe from environmental toxin expert Tonya Harris, M.S., leaves glass surfaces clean and streak-free but should not be used on granite or marble as the vinegar can cause damage.
Pro tip: "If mirrors streak when using your DIY window cleaner, simply spray rubbing alcohol on the surface and wipe away as usual, then reuse your new cleaner," Harris says. "Regular window cleaners can leave a film behind, which may worsen when using the DIY cleaner the first couple of times."
distilled water (Distilled water is ideal because it doesn't leave behind mineral deposits.)
white vinegar
glass bottle and spray pump
optional: lemon essential oil
Pour an equal amount of distilled water and white vinegar into a glass bottle. (It works well to fill the bottle with a funnel, if you have one.)
Add several drops of lemon essential oil for scent and extra cleaning power (optional).
Gently shake the bottle before each use.
Best DIY for granite and marble:
Another Harris recipe, this one is for granite and marble surfaces but should not be used on glass.
1 tsp. washing soda (not the same as baking soda!)
1 tsp. Castile soap
distilled water
glass bottle and spray pump
optional: essential oils (can add approximately 20 drops of orange, lemon, or lavender)
Add washing soda and Castile soap to a glass bottle.
Fill the rest of the glass bottle with distilled water.
Optional: Add 15 to 20 drops of essential oils (can also do a 50/50 blend, such as 10 drops lemon and 10 drops lavender).
Shake gently before each use.
Best DIY all-purpose:
Author and zero-waste devotee Anita Vandyke loves this simple recipe because it smells fresh, can be used on most surfaces, and gives a second life to orange rinds.
rinds of 1 to 2 oranges
white vinegar
glass jar
glass bottle and spray pump
Soak orange rinds in a jar filled with white vinegar for a few days.
Add the orange-infused vinegar mixture to a bottle filled halfway with water (it should be around a 50:50 mix).
Use as an all-purpose cleaning spray.
How to use natural cleaners:
No matter the product, always read directions on the bottle before use.
Cleaning products tend to be shelf-stable for about two years and might start to lose some efficacy after that. Store yours in room temperature conditions to help them last longer.
Geller at the EWG adds that it's also a good idea to open windows when you're cleaning—no matter how safe your products are.
Final words of advice: "Never mix cleaners together," she adds, and "when cleaners are not in use, store them according to label guidance and away from children and heat sources."
And with that, you're ready to tackle any stain without the harsh chemical cleaners. Chores never felt, or smelled, so good.