Want Glowing Skin? Replace Your Scrub With One Of These Skin-Smoothing Products

Contributing Wellness & Beauty Editor
By Lindsay Kellner
Contributing Wellness & Beauty Editor
Lindsay is a freelance writer and certified yoga instructor based in Brooklyn, NY. She holds a journalism and psychology degree from New York University. Kellner is the co-author of "The Spirit Almanac: A Modern Guide to Ancient Self Care," with mbg Sustainability Editor Emma Loewe.
March 14, 2019
Have you ever used a facial scrub, only to walk away with red, itchy, burning, or burnt skin? It's not impossible to find a great, natural physical facial scrub, but so many of them contain grits and grains that are too sharp, harsh, and/or large for a healthy exfoliation. These "chemical" alternatives contain ingredients that are acidic and fermented—both help to dissolve dead skin, pollution, and excess sebum while revealing newer, brighter, glowing skin. Many also help with hyperpigmentation, age spots, acne scarring, uneven skin tone, and can even help to prevent breakouts. Below are the best in the biz, including several wallet-friendly options:
Juice Beauty Exfoliating Cleanser
This concentrated cleanser is brimming with active organic botanicals. Pineapple enzymes and aloe juice top the ingredient list, which means they compose most of the formula—one of the many reasons we love Juice. Another is price point. For a product this potent, $25 is a steal! Fruit enzymes work to exfoliate the skin while aloe vera hydrates. Dissolving jojoba beads, shea butter, sesame oil, and almond oil work to moisturize and protect fresh, new skin.
Exfoliating Cleanser, Juice Beauty, $25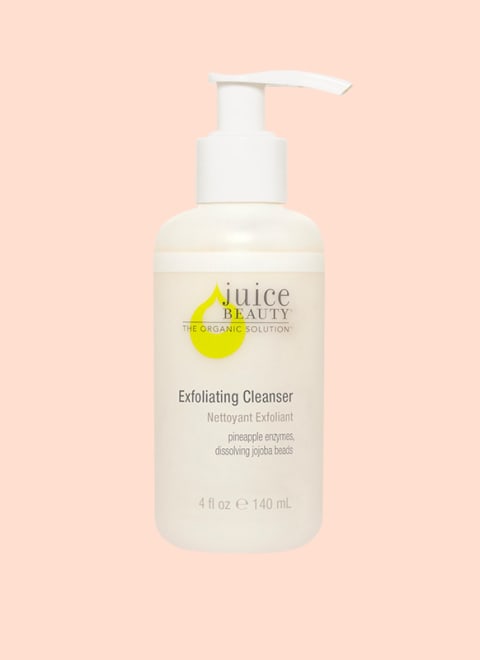 mbg creative x Juice Beauty
The Ordinary Azelaic Acid Suspension 10%
In the dermatology world, azelaic acid is often prescribed to patients who experience skin redness from conditions like acne and rosacea. It's an inflammation-fighter and a skin-brightener that's often tolerated even by the most sensitive types. This particular formula is a gel—use it at night on clean skin, and don't forget sunscreen in the morning!
Azelaic Acid Suspension 10%, The Ordinary, $8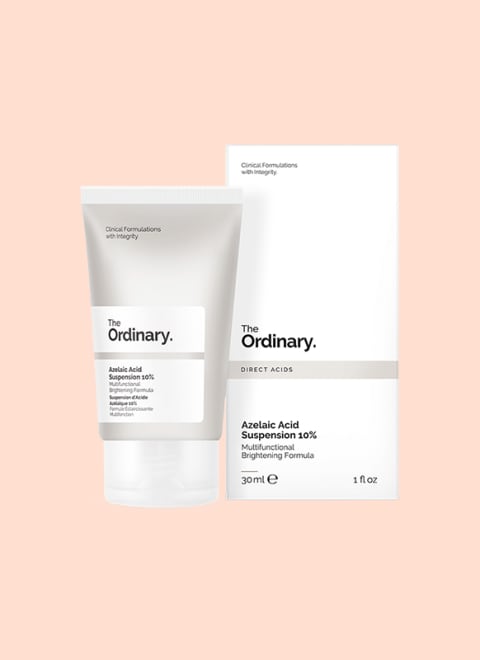 mbg creative x The Ordinary
Ilia True Skin Radiant Priming Serum
Creating a primer with natural ingredients is tough. Silicones and other plastics are what give primers their spackle-esque qualities, but this one from Ilia is a breakthrough. Using aloe juice, agave, and hibiscus flower extracts, the primer is a toner and serum in one. It's made without synthetic fragrance, is vegan, and is USDA-certified organic.
True Skin Radiant Priming Serum, Ilia, $52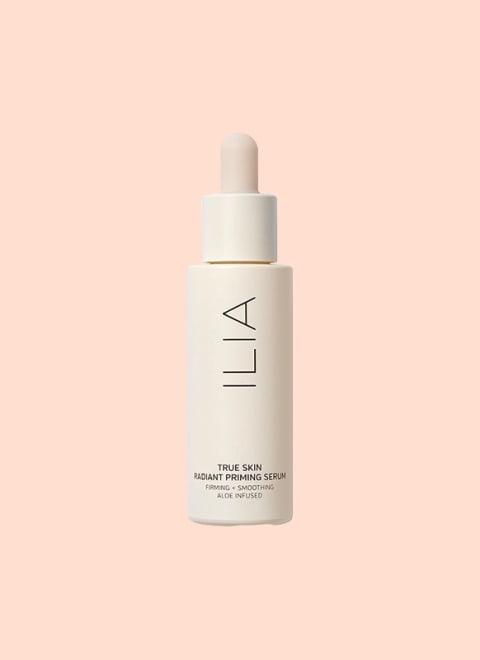 mbg creative x Ilia
Yes to Grapefruit Vitamin C Glow-Boosting Unicorn Peel-Off Mask
The price is right on this satisfying peel-off mask, but one of the coolest features is the applicator. It comes with a built-in spatula that's like a mask brush but even better suited to the formula. As the name implies, grapefruit extract and vitamin C are skin-brightening agents and help reduce the appearance of pores and uneven skin tone. If you don't want to commit to a full tube, you can try the single-use package for three bucks.
Unicorn Peel-Off Mask, Yes to Grapefruit, $15
mbg creative x Yes To Grapefruit
Burt's Bees Natural Acne Solutions Clarifying Toner
Made to address oily skin, Burt's Bees' acne clarifying toner contains naturally occurring, skin-smoothing BHAs (beta-hydroxy acids) thanks to willow bark extract. Witch hazel and lemongrass are both soothing and clarifying, making this the perfect gentle treatment for any breakouts or hyperpigmented spots. And best of all, it's safe to use every day.
Natural Acne Solutions Clarifying Toner, Burt's Bees, $10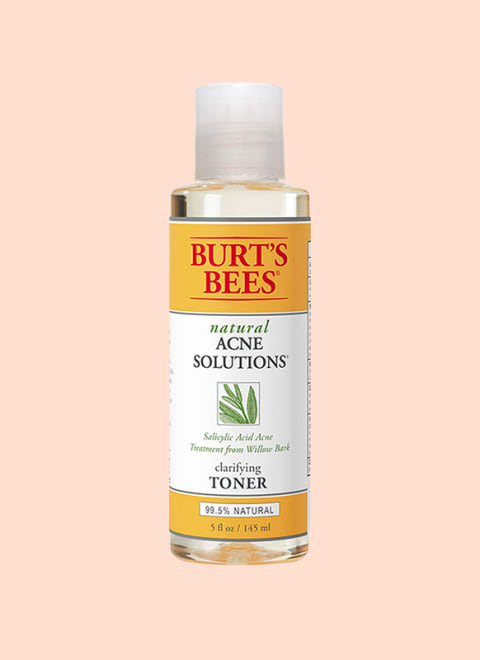 mbg creative x Burt's Bees
Herbivore Blue Tansy AHA + BHA Resurfacing Clarity Mask
The gorgeous sapphire hue is a hallmark of blue tansy, a calming and anti-inflammatory flower extract that happens to be as nourishing as it is striking. When working alongside AHA (alpha-hydroxy acids) and BHAs from papaya, pineapple, and willow bark, blue tansy replenishes the skin while the acids dissolve dead skin, dirt particles, pollution, and grime, revealing a clear, even-toned complexion.
Blue Tansy AHA + BHA Resurfacing Clarity Mask, Herbivore, $48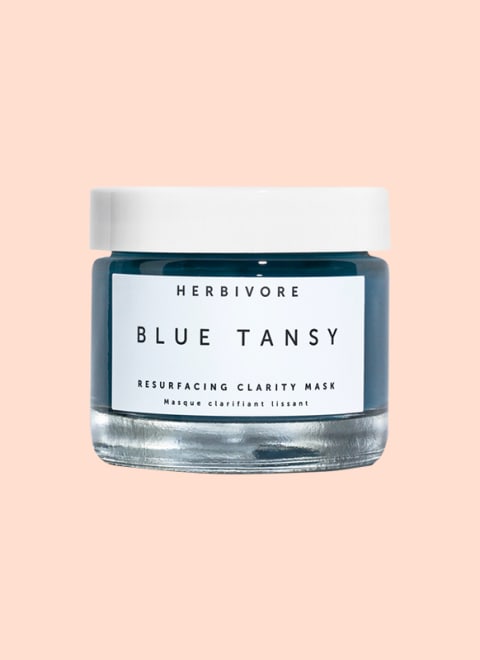 mbg creative x Herbivore Botanicals
True Botanicals Resurfacing Moisture Mask
This one's perfect for in the shower because it's a five-minute quickie that's super-efficient. Gentle yet effective lactic acid is the main exfoliating ingredient—it might make your skin tingle—but in conjunction with mango seed butter, avocado oil, and extracts of jasmine, bergamot, and ylang ylang, it's a luxuriously hydrating experience too.
And like all True Botanicals products, the scent is divine.
Resurfacing Moisture Mask, True Botanicals, $90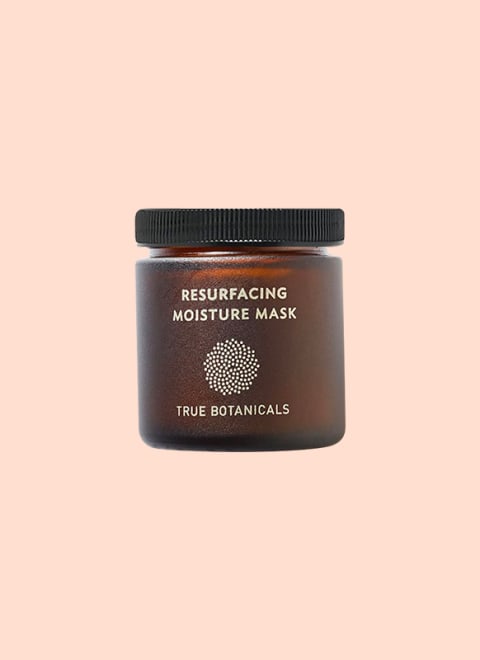 mbg creative x True Botanicals
Indie Lee Gentle Daily Peel
If you're a sucker for seeing the grime that comes off your face, look no further. Indie Lee has created a clean beauty version of exfoliating cleansing rounds. Witch hazel, salicylic acid, fruit enzymes, and root extracts all play a role in skin renewal. Witch hazel cleanses, salicylic acid clarifies, and fruit enzymes and root extracts exfoliate and balance the skin. Use in the evenings as prep for an overnight mask, serum, or treatment.
Gentle Daily Peel, Indie Lee, $65
mbg creative x Indie Lee
Derma E Overnight Peel With Alpha-Hydroxy Acids
For the overnight glow, this affordable mild "peel"—it's only 5 percent AHAs—is a go-to. Lactic acid and fruit-derived extracts like malic (from apples), citrus, and passion fruit chomp away at dead skin cells, fade age spots, lighten hyperpigmentation, and help to even out the skin tone, revealing younger-looking, radiant, glowing skin underneath. If you're sensitive, be sure to test on the back of your hand, inner wrist, or neck before applying to your face.
Overnight Peel With Alpha-Hydroxy Acids, Derma E, $19
mbg creative x Derma E