The Best Hanging Planters + Pro Tips On How To Install Them

mbg Sustainability + Health Director
By Emma Loewe
mbg Sustainability + Health Director
Emma Loewe is the Senior Sustainability Editor at mindbodygreen and the author of "Return to Nature: The New Science of How Natural Landscapes Restore Us."
Last updated on January 12, 2023
Our editors have independently chosen the products listed on this page. If you purchase something mentioned in this article, we may
earn a small commission
.
Hanging planters offer a fun way to take your greenery to the (literal) next level.
They're great for anyone who wants to keep plants out of reach of kids or curious pets, draw the eye up in a room, or display more foliage once floors and tables are chock-full.
Here are some of the best planters and hanging accessories around, and pro tips on how to use them properly.
Advertisement
This ad is displayed using third party content and we do not control its accessibility features.
What to look for in a planter.
Drainage.
As always, any planter you buy should have a drainage hole at the bottom to minimize the risk of overwatering and root rot.
This might make the newbie nervous about potential drips and spills—but there are a few easy ways to keep things dry under your new planter.
If you go for a decorative planter with a hole at the bottom, you can always carry it over to the sink for watering and allow it to drain completely before rehanging to avoid a splashy mess.
Alternatively, you can keep your plant in its original plastic pot and place that in a closed decorative container. That way, transferring your plant to and from a water source will be a lighter lift.
You can also look for a planter that has a removable drainage hole plug to minimize any potential for leaks after watering.
"Those are all easy ways to alleviate the fear of water dripping on things with hanging plants," Danae Horst, the founder of Folia Collective and author of Houseplants for All, tells mbg.
Advertisement
This ad is displayed using third party content and we do not control its accessibility features.
Room to grow.
Once you account for drainage, you'll also want to think about how your planter will grow with your plant.
Some hanging planters have strings or chains directly attached to them. While that two-in-one design makes it easy to get hanging, it also means you'll have to buy a totally new hanging planter once your plant outgrows it.
Hanging straps are the more flexible pick for fast-growing plants that you anticipate needing to move to a larger home eventually. They'll allow you to swap out your pots as needed up to a certain size.
Horst is partial to minimal and modern leather straps but says that trendy macramé can be a good material as well.
You'll just want to make sure that its design isn't so intricate that it makes it difficult to remove the pot inside as needed.
Our product recommendations.
These beautiful, practical planters are eye-catching and easy to maneuver. Stick around to the end of the list for the best tools for hanging them at home.
Advertisement
This ad is displayed using third party content and we do not control its accessibility features.
Best macramé: Folia Macrame Hanger With Rings
This cotton macramé holder would make the perfect snug little home for pots 6 inches to 8 inches in diameter. Its open design makes it easy to maneuver come watering day, while its accent rings lend a bit of flare.
Folia Macrame Hanger With Rings ($24)
Folia
Best for houseplants: Angus & Celeste Raw Earth Hanging Planter
A favorite among designers, this porcelain hanging planter is supported by sleek but strong stainless-steel string. It has a built-in drainage hole, comes in two sizes and eight classy colors, and includes an extension cord so you can easily reach your ideal height.
Angus & Celeste Raw Earth Hanging Planter ($89)
Raw Earth Hanging Planter
Best for outdoors: Ecopots Hanging Pot
This set comes with a pot, wires, and a hanging hook for easy installation. UV-proof and waterproof, it's a top pick if you're looking to hang plants on a patio or front porch. It also has a removable drainage plug for easy watering.
Ecopots Hanging Pot ($35)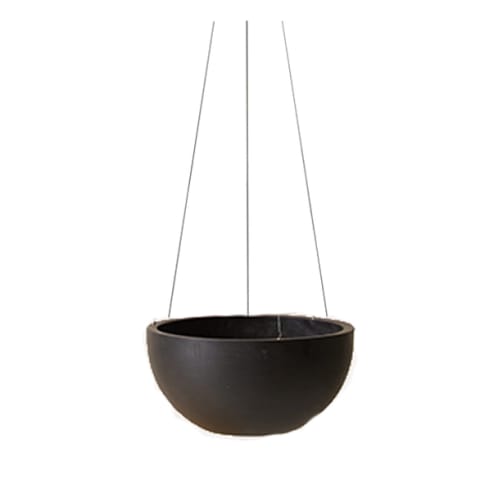 Ecopots
Advertisement
This ad is displayed using third party content and we do not control its accessibility features.
Best leather: Etsy Leather Plant Hanger by Plant Hugger
Handcrafted and hand-dyed in Portland, Oregon, this simple leather strap hanger fits pots up to 6 inches. The straps meet in a brass ring that can easily be hung from a curtain rod or ceiling hook.
Etsy Leather Plant Hanger by Plant Hugger ($24)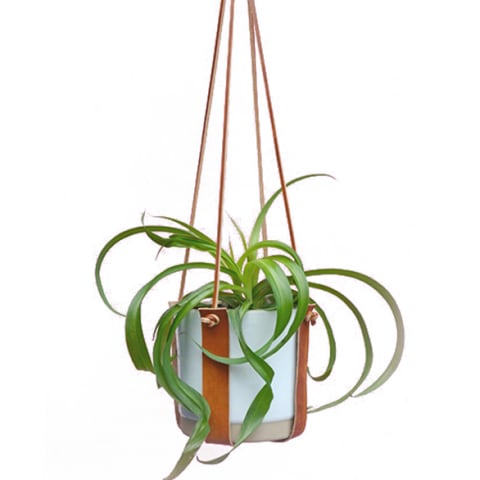 Esty
Best budget: Artes Macrame Plant Hanger
This macrame hanger is a true work of art—with a fluid design that mimics an ocean wave. The tray at the bottom also means that swapping out plants couldn't be easier. But the real kicker? It has to be the affordable price tag.
Artes Macrame Plant Hanger ($25.95)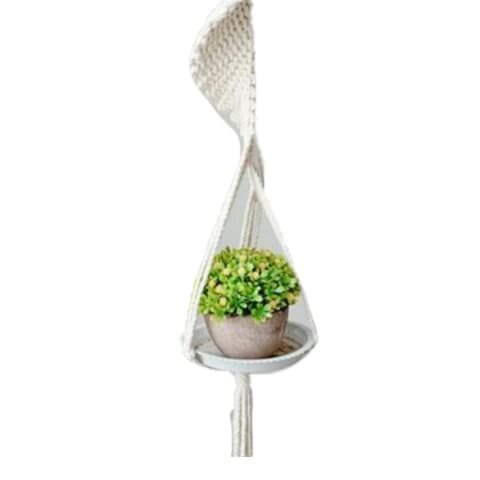 Artes
Best cork: Mind The Cork Atlas Hanging Cork Planter
For anyone looking to bring an unexpected touch to their plant display, this funky cork design is here for you. Cork is a renewable material (you don't need to cut down a cork tree to harvest its bark) that pairs perfectly with pops of green.
Mind The Cork Atlas Hanging Cork Planter ($65)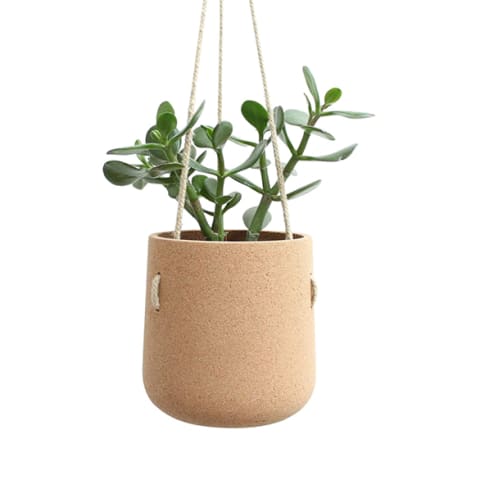 Mind the Cork
Advertisement
This ad is displayed using third party content and we do not control its accessibility features.
Best for small plants: Capra Hanging Planter
Fit for smaller plants, this 4-inch Terrazzo-inspired planter is adorably chic. Each one is handmade, ensuring a truly one-of-a-kind home for your plant pal, and finished with a drainage hole and leather hanging cords.
Capra Hanging Planter ($70)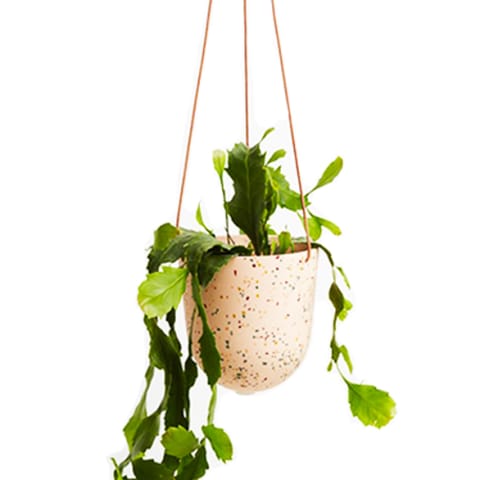 Capra
Best for ceiling hanging: Folia Swivel Ceiling Hook
Created specifically for hanging plants, this hook can hold up to 60 pounds when hung in drywall and up to 90 pounds when hung in wood. It also swivels so you can easily turn your plant to give it light and love from all angles.
Folia Swivel Ceiling Hook ($12)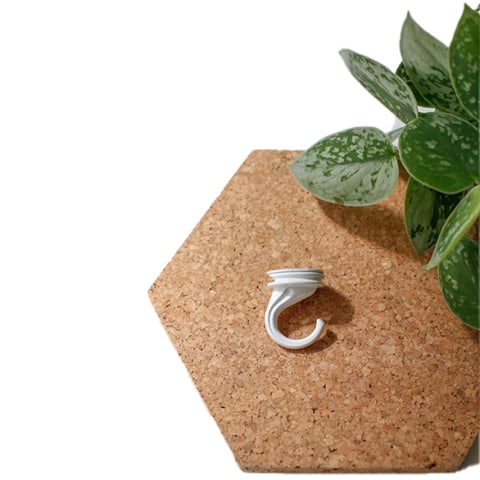 Folia
Best for wall hanging: Jantens 2-Pack Hanging Plant Hook
For those who prefer to hang plants from the wall instead of the ceiling, this two-pack makes it easy. Each one can hold up to 15 pounds and be painted to fit your decor.
Jantens 2-Pack Hanging Plant Hook ($15.99)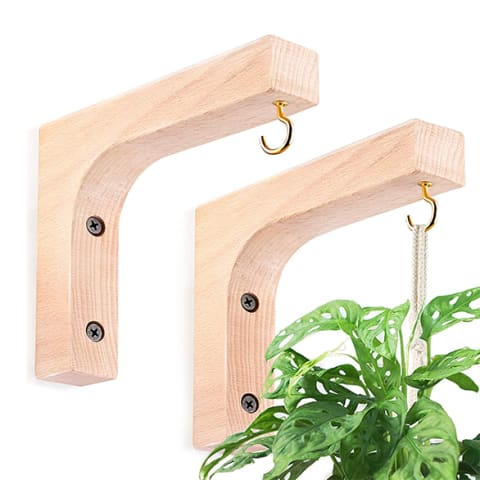 Amazon
Best for window hanging: CB2 Cruz Double Curtain Rod
If you rent your home or are just nervous about drilling holes in the ceiling, double curtain rods offer another spot to hang plants. And these stainless-steel ones from CB2 are oh-so-sleek.
CB2 Cruz Double Curtain Rod ($109+)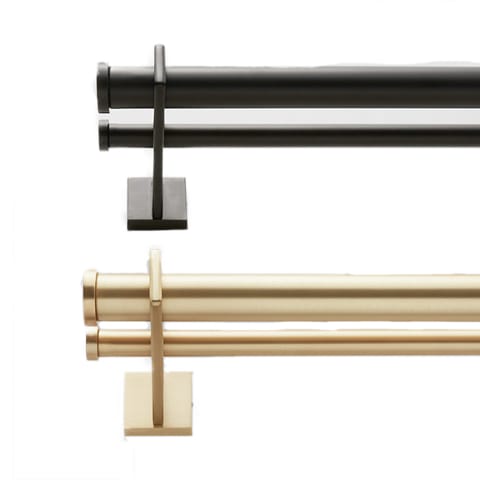 CB2
Tips for hanging.
Once you've got your pot picked out, these rules of (green) thumb will help you hang them in a way that will keep you and your plants happy:
"The fewer obstacles between you and watering the plant, the better," says Horst. This means that those with high ceilings may need to invest in a longer chain or string in order to get their plant to a reachable level.
The goal, she says, is that "when it does come time to water, you can get it without having to get a ladder out."
2.
Consider putting your pot(s) in front of a window.
There are a few reasons that you might want to hang your sun-loving houseplants in front of a bright window. For starters, it will lend plenty of light to the varieties that need it.
Hanging planters can also provide privacy without totally obstructing window views, and they can cast dramatic shadows in your home throughout the day.
You can either hang them directly from a curtain rod (double curtain rods are great for this) or take a cue from Horst's home below and suspend a closet rod in front of your window. Whichever route you choose, always double-check that it can support the weight of your plant.
Danae Horst's green window display.
Image by Danae Horst / Contributor
3.
Get an anchor that won't fall out.
Our guide to hanging houseplants walks you through the basics, but if you don't feel confident in your skills, it's always best to enlist the help of a handy friend or professional.
You'll also want to make sure to use an anchor—one that's strong enough to hold your growing plant. And remember: Plants are heavier right after a watering! When in doubt, buy a size up.
Lauren Camilleri and Sophia Kaplan of Leaf Supply and the Leaf Supply Deck of Plants also recommend drilling your anchor into a stud or support beam for the strongest positioning. "This is definitely one instance where we wouldn't recommend removable hooks that can lose adhesion over time," they tell mbg.
4.
Choose trailing plants.
While any small to medium-size plant is eligible to be hung up, Camilleri, Kaplan, and Horst agree that ones with trailing foliage tend to look best.
Plants with an upright growth habit will eventually run out of room to grow, unlike trailing plants that cascade down toward the ground and create a beautiful shape as they do.
"Vining plants that clamber upward and require staking for support are also generally unsuitable for hanging planters," Camilleri and Kaplan add.
Some of Horst's favorite plants to hang include the Heart-Leaf Philodendron (Philodendron hederaceum), Lipstick Vine (Aeschynanthus), String of Hearts (Ceropegia woodii), and most species of hoyas.
Camilleri and Kaplan are partial to low-maintenance Devil's Ivy (Epipremnum aureum) and Satin Pothos (Scindapsus pictus).
Giving your hanging trailing plants a trim every once in a while will keep their foliage looking full, and you can also propagate your clippings afterward.
5.
Give your hanging plants a little extra love.
Once it's hung up, your greenery might need a little extra moisture. Since hot air rises, it'll be more prone to dry out in the summer or winter when the heater is blasting.
Stay on top of your watering routine, and keep a spray bottle nearby for the occasional misting.
You'll also want to wipe down hanging plants' leaves from time to time, to keep them from collecting dust.
The bottom line.