Close Banner
Advertisement
This ad is displayed using third party content and we do not control its accessibility features.
Best Affordable Natural Serums For Brightening, Soothing, & Clearing Skin

Contributing Wellness & Beauty Editor
By Lindsay Kellner
Contributing Wellness & Beauty Editor
Lindsay is a freelance writer and certified yoga instructor based in Brooklyn, NY. She holds a journalism and psychology degree from New York University. Kellner is the co-author of "The Spirit Almanac: A Modern Guide to Ancient Self Care," with mbg Sustainability Editor Emma Loewe.
A good serum can completely change your skin, but in the natural world affordable and efficacious ones are unfortunately hard to find. Thanks to new industry innovations, formulations, and boundary-pushing brands there's something for every possible skin desire. Brightening, clearing, repairing, nourishing, soothing, and glowing skin ahead for $30 or less.
Ultra Glow Serum: Glow + Strengthen Vitamin C Serum
With active ingredients vitamins C and E, this serum is a workhorse, especially for people who experience dullness in the complexion. Fruit extracts, acids, and oils work together to achieve multiple goals: They can smooth out the surface of the skin, even out the tone, and protect it from environmental stressors. Marine algae peptides are called on to calm irritation and keep the skin peppy while plant-derived antioxidants from plants boost glow factor and radiance.
Ultra Glow Serum: Glow + Strengthen Vitamin C Serum, Sephora, $10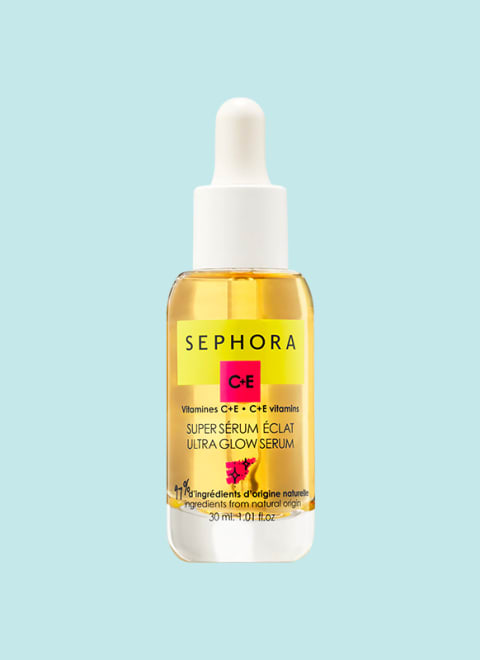 mbg creative x Sephora
Burt's Bees Brightening Skin Perfecting Serum
This serum is a go-to for diminishing hyperpigmentation and dark spots while giving the rest of the skin a brightening boost. Plant-based ferments act as gentle resurfacing agents while aloe vera juice and herbal extracts like peppermint and mallow extract work to fade spots while reinvigorating tired-looking skin. At $11 we couldn't believe the price tag, either.
Brightening Skin Perfecting Serum, Burt's Bees, $11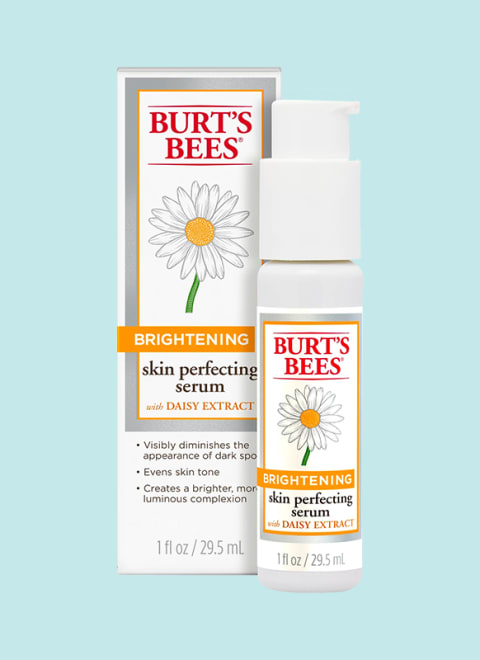 mbg creative x Burt's Bees
S.W. Basics Day Serum
With a grand total of five ingredients—shea, tamanu, lavender, and sunflower oils, along with aloe extract—this serum from OG green beauty brand S.W. Basics will keep your skin hydrated, glowy, and looking summery. It's ideal for all skin types, and is especially recommended for sensitive skin. Apply after using a toner or hydrosol, or dab it over the top of your daily sunscreen. Bonus: Use it as a salve after a day spent in the sun, as the lavender and aloe are an especially soothing combo.
Day Serum, S.W. Basics, $30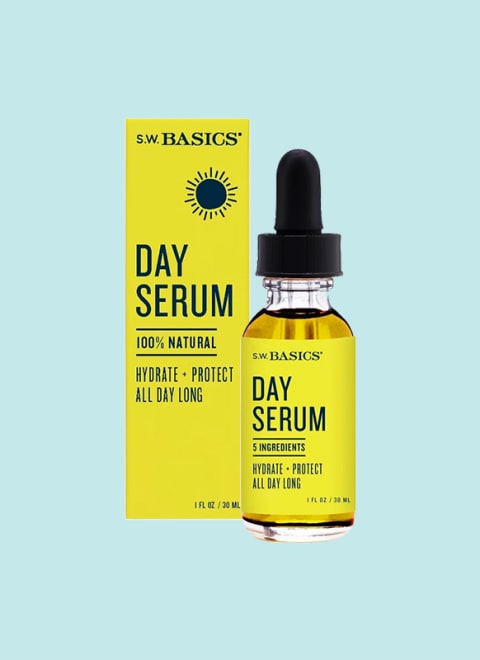 mbg creative x SW Basics
The Ordinary Resveratrol 3% and Ferulic Acid 3%
Resveratrol is the antioxidant made famous by red wine but is also found in all kinds of plants: grapes, blueberries, mulberries, and even some nuts, known for its healing and protective properties. Ferulic acid is another plant-derived antioxidant that's known to help deliver other ingredients into the skin, like vitamins C and E, making this serum a perfect one to mix and/or layer with others.
Resveratrol 3% and Ferulic Acid 3%, The Ordinary, $8
mbg creative x The Ordinary
Acure Seriously Soothing Blue Tansy Solid Serum Facial Treatment
Along with skincare sticks, solid serums are having a moment. This one is made with all anhydrous ingredients, has a balmy consistency, and is perfect to apply after one of the serums mentioned here to seal in hydration. Blue tansy gives the product its color and scent and is known for being calming to red or irritated skin, while rosehip oil, shea butter, argan oil, vitamin E, and black currant seed oil moisturize and protect the face.
Seriously Soothing Blue Tansy Solid Serum Facial Treatment, Acure, $16
mbg creative x Acure Organics
Osmia Organics Spotless Blemish Oil
Cajeput oil is the secret blemish-fighting ingredient in Osmia Organics' oil serum, which is astringent, tonifying, and anti-microbial. While it may seem counterintuitive to apply oil to a breakout, the concentration of oils in this spot treatment is especially formulated to stop bacteria growth and soothe flaky, irritated skin. Use it only on pimple spots, not on the whole face, and your blemishes don't stand a chance.
Spotless Blemish Oil, Osmia Organics, $22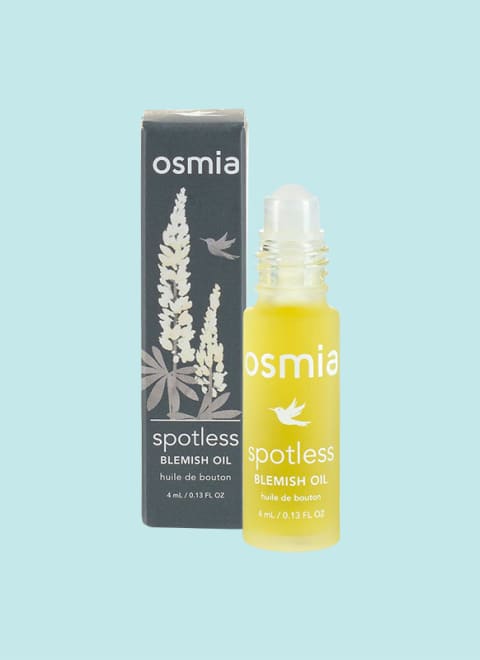 mbg creative x Osmia Organics
W3LL People Bio Booster Serum
Formulated especially for mixing with foundation or tinted moisturizer, W3LL People's bio booster serum imparts the perfect level of glow—not too greasy, nor shiny, nor shimmery. This serum—a mix of potent plant actives including turmeric, which can reduce redness; black cumin, which helps clarify congestion; and sea buckthorn, an antioxidant powerhouse that helps to smooth out the skin's texture and tone—is one of the best deals on the market.
Bio Booster Serum, W3LL People, $28
mbg creative x W3LL People
Cocokind Facial Repair Oil
Short ingredient lists are one way to tell how "clean" a product is: The fewer ingredients a product includes, the more we understand about what's inside. Made from all-organic coconut, olive, and rosehip oil, Cocokind's facial repair oil (formerly known as facial repair serum) helps keep the skin's barrier nourished, smooth, and protected—a must for anyone living in a city or where daily pollution is a concern. A hefty dose of vitamin A from the rosehip oil can also help ease hyperpigmentation and impart a subtle, dewy look, too.
Facial Repair Oil, Cocokind, $14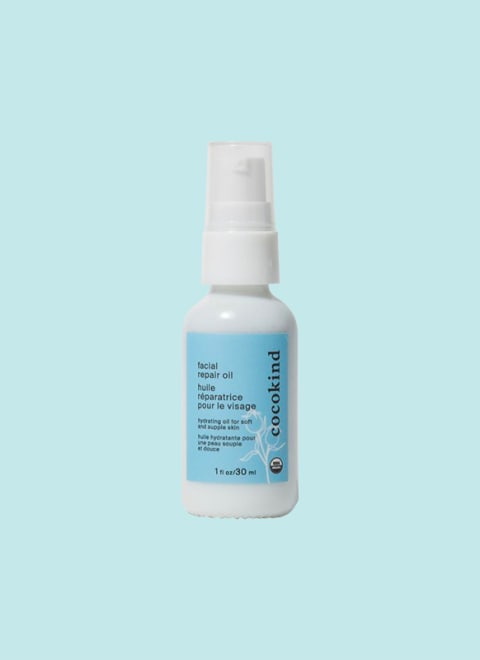 mbg creative x Cocokind