13 Beauty Experts & Founders Come Clean — About Going Clean
mbg Beauty Director
By Alexandra Engler
mbg Beauty Director
Alexandra Engler is the beauty director at mindbodygreen and host of the beauty podcast Clean Beauty School. Previously, she's held beauty roles at Harper's Bazaar, Marie Claire, SELF, and Cosmopolitan; her byline has appeared in Esquire, Sports Illustrated, and Allure.com.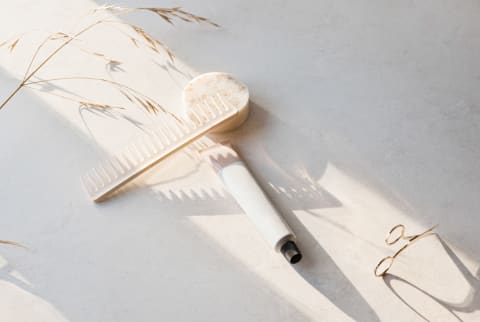 Image by Ellie Baygulov / Stocksy
October 12, 2019
We carefully vet all products and services featured on mindbodygreen using our
commerce guidelines.
Our selections are never influenced by the commissions earned from our links.
Switching to a clean, or cleaner, beauty routine? We all have to start somewhere. It can be as simple as picking up an organic moisturizer, liking the results, and deciding you'd like your entire routine to be more natural-leaning. Or maybe you've done a little Googling lately and are less than enthused about the ingredients in your normal products. Luckily, there are a plethora of clean beauty options on the market right now—from hair and body to skin care and makeup.
And here, we tapped the makers of some of those products on why they went clean:
1. It all began at the grocery store.
"I started using clean products when I was a junior in college because, as someone fascinated with wellness, I spent a lot of time in health food stores: I would comb the aisles looking for new natural snacks or supplements. It didn't take long before I started wandering into the beauty aisle. At the time, there were very few clean beauty brands to choose from; they were also only all-natural. I started testing the few brands I could find. Even though I didn't love the results from the earlier natural brands I tried, I felt better knowing I was making a more responsible choice. The non-clean brands on the market were loaded with fragrance, silicones, and other junk-food ingredients. And the phenomenon of natural mixed with safe synthetics was hard to find in the early 2000s. But I continued experimenting with any and every clean brand that launched because I truly believed that products with 'real' ingredients made sense for the health of my skin and ultimately would be more effective as a result."—Emily Parr, co-founder of skin care brand HoliFrog
2. After watching her daughter play with her skin care.
"I will never forget the moment I decided to go clean. I was pregnant, and my 2-year-old was at the top of the stairs fully covered in my skin care products. I told her that she couldn't play with them because I was worried about what they were doing to her young, beautiful skin; it became immediately clear that if my products aren't good enough for her, they aren't good enough for me either. I'm a former pharmaceutical executive, so I feel going clean isn't about demonizing synthetic ingredients. Instead, it's about understanding the power of plants—the magic and the healing that exists in them—while also about understanding that there is a role for safe synthetics." —Lisa Mattam, founder of clean ayurvedic beauty brand Sahajan
3. From seeing how well science and nature mixed together.
"I grew up in nature; my grandmother was a pharmacist, and my mother, a medical doctor. I was always drawn to natural ingredients and using the power of science. Throughout my own medical career, I have worked in anti-inflammatory science developing anti-inflammatory treatments. When I started formulating my skin care products, I knew to not only leave out ingredients that would trigger inflammation but also to include ones that would combat it." —Barbara Sturm, M.D., founder of skin care brand Dr. Barbara Sturm
4. During her first gig in the industry.
"I was working in my first nail business, and I decided to research the ingredient list of the polishes and nail care products I was using. What I found was quite shocking! You can find up to five to six preservatives in one bottle of lotion, and regular polishes contain toxins such as formaldehyde and toluene that can potentially affect women's hormones. I really believe that everyone deserves better nail care options, and you shouldn't have to sacrifice health for beauty." —Amy Lin, founder of nontoxic nail brand and spa Sundays
5. While in the garden.
"I was volunteering as a community organizer and gardener with the BUG program at the Brooklyn Botanical Garden; during projects, we would often have to remove, tarp, or avoid toxic soil. Just about every patch of land was contaminated, which got me looking at why and how that was happening. One contributing factor that I was surprised by is the synthetic ingredients in personal care products. Many synthetic ingredients don't break down after they wash down the drain. Instead they stay in the soil and in the water cycle, where they concentrate and pollute. Understanding that many of the products that I was using didn't go away just because they washed down the drain was a real bummer. Having to garden wearing a breathing mask because of those and other contaminants is an even bigger bummer. For me, choosing between being able to eat community-grown strawberries and a synthetic strawberry fragrance in a body wash was a no-brainer." —Tim Hollinger, co-founder of Bathing Culture
6. After a bad reaction to deodorant.
"Right around puberty, I started using deodorant, and my armpits would sting, and I would get headaches from all the heavy fragrances and gnarly ingredients. I would ask myself, 'What did people do before all these chemicals?' I made the switch, and it was all Dr. Bronner's and Tom's of Maine until I started making my own products." —Spencer Arnold, co-founder of Bathing Culture
7. Post picking up a good read.
"Years ago my business partner, David, and I had a clothing line—and one weekend, when I actually had some free time, I read the book No More Dirty Looks for fun. This was the first time I learned about the lack of FDA regulation in personal care products. Until then I had assumed that the products I used were safe! For me, the transition to clean products was instant: I could no longer use my dirty products now that I had this knowledge. But what became clear really fast was that—this was in 2011—it was going to be hard to find clean products that were effective and didn't look super crunchy. That was when I decided to start making my own clean dry shampoo as a hobby. It's still my take-with-me-to-a-desert-island product." —Nina Zilka, CEO and co-founder of clean skin care brand Alder New York
8. For environmental well-being.
"Conventional beauty is contaminating to both humans and to the environment. We all need to be concerned for the future of the planet and do our part, however we can. Organic, plant-based beauty products were my beginning for a total cleanup." —Fabian Lliguin, founder of clean hair care brand Rahua
9. From developing eczema and dermatitis.
"Growing up, my mom used Clarins face oils, which, in the 1980s, were on the more natural end of the spectrum. I remember watching this busy woman inhale the aroma deeply as she massaged an oil into her skin. I think the take-away from watching my mother's ritual was that self-care—even in the form of beautiful skin care—was an investment in wellness. Not long after she died, I started experiencing skin problems like eczema and dermatitis, which were only getting worse with guidance from my dermatology friends. So, I took matters into my own doctor hands and found ample research to show that products with fewer, gentler ingredients were often healthier for the skin, as well as the planet. Once I eliminated things like sodium lauryl sulfate and synthetic fragrance from my life, my skin was able to heal itself, and I was hooked on a new, natural skin care regimen that was more luxurious and wonderful than ever—there was no going back." —Sarah Villafranco, M.D., founder of Osmia Organics
10. Inheriting the mindset from family.
"This has been part of my life since childhood. I grew up with a Mexican mom, and she valued holistic healing and organic remedies: She was always creating homemade salves and remedies as did my grandmother and great grandmother before her. My mom didn't know what 'clean beauty' was, yet she was an early adopter. It was the norm for me, not the new horizon it is considered in the beauty industry today." —Martina Joseph, CEO of Dr. Hauschka
11. During her first pregnancy.
"Several weeks into my pregnancy with my son, I quickly realized most of my favorite products contained ingredients not intended to be used while pregnant. It was as though everything on my vanity I had once coveted I had to rethink. (It sounds dramatic, but the moment that pregnancy test flashed positive, I wanted to do anything in my power to keep my body nourished with the best products.) We are now fortunate to have so many credible options in clean beauty. I admittedly still love some traditional and unclean products, but I have overwhelmingly switched my key steps over, which gives me peace knowing we have access to products packed with good-for-you ingredients." —Lauren Gores Ireland, co-founder of clean skin care brand Summer Fridays
12. After studying herbal medicine.
"Ever since I was a child, I've felt so connected to the plant kingdom. Even when I was young, I started a collection of books on botanical remedies and herbs and their benefits. So that has always been with me. But when I was in college, I worked at a cosmetics counter, and while I loved that the women who came to buy something for themselves seemed so happy, I also started to wonder whether the products I was selling were truly effective and safe. In 1990 I became an esthetician, and that summer I furthered my studies in France. I was enthralled with the French approach to beauty, but, after that summer, I also took a deep dive into studying iridology, aromatherapy, thalasotherapy, and any courses on holistic healing that I could find. I was amazed by the efficacy and the power of the herbal remedies in action. And all those early experiences combined launched me into a lifetime of holistic practice and learning." —Tammy Fender, esthetician and founder of Tammy Fender Skincare
13. From realizing beauty is holistic.
"When I was young, I suffered from eczema and allergies, and my mom took me to see a naturopath who dramatically changed what I ate, removing processed foods as well as allergens such as gluten and dairy from my diet. My allergies and eczema subsided, so I experienced firsthand the connection of food as medicine—what we eat and how it can affect our skin and health." —Carla Oats, author and founder of The Beauty Chef
Alexandra Engler
mbg Beauty Director
Alexandra Engler is the beauty director at mindbodygreen and host of the beauty podcast Clean Beauty School. Previously, she's held beauty roles at Harper's Bazaar, Marie Claire, SELF, and Cosmopolitan; her byline has appeared in Esquire, Sports Illustrated, and Allure.com. In her current role, she covers all the latest trends in the clean and natural beauty space, as well as lifestyle topics, such as travel. She received her journalism degree from Marquette University, graduating first in the department. She lives in Brooklyn, New York.