A Beauty Expert's 3 Best Winter Skin Tips For Dry Skin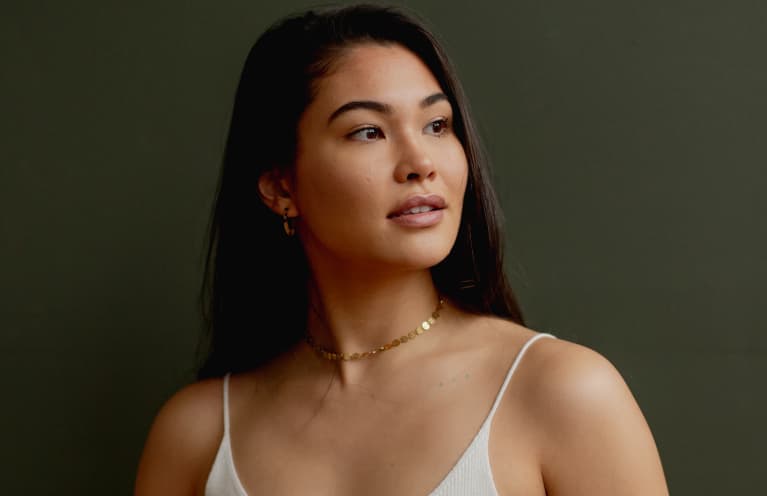 This article was produced to support the mindbodygreen supplements+ line. Our supplements adhere to the highest standards of ingredients and quality. We hope you enjoy these products, for more information
click here
.
For many of us, transitioning seasons means transitioning skin care routines. Think about how you pull out warmer, thicker layers as temperature drops—certainly your skin has similar needs. This isn't a matter of indulgence or superficiality: When the environment changes, your body has different requirements!
And for most of us, winter means drier skin. With dryness, comes increased dullness and sensitivities. This is all due to something called transepidermal water loss, a phenomenon that occurs when water in your epidermis evaporates into the air around you; it happens more frequently in arid climates where there's less moisture in the air. To help keep your skin moisturized, you'll want to support the barrier of the skin—so this isn't as likely to happen.
How? There are lots of ways, but here are the three top tips I tell anyone who asks.
Supplement if you're not already doing so.
Healthy, hydrated skin starts internally with the right nutrients, botanicals, and targeted bioactives. Collagen supplements, for example, provide the body amino acids—the building blocks of proteins like collagen and keratin.* These have been shown to stimulate collagen and elastin production by supporting the skin's fibroblasts.* Clinical studies on collagen supplementation show that with regular use, it promotes your skin's hydration levels.* For example, a double-blind, randomized, placebo-controlled clinical trial found that participants' moisture levels in the skin were seven times higher than those who did not take collagen supplements.*
I recommend finding an option that has additional skin-healthy ingredients as well. First and foremost, look for antioxidants, which can neutralize free radicals in the skin, leading to a healthier barrier.* And hyaluronic acid is another smart addition. Oral forms of HA have also been shown to support skin hydration and appearance.*
Need help finding a collagen supplement that works for your body and needs? I hear you—there are a lot on the market. Here are our all-time favorite collagen supplements to help.
Use a "night" cream during the day.
I'm going to let you in on a little secret: So many distinctions in beauty products and categories boil down to marketing. Such is the case for hydrating night creams and day creams. Night creams are often touted as such because they are more hydrating and thicker and thus can help keep your skin supple over the evening. Day creams, on the other hand, offer a lighter touch. While I love a silkier formula during the summer heat, come winter I want something dense and buttery around the clock. So I simply—gasp!—use my night cream during the day.
A big caveat to this: if your night cream isn't moisture-centric and instead is about exfoliation or contains a retinol, then keep it for evening use. But for night creams that just happen to be thicker numbers than their sunny counterparts, feel free to use in the morning, too.
Always have a hand cream on, well, hand. 
Your hands go through a lot, especially come winter. I know mine become increasingly red and chapped as the days go on and things get chillier. So a hydrating hand cream is a must—I always have one on me. I love options that tend to all elements of the skin barrier. Of course, you'll want something with botanical butters and oils, like shea and moringa, to get that dense texture and protective lipid layer. Then add in antioxidants, for free-radical protection, from things like fruit extracts, vitamin-rich plants like aloe, or straight from the source like vitamin E, niacinamide, or coenzyme Q10. Finally, skin microbiome-supporting actives can help balance the skin and nurture your microflora.
Now, you've got your go-to hand cream. You know what I do throughout the day—well, other than apply it to my hands? I gently tap any excess around my eyes. With the assumption that you're using a clean, natural formula that's good for those with sensitive skin, I see no harm in a little multifunction use. See, the skin around my eyes always gets parched, flaky, and prone to fine lines (it's very delicate skin, after all), so I like to touch up on hydration as needed. I love a double-duty product.