A Beauty Editor Makes The Case For Night Creams & This One Is Why
mbg Beauty Director
By Alexandra Engler
mbg Beauty Director
Alexandra Engler is the beauty director at mindbodygreen and host of the beauty podcast Clean Beauty School. Previously, she's held beauty roles at Harper's Bazaar, Marie Claire, SELF, and Cosmopolitan; her byline has appeared in Esquire, Sports Illustrated, and Allure.com.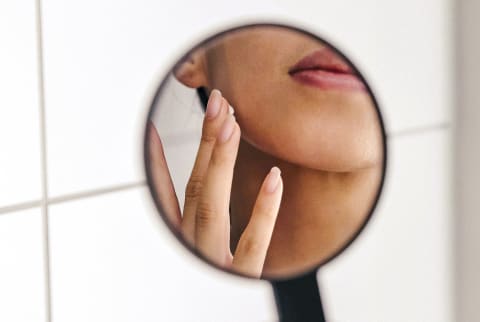 Image by Julien Tell / Death to the Stock Photo
December 25, 2020
I try not to advise people to use more than they need. Find out what works for you, helps you meet your skin goals, and let your skin do the rest. Sure, as a beauty editor, I love testing and trying out new products—and I love writing about all my favorites—but for the most part, I view them as suggestions: If you're looking for a new hair mask for your curly hair or hand cream for parched skin or serum for dark spots, try these—but if your skin and hair are doing just fine with your routine as it is? Then, by all means, continue.
And since I really only stick to what I need, that usually meant one moisturizer: a light, water-based lotion that helped balance oil while still keeping me dewy. It worked for me and my acne-prone, combination skin. Well, it worked until it didn't.
As I've gotten older, my skin has gotten drier. This is not a unique phenomenon: Most people experience this skin change with age. Soon, my go-to moisturizers didn't seem to be cutting it. Often, I'd wake up with flaky, red, and sallow skin. And as this change happened, I realized that I needed to make an adjustment to my skin care routine to keep my skin healthy. Enter: a thick night cream.
One beauty editor's case for night creams.
I never took night creams seriously before I hit 30 (Why bother with another product? was my attitude). But then my skin clearly started showing signs of needing more hydration, and I started eyeing those butter-dense creams, those ultra-occlusive cocktails that wrap your skin in a cashmere-like blanket of nutrients, once far too thick for my skin, but now they suited me just right.
Here's why you may consider a night cream—especially as you get older: When you sleep, your skin is more permeable. This means a few things. On one end, it means your skin may absorb active ingredients easier—so you may want to utilize this time and apply more potent ingredients to give your skin a boost. On the other end, it means more water may evaporate from the skin if you're not careful. This happens more frequently with age because the parts of your skin that act as a sealant (read: ceramides) start to diminish. So your skin isn't as able to trap in water naturally and on its own.
And thus, an increased need for thicker creams. (Here, I should note that I am using the term "night cream' broadly—the product doesn't need to be labeled as such for you to consider it an appropriate product for your nighttime routine; simply find an option that's more occlusive and has a base of butters and oils, which will help create a barrier and seal the skin.)
So when you layer on your nighttime moisturizer, the idea is it assists your skin in holding in hydration throughout the night. And then hours later, when you wake up, your skin is still supple and glowing.
My night cream of choice: This organic butter.
When I first tried Savor Beauty's White Truffle Face Cream, I thought: Great product, not for me. (As a beauty editor this happens quite a bit: You need to make room for the idea that just because a product doesn't suit your needs perfectly doesn't make it a bad product, per se; in fact, for another person, it may be the golden ticket!) But then my skin started changing over the past year, and with timing like magic, I was given another tub of this product to test out.
This was a little less than a year ago—right before lockdown, in fact—and soon this cream became a nighttime comfort. Each evening, the texture melted into my skin, coddling my skin as I slept.
The star ingredient is the white truffle extract (called the "white diamond" of skin care superfoods, apparently). It has an impressive ability to hydrate cells while encouraging regeneration and vibrancy. The latter is also important while you sleep, as your skin does most of its repair and regrowth during your REM cycle. It does so, as the ingredient contains a special enzyme called superoxide dismutase, which can help smooth fine lines and improve dark spots.
The coolest part? There are actually three versions of this face cream—and you can choose the formulation that best suits your other needs, without sacrificing the rich base or star active. There's the acne-prone-skin version, which contains watermelon seed oil, papaya extract, and rosehip oil to temper blemishes. There's the combo skin version, which contains pumpkin seed oil, sage extract, and rice bran, which aids in healthy aging while tending to the occasional flare-ups (what I use). And there's the dry skin version, which is loaded with meadowfoam, ginkgo biloba extract, and raspberry seed oil to condition skin.
Trust me when I say, I used my jar till the very last drop.
The takeaway. 
Does a night cream sound like an indulgent product? Well, I thought so too. Until my skin changed, and I realized how dry my skin felt by the time I woke up. Soon I realized my daytime lotion (light, airy, and perfect for under makeup) wasn't holding up over the evening. So I made an addendum to my routine, and now? I wake up glowing.
Want to turn your passion for wellbeing into a fulfilling career? Become a Certified Health Coach! Learn more here.
Alexandra Engler
mbg Beauty Director
Alexandra Engler is the beauty director at mindbodygreen and host of the beauty podcast Clean Beauty School. Previously, she's held beauty roles at Harper's Bazaar, Marie Claire, SELF, and Cosmopolitan; her byline has appeared in Esquire, Sports Illustrated, and Allure.com. In her current role, she covers all the latest trends in the clean and natural beauty space, as well as lifestyle topics, such as travel. She received her journalism degree from Marquette University, graduating first in the department. She lives in Brooklyn, New York.