Beard Oil Recipes You Can Easily Make At Home, For Soft Strands & Healthy Skin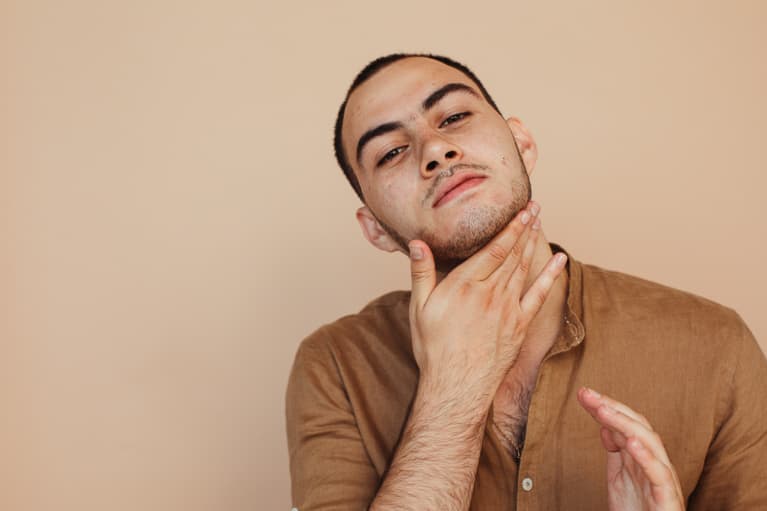 Our editors have independently chosen the products listed on this page. If you purchase something mentioned in this article, we may
earn a small commission
.
If you sport facial hair (or date someone who does), a beard oil deserves a place on your bathroom shelf—promise. Take it from someone who experienced the eureka moment firsthand: I love my partner's scruff, but my own skin was paying for it in spades. Every kiss, no matter how chaste, felt like steel wool scratching against my chin (a term commonly referred to as "beard burn").
After slathering on thick, buttery creams to reduce the friction (to no avail), I soon realized that the problem couldn't be fixed with a preemptive measure on my end. It was time to introduce a facial hair care routine, to soften the strands before they stabbed into my skin.
If this scenario sounds familiar, trust that a beard oil is a worthwhile addition to your skin care arsenal. And if this is your first time dabbling with the product, you may want to test a few ingredients to determine which ones effectively soften the friction. To which we say: Make a few formulations with your own beard oil recipe. You'll see it's incredibly easy to finesse.
How to make a beard oil at home. 
At the most basic level, a stellar beard oil simply combines a few nourishing carrier oils. That's it! "My recommendations are jojoba oil, grapeseed oil, and argan oil," says barber Mitsuru Aota of THE BARBER.
Jojoba oil: "Jojoba oil's main benefit is moisture," says naturopathic doctor Tess Marshall, N.D., about the famed ingredient. It's suitable for both hair and skin (it closely mimics the skin's own sebum), which is worth noting: The best beard oils not only coat the hairs but also nourish the skin underneath. Consider it a great, neutral base for your beard oil recipe.
Grapeseed oil: Grapeseed oil is brimming with antioxidants, especially when it's cold-pressed and unrefined, and it can even aid in loosening dandruff (read: Beard dandruff—or "beardruff"—is most definitely a thing). It's also anti-inflammatory and has antimicrobial properties, (thanks to linoleic acid, resveratrol, vitamin E, and phenolic compounds). Not to mention, it adds considerable moisture and shine. As Matrix artistic director and celebrity stylist Nick Stenson notes about grapeseed oil for hair, "Grapeseed oil can be used to keep in moisture as well as add strength and shine to the hair."
Argan oil: The liquid gold is Aota's particular carrier oil of choice. "It moisturizes the beard and has a lot of good things in it to keep your skin healthy," he says. Specifically, studies show that 99% of argan oil is made up of triglycerides, or essential fatty acids, and the remaining 1% is a powerful combination of botanicals and antioxidants, like vitamin E, polyphenols, tocopherols, sterols, and squalene, which offer benefits for skin barrier repair, hydration, modulating inflammation, and improving skin elasticity—all good things indeed. "It's great for many conditions, especially dry, damaged hair because its trove of fatty acids lock moisture into the hair follicle," seconds integrative medicine physician Bindiya Gandhi, M.D.
Simple, yes, but these oils are powerful enough to coat and soften each and every strand. But if you're looking to add something extra to the recipe, by all means. "You can even add in some essential oil of your favorite aromas (lavender, sandalwood, you name it)," Aota adds.
Some favorite EO's of note:
Lavender oil imparts a soothing scent and is even associated with hair growth (in case you're hoping to thicken out a patchy beard).
Cedarwood oil is another beloved number, as it "helps enhance the appearance of shine and thickness" when massaged into the strands, according to Leslie Lewis, senior director of global training and education at Young Living.
Lemon oil is touted for absorbing excess oils, too, in case you find your beard greasy, but you can always choose your EO based on scent alone. (Find other star essential oils for hair here.)
Below, you'll find two beard oil recipes featuring the star ingredients above—a fragrance-free version, as well as a version with essential oils. Remember: Some may face irritation to potent EO's, so if your skin runs sensitive, you might want to opt for the totally fragrance-free option below.
Fragrance-free DIY beard oil recipe:
3 Tbsp. jojoba oil
2 Tbsp. grapeseed oil
2 Tbsp. argan oil
Place all the ingredients in a glass jar and mix until well combined. Keep closed tightly in a cool, dry place.
DIY beard oil recipe with essential oils:
3 Tbsp. jojoba oil
2 Tbsp. grapeseed oil
2 Tbsp. argan oil
1 to 2 drops lavender essential oil (feel free to add less)
1 to 2 drops cedarwood essential oil (feel free to add less)
Place all the ingredients in a glass jar and mix until well combined. Keep closed tightly in a cool, dry place.
"I recommend applying after taking a shower or after washing your face," says Aota, in order to lock in moisture post-wash. (Oils can't seal in hydration without any water to trap, remember?) "And, of course, it's also good for when you style your hair." It's similar to how someone might coat their strands in oil to hide the appearance of split ends: Applying a beard oil on dry hair can help seal down the cuticles and impart shine.
No matter when you decide to break out the jar, here's how to apply it correctly:
Place about 3 to 5 drops of beard oil in your hand, warming it up between your palms.
Massage it into your beard, making sure to cover the entire surface area.
Gently comb through your beard, in order to further disperse the product from root to tip.
Beard oil moisturizes the coarse hairs and keeps them soft—which not only conditions the scruff but nourishes the skin underneath as well. And in case you're here for the aesthetics: A shiny and moisturized beard is key for nailing a dapper, neat-yet-rugged style. Test a few recipes with this how-to as your guide, and you should be set.
Want to turn your passion for wellbeing into a fulfilling career? Become a Certified Health Coach! Learn more here.