At-Home Hair Color: What To Do Between Appointments + Natural Dye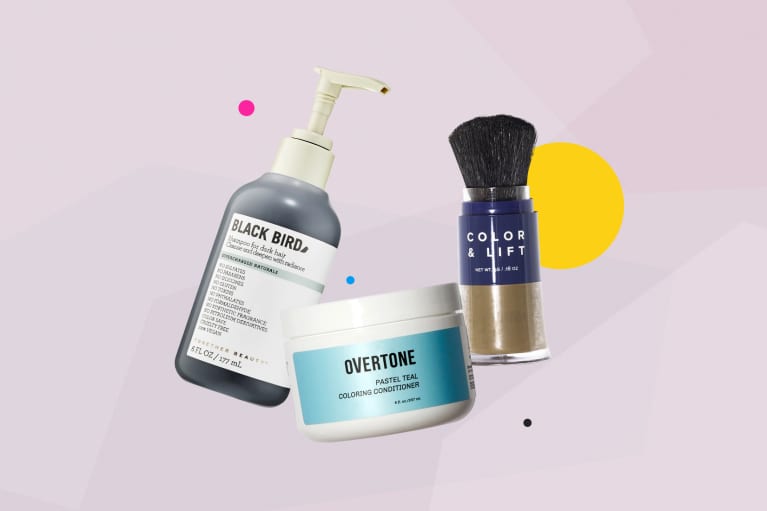 Our editors have independently chosen the products listed on this page. If you purchase something mentioned in this article, we may
earn a small commission
.
This should come as no surprise, but it will likely be a moment until you're able to visit your salon or colorist again for a touch-up. If you are one to regularly color your hair, this might have you feeling less than ideal. Of course, there are plenty of things going on right now that demand more of our attention, but how you feel about yourself matters. And your hair color might play a role in that.
"It's important, and it gives you confidence," says colorist Christine Thompson, co-founder of the hair salon Spoke&Weal. "There's definitely a realization now that even if you are at home—perhaps by yourself or not being seen by a lot of people—how important the way you see yourself is on the way you feel. It's a psychological thing. I always knew that, but it's being reinforced right now."
Couldn't agree more. So, now the question is: What do we do in the interim?
If your roots don't bother you that much, it's worth the wait.
Most colorists will advise waiting it out if new growth at the root or overall tonal changes don't bother you that much. This is especially true if you've never colored at home before. "If you mess something up, there will be no professional available to fix it, so you might end up making your situation worse than before," says Thompson.
Not to mention, there are things other than dyes to help you in the interim. You may think you're in desperate need of a color update when a simple refresh would suffice: In these instances, turn to toners. "Hair toner" is more-or-less an umbrella term to encompass products like glosses, color-correcting shampoos, pigment-depositing treatments, and demi-permanent dyes. These will be able to bring vibrancy back to your hair or help blend harsh grow-out lines. They do not have the same long-wear as hair color, but their low-stakes nature makes them perfect for an at-home trial. See our list below for further details—you can also check out our list of DIY at-home toners.
If you do opt for a dye, err on the side of natural in both the shade and formula.
If the new growth really does bother you, and you decide it's time to turn to at-home color, there are thankfully new, cleaner, and safer versions available (our recs, below). So the first step is to purchase a box dye that doesn't have many of the more questionable dye ingredients—although, no hair dye is going to be perfectly natural or clean—in your closest possible color match. This isn't the time to be experimenting with a new hue. (Or if you really do want to experiment with color right now, we suggest using one that washes out easily; see our suggestion below.)
When you actually go about dyeing the hair, we recommend the following guidelines:
Always follow the included instructions—like wearing gloves, time the formula should be on the hair, and so forth. Instructions are there for a reason.
Color your hair in a well-ventilated area, notes Thompson. Even if your dye doesn't have ammonia, it can still be irritating to inhale, especially if you are sensitive to strong scents.
Don't bother coloring all over, and only touch up the areas that need it. This should include your hairline, part, and nape of the neck if you wear your hair up frequently.
If it's only a few patches of gray that you're concerned about, only spot-treat those areas.
Finally, if you are able financially, please consider reaching out to your colorist and offering support at this time.
The best clean products for at-home color. 
Here are some great options to help you between appointments.
Revlon Total Color Clean + Vegan Nourishing Cream Formula
Even drugstore box hair dye has made the step toward cleaner formula. This new option nixes ammonia, mineral oils, phthalates, and parabens and is infused with hemp oil to condition stands during application. The set also comes with an after-color gloss that includes specific botanicals based on the shade: For example, dark brunette has black tea extract, medium brown has sesame oil, cranberry for redheads, and chamomile for blondes.
Total Color Clean + Vegan Nourishing Cream Formula, Revlon ($7.99)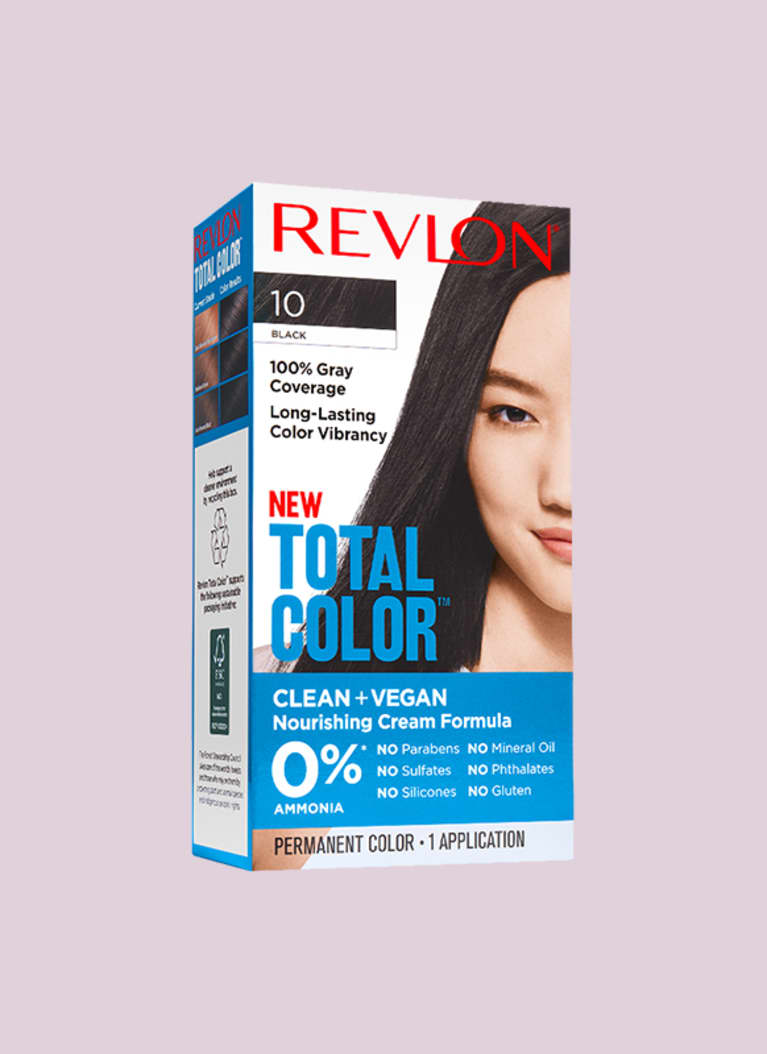 mindbodygreen
Madison Reed Semi-Permanent Color-Reviving Gloss
A relative newcomer to the beauty space, Madison Reed has made a splash for their super clean yet totally efficacious color options, both in the salon and at home. (Their formulas do not include PPD, ammonia, parabens, phthalates, and more, but they do include keratin, argan oil, and ginseng extract.) Their color-depositing glosses will remove unwanted undertones all over and help blend lines and increase shine. This specific gloss will not cover grays; however, the brand does offer many other color treatments that do.
Semi-Permanent Color-Reviving Gloss, Madison Reed ($25)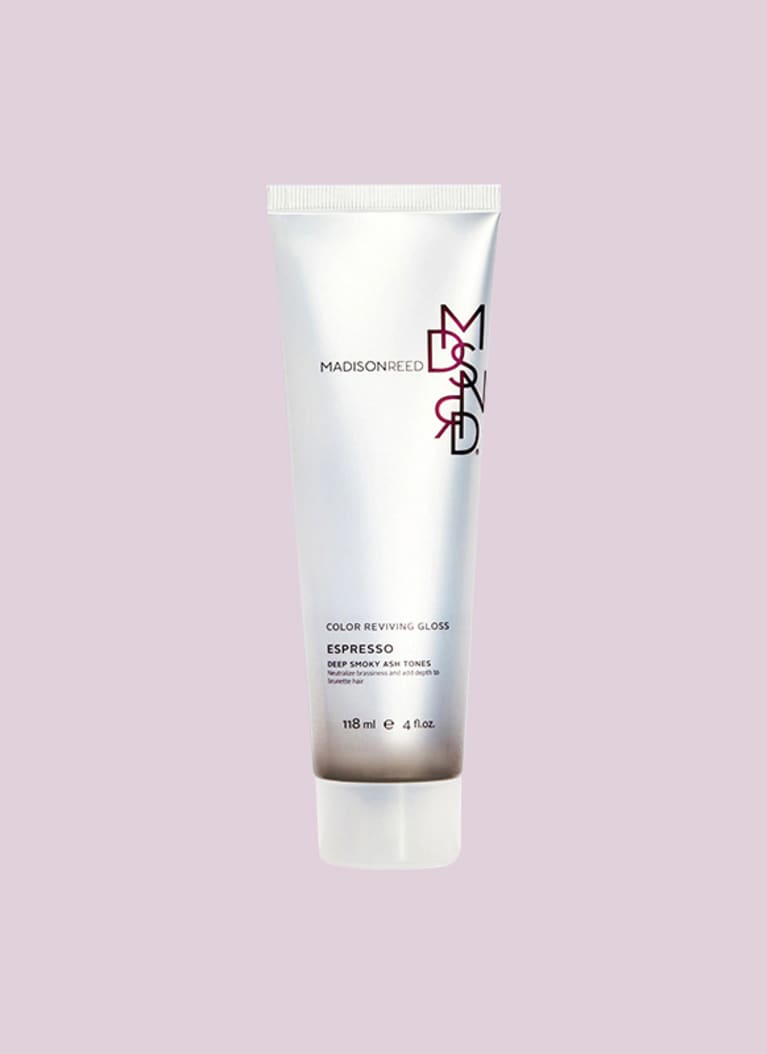 mindbodygreen
Christophe Robin Temporary Color Gel
A perfect option for those who just need to touch up grays at the root. This temporary color gel glides on effortlessly (with the help of the brush), so you only need to zero in on the hairs you want to cover. Then the super natural shades blend in so gently with the rest of your hair color. It's also free of resorcinol, peroxide, PPD, parabens, silicones, oxidants, phthalates, mineral oils, and ammonia.
Temporary Color Gel, Christophe Robin ($35)
mindbodygreen
ColorWow Dream Filter
This option makes the list for what it removes rather than adds on. The innovative product actually penetrates the hair shaft to remove color-altering and dulling minerals, pollution, buildup, and so on. Simply saturate your hair with the spray, let it sit for three minutes, and then wash it out with shampoo and conditioner as normal. The result? It will look like brand-new color. While the brand doesn't market themselves as clean or natural, we evaluated the ingredient list and it checks out.
Dream Filter, ColorWow ($24)
mindbodygreen
Overtone Coloring Conditioner
So if the curiosity about experimenting with your look has taken over, appease that desire with a nice gentle formula—that will easily rinse out if you realize it's not for you. Overtone's options come in many-a-hue and have better-for-you ingredients too. They also rinse out after a few showers. But if you decide you love your new look? Well, all you need to do is continue using the conditioner after shampooing.
Coloring Conditioner, Overtone ($29)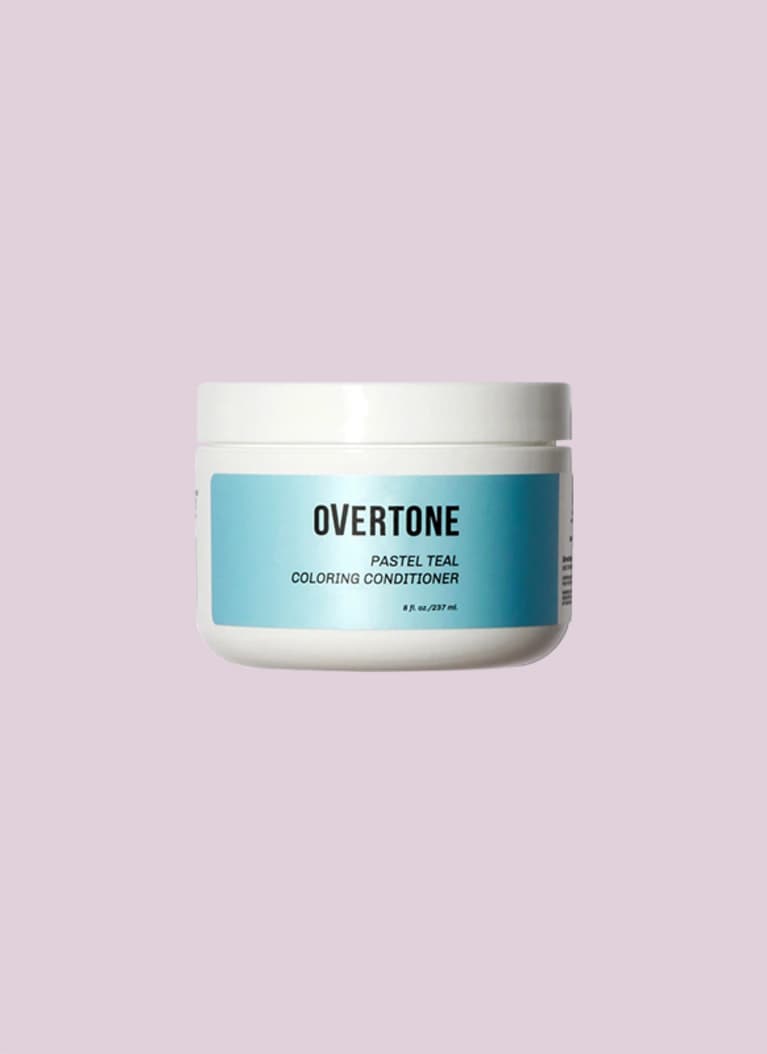 mindbodygreen
TruHair Color & Lift
Now let's say your grays or roots don't bother you that much—especially if the general public isn't seeing them—but you just want to cover them up for a Zoom meeting, perhaps. In that case, just cover it up with powder. This option easily deposits pigmented powder at the roots and hairline to blend grays and lines—then rinses off in the shower after.
Color & Lift, TruHair ($26)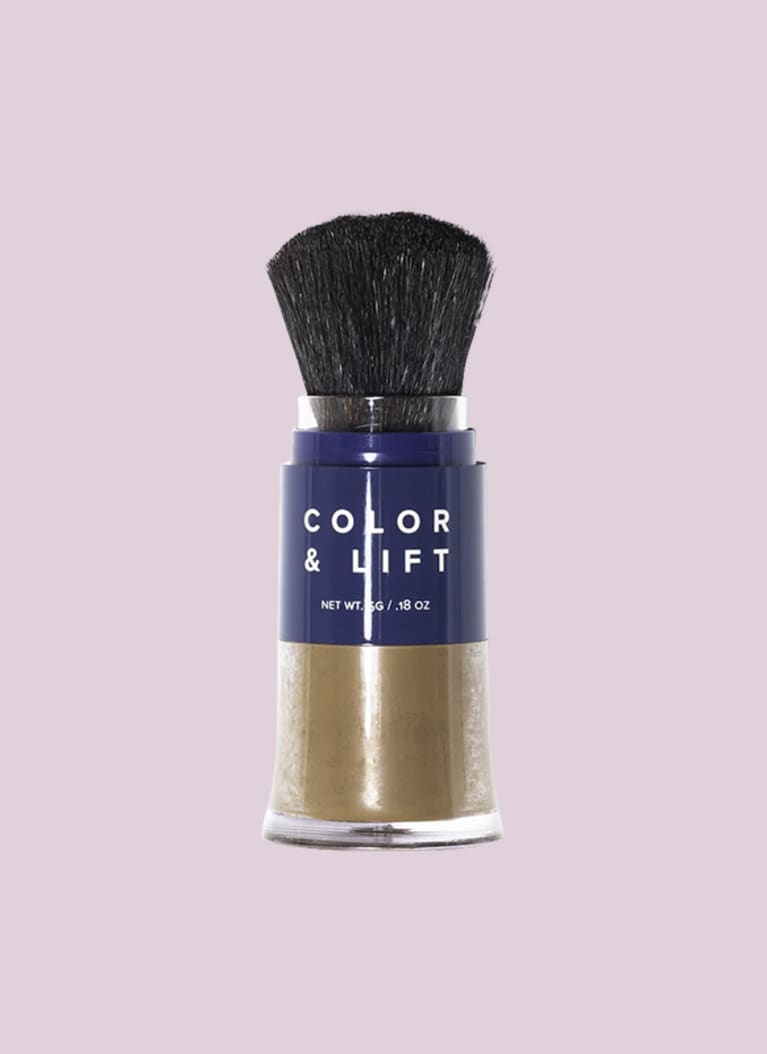 mindbodygreen
Together Beauty Black Bird Shampoo
This natural hair care line is one of our favorites. All the products are at least 90% natural and omit all the normal "no" ingredients. While they do not carry hair color options, their color-care products are very, very good. This shampoo is made with black rice to give it that inky hue—using it regularly will keep your dye job vibrant. For blondes, they also carry a rich purple option, which will cancel out brassiness.
Black Bird Shampoo, Together Beauty ($26)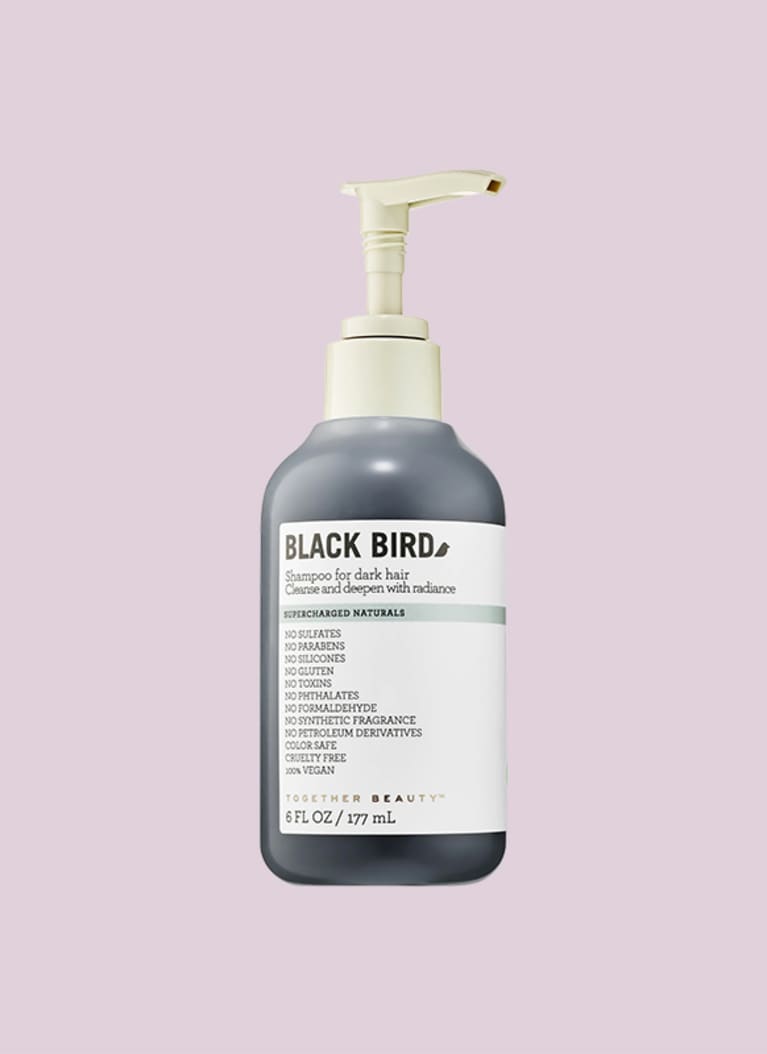 mindbodygreen