Meet The Emirati Entrepreneur Serving Up Well-Being In The UAE

mbg Sustainability + Health Director
By Emma Loewe
mbg Sustainability + Health Director
Emma Loewe is the Senior Sustainability Editor at mindbodygreen and the author of "Return to Nature: The New Science of How Natural Landscapes Restore Us."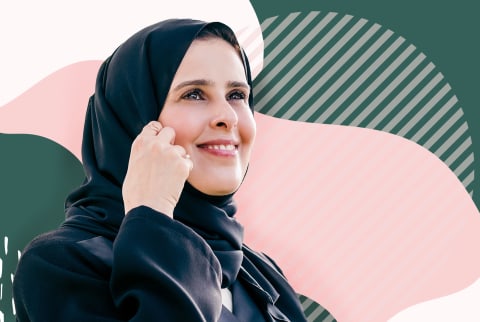 Image by The Hundred Wellness Center
July 22, 2021
Our editors have independently chosen the products listed on this page. If you purchase something mentioned in this article, we may
earn a small commission
.
The Hundred is one of the first exercises in a classical Pilates routine. Done by pumping your arms 100 times while holding your legs in the air and keeping the core tight, it's a physically challenging, mentally taxing, and ultimately very rewarding move. It's fitting that entrepreneur and athlete Asma Hilal Lootah chose to name her Pilates studio—Dubai's first started by an Emirati female—after the warm-up.
Since its founding in 2004, The Hundred Wellness Center Dubai has expanded to include a buffet of services including nutrition counseling, sound healing, and life coaching. The hard-earned space shows how wellness is going global to help people worldwide find strength and vitality through difficult times.
Advertisement
This ad is displayed using third party content and we do not control its accessibility features.
Dubai's increasingly health-conscious clientele.
The Global Wellness Institute, a nonprofit that releases a much-anticipated list of wellness trends every year, thinks that 2021 will be the year of the "Travel Reset." "Look for all travel to become wellness travel as manic getaways are replaced by slower, closer, and more mindful experiences," they predict.
Dubai is betting on it. For years, the city in the United Arab Emirates (UAE) has been investing in medical tourism and expanding its holistic health care offerings to appeal to visitors from around the world, as well as its own people.
"Even before the pandemic struck, people in Dubai were becoming more concerned with their health and wellness," Lootah, who was born and raised in the city, tells mindbodygreen.
Since Dubai has such a high expatriate population, she says that many residents live apart from friends and loved ones, which takes a toll on health and outlook. "We have seen the importance of routine, self-care, and a conscious approach to wellness for many of them," she adds.
Once the pandemic hit, Lootah noticed that public interest in health only increased, with all eyes and forks going to low-inflammation foods and ingredients that support immunity. Sports like paddle tennis, sky diving, and cycling have also become more popular, and both men and women are trying out new kinds of movement. "We have seen an increase in ladies-only running clubs, with a lot of covered females running marathons and engaging in new sports like CrossFit," she says.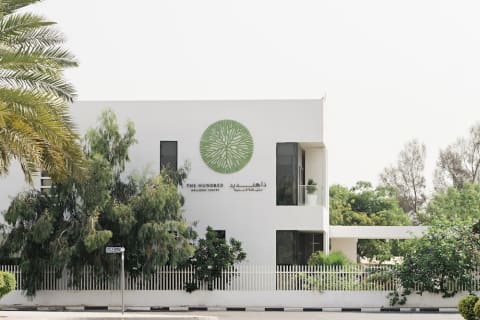 Image by The Hundred Wellness Center
Advertisement
This ad is displayed using third party content and we do not control its accessibility features.
The Hundred Wellness Center has been celebrated for keeping up with the increasing demand for healthy food (their in-house vegan café sources protein from an organic farm in Abu Dhabi and offers gluten- and refined-sugar-free dishes), equitable workouts (they offer "ladies only" Pilates classes as well as coed ones), and holistic health services (including chiropractic care and infrared saunas). They've also led the way in introducing new practices and are the first and only center in the UAE to offer Gyrotonic, a recovery method that combines principles from yoga, swimming, and t'ai chi.
What's most exciting about Lootah's center, and Dubai's wellness scene at large, is that it takes practices we know here in the states and infuses them with local culture.
Lootah's unique spin on well-being.
One thing you'll notice right away when looking at photos of The Hundred is that many of its classes can be done outdoors. Lootah says this speaks to Emiratis' appreciation for local landscapes—the nearby deserts, mountains, and sea.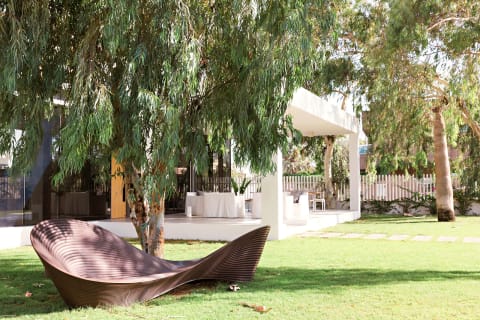 Image by The Hundred Wellness Center
Advertisement
This ad is displayed using third party content and we do not control its accessibility features.
She thinks it's only fitting to incorporate nature into one's wellness regimen, as "in the natural world, living things coexist in harmony and vibrational alignment, and when we interact, it fills us with positive and peaceful energy." Lootah, a self-proclaimed tree hugger, thinks that healing in nature starts when we give it our full attention. "Simply looking at the moving tree branches can be so peaceful; it makes me pause (even just for a minute) and calms my busy mind from all the hustle and bustle around me," she says.
In addition to its emphasis on nature, Lootah says that well-being in the UAE also centers on kindness and understanding. "The UAE has annual initiatives led by the government, and a recent one was the Year of Tolerance," she explains. "It was part of a strategy to incorporate positivity throughout our daily lives and encourage us all to live in harmony with each other."
She considers tolerance to be one of the most important skills anyone can learn, and one that can massively boost health. "When you are tolerant and everyone around you is tolerant, you feel safer. It reduces stress and anxiety," she says. As such, she says that "simple kindness underpins our entire philosophy" at the center.
As the Olympics near and the world slowly begins to open up again following months of pain and isolation, stories like Lootah's remind us of the practices that can unite us all.
Advertisement
This ad is displayed using third party content and we do not control its accessibility features.