The Ayurvedic Approach To Aging Is Too Powerful Not To Talk About
Founder and CEO of Uma Oils
By Shrankhla Holecek, MBA
Founder and CEO of Uma Oils
Shrankhla Holecek, MBA is a lifelong vegetarian, yogi, and natural-health practitioner. She is the founder of Uma, a line of 100-percent natural and organic beauty and wellness oils.
Our editors have independently chosen the products listed on this page. If you purchase something mentioned in this article, we may
earn a small commission
.
Ayurveda's approach to anti-aging, no longer a dirty word, is known as rasayana chikitsa, a Sanskrit saying that means "a holistic rejuvenation of mind and body to retain youthfulness and vitality." India's ageless "science of life," promotes tapping into inner wisdom, radiance, and beauty, the gift of passing years. So, rather than focusing on age, rasayana chikitsa emphasizes holistic rejuvenation of the body and mind through potent and nourishing ways to care for the skin, hair, mind, and body, and in turn soul, spirit, and longevity.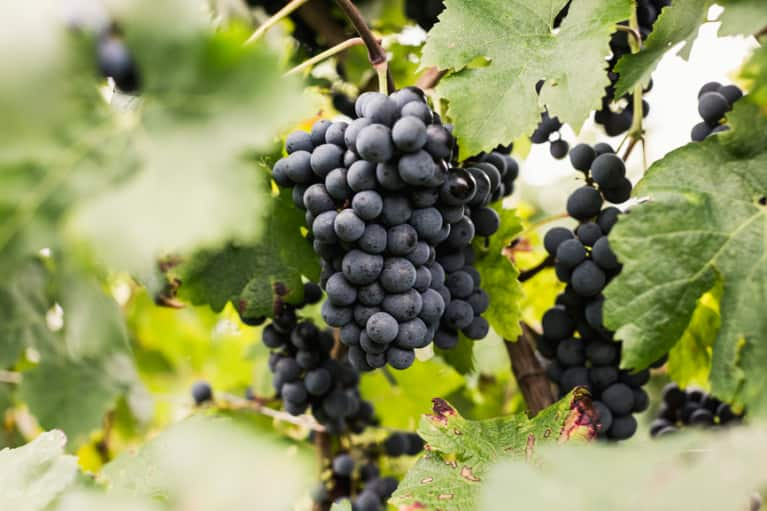 Diet is an integral part of caring for your skin and mind. A rasayana diet consists of foods that build ojas (vital essence) and balance the vata dosha, the body's air element that dries and shrivels skin as we grow older.
Almonds, walnuts, and ghee are vital ingredients to building ojas.
Turmeric, that anti-inflammatory powerhouse, cleanses the blood, lymph, and liver.
Leafy greens flush toxins from the lymph system, while roots like carrots strengthen connective tissues in the body.
Mangos, figs, watermelon, and grapes are chock-full of cell-renewing antioxidants and literally enhance the complexion.
One of the main ayurvedic tenets is the use of oils in skin care for preventing the "signs" of aging. Not only are oils often superior to creams for the face (pomegranate, grapeseed, and jojoba mixed in with essential oils are some of our favorites in terms of carrier oils!). The art of abhyanga, or massage, into your body care ritual to release toxins, improve muscle tone, and release stress is ingrained in public consciousness. Even a daily self-massage can make a world of difference in keeping the body limber, lubricating skin, draining lymphatic toxins, improving muscle tone, and releasing emotional stress stored in cellular memory. The best massage oil for this is sesame; its warm quality calms the vata dosha and nurtures all the seven dhatus or body tissues.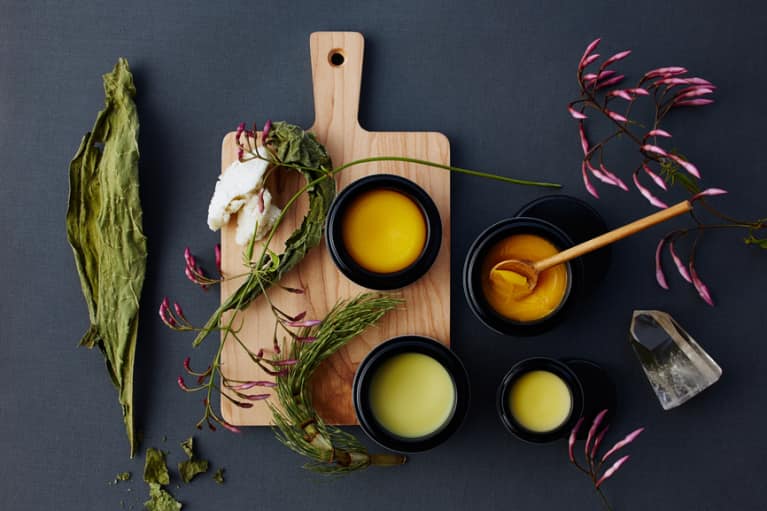 This three-ingredient DIY recipe is made from some of ayurveda's most-loved ingredients. Almonds work to boost collagen and stimulate cellular turnover while honey locks in moisture, and fresh cherries add a surge of vitamins and antioxidants for a glowing complexion.
Mix together 1 to 2 teaspoons of almond powder, 1 teaspoon of raw honey, and 2-3 fresh cherries crushed to a pulp (optionally add yogurt if your skin is extra dry).
Cleanse the skin with warm water and apply the paste to damp skin.
Allow the mask to dry for 7 minutes before washing off with cold water.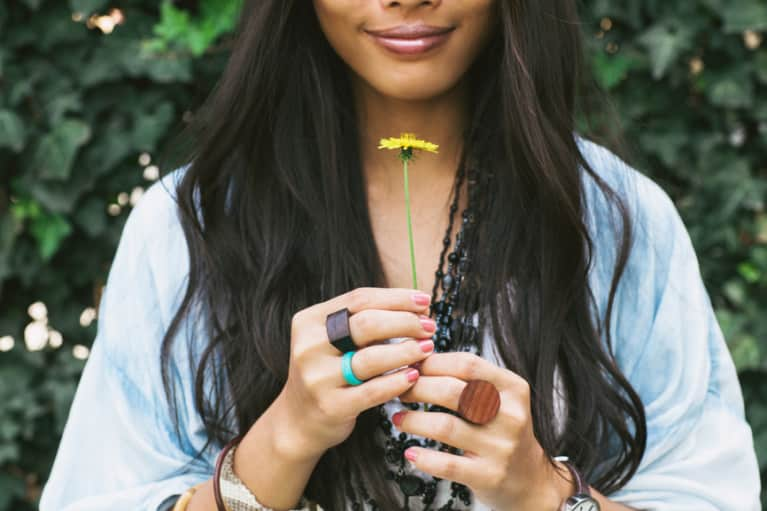 As we age, hair can grow brittle, dry, damaged, and dull. Luckily ayurveda offers treatments that get to the root—literally—of any issue. Try this quick and easy recipe, using ayurveda's "King of Herbs" bhringraj, to stimulate hair growth and prevent premature graying. Blend 5 to 6 teaspoons of bhringraj powder with water to create a thick, consistent paste. Apply to the scalp and leave for 20 minutes. Wash out in the shower to reveal a thicker, more luscious mane. If that sounds too complicated, try ayurvedic brand UMA's, award-winning Intensely Nourishing Hair Oil as a pre-wash treatment.
The difference between ayurveda and commonly held beliefs about aging is that ayurveda believes that age is not an adversary, and we should celebrate, and embrace it.